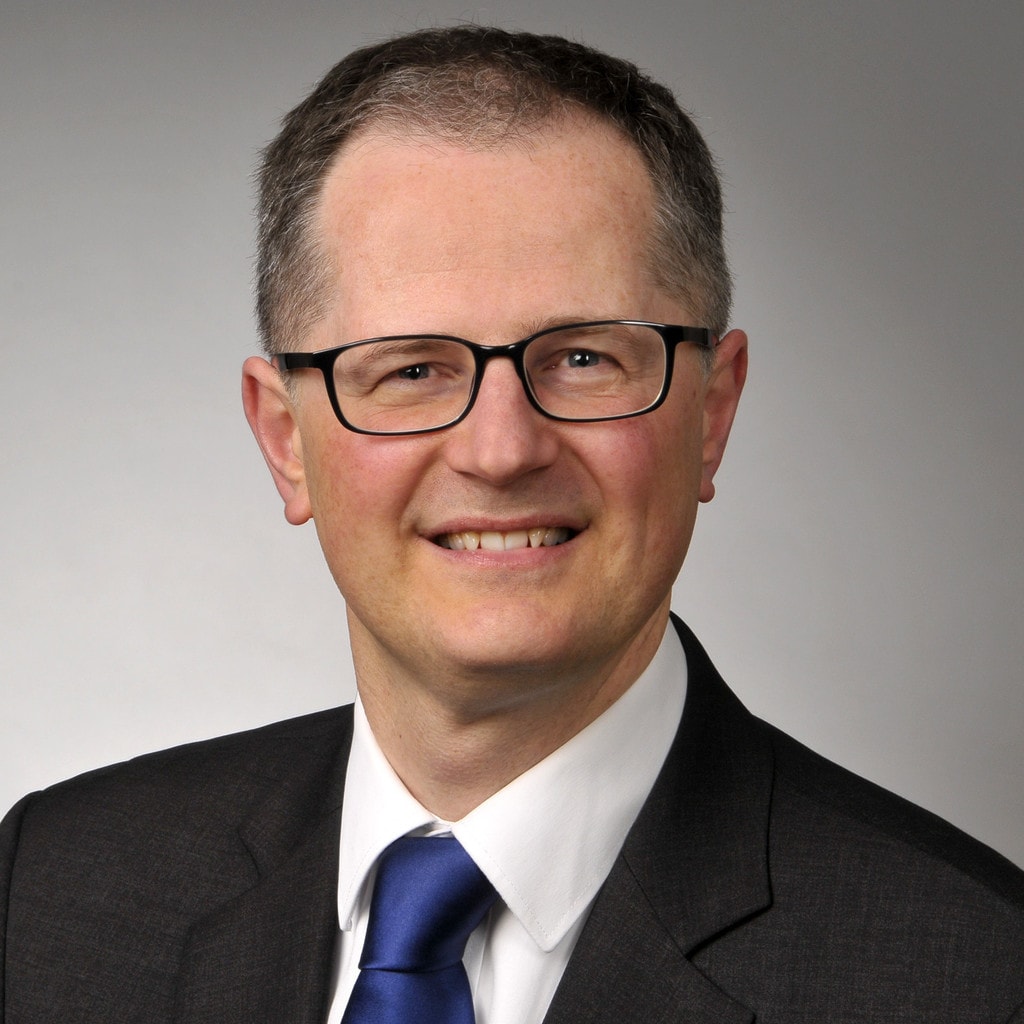 By Ewald Munz December 13, 2022
Resilience has become the new strategic imperative for manufacturers during these testing times. As the world's challenges make headlines, so do the innovative responses of manufacturing leaders. Savvy manufacturers automate, overhaul fundamental processes, modernize their security posture and reduce their CO2 footprint. Forward-focused organizations double down on their cloud investment to become more agile and resilient. And none of it is possible without data.
Manufacturing in Crisis Mode: A Historical and Forward Looking Perspective
The manufacturing industry has a long history of crisis modes. Economic and financial crises, regardless of cause, have impacted manufacturing and led to downturns. The first worldwide economic crisis from 1857 forced many companies of the flourishing US railroad sector to declare bankruptcy whereas in the current crisis companies are reeling from energy price shocks and supply chain chaos.

However, most notably, the frequency of such crises is accelerating: Whereas the gap between the first worldwide economic crisis to the Great Depression was about 70 years, the gap between the Asian Crisis and Economic & Financial Crisis shrank to 10 years. With the start of the Covid Pandemic, manufacturers are now hit almost every year with a new crisis.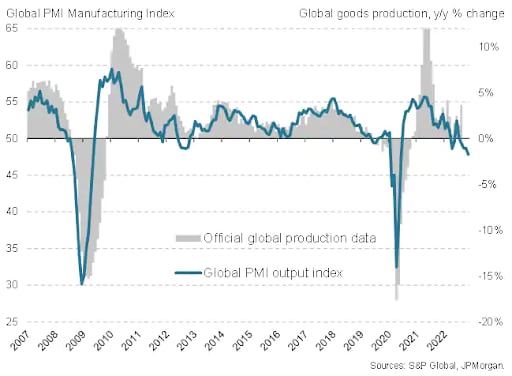 Looking ahead into 2023 things don't exactly look good for manufacturers.
After the V-shaped recovery following the Covid Pandemic, the Global Manufacturing PMI shows export orders falling steeply despite signs of supply chain issues easing.
Amidst this upcoming perfect storm resilience is key to recover, survive and thrive amidst disruptions and quickly adapt to new operating models.
Global Manufacturing Purchasing Managers' Index (PMI)
A PMI above 50 represents an expansion whereas a reading under 50 represents a contraction, and a reading at 50 indicates no change.
How to Build Resilience Amidst this Perfect Storm?
Leveraging the power of data, there are four recommended concrete steps manufacturers can take to build up resilience.

The security landscape is more challenging than ever. 49% of organizations say they suffered a data breach over the past two years, up from 39% compared to last year according to the global Splunk survey The State of Security 2022. Organizations are reeling from increasingly sophisticated attacks with hefty ransomware demands and, to make things worse, there is an acute security talent shortage.
Manufacturing is the most targeted industry by cyberattacks. Industrial organizations expect increasing cyberattacks on connected devices, especially legacy control systems. As a result, regulators with a focus on critical infrastructure and also insurance companies are realizing these mounting challenges and are acting accordingly: Insurance premiums are rising massively for those organizations who don't elevate their security posture and a Vehicle Security Operation Center (VSOC) is becoming mandatory for the automotive industry according to the UNECE WP.29 regulation R155.
Such challenges are fueling security modernization and resilience. Many manufacturers are looking at vendor consolidation, investing in interoperable security tools, and implementing automation & orchestration technologies across their IT and OT environments.
Finally, it is no secret that manufacturers used to be very hesitant, even outright rejectful when it came to the question of cloud adoption. However, this opinion has significantly changed, especially in a security context. "Security and Risk Reduction" were among the top three reasons for cloud technology implementation as highlighted by a McKinsey study.
Increasingly, organizations are also deploying their Security Information Event Management (SIEM) in the cloud (aaS) simply because of the many benefits such as the flexibility of a hybrid architecture with automatic software updates, agility in an ever-changing business landscape, innovation and ultimately cost efficiency.
How Can Splunk Help?
Splunk has been named a leader 9 years in a row in the 2022 Gartner Magic Quadrant for SIEM and also a leader in the 2022 IDC MarketScape for SIEM. Protect your business and modernize your security operations with a best-in-class data platform, advanced analytics and automated investigations and response. Ensure holistic visibility across IT and OT environments via a central IT/OT SOC – aaS in the cloud, hybrid or on-premise – in your offices, factories and in-vehicle via a VSOC. An innovative feature is risk-based alerting enhancements to transform large volumes of noisy alerts into fewer high-fidelity incidents, prioritized by risk attribution.
Key Splunk Products
Key Partner Products (Integration Apps on Splunkbase)
Customer Example: Meggitt
Meggitt, a world leader in aerospace, defense and energy, pivoted to Splunk Cloud to secure and scale a global business whilst facing growing cyber threats.

Automation will be the next differentiator, it is a secret to scale. There are three areas with a high automation potential in particular for manufacturers:
Re-Shoring and Remote Work
Following the recent de-globalization trends and supply chain debacles, many manufacturers have decided to re-shore, meaning moving production back to the home country. Whereas this may seem as a natural step, the entailing cost pressures due to the higher cost basis in the home country prove to be a challenge.
Automation and the use of data has proven to be an effective way to make re-shoring economical. For example, a plant manager would only need to quickly review an automated OEE (Overall Equipment Effectiveness) analysis instead of walking the plant and gathering the input manually. Remote work as a result of the Covid pandemic has resulted in many cases in automated real-time performance visibility of remote facilities, making costly traveling redundant.
Manufacturing Workers Shortage, including Unskilled Labour
"The labor shortage is killing American manufacturing" claims a recent Forbes article. Almost all major economies with demographic challenges are critically short of manufacturing workers. There are simply not enough skilled workers to do the job, nor enough unskilled workers willing to learn.
Whereas immigration may seem like a possible solution, the real accelerator lies in automation, especially in the application of machine learning and artificial intelligence. One very beneficial service application is for example the automation of warranty claims processes. It will be simply out of necessity that many formerly human jobs will be replaced by automation to keep operations running.
There is a running joke of the factory of the future: The factory of the future has only one worker and a dog. The worker's job is to feed the dog and the dog's job is to keep the worker away from the machines.
Data Explosion Combined with Talent Shortage, in particular for Security
"There's going to be a point when you'll be overwhelmed with the amount of work that exists and won't be able to hire more people. It's humanly impossible to process the amount of data that needs to be processed, and the only path forward is automation." — Jason Mihalow, Senior Cloud Cyber Security Architect, McGraw Hill
The above mentioned increasingly sophisticated cyberattacks combined with a security talent shortage literally force manufacturers to automate security operations, e.g. with risk-based alerting enhancements to transform large volumes of noisy alerts into fewer high-fidelity incidents. Summing up, manufacturers will need a much greater reliance on automation just to keep up, taking into account the data explosion and the entailing complexity.
How Can Splunk Help?
Go from visibility to action, fast and at scale with the Splunk unified Security and Observability platform. The extensible data platform delivers unified security, full-stack observability and limitless custom applications. Strengthen your resilience with higher automation by leveraging the following key Splunk products.
Key Splunk Products
Customer Example: Domino's
Thanks to Splunk SOAR, Domino's automated repetitive workflows, allowing the world's No. 1 pizza company to automatically identify and mitigate incidents in minutes, versus hours previously.

Sustainability is top of mind for organizations across all verticals - driven by consumers, investors and regulators.
The World Economic Forum has picked up sustainability as a key theme, supporting multiple industry initiatives such as 50 Climate Leaders, which not surprisingly, many of them are manufacturing companies. In fact, manufacturing bears a particular responsibility since industrial sectors account for nearly 40% of global energy consumption and more than 30% of global greenhouse gas emissions according to the World Economic Forum.
Key sustainability metrics are usually measured through the lens of "CO2 Footprint" and many manufacturers have announced ambitious goals, e.g. both Mercedes-Benz and McLaren aim to slash CO2 emissions by more than 50 percent by 2030 whereas Airbus strives for carbon-neutral growth.
However, the challenge is the lack of transparency into the CO2 footprint. Organizations lack the much needed holistic visibility of the CO2 footprint across cloud, multi-cloud, hybrid and edge environments - across scopes 1-3. Businesses struggle to measure and monitor something they know is so important. The old management wisdom "You can't manage what you can't measure" applies. Only a few leaders can answer the simple questions: What is your CO2 footprint?
Driving the movement towards increased sustainability, the EU has adopted mandatory Corporate Sustainability Reporting starting in 2024.
A good sustainability standing with an acceptable CO2 footprint will be an important source of long-term competitive advantage. Millennials and Gen Z are the driving growth towards more sustainability which manufacturers must take into account. With Europe's carbon price hovering between 70 and 100 EUR/t there is obviously also a cost savings factor to it as well.
The link between digital transformation and sustainability is often overlooked. However, industry leaders proactively embed sustainability into digital technologies such as cloud, cybersecurity and IoT - in real-time. Cloud migration of on-premise data centers is seen as a very effective way to bring down CO2 emissions.
Taking the example of the German manufacturing industry, a study by Bitkom, conducted by Accenture concluded that with accelerated digitalization, emission cuts in manufacturing would represent more than 50% of total CO2 reduction efforts among the analyzed industries. As such it is of no surprise that Hannover Messe, the world's most important event for industrial technology, focused 2022 on digitalization and sustainability.
How Can Splunk Help?
Splunk equips manufacturers with capabilities to gain deep insights into their carbon footprint and as such empowers them to take the necessary actions towards their carbon neutrality goals.
On the one hand, Splunk provides big picture visualizations via an executive dashboard across cloud / multi-cloud, hybrid, edge, on premise environments. On the other hand, Splunk empowers manufacturers to deep-dive into emission hot spots in real-time across scopes 1-3. Out-of-the-box, pre-configured calculations, APIs and integrations allow for a quick set-up.
By focusing on the low hanging fruit "cloud migration of on-premise data centers" manufacturers are able to gain visibility into the CO2 footprint of their entire data center and also selectively into the CO2 footprint of Splunk Services such as Splunk Enterprise or Splunk Enterprise Security. Such cloud migrations result in 80% CO2 savings on average.
Key Splunk Products
Key Use Case: Cloud Migration of On-Premise Data Centers
Customer Example: FLSmidth - please register for the on-demand webinar and watch the demo starting at min. 16.00
The Danish engineering company FLSmidth leveraged Splunk to build CO2 dashboards on their mission towards zero emissions in mining and cement to bring these industries into a sustainable future.

Manufacturers are sitting on a pot of gold. According to estimates, 70% of data in manufacturing is underutilized.
Although data solutions do exist for important functions such as production, value chain and service processes, they work mostly for siloed areas only. A coherent and connecting data thread throughout the entire organization which enables end-to-end visibility in particular of business critical processes is missing. As a result, many businesses are reeling from managing a multi-tool zoo of point solutions and engaging in so-called swivel chair monitoring.
As the evolution to hybrid, multi-cloud infrastructure continues, organizations are encountering escalated complexity, lower visibility and intensifying burnout — but observability fluency is the antidote.
Leveraging the power of data, automatic correlation and context, ultimate visibility and directed troubleshooting are making manufacturers' life easier. Real-life examples to ultimately define customer experience include:
Getting insight into cloud-native, microservice and monolithic applications with NoSample™ distributed tracing and code-level visibility
Improving hybrid cloud performance with instant visibility and real-time alerts
Ensuring service performance with full visibility, AIOps and incident intelligence
Finding and fixing customer-facing issues across web and mobile with full visibility into the end-user experience
Proactively spotting and resolving performance issues across user flows, business transactions and APIs
Needless to say, increasing your end-to-end visibility means also uncovering a lot of cost inefficiencies and as such results in significant cost savings.
How Can Splunk Help?
Take advantage of our end-to-end process monitoring and prediction of business critical services to reduce siloed working. Spot and fix problems quickly, speed up time to market and ultimately deliver improved business critical services – internally as well as externally. Solve problems in seconds with the only full-stack, analytics-powered and OpenTelemetry-native observability solution.
Key Splunk Products
Customer Example: Heineken
From the barley field to the bar top: To keep everything across brewing, supply chain and financial processes running smoothly around the clock, Heineken relies on the Splunk platform for visibility into their expansive systems.
Conclusion: Start Building Resilience Now
Looking at the classic confusion matrix, the good news is that manufacturers "know that they don't know", meaning that they are certain about the upcoming uncertainty.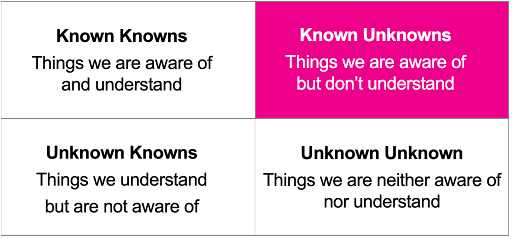 And if you think that this is not good news, just picture those organizations who are hit by a cyberattack and don't know it yet. It takes on average 140 days to detect a breach and during this time such organizations are in the "don't know that they don't know" corner bottom right.
With certainty about the upcoming uncertainty, pro-active manufacturers can build a foundation for resilience, leveraging the power of data and closing those gaps in Security, Automation, Sustainability and End-to-End Visibility with a well-balanced cloud and on-premise strategy.
Most importantly, training and education is a priority to build resilience. Discover here the value of more than 20 FREE Splunk e-learning courses available to EVERYONE.
And if you want to educate yourself a little further, we got you covered as well – check out the below resources.
Business Resilience