Revealing the Secret Sauce
Why Domino's is the world's No. 1 pizza company. (Psst, it's the data.)
Pizza and data are an unlikely pairing.
At least, that's what people thought a decade ago, when pizza companies weren't yet investing in digital transformation. Except Domino's.
Repositioning itself as an "e-commerce company that happens to sell pizza," the global pizza chain shifted its focus to digital channels and emerging technologies — without surrendering the personal touch that goes into every Domino's pizza, from hand-tossing the dough to hand-delivering piping-hot pies to doorsteps across the globe.
And the efforts paid off.
Today, Domino's dominates as the leader in global sales, thanks in large part to a data-first approach to everything from behind-the-scenes IT and security operations to daily customer interactions like ordering and delivery. To stay No. 1, the pizza powerhouse uses Splunk to inform decisions, drive innovation and satisfy customers' cravings for speed, quality and convenience.

Ingredients for an exceptional customer experience

For 60 years, Domino's has put customers first, turning a small Michigan store into a global empire with more than 16,300 stores across six continents. To maintain customer focus at global scale, Domino's uses data to invest in the key ingredients for an exceptional customer experience:
Simplicity › Reliability › Quality › Trust › Innovation ›
The hardest part about getting pizza should be deciding which toppings you want, not how you're going to order. A key factor in Domino's rise to the top has been simplifying each step of the ordering process, providing customers with digital options that are convenient and fuss-free. "We heard time and time again that our customers want to be able to order as quickly and easily as possible," says Mike Cox, operational intelligence architect at Domino's. "They don't necessarily want to order through the website; they want to be able to just say something to their Echo."
To make ordering convenient and simple, Domino's now has over 15 different digital ordering channels — including smart TVs, Amazon Echo and Google Home devices, mobile phone apps, Slack, social media and smart watches — that collectively generate 65% of sales in the United States.
Splunk makes sure that simplicity for the customer doesn't mean overwhelming complexity for those managing the technology. "With all the additional channels to order through, we have to be able to monitor everything from security and operational aspects to new releases and developments — and that's all fed into Splunk," Cox says. "Splunk helps us with every real-time transaction. We can understand what's happening with our orders, services, website and applications. When we have all that data together, we can improve processes both internationally and domestically."
In the United States, Domino's generates more than 65% of sales via digital ordering channels.
We trust Splunk with our most critical environments. More than half our business is through our digital channels, and Splunk is our eyes into all those services and channels.
All that technology has one thing in common: it has to work — especially when it's standing between hungry people and their pizza. "Whether our customers are on the website or in the store, their expectation is that technology will always work," says Peter Echtinaw, who manages the store platform engineering team at Domino's. The company ensures proactive uptime by using insights from Splunk, such as volume trends, to proactively identify problems often not detected through traditional alerts and monitoring.
When an incident does arise, Splunk helps the Domino's team restore functionality faster. "If we get a problem report from a particular technology, we can use data from Splunk to find the true scope of the problem — whether it's just that store, a subset of stores or all of our domestic stores," Echtinaw says. "The quicker we have those types of scopings, the quicker we can resolve the problem for all affected stores."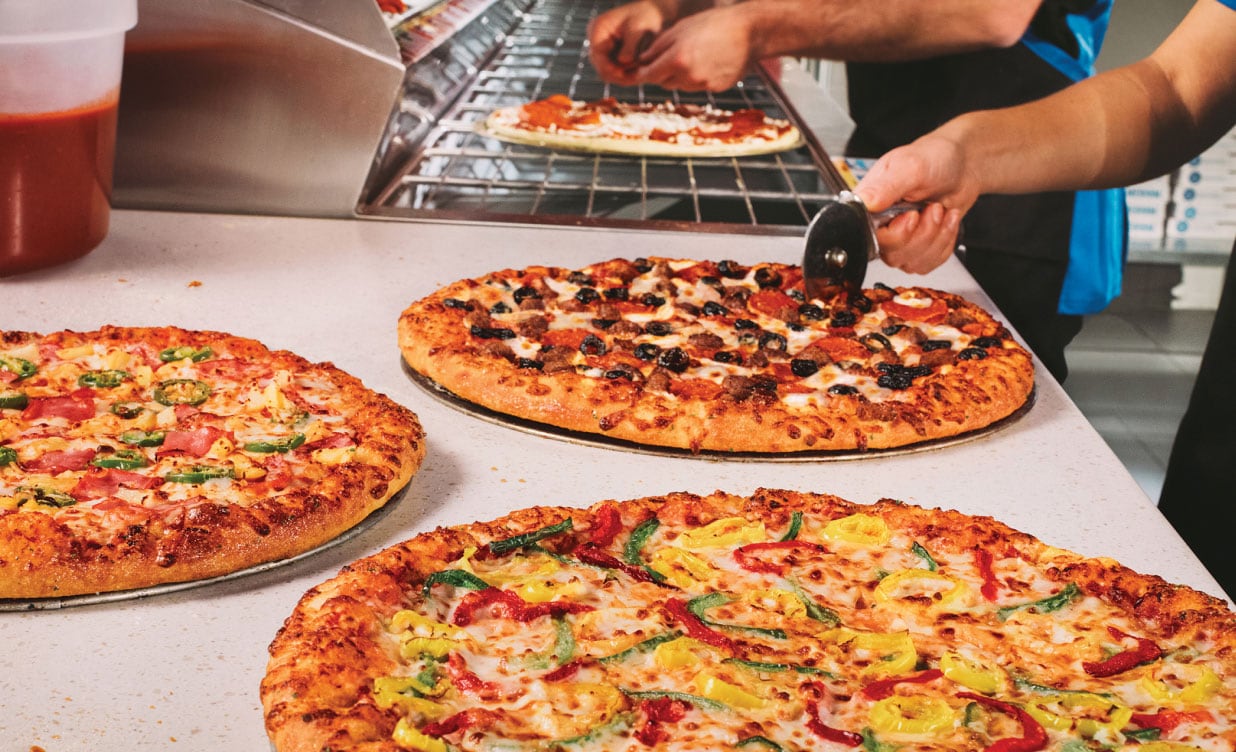 On Super Bowl Sunday, Domino's sells nearly 2 million pizzas — about 40 percent more than on a normal Sunday.
Big game, big spike
During peak sales times, the need for reliable systems becomes even more critical. While Domino's faces many peak days and times throughout the year, no event demands more precision than football's biggest day, during which Domino's sells nearly 2 million pizzas — most of which are ordered in the same 45-minute window.

To meet expectations on Super Bowl Sunday, Domino's has a war room where a wide range of teams — from IT network and infrastructure to marketing and communications — rely on Splunk to monitor key metrics like performance, system health and customer volume. By using Splunk to bring data to every question and decision, Domino's keeps operations smooth during even the busiest of times. "Success for us means that our customers aren't waiting to reload a website or try again," Cox says. "Their order is as easy on Super Bowl, during primetime, as it is on a Tuesday night in March."


Splunk delivers the information we need to make the right decisions to be prepared for specific peak seasons.
Making a pizza is easy. Making 3 million pizzas every day worldwide — all with outstanding quality and efficiency — is really hard. Yet Domino's does just that at its more than 16,300 global stores, over 5,000 of which have opened just within the last five years. To ensure exceptional quality amid this explosive growth, Domino's teams rely on data from Splunk to help drive strategy and decision-making.
"Domino's uses data in every imaginable way," Padilla says. "We're using data to drive decisions for investment, budget and technology, and to measure efficiency of tools and processes. We look at data to build new technology and deliver a new approach to customers. We use data to make decisions that reduce risk and improve efficiency in processes and operations."
Splunk brings data to practically every team across Domino's — from e-commerce and digital infrastructure to marketing and in-store experience. With everyone looking at the same set of data in the same tool, teams can better collaborate and easily share insights with executives, which has allowed the business to maintain growth and its No. 1 status — without compromising quality.
Each day, Domino's sells an average of 3 million pizzas to more than 1 million customers across six continents.
Nearly every team at Domino's uses Splunk in some way. They don't want to see whether a single component is healthy; they want to see the whole picture integrated with sales data, revenue and more. That way, they can see the impact their decisions have on the whole business.
Without customer trust, businesses fail, no matter how good their products are. In today's digital world, building that trust hinges on keeping customer data private and secure — which is why Domino's uses real-time data within Splunk to protect its systems, customer data and brand reputation. "Splunk has been at the core of identifying account takeover, credential stuffing and various other external attacks," Cox says. "We're a big target, and without Splunk, we would have a difficult time identifying those, let alone mitigating them or resolving them."
Thanks to Splunk Phantom, the Domino's team has automated repetitive workflows, allowing security analysts to swap their tedious tasks for more rewarding, analytical work that benefits the business. "Our old processes would take several hours to even identify and react to threats," Cox says. "Splunk Phantom has allowed us to automatically identify and mitigate those same incidents in minutes."
Domino's uses Splunk to ensure security from every angle:
Proactively identify external threats
Mitigate threats faster
Ensure internal system health
Protect customer data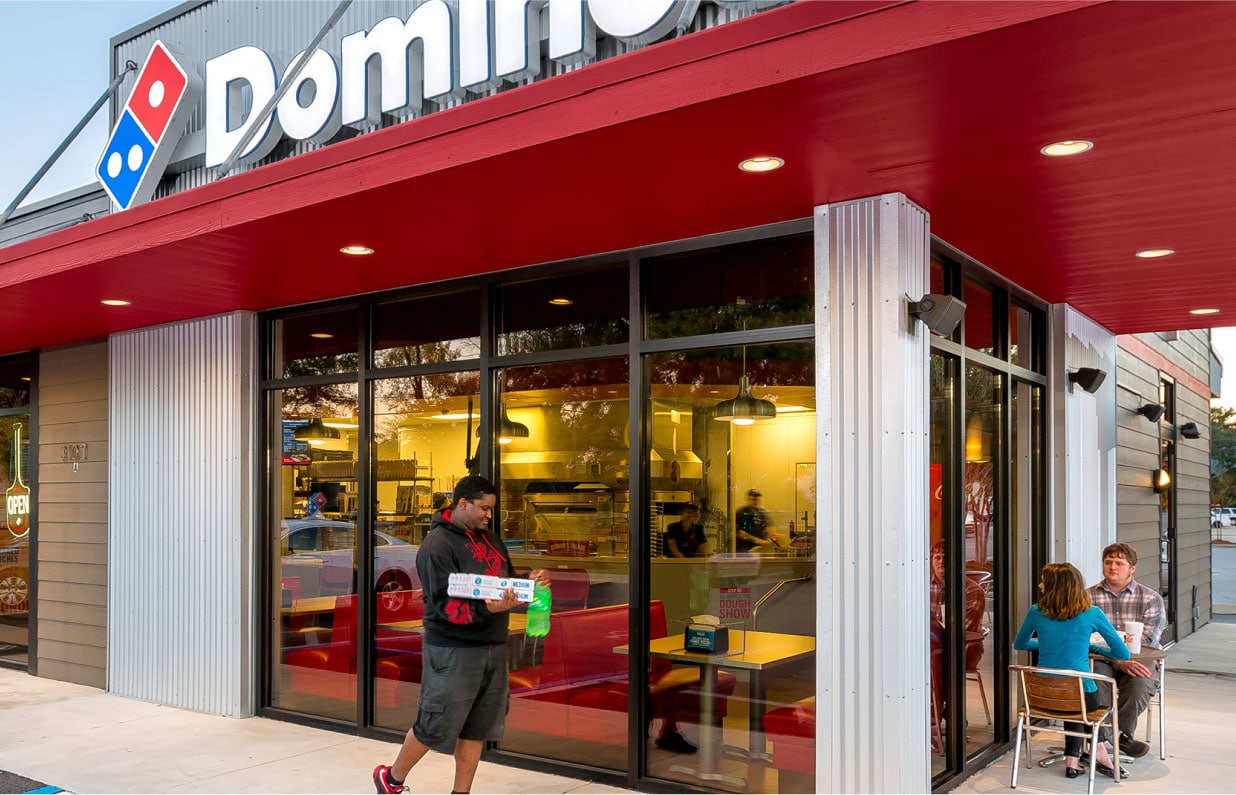 Domino's has proven itself as a brand consumers trust. The company brought in $13.5 billion in retail sales in 2018 alone.

With a proactive process that uses real-time data in Splunk, we can deliver a better service for customers, our franchisees and our internal team.
Domino's is the biggest pizza company on Earth. But they'll have to fight to stay No. 1. To keep ahead of the competition, teams across the organization are continuously innovating and improving services for customers — whether it's providing more convenient ordering options, making website performance faster or experimenting with alternative delivery methods like self-driving cars.
"Since I've been at Domino's, our biggest change has been the speed at which we move and the amount that we try to accomplish," Cox says. "We only continue to grow and move faster." Rapid innovation demands a streamlined, efficient process for releasing new technologies online and throughout stores. Before any new feature or service is put into production, Domino's uses Splunk to optimize functionality, monitor system health and ensure that the technology is ready and reliable for customers.
Cox says, "We begin by saying, 'How are we going to analyze this? How do we know it's healthy, performing and actually functioning?' And we don't put things into production until we have those answers. That's all through Splunk. Without it, we don't have eyes into our environment — across stores, e-commerce and all of our infrastructure."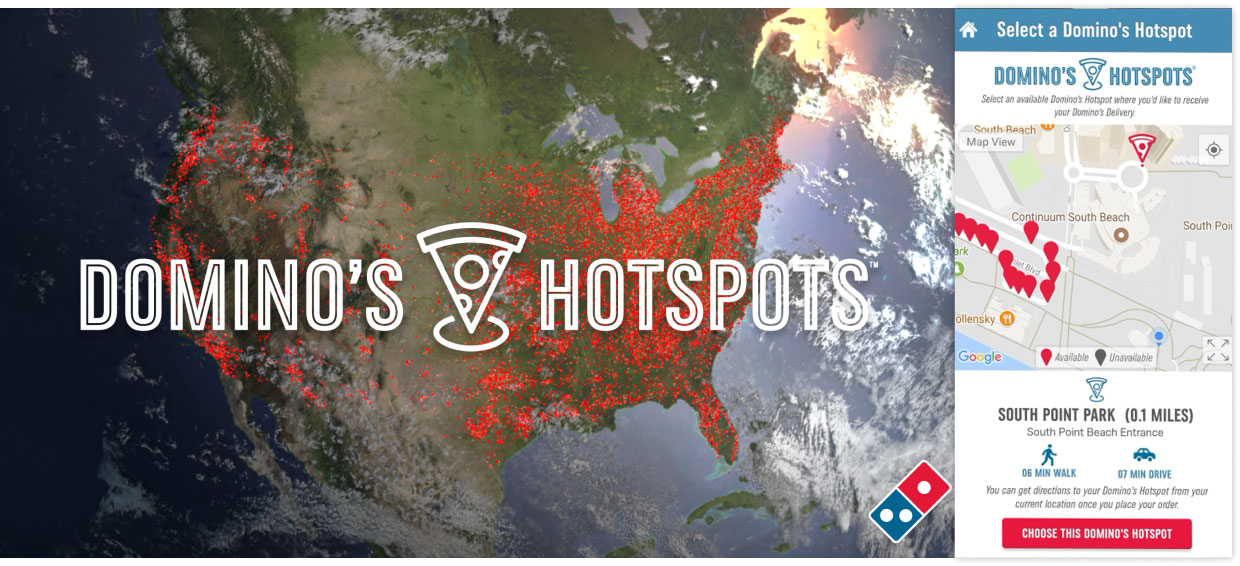 In 2018, the company launched more than 200,000 "Domino's Hotspots," which allow U.S. customers to receive delivery orders at places that don't have traditional addresses, such as local parks, sports fields and beaches.
At Domino's, innovation drives our business — and the only way to successfully do that is through data. By bringing data to every decision, we're delivering more value for our community, customers, franchisees, internal teams and the business as a whole.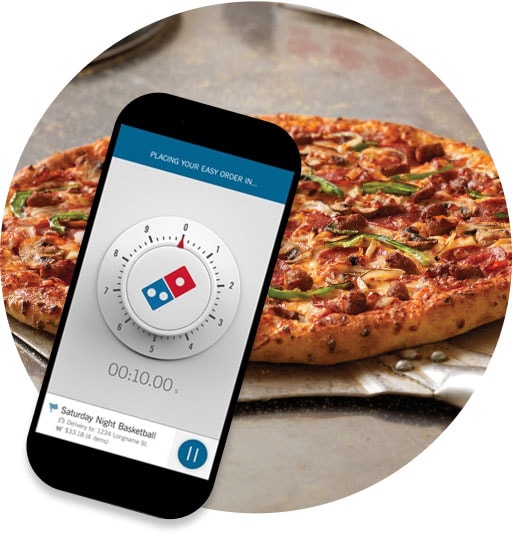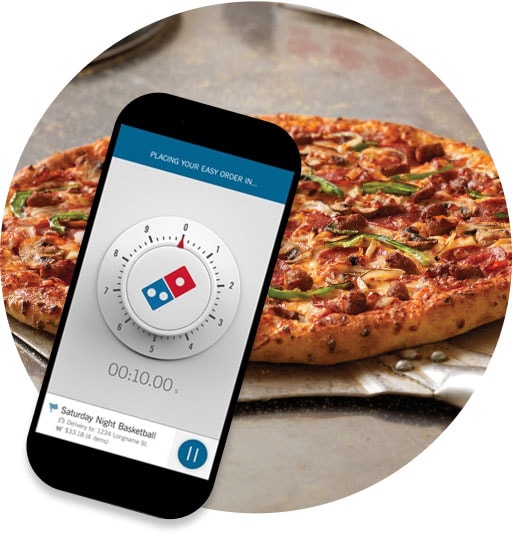 The ideal combination
Pizza and data are no longer an unlikely pairing, thanks to Domino's proven recipe for success. By keeping data insights from Splunk at the core of its decision-making, Domino's can expertly deliver what customers really crave: delicious, handcrafted pizza, when and where they want it.
Now … who's hungry?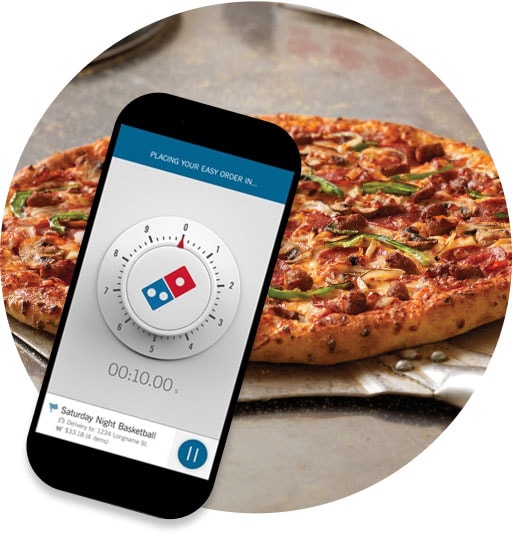 What can you accomplish with Splunk?