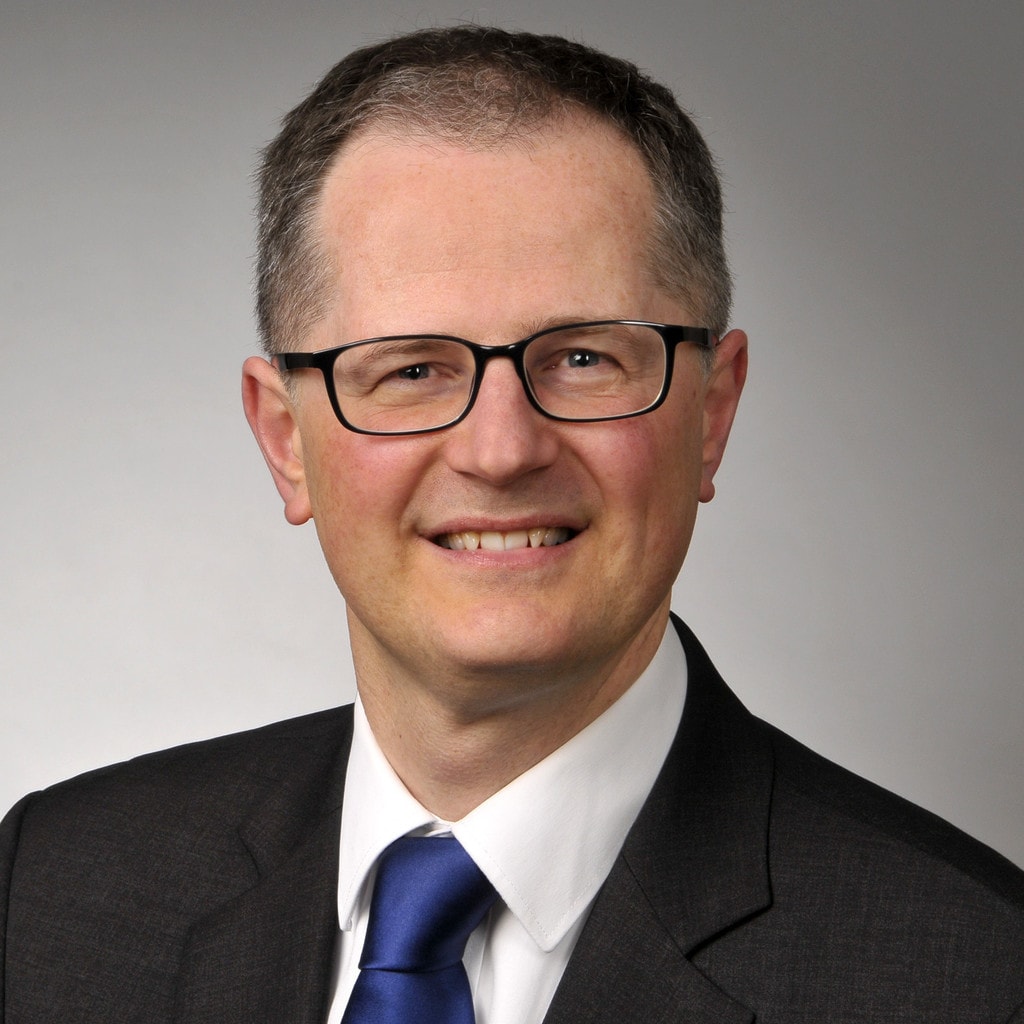 By Ewald Munz October 04, 2022
Harvesting the Low Hanging Fruit on Your Sustainability Journey
Co-authors: Two villages
From Splunk: The Strategic Advisory Group EMEA (SAG), namely Ewald Munz (IA), Luke Beare (BVA), Anne Jacobsen (Cloud) and Kirsty Paine (CTA), from the Accenture EMEA partner org namely Melanie Moehl, Marcel Seifert and Alexander Okl, from the Sales Engineering EMEA (SE) side namely Marc Thomas, from the Cloud Service Provider org namely Gill Newsome, from the Professional Services (PS) side namely Sophie Dockstader and from European Government Affairs namely Clara Lemaire
From Accenture: Christian Golz, Luzia Sommer and Chi Nguyen from Accenture ASG Tech Sustainability Group; Francesco Sbaraglia and Rizki Pratama from Accenture Splunk Business Group
Heating with the Internet! was the headline of DataCenter Insider in Germany recently.
In the face of the current energy crisis, the article suggested using waste heat from data centers (and there is a lot of it!) to heat homes and offices in major cities in Germany and achieve CO2-neutral heating in the long term. Initial forecasts for this are provided by Frankfurt am Main, which is the location of more than 60 data centers and the world's largest Internet exchange node: By 2030, all residential and office spaces in Frankfurt could receive a climate-neutral heat supply through waste heat recovery from data centers.
These considerations point toward the enormous dormant potential of data centers.
Data Centers are the Enablers of Digital Transformation and Handle the Data Explosion
Data centers are spaces dedicated to holding data servers to store and process data across a variety of industries. Data centers have grown rapidly as data demand has risen exponentially. The provision of such computing power and storage capacity forms the foundation of the Digital Transformation and enables Industry 4.0, AI and Cloud projects.
According to CloudScene there were nearly 8,000 data centers globally in early 2021 with the US (33%), UK (6%) and Germany (6%) housing the majority. There are various types of data centers, ranging from on-premise data centers of individual organizations to large cloud-based data centers of the hyperscalers such as Amazon Web Services (AWS) and Google Cloud, and many subtypes in between.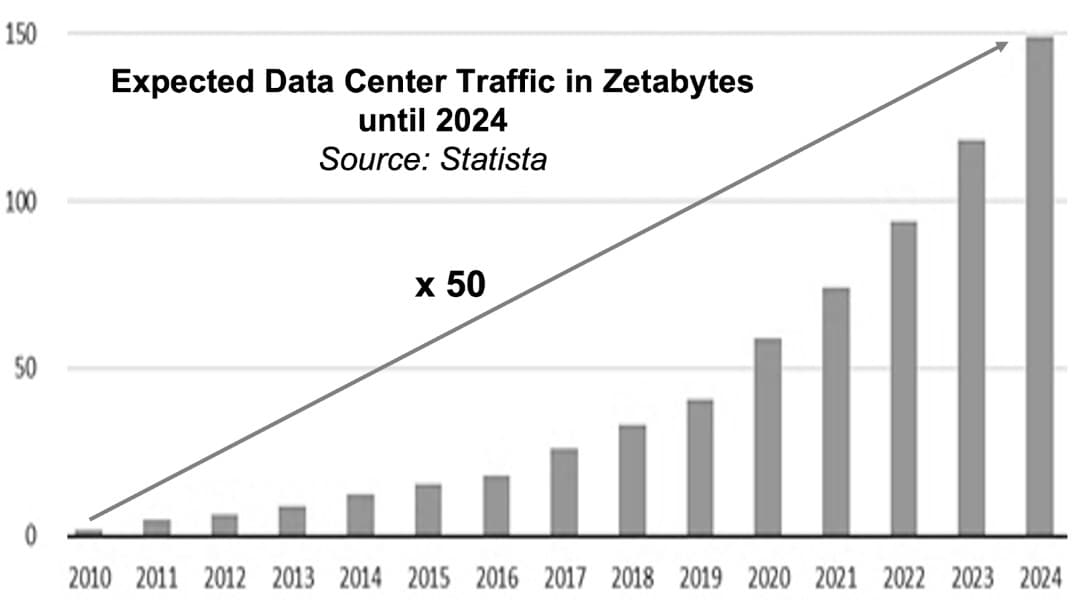 The data explosion is real: Today nearly all the world's IP traffic goes through data centers and according to the International Energy Agency it is not just captured once because for every bit of data that travels the network from data centers to end users, another five bits of data are transmitted within and among data centers. This and other factors, such as increased use of the Internet, mean data center traffic is expected to increase 50 times by 2024 compared to 2010 according to Statista.

JPMorgan alone spent $2bn on new data centers in 2021 and plans to spend more.
The Flipside: Data Centers Have a Large CO2 Footprint

Data centers globally consume 1-2% of the world's electricity and are responsible for more than 2% of the world's CO2 emissions which is equivalent to the CO2 emissions of the world's entire airline industry combined. Ireland has a lot of data centers which consume 14% of the country's electricity. In 2020, Germany's data centers gobbled up 16bn kWh of electricity which translates into 6m t of CO2 according to Bitkom. There are now huge efforts to be made to reach the objectives of the European Green Deal, which plans to make data centers climate neutral by 2030.

One of the culprits of the high energy consumption is the cooling system, which uses about one-quarter of the energy of a data center according to SINTEF. Most data centers' cooling systems are inefficient as the recent heat wave in Europe has proven.
Besides cooling, data processing uses a lot of electricity (about 70% of a data center), and any production of electricity has carbon, water and land footprints. According to ScienceDaily just one hour of videoconferencing emits 150-1,000 grams of CO2, requires 2-12 liters of water and demands a land area adding up to about the size of an iPad Mini.
However, reducing data processing is realistically not an option.
Part of the Solution: Moving On-Premise Data Centers to the Cloud
There are two main reasons why data centers in the cloud fare much better from a CO2 footprint perspective compared to on-premise data centers:
Higher Efficiency
This is possible due to higher utilization, economies of scale, use of AI & ML and less energy consumption. Google Cloud reports a Power Usage Effectiveness (PUE) of 1.1 whereas the global average is 1.6. AWS infrastructure is five times more energy efficient than the average European enterprise data center according to 451 Research.
The Result: Massive Reduction of the CO2 Footprint compared to On-Premise Data Centers
The chart below shows that with AWS the CO2 footprint can be reduced by 80% and can be even further pressed down up to 96% when 100% renewable power is used.
Carbon Reduction Potential of Cloud Infrastructure (in Europe)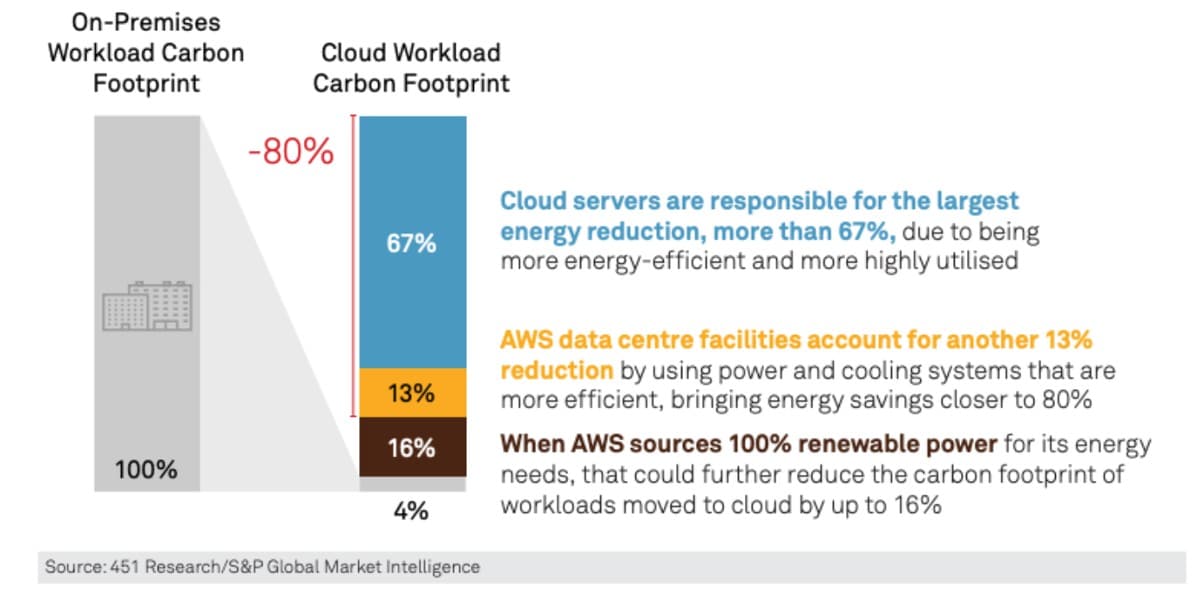 Next Steps
1. Leverage the Sustainability Toolkit for Splunk – Focus on Data Centers
The Sustainability Toolkit, a free app for Splunk customers, equips organizations with capabilities to gain deep insights into their carbon footprint and as such empowers them to take the necessary actions towards their carbon neutrality goals.
On the one hand, it provides big picture visualizations across cloud / multi-cloud, hybrid and on-premise environments via an executive dashboard. On the other hand, it empowers organizations to deep-dive into emission hot spots in real time and take the required action based on data. Such hot spots would be sub-segments of Scope 1-3 of the Greenhouse Gas Protocol, e.g. emissions from running data centers (Scope 3).

A key feature of the Sustainability Toolkit is its focus on data centers, with out-of-the-box integrations, pre-configured calculations and data center specific dashboards. As such, organizations can leverage deep insights to drive use cases like "Cloud Migration of On-Premise Data Centers" or "Data Center Optimization". As shown in the dashboards below, key data center KPIs such as Power Usage Effectiveness (PUE), the temperature of individual racks and servers, utilization and more can be monitored in real-time and additionally translated into a CO2 footprint number. Most importantly, these visually compelling insights empower organizations to make the right decisions, e.g. replacing older equipment or moving to the cloud.

The Sustainability Toolkit is closely aligned with Splunk's cloud-first strategy and its cloud partners AWS and Google Cloud. Joint sustainability campaigns, such as with AWS Driving Sustainability Leadership across six verticals and with Google Cloud Smart, Secure and Sustainable Manufacturing with Splunk and Google Cloud, underline our shared customer focus.
Splunk and Accenture work in close partnership to help organizations capitalize on Cloud and drive greater value from data and analytics insights. One of the results of this partnership is the implementation of the Sustainability Toolkit in Accenture's Cloud Innovation Center (ACIC) in Zurich.
2. Leverage Accenture's Sustainability and Cloud Expertise at ACIC Zurich (ACIC: Accenture Cloud Innovation Center for EMEA)
To help clients master their sustainability challenges, Accenture uses two approaches:
Sustainability by Technology and Sustainability in Technology.
Sustainability by Technology means using technology in a sustainable way, for example, by providing technologies and services contributing to "Net Zero" and responsible value chains, consequently helping companies to measure and report their ESG activities.
Sustainability in Technology is about using technology as a vehicle for achieving sustainability goals, such as Green Software to reduce the energy consumption of the companies. To be precise, Green Software includes Green Infrastructure, Green SW Development Lifecycle and Green Cloud.
In the field of green infrastructure, the focus is on measuring and reducing the ecological footprint of devices, networks, data centers and software. Regarding the Green Software Development Lifecycle, Accenture tools can help to improve the software code for sustainability, robustness, and security. In the area of Green Cloud, Accenture helps its clients to choose the greenest cloud provider and location by optimizing cloud services to make them more sustainable while reducing costs at the same time.
In order to experience how the Sustainability Toolkit for Splunk works live, we have partnered up to develop a demo environment in our Accenture Cloud Innovation Center (ACIC) in Zurich.
Accenture runs multiple Cloud Innovation Centers globally where we develop and drive deployments at scale for our partner ecosystem in a hybrid, multi-cloud environment.
The ACIC is an enterprise-ready cloud-native hybrid / multi-cloud platform which automates all boundaries by implementing SRE/AIOPs best practices, where each client has the possibility to get access to different infrastructures according to their needs. Accenture has extensively used the ACIC as a technical foundation to showcase regulatory solutions with Cloud sovereignty (such as the EU DORA regulations and Schrems Data Protection) driving joint go-to-market efforts with our ecosystem partners.​
At the ACIC in Zurich, we have built together with Splunk a demo environment where we are showcasing various use cases, including the recent addition of the Sustainability Toolkit for Splunk. This enables us to jointly demonstrate to clients how Splunk integrates and presents the CO2 footprint of an on-premise data center. Additionally, Accenture Future Camp Zurich gives clients the opportunity to immerse themselves in an interactive joint co-creation session with Accenture and Splunk experts to accelerate the discussion on integrating sustainability into their businesses.
Sustainability is going to become the next digital where every business will be a sustainable business. That's why Accenture is excited to have Splunk as our partner with whom we can solve sustainability challenges through technology innovation.
3. Do the Maths and Decide on Cloud Migration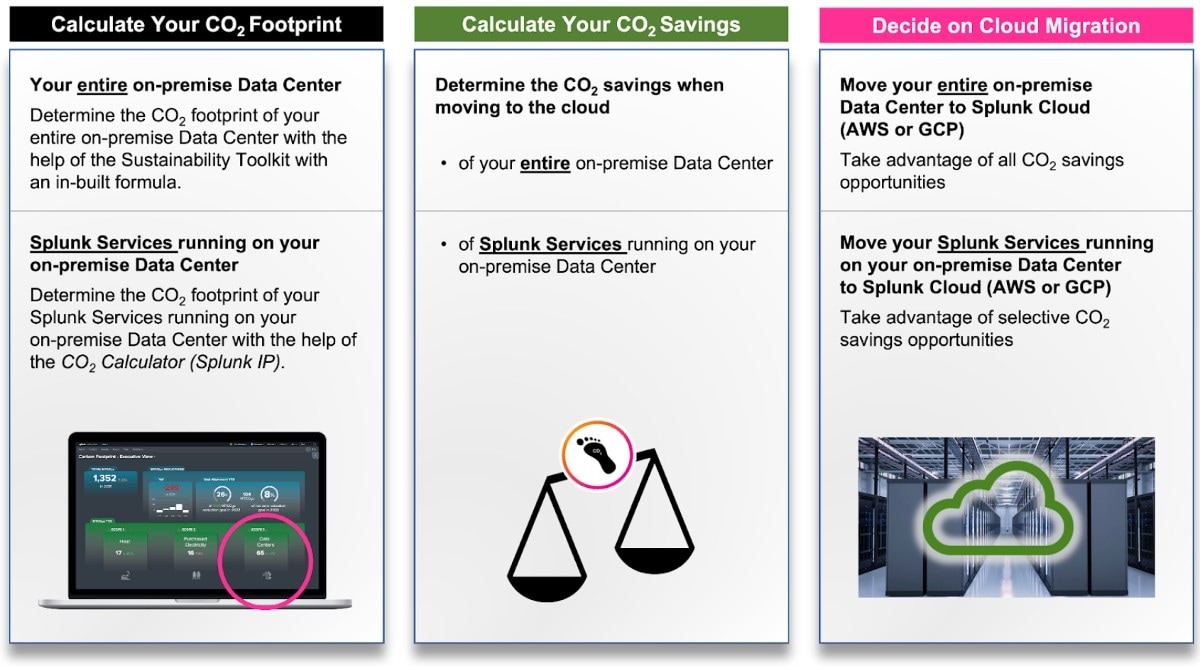 Key parameters when calculating the CO2 footprint of your entire data center would be electricity consumption (kWh/year) and the carbon intensity of the power-mix (g of CO2 / kWh). Naturally, the carbon intensity differs by country and even by city.
When calculating the CO2 footprint of Splunk Services such as Splunk Enterprise (Core), Splunk Enterprise Security (ES) or Splunk IT Service Intelligence (ITSI) running on your on-premise data center, this is a bit more complex: Multiple parameters such as Splunk ingest (in GB or TB), PUE, Power Rating (kWh/TB), types of servers, utilization, retention and many more are taken into account by our CO2 Footprint Calculator (Splunk IP). A noteworthy finding of this calculator is that CO2 / TB is not a linear function.
Once organizations have comprehensive visibility of the CO2 footprint of their data center, they can easily calculate the CO2 savings when moving to the cloud. According to the chart shown above, companies can expect a massive reduction in their CO2 footprint with at least 80% CO2 savings. A side effect of great relevance of this exercise is that organizations can focus now more on their core business without worrying about IT issues at data centers.
Obviously, not all organizations choose to move their entire data center to the cloud for many valid reasons, resulting in a hybrid cloud strategy. In that case, they can still take advantage of selective CO2 savings opportunities when they move their Splunk Services to the cloud. On top of that, they can optimize their on-premise data center with the insights gained by the Sustainability Toolkit.
Example
A Splunk customer calculated that
Moving their entire on-premise data center to the cloud would result in
350t of CO2 savings per year - equivalent to powering 50 family homes per year
Moving Splunk Services running on their on-premise data center to the cloud would result in 50t of CO2 savings per year – equivalent to powering 7 family homes per year
Are you interested in harvesting the low-hanging fruits on your sustainability journey? With Europe's carbon price hovering between 70 and 100 EUR/t and rising energy costs affecting the cooling bill, there is obviously also a cost savings factor of CO2 reductions.
You are warmly invited to experience the use case "Cloud Migration of On-Premise Data Centers with Splunk and Accenture" in real-life at ACIC in Zurich and discuss your case with our sustainability and cloud experts.
Come and visit us!
Accenture Innovation Hub - St. Annagasse 9, 8001 Zurich, Switzerland
And if you want to educate yourself a little further, we got you covered as well – check out the below resources:
Sustainability
Cloud Migration

And Last But Not Least

Inspiring Splunk Cloud Migration Customer Success Stories
Meggitt - Nasdaq - Nikko Chemicals - Arlo