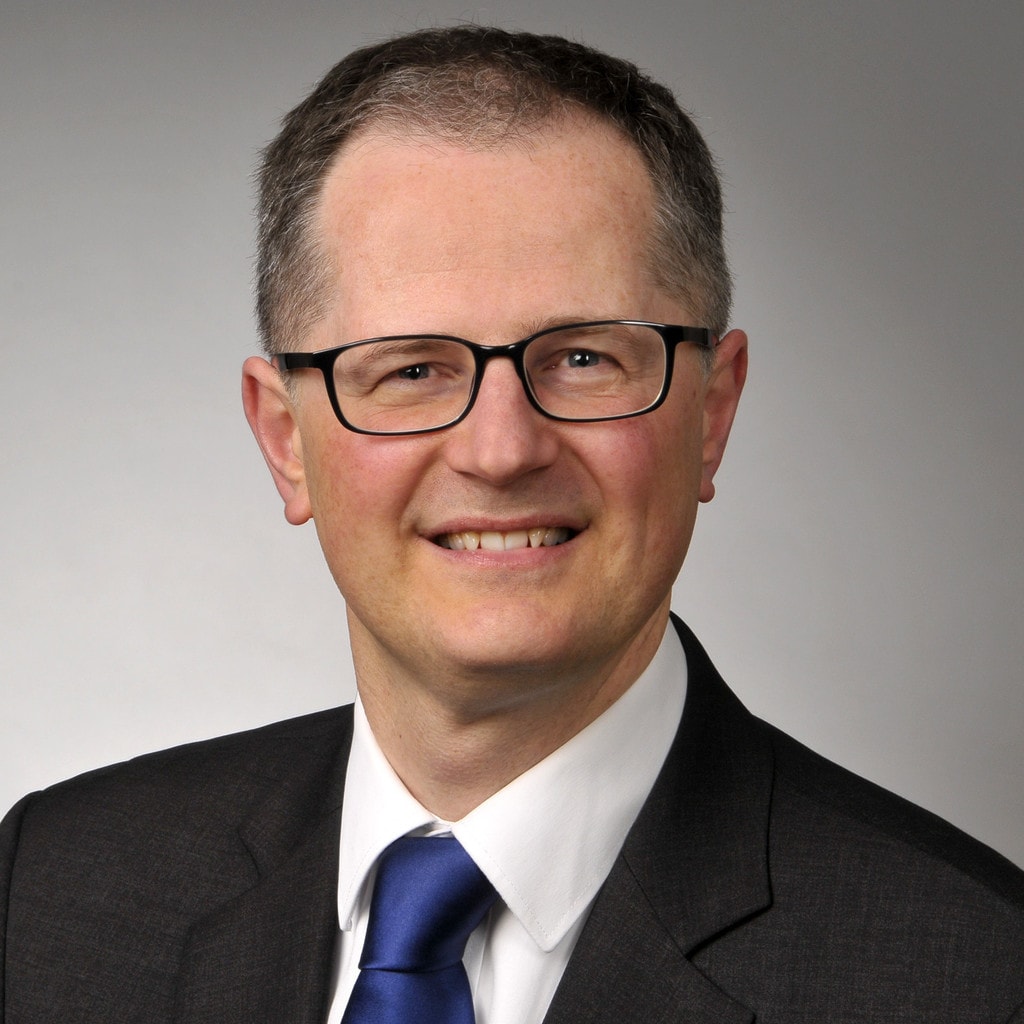 By Ewald Munz May 04, 2022
*
Co-author: Alexander Okl, Sr. Partner Development Manager EMEA | Google Cloud at Splunk
"The way we look at manufacturing is this: the […] strategy should be to skate where the puck is going, not where it is." - Tim Cook, CEO, Apple Inc.*
So where is the puck going for manufacturers in 2022 and beyond?
After having accelerated cloud and digital transformations during the pandemic, manufacturers might be forgiven for wanting to take a pit stop. But there is no time to slow down and rest on their laurels. The technology landscape is shifting, faster than ever before — and so are the new kids on the block such as massive cyberattacks and sustainability imperatives. Within this backdrop of rapid change — creating both opportunities as well as challenges for manufacturers — it is critical for manufacturers "to skate where the puck is going" and evolve to smart, secure and sustainable manufacturing.
Splunk and Google Cloud are helping manufacturers skate towards smart, secure and sustainable manufacturing in multiple ways, leveraging the powers of data and state-of-the art cybersecurity in a cloud-first, sustainability driven world.
Why Smart, Secure and Sustainable Manufacturing with Splunk and Google Cloud?
Splunk's established security products and solutions are available directly within Google Cloud; as such, in the first add-on layer, Splunk complements Google Cloud's AI-driven manufacturing solutions with IT and Operational Technology (OT) security, helping manufacturers with state-of-the-art cybersecurity protection.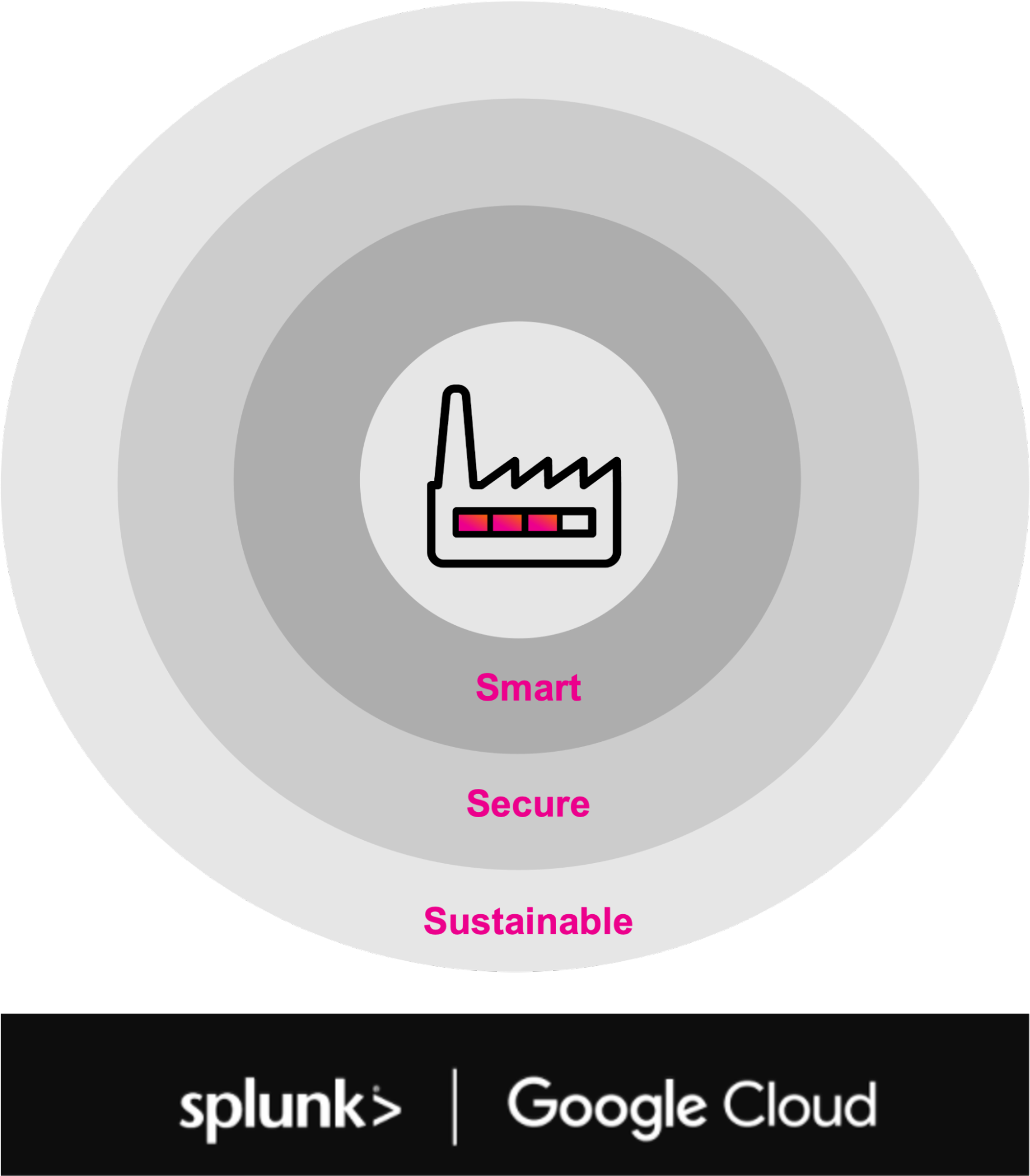 In the second add-on layer, Splunk equips manufacturers with deep insights of their carbon footprint based on the new Sustainability Toolkit for Splunk and empowers them towards the achievement of their carbon neutrality goals.
"Splunk and Google Cloud are already invested in a global strategic partnership to help organizations execute data-driven, cloud-native strategies. As such we are delighted to offer complementary solutions that help our joint customers realize the vision of smart, secure and sustainable manufacturing," said James Hodge, GVP & Chief Strategy Advisor, International at Splunk.
"Cybersecurity and sustainability goals have become increasingly important priorities for companies across the manufacturing industry. We're proud to offer solutions alongside Google Cloud partners like Splunk that help customers address these business priorities and provide them with the tools they need to succeed in the cloud," said Charlie Sheridan, Technical Director, Industry Solutions, Manufacturing, Google Cloud.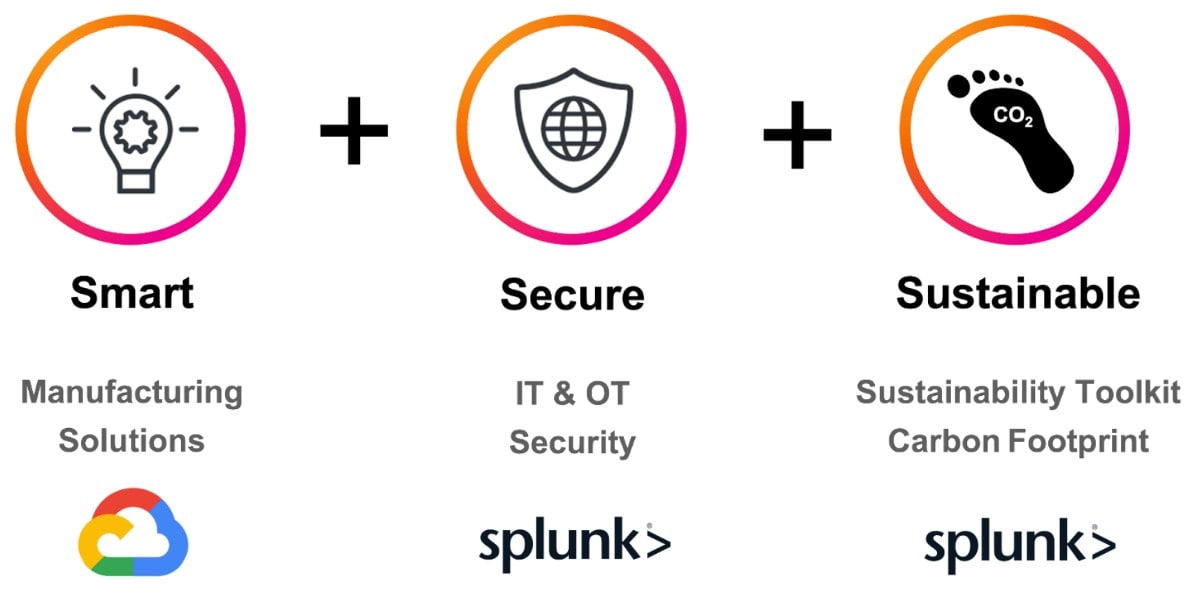 Value for Manufacturers
Stay ahead of the curve by leveraging the combined market leading solutions of key players
Agility, resilience and scale through leading technology in a cloud-first world
Leverage an analytics and cloud-based SIEM
State-of-the art cybersecurity protection in an increasingly sophisticated threat landscape
Pro-actively engage and commit to new sustainability imperatives
Deep insights and KPI tracking of the CO2 footprint to fulfill demands from consumers, investors and regulators
The Components of Smart, Secure and Sustainable Manufacturing
How Google Cloud is helping manufacturers drive factory-floor transformation
Google Cloud's manufacturing solutions provide manufacturing engineers and plant managers access to unified and contextualized data from across their disparate assets and processes, along with manufacturing-specific artificial intelligence solutions that can be used by their existing engineering teams to optimize production operations from the factory floor to the cloud.
Manufacturing Data Engine is an end-to-end solution that processes, contextualizes, and stores factory data on Google Cloud's market-leading data platform. It provides a configurable and customizable blueprint for the ingestion, transformation, storage, and access to factory data. It integrates key Google Cloud products, including Cloud Dataflow, PubSub, BigQuery, Cloud Storage, Looker, Vertex AI, Apigee, and more, into a manufacturing-specific solution.
Manufacturing Connect is a factory edge platform co-developed with Litmus Automation that quickly connects to, and streams data from, nearly any manufacturing asset and industrial system to Google Cloud, based on an extensive library of more than 250 machine protocols. Deep integration with the Manufacturing Data Engine unlocks rapid data intake into Google Cloud for processing machine & sensor data. The ability to deploy containerized applications and ML models to the edge enables new dimensions of use cases.
Once data is centralized and harmonized by the Manufacturing Data Engine, it can then be used to address a growing set of industry-specific use cases, including:

Manufacturing analytics & insights, which helps manufacturers quickly create custom dashboards to visualize key data—from factory KPIs, such as OEE, to individual machine sensor data. Deeply integrated with the Manufacturing Data Engine, engineers and plant managers can automatically set up new machines and factories, enabling standardized dashboards, KPIs, and on-demand drill-downs into the data to uncover new insights opportunities throughout the factory. These can then be shared easily across the enterprise and with partners.
Machine-level anomaly detection, which helps manufacturers identify anomalies as they occur and provides alerts—leveraging Google Cloud's Time Series Insights API—on real-time machine and sensor data such as noise, vibration, or temperature.
Predictive maintenance, which enables manufacturers to anticipate an asset's need for service, helping reduce downtime and maintenance cost. Manufacturers can leverage ML models and high-accuracy AI optimizations that are deployable in weeks.
Secure Manufacturing
Splunk's established security products and solutions are available directly within Google Cloud. Together with Splunk Enterprise Security (ES), Splunk for OT Security provides a unified, real-time view across an organization's IT and OT environments.
It is aligned to the latest MITRE ATT&CKTM framework for ICS and integrates existing OT security tools such as Claroty and Nozomi. Splunk ES is a market leading, analytics-driven SIEM offering advanced security analytics at scale to monitor, detect, investigate and respond to threats.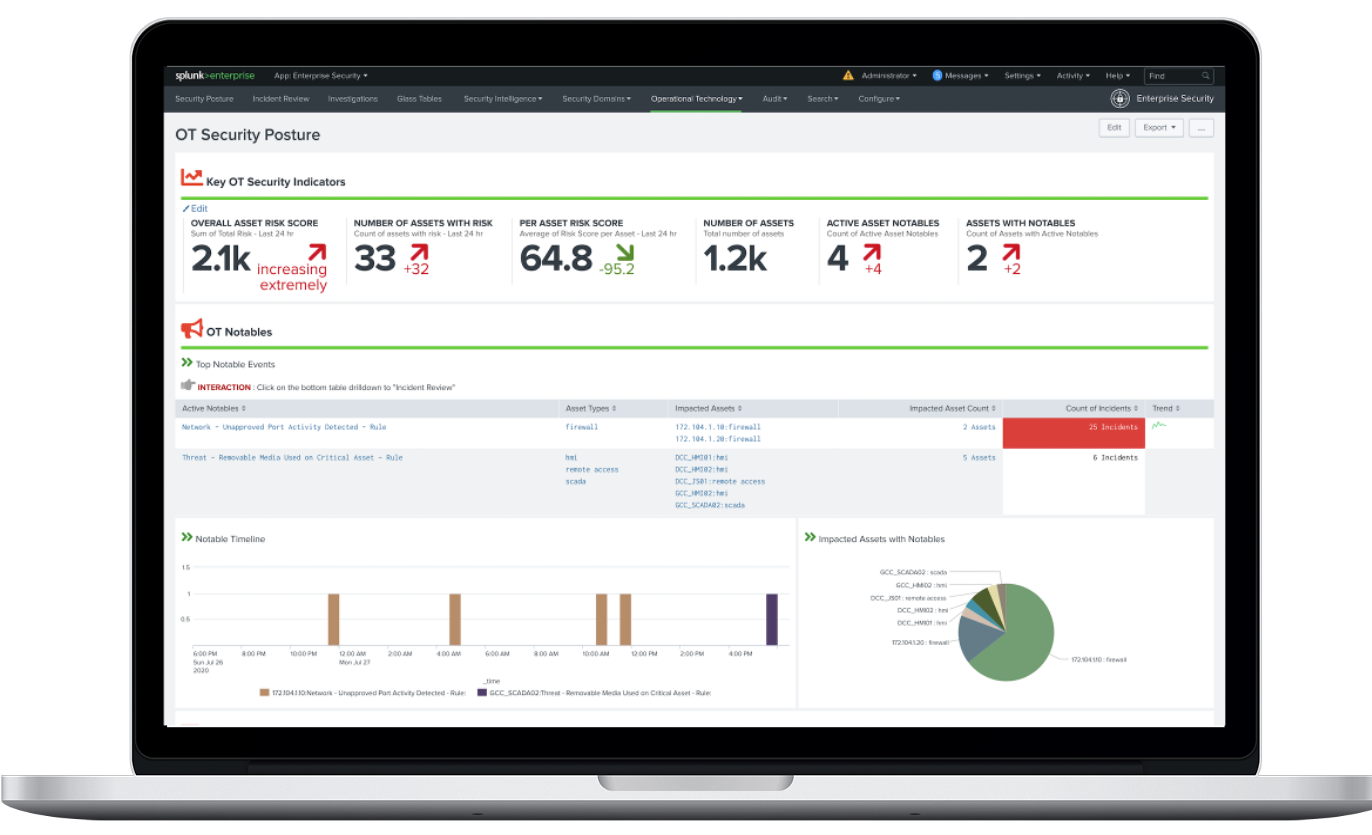 As such, Splunk and Google Cloud are helping manufacturers achieve their security goals in three core ways by:
Ensuring holistic visibility across IT and OT environments via a central IT/OT SOC
Leveraging an analytics-driven and cloud-based SIEM with a security strategy customized for manufacturers
Enabling a quick setup via an "Autobahn" Proof-of-Value (POV) on Google Cloud: Splunk's Autobahn POV program provides a selection of specific use cases for a quick start in a production environment.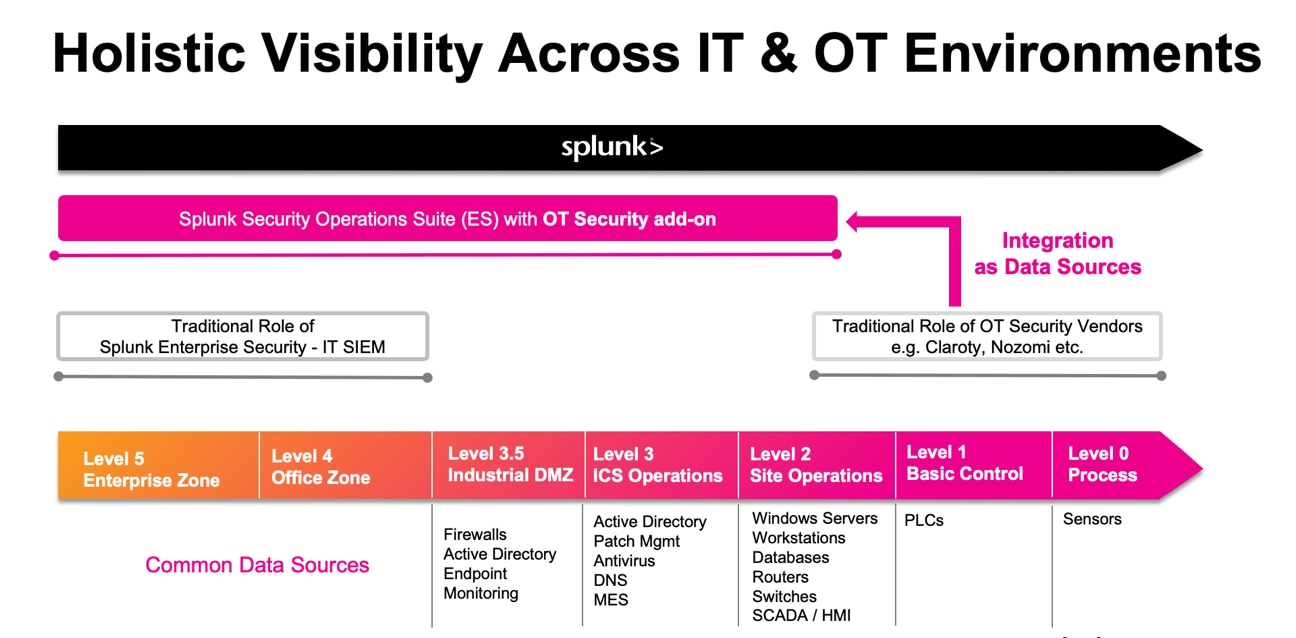 In addition, Splunk launched the new Splunk Security Cloud — the only data-centric modern security operations platform that delivers enterprise-grade advanced security analytics, automated security operations, and threat intelligence with an open, unparalleled ecosystem.
Sustainable Manufacturing
The Sustainability Toolkit for Splunk equips organizations with tools to build a holistic view and gain deep insights into their carbon footprint to align with new sustainability imperatives. It includes a set of visualizations using Splunk Dashboard Studio, an intuitive dashboard-building experience to easily communicate even your most complex data stories.

The power of the Sustainability Toolkit for Splunk unfolds in two ways:

Big picture visualization and tracking of CO2 footprint
On the one hand, it provides big picture visualizations via an executive dashboard that tracks carbon emission reductions towards company goals. It shows the reduction goal attainment against the yearly target as well as against the company's individual net-zero reduction goal in the future, e.g. in 2030.
Real-time deep-dive into emission hot spots
On the other hand, it empowers organizations to deep-dive into emission hot spots in real-time and take the required action based on data. Such hot spots would be sub-segments of Scope 1-3 of the GHG Protocol. In the example dashboard above these would be direct emissions from heat originating e.g. from the combustion of fuels, purchased electricity (Scope 2) and emissions from running data centers (Scope 3).
In a first step, organizations can use readily available third-party calculations such as the sector-specific calculation tools from the GHG Protocol and APIs such as the Carbon Intensity which provides an indicative trend of regional carbon intensity (gCO2/kWh) of the electricity system in Great Britain 96+ hours ahead of real-time.
The Sustainability Toolkit for Splunk also comes up with out-of-the-box calculations to measure the carbon footprint of data centers. As such, it may contribute to a data-driven decision whether to move to the cloud from an emission reduction perspective. Readily available integrations inclusive Google Cloud's Active Assist to gain visibility into the carbon footprint of the cloud usage, help to elevate discussions, too. For a start, these highlighted calculations, APIs and integrations are pre-configured with the Sustainability Toolkit.
Obviously, each organization is different and as such the individual emission hot spots with their underlying data sources vary significantly. By ingesting and correlating disparate data sources across cloud, hybrid and on-premises environments Splunk equips organizations with the flexibility to carve out individual hot spots and monitor them in real-time.

As an organization matures on its sustainability journey it can add additional data sources and establish a comprehensive suite of tools for more granular insights. That way, the Sustainability Toolkit for Splunk ensures future-proofness to comply with the ever-changing sustainability regulations.
Unlike existing "product carbon footprint" calculators available on the market, the Sustainability Toolkit for Splunk is therefore explicitly a management tool to equip executives with holistic visibility of the company's carbon footprint and as such empowers them to take the necessary individual decisions towards their individual carbon neutrality goals.
Needless to say, the Sustainability Toolkit for Splunk is compatible with Splunk Enterprise (8.2 onwards) and also our SaaS solution, Splunk Enterprise Cloud. It is available free of charge via an app on Splunkbase.
Splunk's new Sustainability Toolkit and Google Cloud go hand-in-hand with their sustainability ambitions.
Outlook
Let's face it: Tough jobs are getting tougher. Manufacturers need to embark on the next level of their digital maturity, skating where the puck is going.
In a world where data provides clarity, elevates discussion and accelerates progress, Splunk and Google Cloud are helping manufacturers on their journey towards smart, secure and sustainable manufacturing.
Ready for smart, secure and sustainable manufacturing? Then get in touch now!
The new manufacturing solutions will be demonstrated in person for the first time at Hannover Messe 2022, May 30–June 2. Visit us at Stand E68, Hall 004, or schedule a meeting for an onsite demonstration with our experts.
And if you want to educate yourself a little further, we got you covered as well – check out the below resources:

Google Cloud for Manufacturing
Secure Manufacturing
Sustainable Manufacturing
Data and Cloud Topics
*Original quote attributed to hockey legend Wayne Gretzky