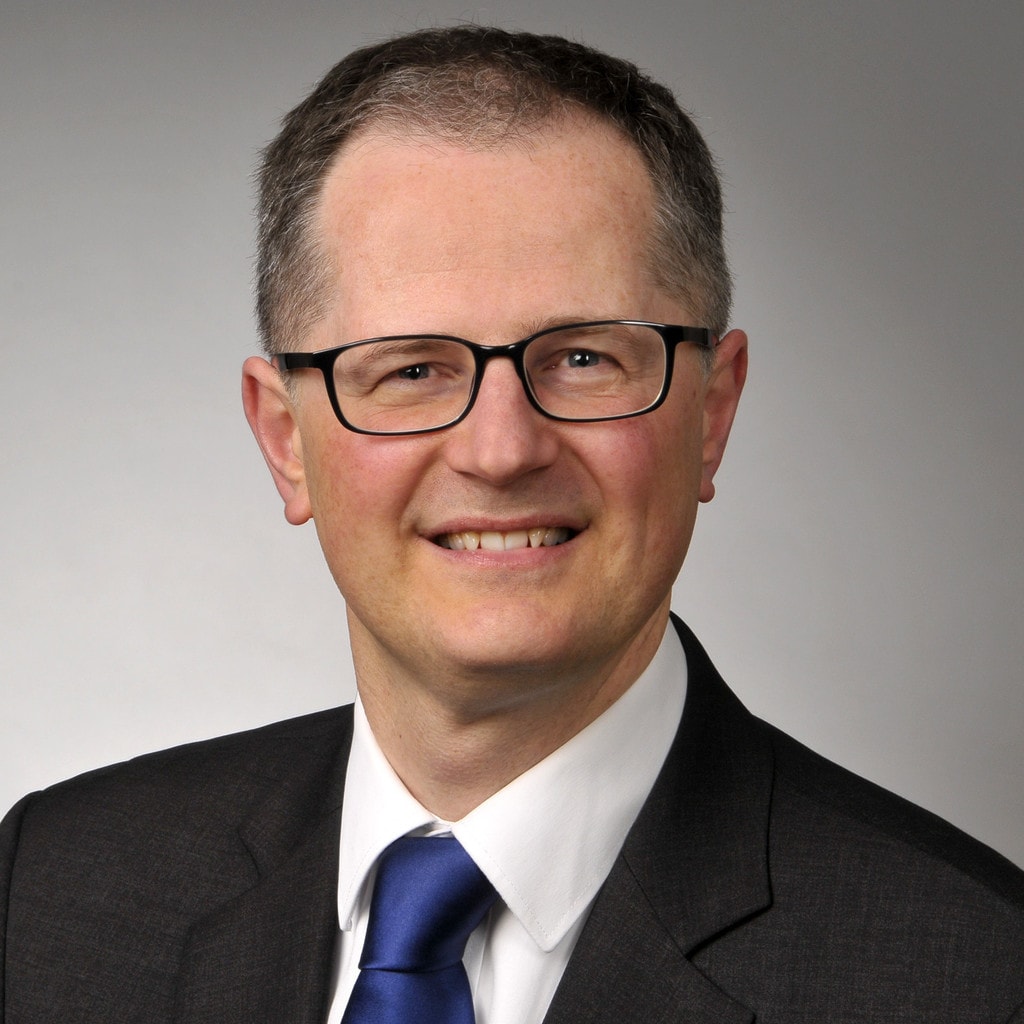 By Ewald Munz November 01, 2021
*Credit to co-author: Clara Lemaire.
As the world watches the UN Climate Conference unfold in Glasgow, the manufacturing industry is under increased pressure to reduce its CO2 emissions. Companies are stepping up to the challenge, but much more remains to be done to keep climate change under control. Digitalization is part of the solution. The Power of Data has much to offer such as environmentally friendly manufacturing, efficient logistics, improved building and energy management and optimized renewable energy production.
All Eyes are Now on the Climate Conference in Glasgow
COP26, the UN Climate Conference currently taking place in Glasgow, is a crucial event if climate change is to be brought under control. Ahead of the Conference, 200 countries have been asked for their plans to cut emissions by 2030. In 2015, as part of the Paris Agreement, they had agreed to make commitments to keep global warming "well below" 2 degrees Celsius (but preferably 1.5) compared to pre-industrial levels. In Glasgow, countries need to collectively deliver larger emissions cuts, to reach 'net zero' emissions in 2050.
The Manufacturing Sector is Facing Hefty CO2 Reduction Targets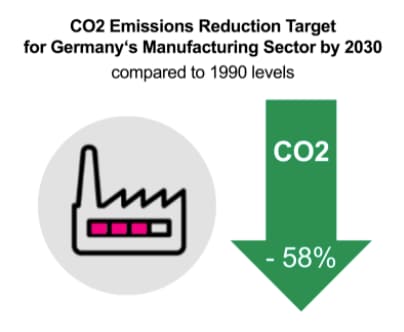 Given the manufacturing industry's heavy carbon footprint this climate conference is of key relevance to this sector. To take the example of Germany, manufacturing has to reduce emissions by 58% by 2030 (compared to 1990 levels) - a huge effort to accomplish in less than 9 years, especially considering the important steps already taken so far. (Source: UBA, Climate Action Act, 2021)
Carbon Footprint Reduction and Carbon Neutrality are Top of the Agenda in the Manufacturing Sector
Gone are the days of lofty "green-washing" announcements when many manufacturers demonstrated their sustainability efforts through high-level PR campaigns. Now, this industry is expected to deliver concrete results and take active steps to address its high carbon footprint. Climate action is no longer a "nice to have".

Concrete KPIs, carbon reduction targets and carbon neutrality objectives are now an important part of companies' strategies. The investor community is looking at these with increased scrutiny.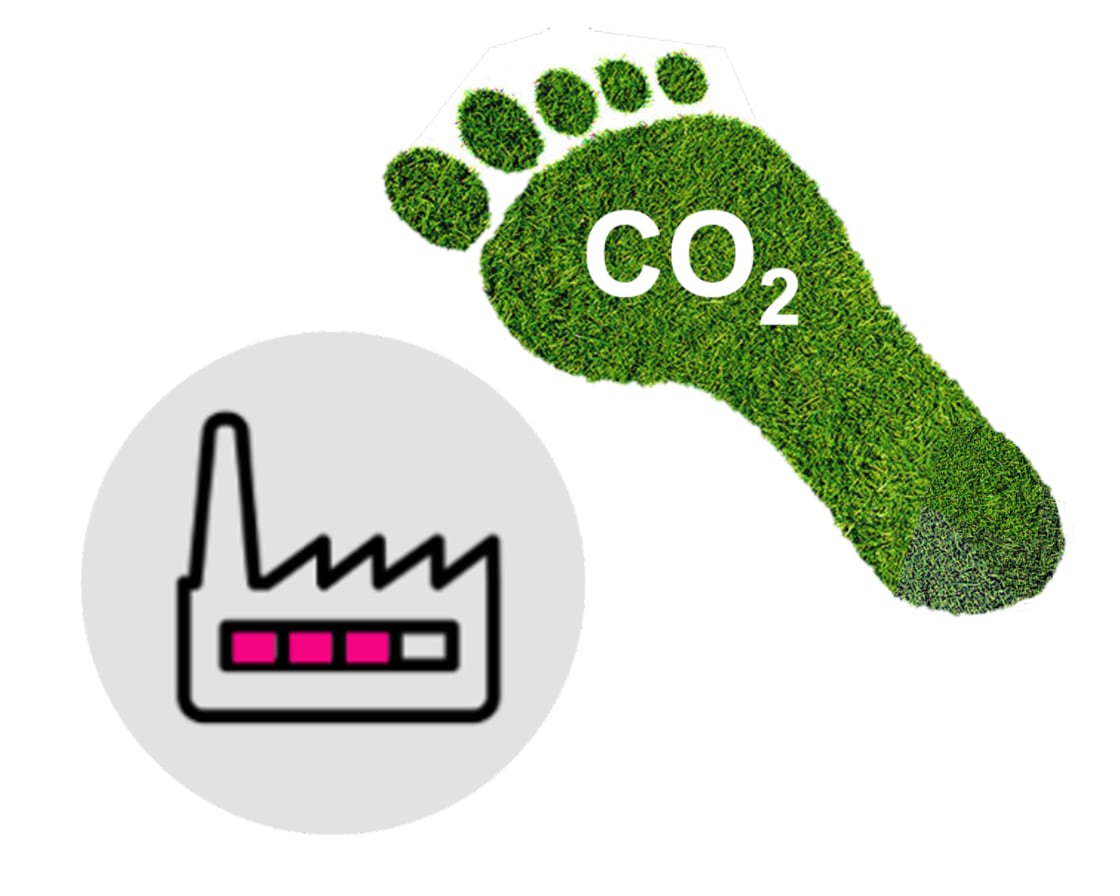 Even Porsche publicly declared their goal to be CO2 neutral by 2030. FedEx and General Motors have made similar commitments for 2040.
Unsurprisingly, early studies suggest that companies' efforts to protect the climate are very well received by their own workforce, their customers and also the capital markets. The EU will be making large funds available to subsidize new, climate-friendly technologies and production processes that manufacturers can turn to their advantage.
The road is still long, and manufacturers will need to work even harder to contribute their fair share in the fight against climate change. They will have to rely on a variety of solutions, including leveraging the power of data.
Manufacturing Bears a Particular Responsibility
Immense efforts will be needed to achieve Europe's climate targets for 2050.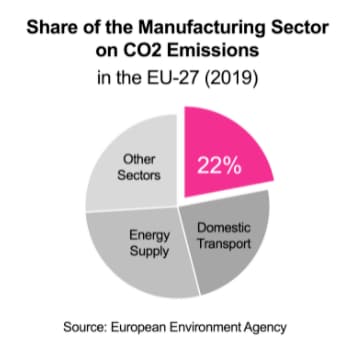 The manufacturing sector bears a particular responsibility here, emitting an annual total of 775Mt of CO2 equivalents (2019).
With a 22% share of Europe's total CO2 emissions, manufacturing is the third largest emitter after energy and transport.
Therefore, this industry has a particular responsibility to reduce emissions. It is also further encouraged by stricter environmental regulations and increasing public pressure.
Digitalization of Manufacturing Has the Highest Potential to Contribute to CO2 Reduction - Example German Manufacturing Industry
A study by Bitkom, conducted by Accenture, recently looked at the impact of digitalization on the carbon reduction potential of four sectors in Germany by 2030: Manufacturing, Mobility, Buildings and Work & Business.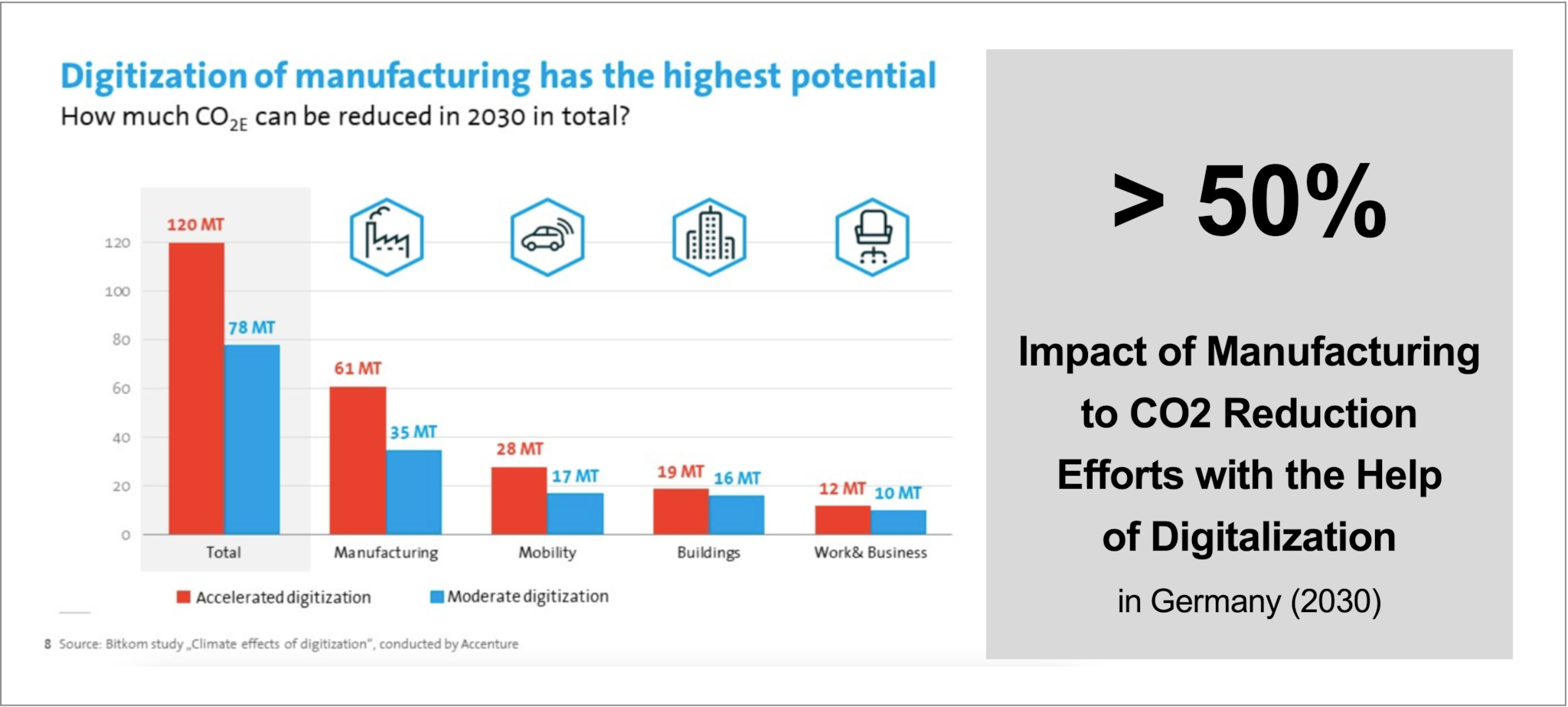 The study concluded that total CO2 emissions in Germany can be reduced by as much as 120Mt in 2030 through targeted and accelerated deployment of digital solutions.
The impact of digitalization on the manufacturing industry in Germany, Europe's most industrialized country is particularly significant: With accelerated digitalization, emission cuts in manufacturing would represent more than 50% (61Mt) of total CO2 reduction efforts (see chart).
"Digital technologies could help reduce global carbon emissions by up to 15% through solutions in energy, manufacturing, agriculture and land use, buildings, services, transportation and traffic management. This corresponds to more than the current carbon footprints of the EU and the US combined."
- World Economic Forum, 2019
The Manufacturing Industry Moves Ahead with Key Initiatives
The Initiative 50 Climate Leaders is the response from the international business community which demonstrates the desire, the leadership and the will to take effective action in the fight against climate change. Obviously, key European manufacturers are part of this initiative such as Schaeffler, Zeiss, Jungheinrich, Sulzer and Johnson Matthey.
We are also seeing other corporate initiatives emerging in the run-up to COP26, such as Science-Based Targets with 1,000 companies onboard including Continental, Volkswagen and Deutsche Post DHL or We Mean Business involving major industrial companies like Michelin, Siemens and Holcim.
In Germany almost 70 companies including manufacturers such as ThyssenKrupp, Infineon and Bayer addressed the upcoming new government with a request to start an "Implementation Plan for Climate Neutrality" within the first 100 days.
Produktion, one of Germany's largest publishers on manufacturing topics is reflecting these developments with recent in-depth reports on "CO2 Neutral Manufacturing".
"I envision a world in the not too distant future where the foundation of a sustainable, zero carbon global economy will literally be built with green concrete."
- Thomas Guillot, Chief Executive of the Global Cement and Concrete Association (GCCA)
How Splunk Can Help with the Power of Data
To start, Splunk itself is committed to avoiding, minimizing, mitigating and/or when appropriate, offsetting our impacts on the environment as outlined in our Environmental, Social and Governance (ESG) Position Statement.

Splunk can help manufacturers achieve their decarbonisation targets in many different ways, leveraging the power of data. Improved operational efficiency or optimized energy management may only be a few of many possible steps such as gaining visibility over one's actual carbon footprint as a basis for decisions. Here are 10 selected concrete examples on how Splunk can help.
Environmentally Friendly Manufacturing:
Splunk is helping manufacturers to correlate multiple data sources in complex production environments to save energy and protect the environment.
Efficient logistics:
Splunk is helping pioneering efforts within automobile and aircraft manufacturers, helping increase logistics efficiencies and introduce ground-breaking new technologies.
Improved Building and Energy Management:
Splunk is helping large property asset operators use data to be more efficient with people and natural resources.
Optimized Renewable Energy Production:
Splunk helps the renewable energy industry do more to ensure their assets are running as expected and the systems they depend upon are performant and reliable. Splunk enables energy efficiency activities like demand response to shed load during grid events.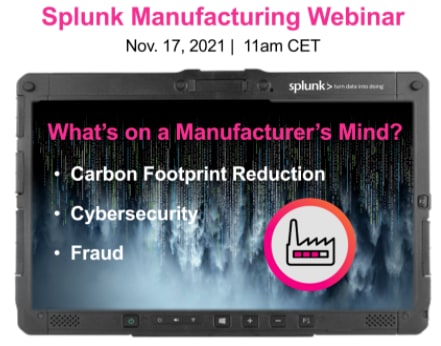 For more information on how Splunk helps manufacturers reduce their carbon footprint, turn into our Splunk Manufacturing Webinar "What's on a Manufacturer's Mind?".
Watch it on demand here.
Our customer, the Danish engineering company FLSmidth will highlight how Splunk helps them with the power of data on their mission towards zero emissions in mining and cement to bring these industries into a sustainable future.

Don't miss the live demo with the Splunk CO2 dashboards!
Ready to reduce your carbon footprint? Then get in touch now!
And if you want to read on about the power of data, we got you covered, too. Check out the below resources: