Free AWS Credits for Migration to Splunk Cloud
AWS Agility + Splunk Visibility = Cloud Success
As more of your critical workloads move to AWS, you need to gain critical security, operational and cost management insights across your entire AWS and hybrid environment. Splunk provides that kind of visibility with Splunk Enterprise or Splunk Cloud on the AWS Marketplace. Splunk on AWS can help you:
Gain real-time Operational Intelligence across your applications and services
Ensure AWS deployments meet or exceed security and compliance standards
Guarantee AWS-based applications and services meet defined SLAs
Gain optimization insights into your AWS deployment with the free Splunk App for AWS
White Paper

White Paper

Tech Brief

Product Brief
Splunk Solutions Available on the AWS Marketplace
Splunk Cloud on the AWS Marketplace
Splunk Cloud delivers the benefits of the award-winning Splunk Enterprise as a cloud-based service.
Splunk Insights for AWS Cloud Monitoring
This AMI offers analytics and visibility for your AWS workloads for less than $2 per hour.
Splunk Insights for Infrastructure PAYG
Splunk Insights for Infrastructure is available FREE for a 15-day trial and converts to an hourly pricing model.
Splunk on AWS Use Cases
Splunk on AWS for IT Operations
Getting Started Guide




Learn how to search and correlate data from across your infrastructure with Splunk Insights for AWS Cloud Monitoring


Get the Guide »

E-book




See how customers integrate AWS and the Splunk platform to save on capital costs and expenses


Download the E-book »

Case Study




TrueCar Drives Log Management, Application Delivery and Security Success With Splunk Cloud and Amazon Web Services


Read the Case Study »
Splunk and Amazon Web Services
Watch Splunk CEO Doug Merritt and AWS CEO Andy Jassy discuss how Splunk and AWS work together to drive customer success in the cloud.
Customers love having the agility of AWS with the end-to-end visibility of Splunk.
Joint customers can instrument their usage of the cloud and easily see what's being created when and how quickly.
Deep Visibility Into AWS – Security, Operations and Cost Management
The Splunk App for AWS offers a rich set of pre-built dashboards and reports to analyze and visualize data from numerous AWS services – including AWS CloudTrail, AWS Config, AWS Config Rules, Amazon Inspector, Amazon RDS, Amazon CloudWatch, Amazon VPC Flow Logs, Amazon S3, Amazon EC2, Amazon CloudFront, Amazon EBS, Amazon ELB and AWS Billing – all from a single, free app.
Security

Topology

Timeline

Usage

Insights

Billing
Security
Comprehensive security dashboards allow customers to view AWS audit activity, unauthorized users, key-pair and security group violations, VPC traffic source, out-of-band instance provisioning, security assessment findings, compliance checks and AWS instance changes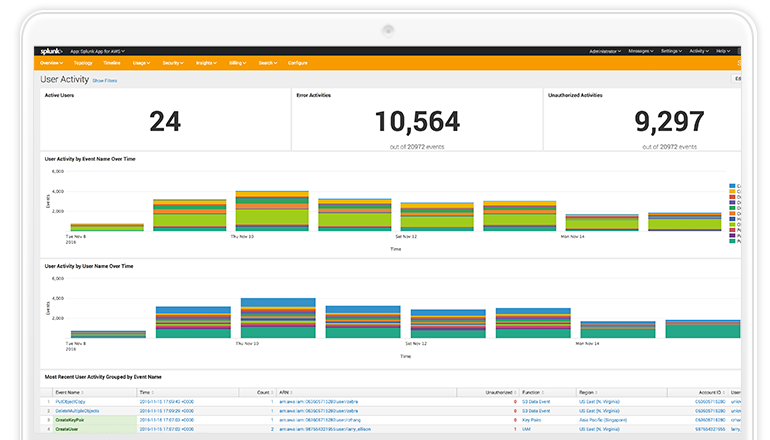 Topology
The patent-pending Splunk Topology view provides a graphical representation of your current AWS deployment. It allows you to view the topology and resource relationships by account, region, VPC, tag and time. This capability also allows you to play back how the environment was built and adds interactive layers of insight for each AWS element.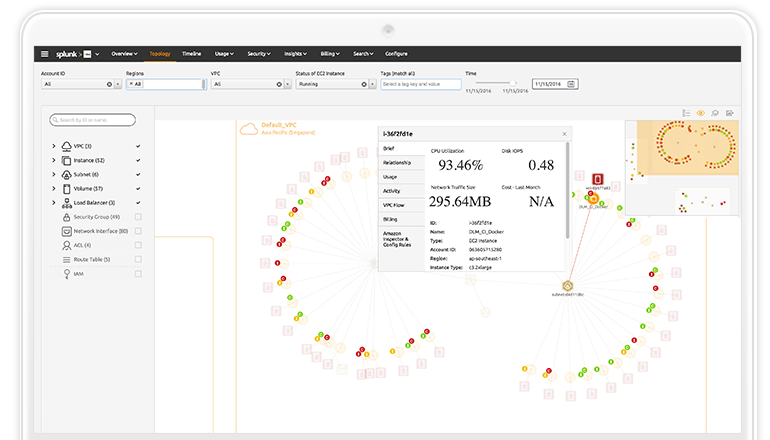 Timeline
The Splunk Resource Timeline view allows you to compare and correlate AWS Cloudwatch, CloudTrail, Config Rules and Inspector Events in an interactive Time Series ribbon.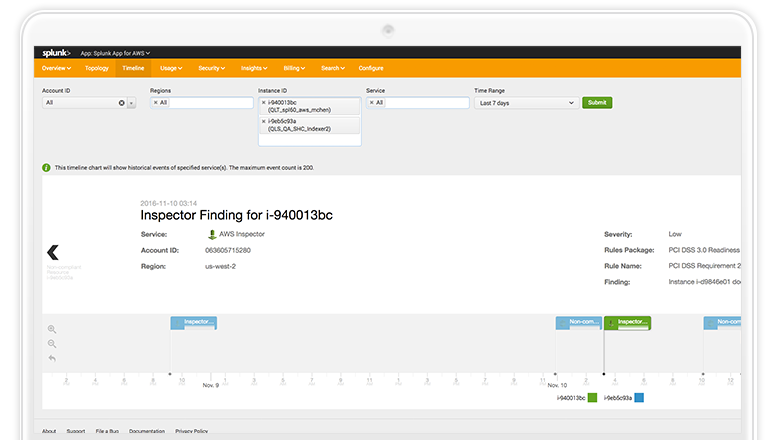 Usage
Comprehensive AWS Operations dashboards allow customers to view EC2 instance utilization metrics, EBS footprint and usage details, S3 traffic volume, VPC traffic flow, ELB latency, Lambda activity and Cloudfront CDN latency.  Visualizations allow for both holistic views (by account, region, tag and time) and individual instance layers, down to the raw search and original metrics.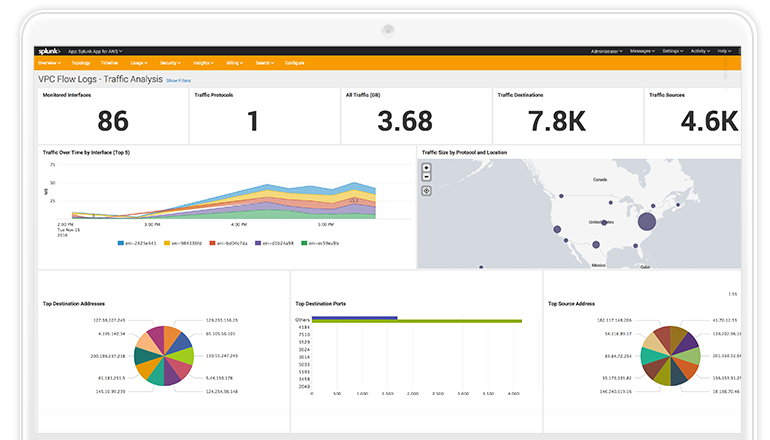 Insights
Dashboards leveraging the Splunk Machine Learning Toolkit provide additional insight and recommendation capabilities for Reserved Instance cost optimization, EC2 sizing, ELB health, Security Group orphans and Elastic IPs inactivity.  Anomaly detection has also been applied across Security and Billing data.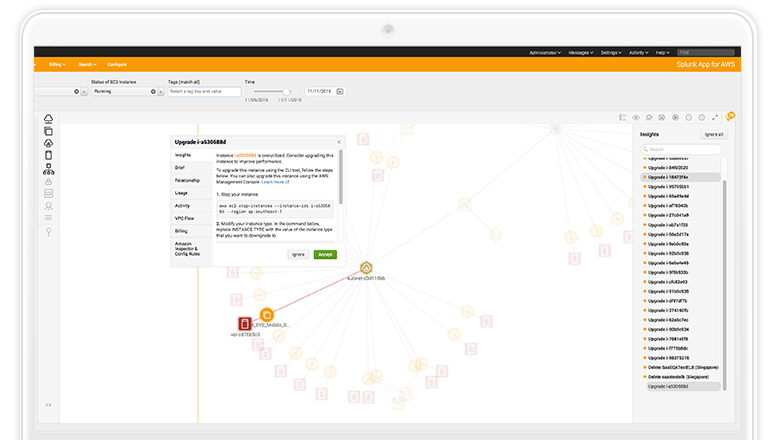 Billing
The Splunk AWS cost management capabilities begin with your current and historical AWS Instance inventory and extend into an in-depth view of used/unused resource cost, cost by account and cost by service. Interactive capacity and budget planning dashboards allow you to properly assess cost vs. budget over time.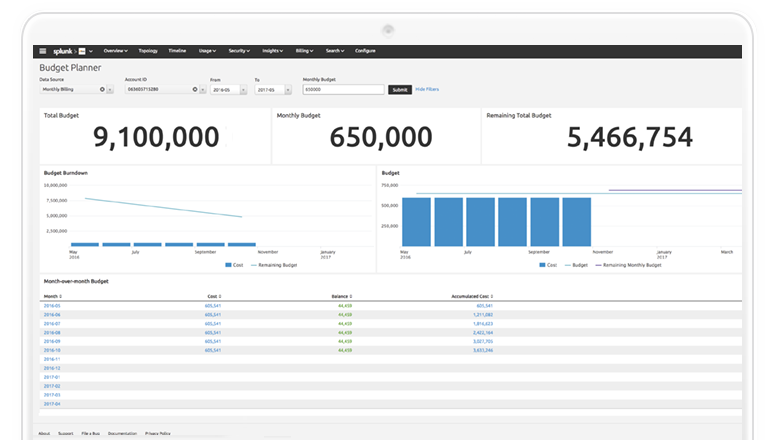 What can you do with Splunk?