VictorOps
Empower your on-call teams to find and fix problems faster with automated and insightful incident management routing, collaboration and reviews.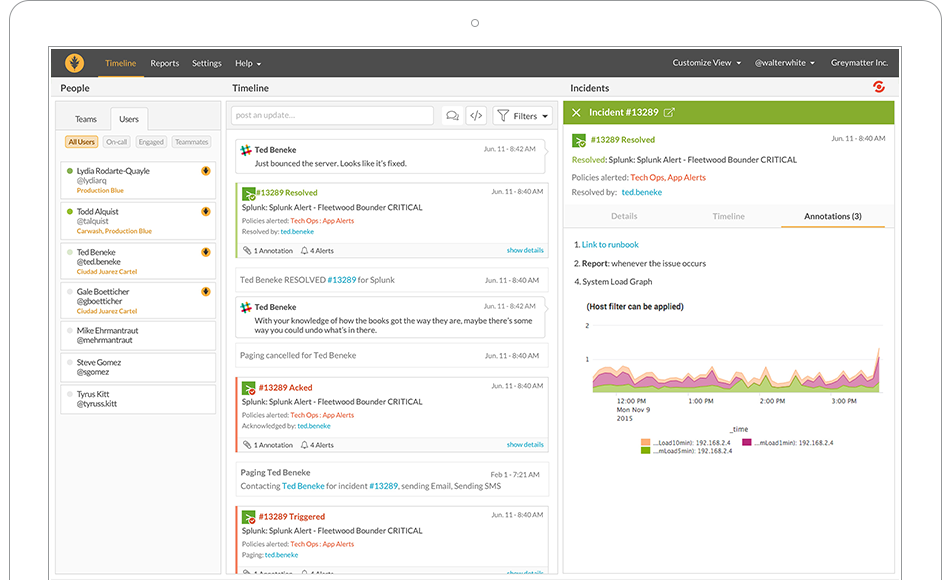 DevOps Summit : Best practices for continuous integration and delivery
Automate accurate alert delivery for incident management at DevOps speed
Rapid Remediation

Resolve incidents quickly and shorten the break-fix cycle with tools for real-time awareness
VICTOROPS FEATURES
VictorOps automates incident management, reducing alert fatigue and increasing uptime.
Simple On-Call Scheduling
VictorOps streamlines your on-call schedules and escalation policies. From rotations to overrides, VictorOps automates the cumbersome essentials that make on-call a drag.

Operative, User-First Reporting
With reports like Incident Frequency, MTTA/MTTR and Post-Incident Review, teams can manage alert noise, drive swift problem resolution, reduce burnout and promote innovation.
 

Centralized System Visibility
Our software provides contextual alert information and empowers collaboration to solve problems with speed and efficiency, all while capturing essential remediation data.

Native Mobile App
With native iOS and Android apps, receive rich notifications directly on any device — then act, resolve, reroute — even snooze — alerts, all right within the app.

Customizable Rules & Logic
Using our powerful rules engine, each team can precisely configure and automate alerting to cut out unnecessary noise, speed time to resolution and reduce alert fatigue.