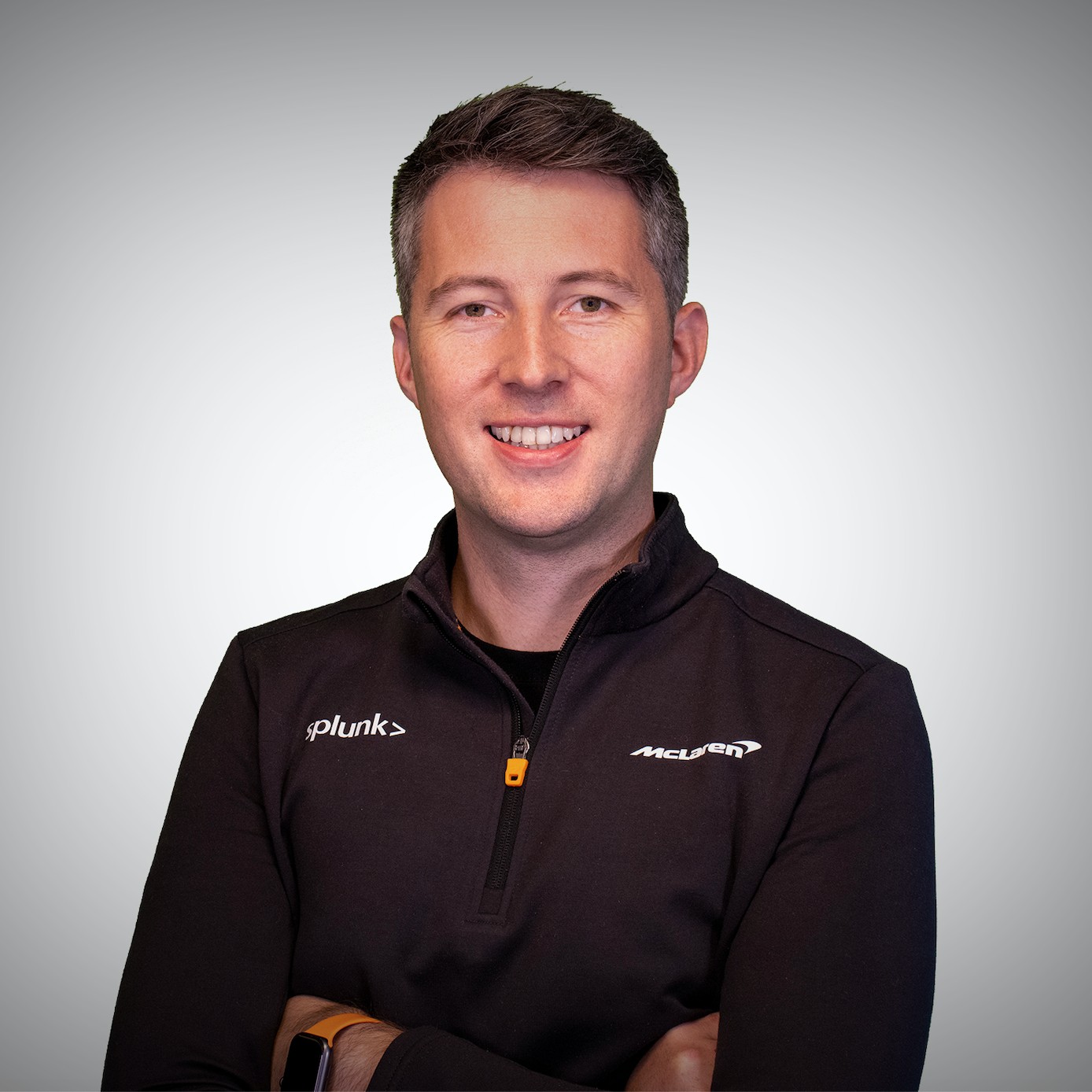 By James Hodge March 26, 2021
2020 wasn't quite the start that we were expecting when we began our partnership with McLaren Racing; however, what a season it turned out to be! 17 races, 1897 laps completed by the MCL35, 9431km covered, a best finish of 2nd by Carlos Sainz in Italy, 202 championship points and a massive achievement by the whole team to come 3rd in the 2020 FIA Formula 1 World Constructors Championship! Congratulations again to the whole team at McLaren Racing.
When the five red lights didn't get to go out in Melbourne and the season stalled, we didn't get to go racing as expected. It did, however, launch us into the world of eSports. Armed with a Logitech steering wheel and the Codemasters F1 game and Zoom (incidentally a Splunk customer as well), it was time to see if we can compete to be the next great driver. The F1 game with a setup like Lando's gets close to some of the simulators that F1 teams were using just a few years ago, and it won't surprise you that the drivers involved are as competitive as ever and always looking to improve their lap times. This is where our partnership comes to life as it gives us an opportunity to use data to provide McLaren's drivers with insights that could improve their lap times.
It turns out getting to the same laps times as Lando was out of our reach, but we had great fun analysing the data coming from the Codemasters game and even helping Lando coach Pierre-Emerick Aubameyang in his debut with the McLaren team in the Virtual F1 eSports series . You can see some of the results here.
In fact, we had so much fun with eSports we created our own event called Data Drivers, brought to you by my friend and colleague Cory Minton. The need for data to explore gave us an excuse to go sim-racing; the need to explore the data guided us to learn more about iRacing's APIs, and the desire for data-driven insights led us to learn more about Splunk's unique capabilities. It even gave our Brand and Creative team an excuse to create a Splunk livery for the MP4-12C GT3 (that's some wheely wheely fast data).

For the Splunk team, last year was an amazing learning journey about the data behind F1. Did you know that McLaren Applied Technology provides all of the electronic control units (ECU) for every car on the grid and has done since 2008? It controls the engine, gearbox, differential, throttle, clutch, ERS and the Drag Reduction System (DRS). It also processes and transmits a staggering amount of data from the race car to the team. There are more than 300 sensors on a Formula 1 car, amounting to millions of individual data points waiting to be analysed for a competitive edge - definitely more IP-stream and the slipstream. It is also not just the sensor data that needs to be analysed. All of the IT infrastructure is absolutely mission-critical and an F1 car will not get started or go onto the track unless all of the data is correctly flowing through the analysis systems both trackside and back at the McLaren Technology Centre in Woking, UK. I had the chance to sit down with Edward Green, Principal Technologist at McLaren Racing last year to talk about how to keep the lights on — check out our conversation here.
After 327 pre-season laps in the MCL35M Lando and Daniel are looking really strong and we cannot wait for the opening race this Sunday in Bahrain. Some quick data points about this weekend. Did you know that this will be the first time that a season opener has been on the 28th of March? McLaren has had two wins on the 28th of March, Jenson Button at the Melbourne GP in 2010 and the great Aryton Senna in 1993 at the Brazilian GP — here is to number 3!
"One light, two lights, three lights, four laps, five lights, go, go, go!"

- The late Murray Walker