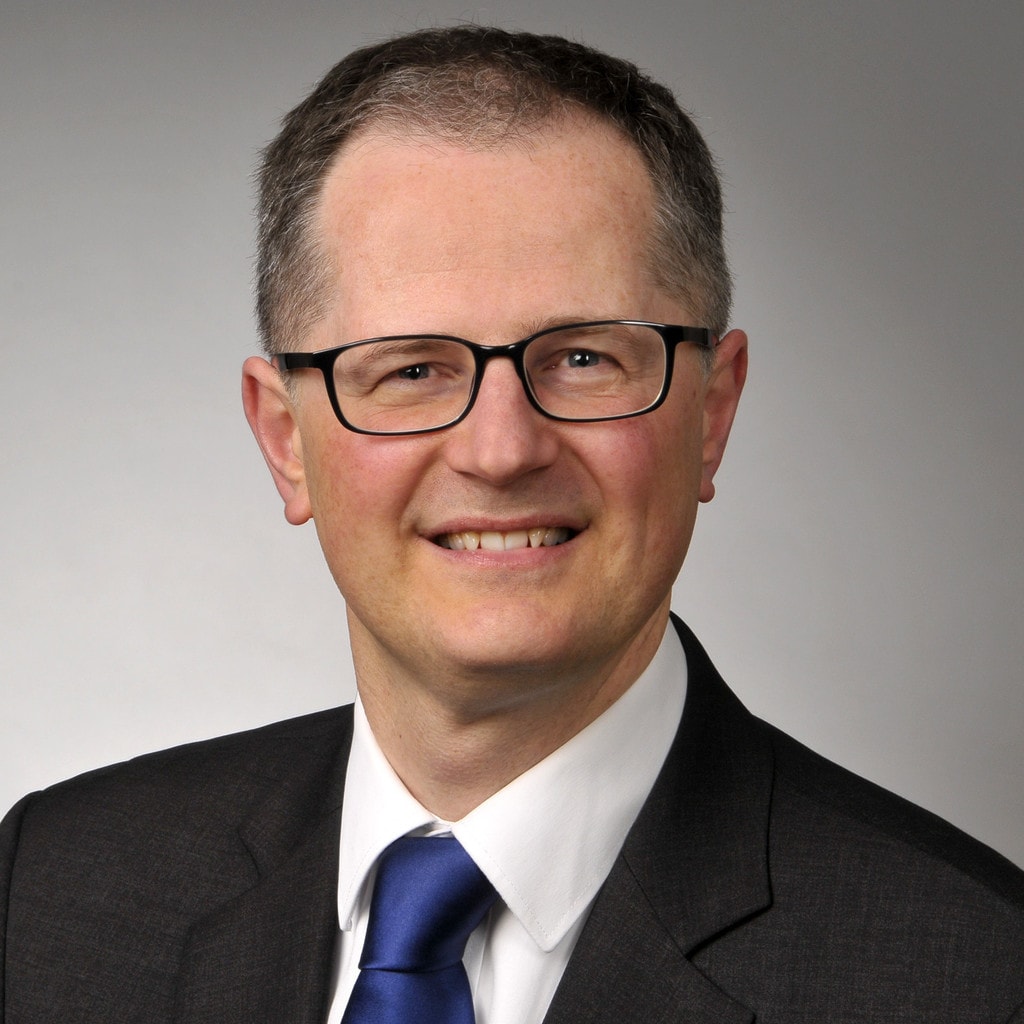 By Ewald Munz February 07, 2023
Co-authors: Marc Thomas, Sophie Dockstader, Clara Lemaire
To start with the bad news, global CO2 emissions show no signs of abating and are rising again after a brief drop caused by the COVID lockdown. This means the path to the Paris Agreement to keep temperature rise below 1.5° Celsius is clearly off-track.
However, the good news is that a sense of urgency is fostering innovation at an unprecedented scale: Data analytics, green technologies, alliances of committed climate leaders and mandatory sustainability regulations are working together to reduce the CO2 footprint in scope 1, 2 and 3.
Read on to learn more about key developments, the Sustainability Use Cases Tree and opportunities to meet in person with sustainability leaders and peers at the upcoming Sustainability Roundtables in Zurich and Munich.
State of CO2 emissions - They are going up again!
Global CO2 emissions have been rising dramatically especially since 1950. After a temporary reduction of only 5% caused by the COVID lockdown, they rebounded again in 2021 to 38 Gt annually, meaning the world is getting back to pre-pandemic CO2 emission levels (Source: EU EDGAR Emissions Database).
While natural variability plays some part, evidence indicates that such heat-trapping CO2 emissions are mostly responsible for making our planet warmer. According to the NASA Earth Observatory the average global temperature on Earth has increased by at least 1.1° Celsius since 1880, leading to alarming consequences. You can run through various temperature increase scenarios with this interactive En-ROADS climate simulator from MIT (Massachusetts Institute of Technology).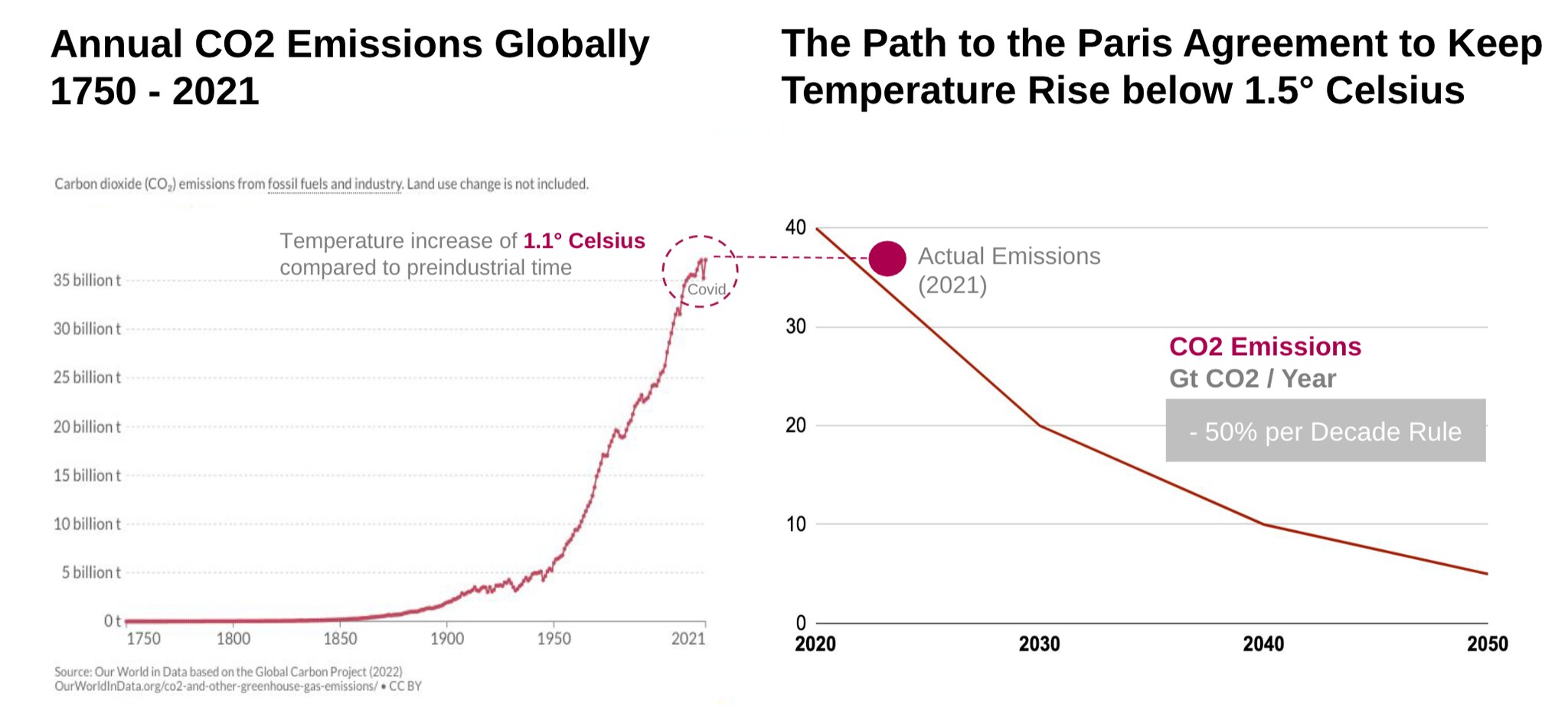 As a result of the increasing CO2 emissions, the Paris Agreement to keep temperature rise below 1.5 ° Celsius until 2050 is in crisis mode. The CO2 emissions are not on track to fall as envisioned by the "- 50% per Decade Rule" and despite the multiple CO2 emissions reduction pledges of organizations which are aligned to this framework.
However, the good news is that this crisis is fostering innovative CO2 removal technologies such as direct air capture. Also one of the most remarkable success stories of Davos is that a group of 120+ CEOs are getting together to form the Alliance of CEO Climate Leaders, committing to keep global temperature rise well below 1.5° Celsius and to reduce their footprint in scope 1, 2 and 3.
In summary, the objectives are bold, the plan ambitious, and the naysayers plentiful.
(Quote from Managing Sustainable Business / Unilever)
Sustainability Reporting Regulations: Coming to you soon
As companies face stricter carbon reduction and energy efficiency measures, there is also increased scrutiny from investors, who want to be able to assess investment risks arising from climate change and other sustainability issues.
European Level
As a result, the European Union (EU) recently adopted the Corporate Sustainability Reporting Directive (CSRD). About 50,000 companies should be covered in the EU - a very wide scope.
The rules will begin applying from the beginning of 2024 for large public-interest companies with over 500 employees, followed by companies with more than 250 employees or €40 million in revenue in 2025, and listed SMEs in 2026. This will apply to European companies, but also to foreign companies with significant activities in the EU. The CSRD will apply to these foreign entities in 2028.
Companies will have to report information against European Sustainability Reporting Standards, covering issues ranging from environmental sustainability and social rights to human rights and governance factors. The CSRD includes the reporting of CO2 emissions but is much broader in scope. The CSRD will make it mandatory for companies to disclose Scope 1, 2 and 3 greenhouse gas emissions in metric tons of CO2 equivalents. Sustainability reports will need to be audited independently.
Global Level
The EU is therefore at the forefront of sustainability reporting with the CSRD, but there are also attempts at global level to set a baseline for sustainability and climate reporting standards. The IFRS Foundation's International Sustainability Standards Board (ISSB) recently announced in Davos that the first global standards for sustainability and climate-related reporting would be ready in June 2023.
We're still far from having one global standard for sustainability reporting. But one thing is for sure: Mandatory disclosure of sustainability information will happen in the coming years. Financial reporting and sustainability reporting will become inseparable for companies.
This does not come without any hurdles. The management of sustainability related data has been identified as a key challenge for companies, e.g. by the Green Controlling Study 2022 of the International Controller Association.
How data can help: Splunk Sustainability Toolkit updates
The International Energy Agency has developed an ambitious Net Zero by 2050 roadmap with green technologies being the main drivers. In addition, data plays a key role.
The Sustainability Toolkit from Splunk equips organizations with capabilities to gain deep insights into their carbon footprint and as such, it empowers them to take the necessary actions towards their carbon neutrality goals.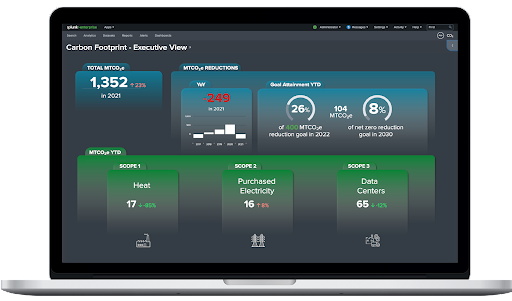 Based on many customer interactions it has become evident that real-time insights are clearly one of the key customer benefits of the Sustainability Toolkit - in addition to the holistic visibility across multiple cloud, hybrid and on premise environments for scopes 1-3.
Taking this customer feedback into account, the Sustainability Toolkit is going to be enhanced with a focus on real-time features which are elevated with predictive analytics. Example insights to be provided in upcoming releases include:
Trends in CO2 emissions over time, split by data centers, infrastructure or applications
Ability to predict next day CO2 emissions in different geographic regions
Make informed decisions about where and when to run activities, to minimize their electricity cost and associated CO2 emissions
Broaden the scope of electricity carbon intensity data collection (gCO₂e/kWh), by expanding the Toolkit to retrieve data from more sources and endpoints
Integration of real-time carbon intensity metrics such as Electricity Maps which provides worldwide access to 24/7 grid carbon intensity historically, in real time, and as a forecast for the next 24 hours. On a national level, the Carbon Intensity API from UK's National Grid provides an indicative trend of regional carbon intensity of the electricity system in Great Britain 96+ hours ahead of real-time.
Combined with real-time electricity consumption, the real-time CO2 footprint can be easily visualized via out-of-the box dashboards.
User Benefits
Although static metrics, e.g. yearly energy consumption or average carbon intensity are helpful, the real value lies in real-time insights because surfacing information in real-time empowers users to drive change. Informed decisions can be made about the timing and location of tasks when combining existing readily available information about system load, e.g. CPU utilization with information about efficiency such as temperature increase due to waste heat, electricity prices and carbon intensity.
As such, data center operators can for example decide to shift complex, energy intensive workloads which are not time sensitive to a time period and location with low carbon intensity. This means the new features of the Sustainability Toolkit are in particular helpful for data center optimizations since CO2 emissions and energy costs can be saved significantly. Needless to say, the ability to integrate organization specific climate goals with customizable Executive Dashboard views adds additional value.
The Sustainability Use Cases Tree: Harvesting the low hanging fruits first
So how to start a sustainability journey? Looking at the sustainability use case tree and the two parameters "Impact / CO2 Reduction Potential" and "Implementation Efforts", it becomes clear that the journey is shaped by low and high hanging fruits.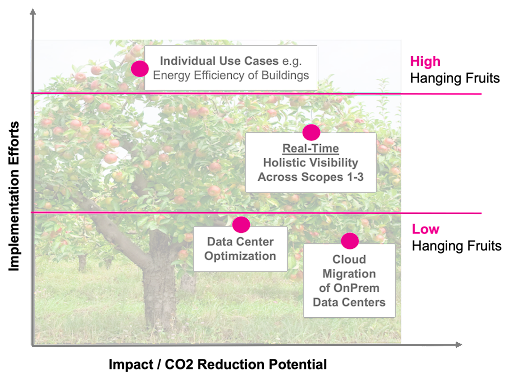 Cloud migration of on premise data centers is by far (!) the easiest and most effective way to start or accelerate a sustainability journey since the CO2 footprint can be reduced by 80% on average by such an exercise.
On the other hand, individual use cases such as energy management or energy efficiency of buildings require relatively high implementation efforts with relatively low impact due to the isolated approach. These are the high hanging fruits which should not be harvested in a first step.
Real-time, holistic visibility across scopes 1-3 is the ultimate goal which should be tackled after the low hanging fruits have been harvested.
Obviously, this categorization is a general one. An energy intensive organization, e.g. a steel plant naturally has different priorities.
Meet and Engage at the Splunk Sustainability Roundtables
Key characteristic of these Sustainability Roundtables together with business partners Accenture, AWS and EARTH51 is the open sharing and exchange among all participants. The introductory part with presentations and case studies will be followed by informal networking and Q&A with sustainability leaders from various industries over some finger food and drinks.
Also, the new features of the Sustainability Toolkit from Splunk will be shown live for the first time.
Splunk is planning more Sustainability Roundtables in Amsterdam and Stockholm - stay tuned!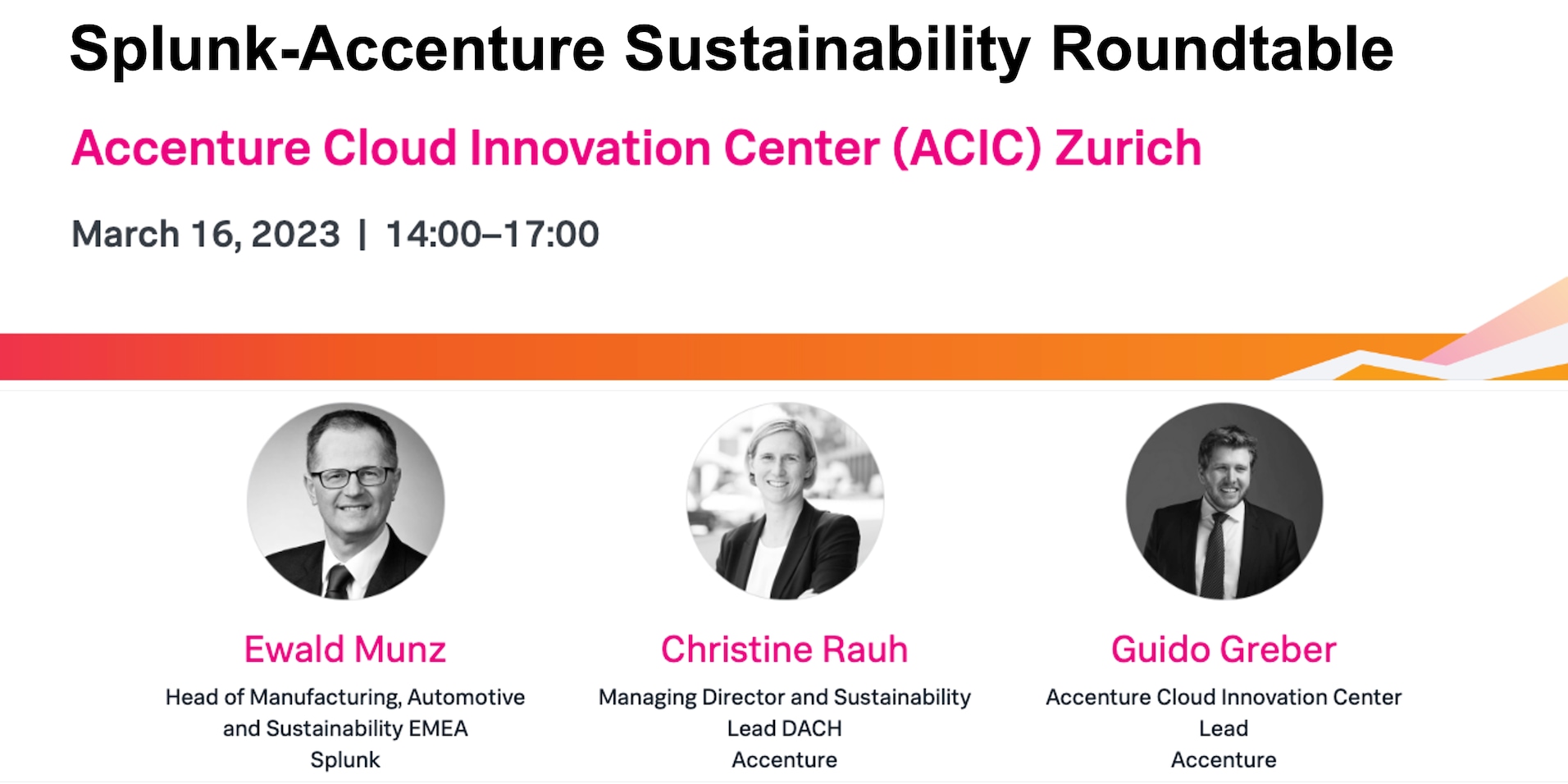 More information and registration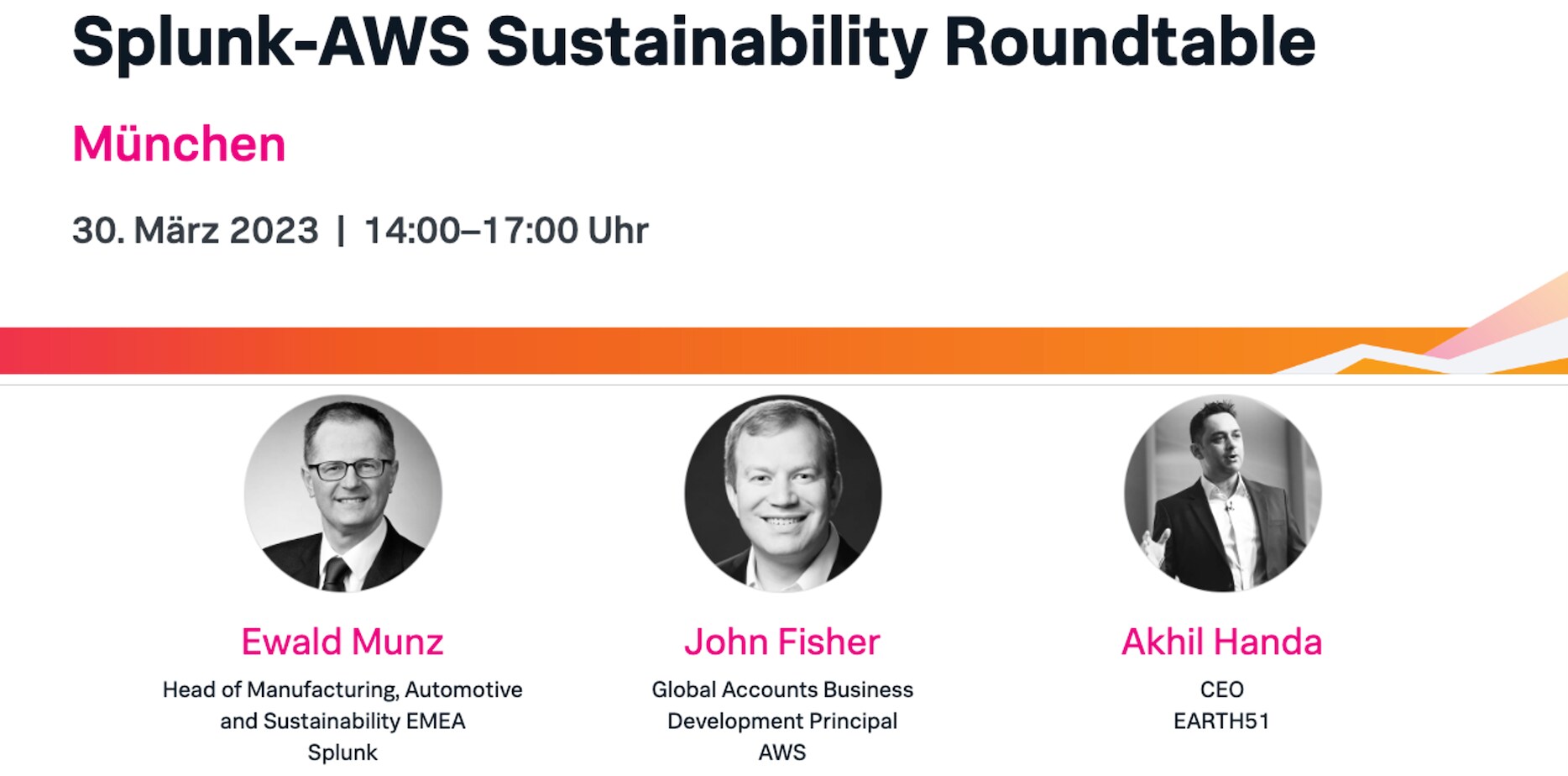 Registration and more information
And if you want to read on about sustainability in a world of data a little further, we got you covered as well – check out these resources: