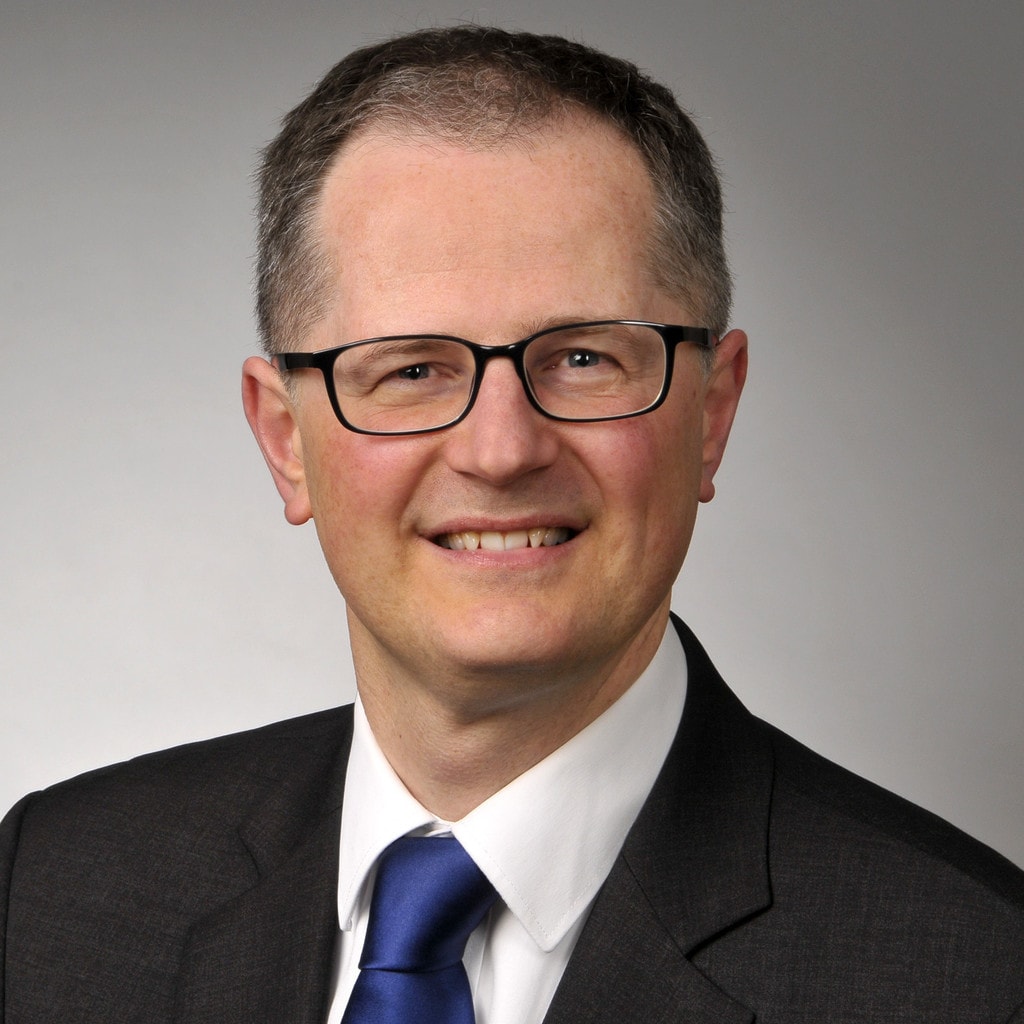 By Ewald Munz July 04, 2023
Co-authors: Marc Thomas, Senior Sales Engineer, and Sophie Dockstader, Senior Professional Services Consultant

Did you see the global COVID pandemic coming when you heard about the first cases? Probably not, even if you tried. As the physicist Albert A. Bartlett pointed out back in 1976, human beings tend to think in linear terms. The effects of large changes in scale are frequently beyond our powers of perception and even our imagination. It is the same challenge highlighted today by the cumulative effects of climate change and the subsequent tipping points.
Net-zero pledges of countries, regions, cities and companies worldwide have increased significantly over the past two years. However, according to a Nature report, in many cases, there has been "no movement whatsoever" towards a viable implementation strategy. So "Don't Look Up" like in the famous movie and ignore the facts?
The World Economic Forum clearly depicts the severe consequences of climate change. If you would like to calculate a business case, take for example these numbers for Germany from a recent Capital report: The German government estimates that future climate change-related costs will be between 280-900bn EUR by 2050 - this is roughly 15% of Germany's annual GDP. Not to forget the expected 1.2bn climate refugees globally as outlined by a Zurich analysis - this is a fourfold (!) increase compared to the current number of refugees. And, a recent report by the World Meteorological Organization predicts that global temperatures are expected to reach record levels between 2023 and 2027 due to the combined effects of climate change and the El Niño weather pattern. Quick and decisive climate action is more critical than ever before.
Fortunately, there is a growing number of companies, e.g. Europe's Climate Leaders and the Alliance of CEO Climate Leaders which are committed to sustainability and taking corrective actions. What are these sustainability leaders doing differently and how can Splunk help?
Three Key Lessons Learned from Sustainability Leaders and How Splunk Can Help
1. IT Sustainability is the low-hanging fruit

It's a journey! Instead of trying to boil the ocean and then getting overwhelmed by the sheer complexity of the sustainability topic, savvy business leaders have embraced the old wisdom of the low-hanging fruit. Looking at the two parameters "CO2 Reduction Potential" and "Implementation Efforts", it has become clear that IT Sustainability is one of the first steps on a data-driven sustainability journey.
According to an analysis of 451 Research / S&P Global Market Intelligence, cloud migration of on-premise data centers is a key lever with massive CO2 savings of up to 80%. Even optimizing on-premise data centers with data analytics offers a significant CO2 reduction potential. Needless to say, a focus on IT Sustainability is even more powerful for companies whose data centers contribute a large proportion to the overall CO2 footprint, e.g. for financial services companies.
Sustainability leaders have even joined forces and founded Sustainable IT, an organization focusing on advancing sustainability through the impact of IT with European companies such as Allianz, Assa Abloy, GSK, and BNP Paribas.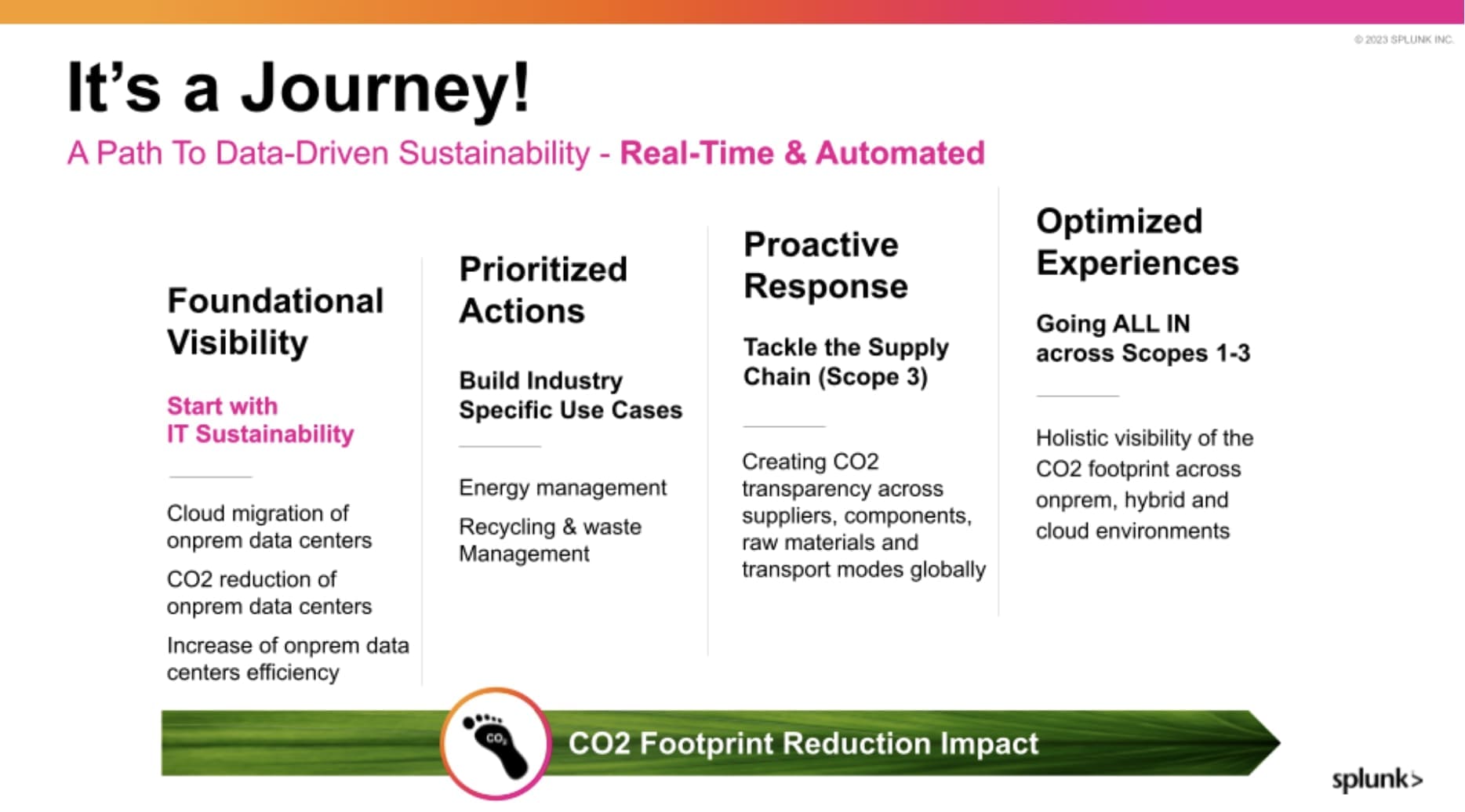 How Splunk Can Help
Leverage the Splunk Sustainability Toolkit
(for the V2 version please see the update below)
The Sustainability Toolkit, a free app for Splunk customers, equips organizations with capabilities to gain deep insights into their carbon footprint and as such empowers them to take the necessary actions toward their carbon neutrality goals. On the one hand, it provides big-picture visualizations across cloud / multi-cloud, hybrid and on-premise environments via an executive dashboard. On the other hand, it empowers organizations to deep-dive into emission hotspots in real-time and take the required action based on data.



Help focus on the sweet-spot IT Sustainability (data centers)
The goal is to provide a data-driven, fact-based decision basis to reduce CO2 emissions — either to go for cloud migration or to optimize on-premise data centers. We can calculate the CO2 footprint of your on-premise data centers, even specifically Splunk services and how much CO2 you can save if you select a use case of your choice.



Help start an IT Sustainability pilot with a standardized playbook for quick results
The "Implementation Playbook - Pilot IT Sustainability for Data Centers" describes an easy 10-step approach to successfully conduct such a pilot, starting from scope, over success criteria, required inputs, technical requirements, and estimated efforts up to possible next steps. This playbook is available upon request. Please contact your Splunk account manager.
2. Real-time and Automated Analytics Solutions are Top Priorities
Many organizations are just at the beginning of their sustainability journey. They lack visibility into their CO2 footprint and work in silos with point solutions. They collect and analyze data with significant manual efforts, many of them still working with Excel sheets.
In contrast to these organizations, sustainability leaders have identified real-time and automated sustainability solutions as top priorities. "When the yearly sustainability report has been printed and is lying on my table it's too late," says one Sustainability Leader. "What I need are real-time and automated analytics solutions so that I can steer the activities accordingly, especially around hotspots."
As an example, in the area of IT Sustainability, the real-time CO2 footprint of data centers and alerting of hotspots can be easily automated with the correlation of real-time electricity consumption and real-time carbon intensity (gCO2 / kWh).
How Splunk Can Help
Leverage the Splunk Sustainability Toolkit V2 with new out-of-the-box dashboards with real-time, automated insights
Taking complex, energy-intensive but non-time-critical workloads as an example, data center operators can decide to automate scheduling and location. As such, these workloads can then be shifted to a time period and location with low carbon intensity. As a result, CO2 emissions and energy costs can be saved significantly.

On top of real-time insights, even trends on electricity consumption, CO2 emissions and carbon intensity can be automatically visualized as shown in the dashboard below.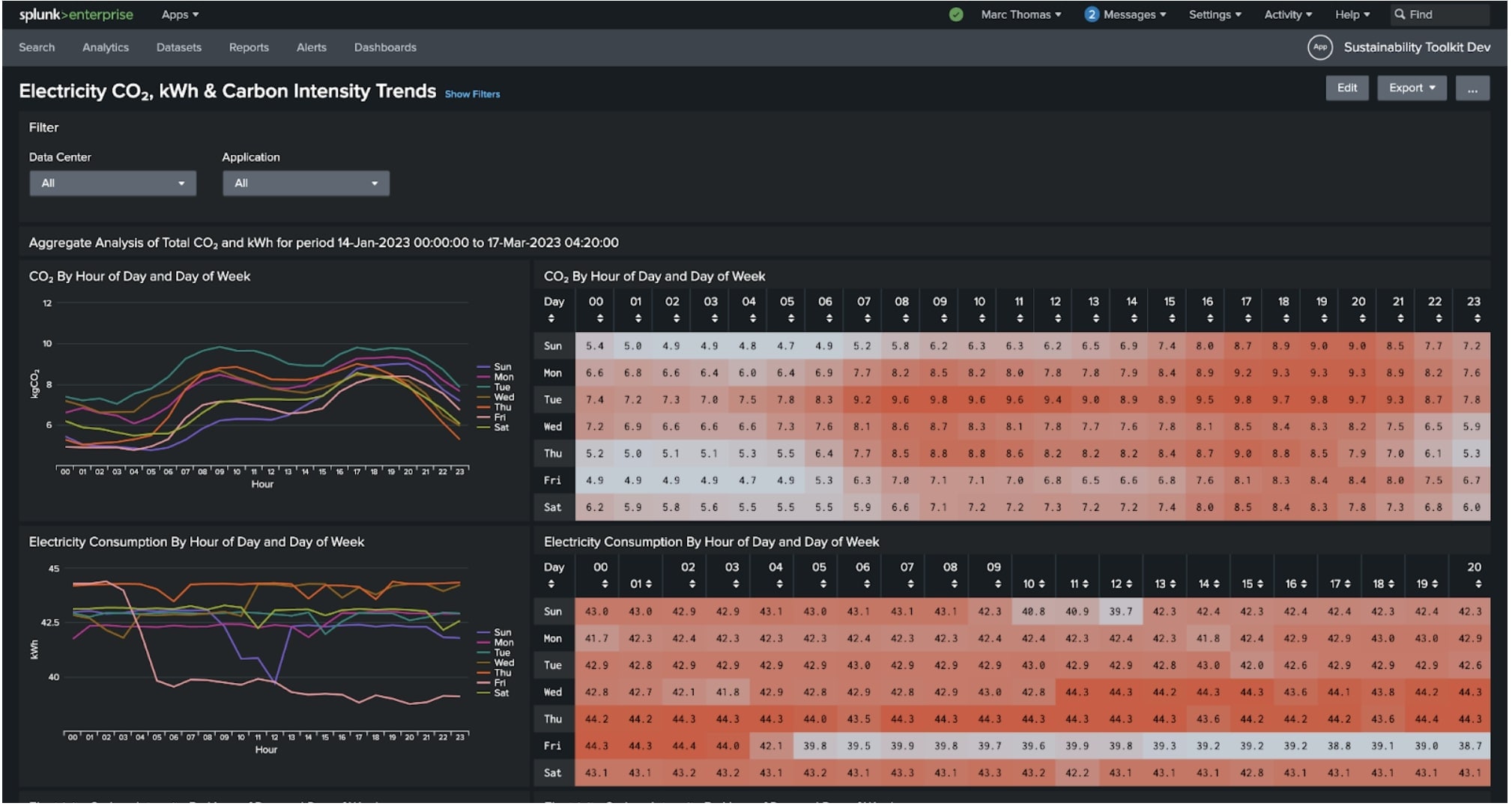 Leverage Splunk's competitive edge to obtain holistic visibility of your CO2 footprint
One of Splunk's core strengths is the ability to analyze data of almost any source, type and time scale — in real-time. By ingesting and correlating disparate data sources across cloud, hybrid and on-premises environments across scopes 1-3, Splunk equips organizations with deep insights and as such empowers them to take the necessary actions toward their sustainability goals.



3. It's Not All About Technology — Addressing the Skills Gap is a Must

Sustainability is more than flying less or switching off the light when you don't need it. Sustainability leaders have realized that it is a technical skill and the universe of complex interdependencies, acronyms and upcoming global regulations need to be understood deeply before any sensible actions can be taken.
The increasing need for sustainability knowledge has exposed a significant skills gap in organizations: Not only is there an insufficient number of skilled people to fill roles, but there's also a lack of accessible resources. LinkedIn's Green Skills Report 2023 highlights that hiring for green skill talent is rising globally but nowhere near what is needed. Globally, only one in eight workers has one or more green skills. In other words, seven out of eight workers lack even a single green skill.
Sustainability leaders are proactively addressing the skills gap and investing in upskilling current and future green talent. Needless to say, industry leaders proactively embed data analytics in this upskilling to enable a data-driven sustainability strategy.
How Splunk Can Help

Splunk has partnered with AWS and the sustainability academy Earth51 to offer its customers the "Sustainability Booster Program". The first step is a certified Sustainability Leadership Course to get up to speed on relevant sustainability topics, followed by deep insights into the CO2 footprint based on the Splunk Sustainability Toolkit and finally, where applicable, a cloud migration to significantly reduce CO2 emissions.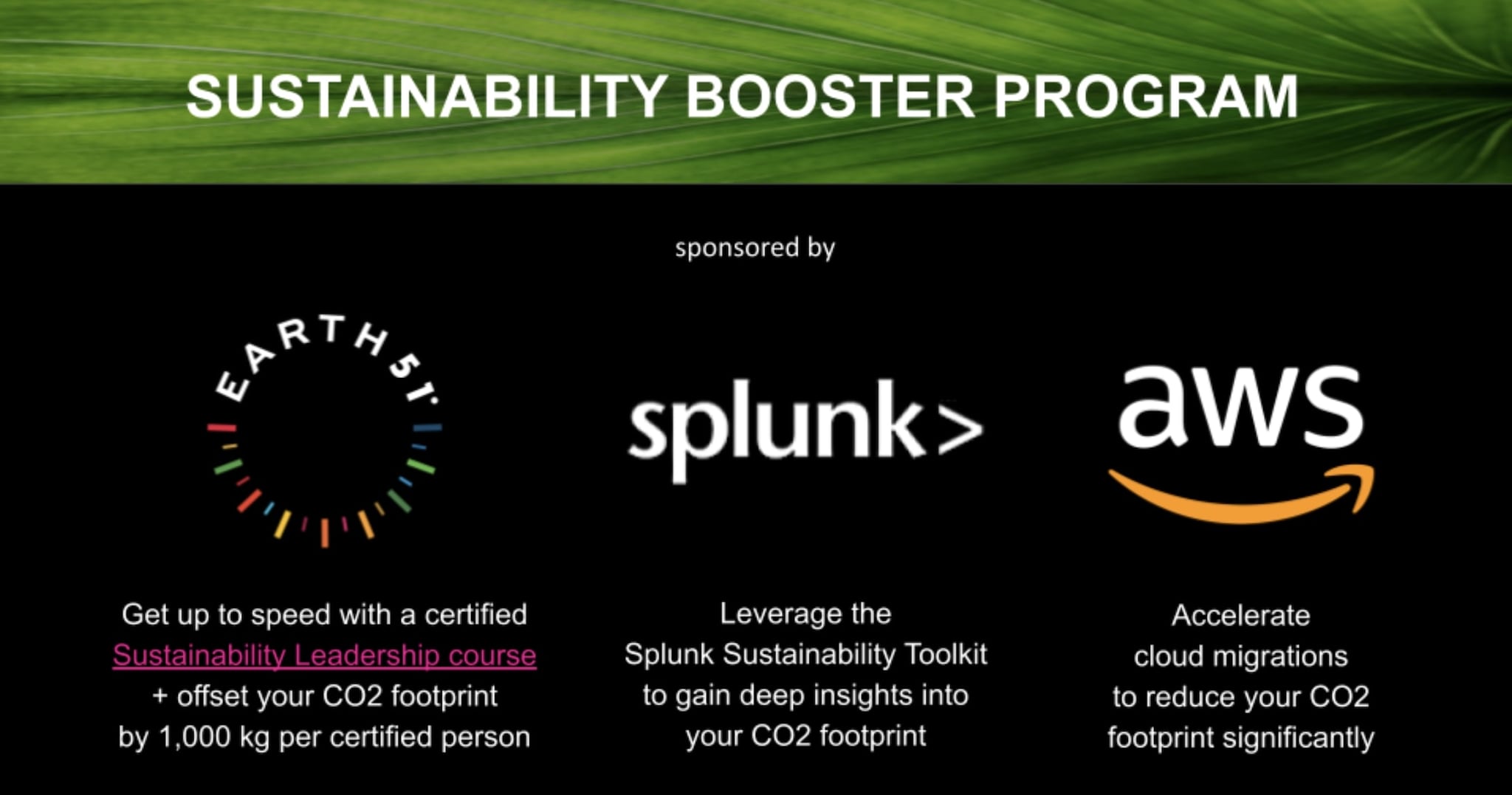 What's New with the Splunk Sustainability Toolkit V2?
The Splunk Sustainability Toolkit continues to evolve around its sweet spot IT Sustainability with a focus on data centers.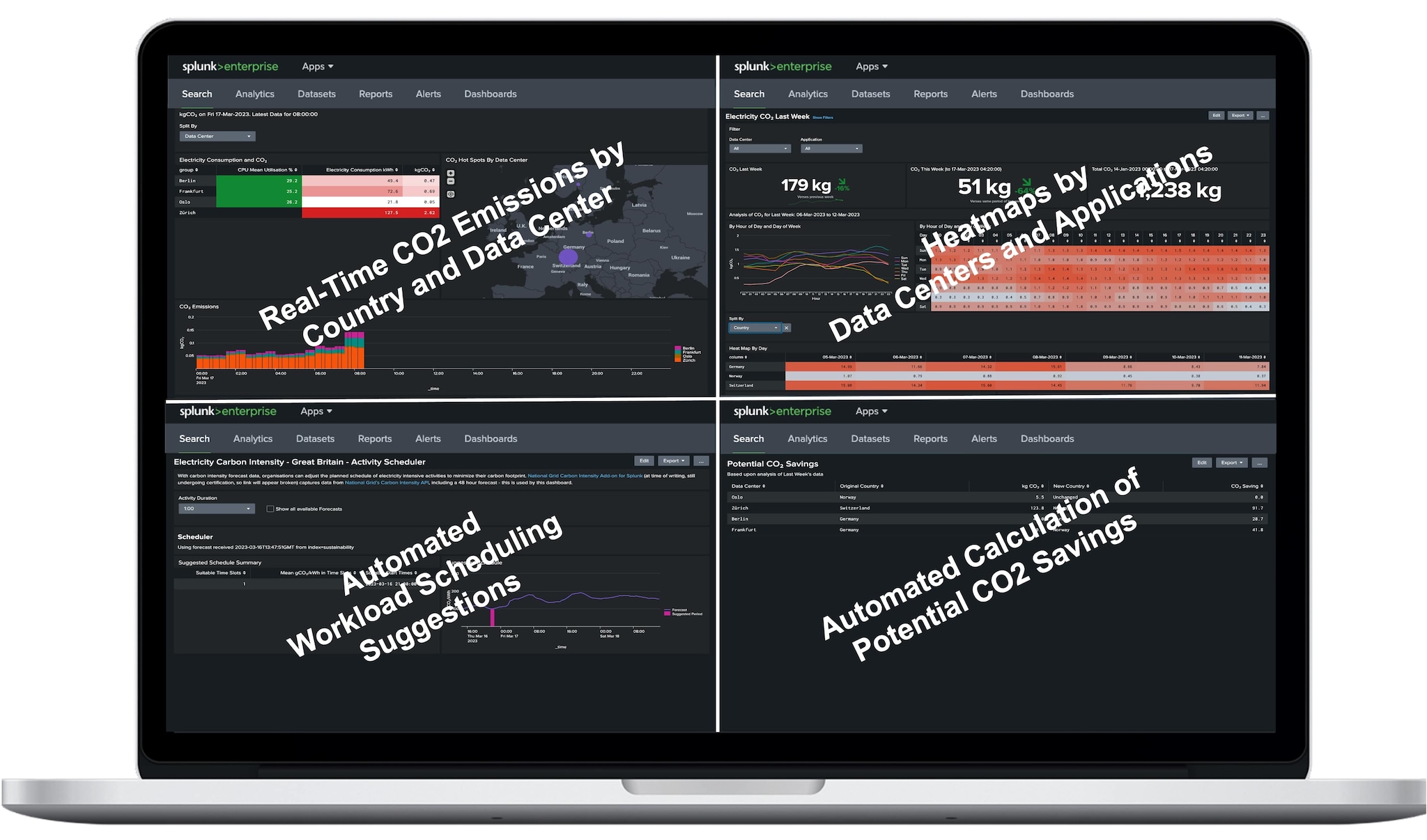 Based on many customer interactions it has become evident that real-time and automated insights are clearly one of the key customer benefits of the Sustainability Toolkit — in addition to the holistic visibility across cloud, hybrid and on-premise environments for scopes 1-3.
With this customer feedback in mind, the Sustainability Toolkit V2 has been enhanced with relevant out-of-the-box dashboards, easy integrations with Carbon Intensity APIs as well as predictive analytics. The main focus was on usability. This means that in most cases no additional hardware, sensors or Splunk forwarders are required.
New Out-of-the-Box Dashboards with Real-Time, Automated Insights
Real-time CO2 emissions by country and data centers
CO2 hotspots by country and data center
Unified view of all data centers' CO2 emissions globally to answer the question "What is the global CO2 footprint of your data centers?" with one number and in real-time
Heatmaps by data centers, applications and countries with granular insights by week, days and hours to identify hotspots
New Out-of-the-Box Dashboards with Predictive Analytics
Trends in CO2 emissions over time, split by data centers, infrastructure, or applications
Ability to predict next-day CO2 emissions in different geographic regions
Automated workload scheduling suggestions: Make informed decisions about where and when to run activities, to minimize electricity costs and associated CO2 emissions
Automated calculation of potential CO2 savings
New Out-of-the-Box Integrations and Data Normalization with Carbon Intensity APIs
Integration and data normalization of real-time carbon intensity metrics from Electricity Maps which provides access to 24/7 grid carbon intensity for 160+ countries in real-time, and as a forecast for the next 24 hours
On a national level, the Carbon Intensity API from UK's National Grid provides an indicative trend of the regional carbon intensity of the electricity system in Great Britain 96+ hours ahead of real-time
Ability to easily customize the toolkit to integrate with other Carbon Intensity sources, including open source APIs, with flexible macros and lookups to adapt the real-time Carbon Intensity factor based on your organization's needs
Updated Configuration for Performance Improvements and Ease of Customization
Asset energy data and electricity CO2 data summarized as metrics, enabling custom point-and-click analysis in the Splunk Analytics Workspace and significant performance improvements
Ability to drive asset analysis with customizable asset Lookup Files, including attributes to define assets (such as the Server's role, application, and embodied CO2) and sites (location, source of Carbon Intensity data). Sample lookup files are provided.
All-in-one location to adjust energy or carbon intensity data source inputs with flexible macros, which reflect changes across all dashboards (and background searches)
The Sustainability Toolkit includes a range of inspirational dashboards, conceptualizing what could be achieved with the required data ingested into Splunk, together with a set of working dashboards and completed data onboarding logic, to get you up and running quickly, before you may decide to customize the dashboards to your requirements.
The Splunk Sustainability Toolkit V2 is free for Splunk customers and can be downloaded at Splunkbase.

Outlook: Integrating Partner Solutions for Energy Management and Supply Chain Insights
The Splunk Sustainability Toolkit will continue to evolve. The next steps will be the integration of leading partner solutions in the area of energy management and supply chain. As in the sustainability journey described above, this will make it easier for customers to "go all in" across scopes 1-3 to achieve holistic visibility of their CO2 footprint. Stay tuned!
Meet and Engage with Splunk Sustainability Experts and Industry Leaders at these Upcoming In-Person Event
Amsterdam
July 5, 2023
More information and registration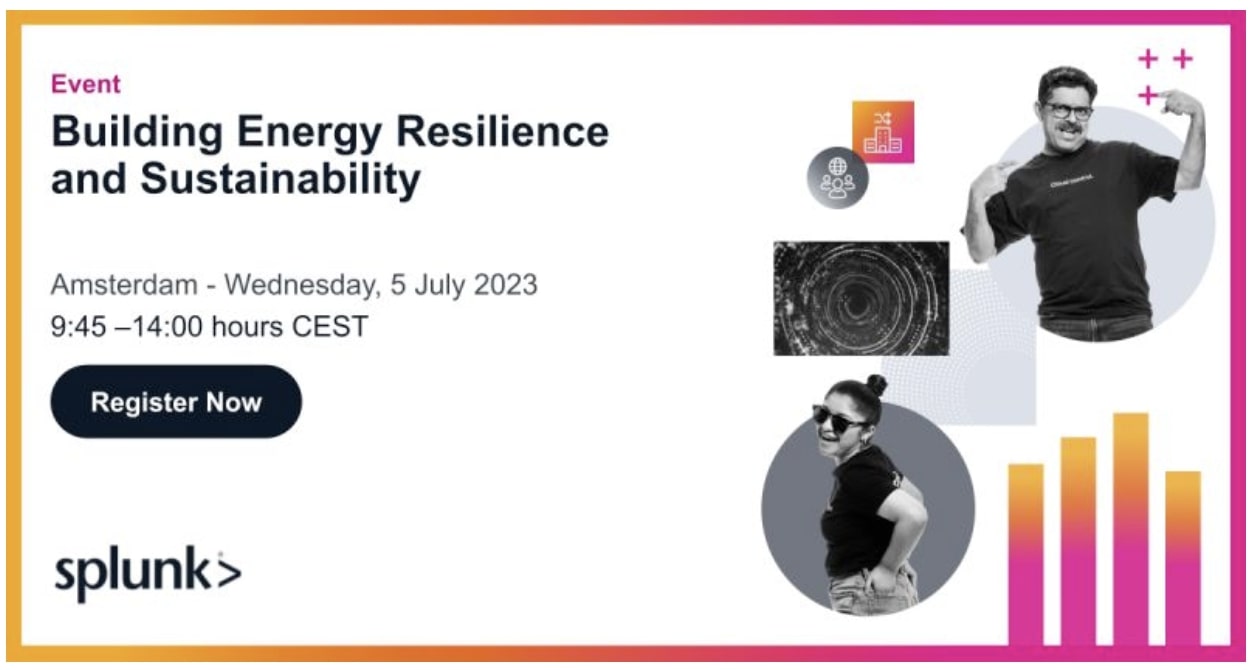 Las Vegas
July 18, 2023 - 3:00 PM PDT
Session OBS1726C: Reimagine Observability Data and Shine a Spotlight on Your Data Centers' CO2 Emissions

July 20, 2023 - 10:00 AM PDT
Session PLA1105B: Got Apps? Will Migrate to Cloud - SCMA to the Rescue
More information and registration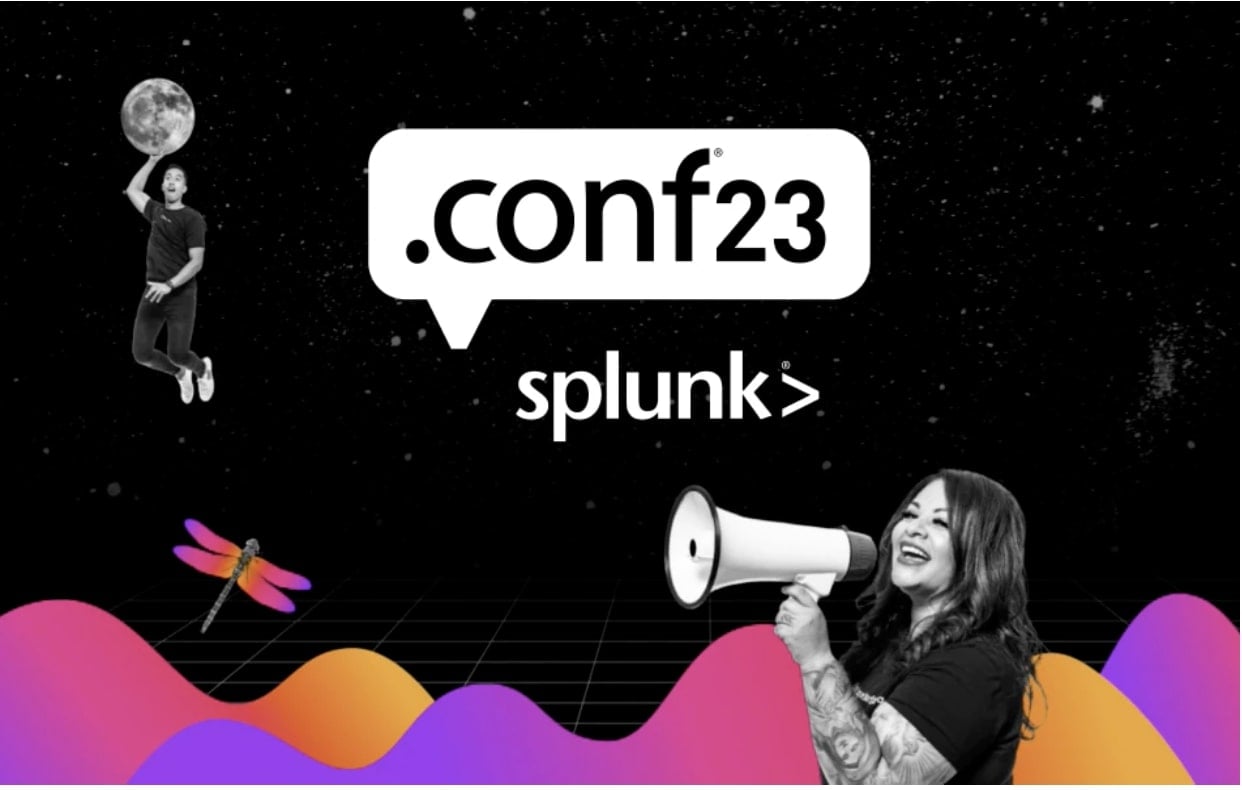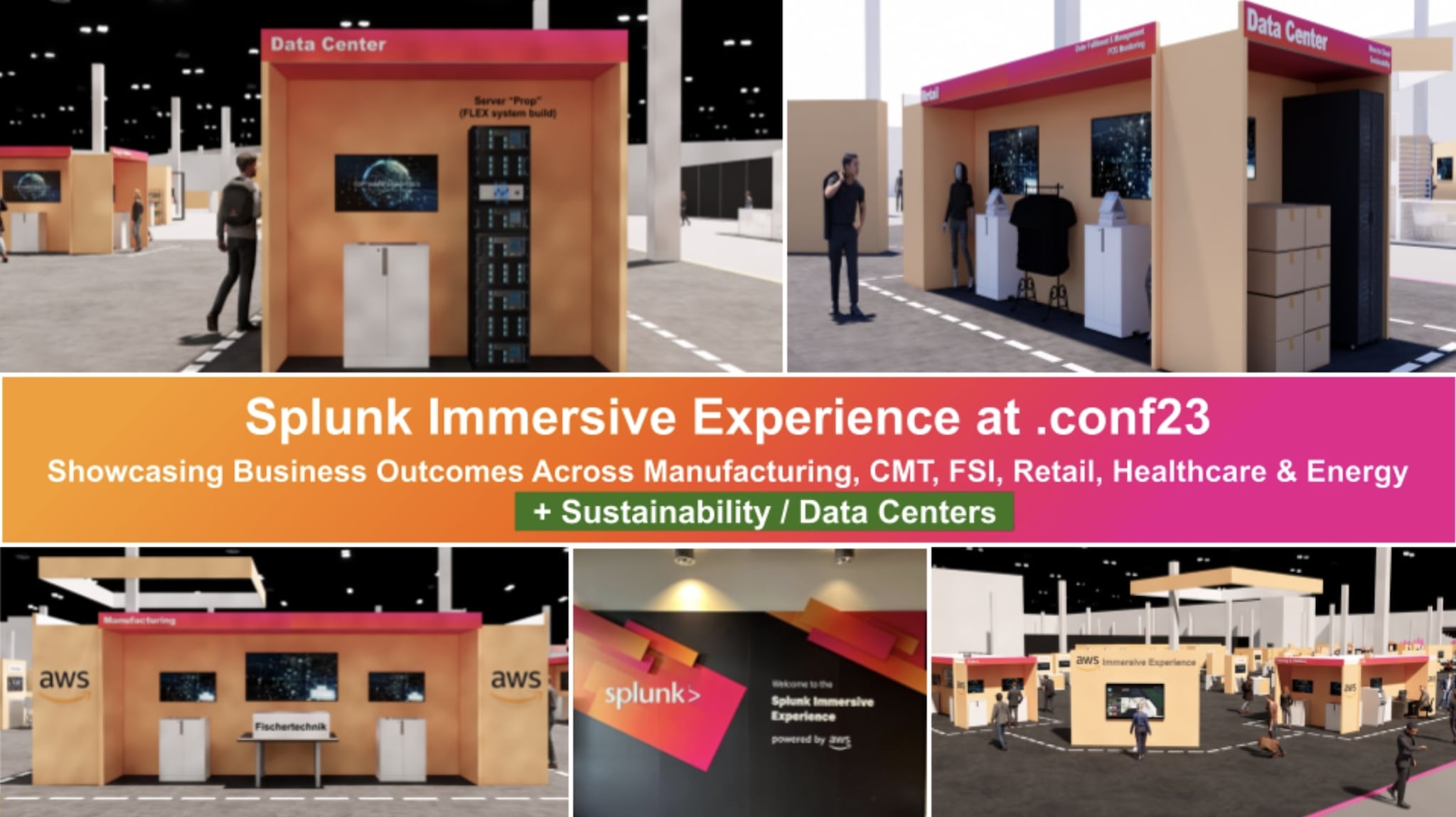 Come by, see a demo of the Sustainability Toolkit V2 and meet the Splunk industry and sustainability experts.
And if you want to read on about sustainability a little further, we got you covered as well – check out these resources:
Top banner photo credit: Digital Realty