5 Foundational Practices of DevOps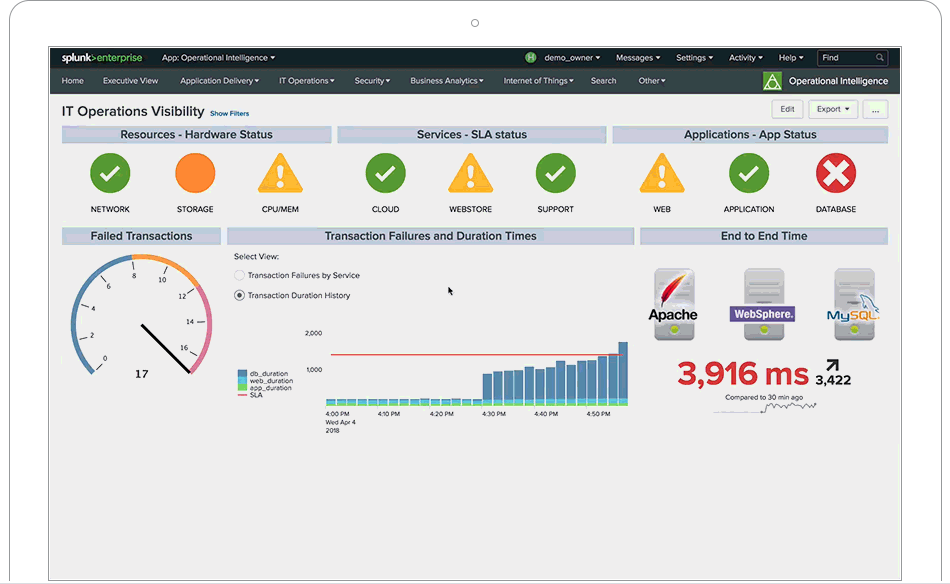 SPLUNK® ENTERPRISE
Application Development Lifecycle Analytics
Whether you're looking to monitor your applications, gain valuable business insights or release new applications faster, Splunk Enterprise can help. Our software can improve all aspects of the application lifecycle and provide the necessary visibility across silos for optimal application performance and customer experience.
VICTOROPS
Automate incident management to reduce alert fatigue and increase uptime.
VictorOps integrates metrics, logs and your monitoring toolset into a single source of truth that allows on-call teams to quickly fix problems. Additionally, teams can collaborate on problems via chat integrations and alert routing through mobile and web interfaces, and post-incident reports mean teams' services improve over time. Make on-call monitoring easy with VictorOps.

We want to know as early as possible if we ship a product that affects a large number of buyers, sellers or renters visiting the website so we can help our customers as much as we can. With Splunk, we finally have good real-time customer visibility. The richness of Splunk is that no matter what you want to do with it, it just delivers.
Previous
Next

Financial Services
Your IT environment is complex and your customers are demanding. Give them what they want.
Bank on Machine Data

Healthcare
Your IT systems enable the HIE platform. Analyze them to see what's going on.
Boost IT Health

Public Sector
Your citizens and government employees expect better services.
Find Out How to Deliver

splunkbase
Application Analytics and Monitoring Integrations
Splunk solutions do more than monitor and correlate data across your infrastructure and applications, they leverage your existing app analytics and APM tools as well. Learn more about these integrations on Splunkbase.