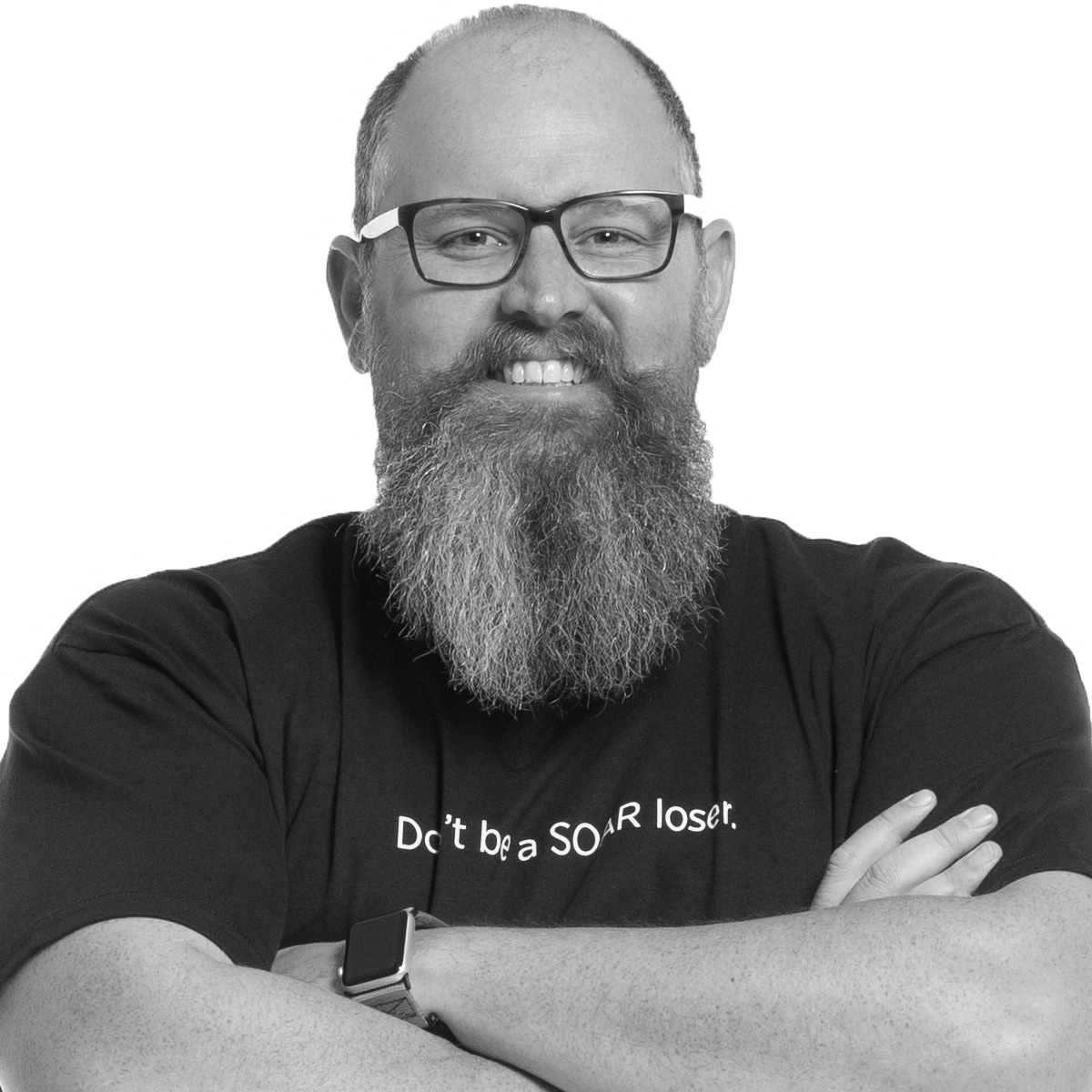 By Cory Minton April 15, 2021
G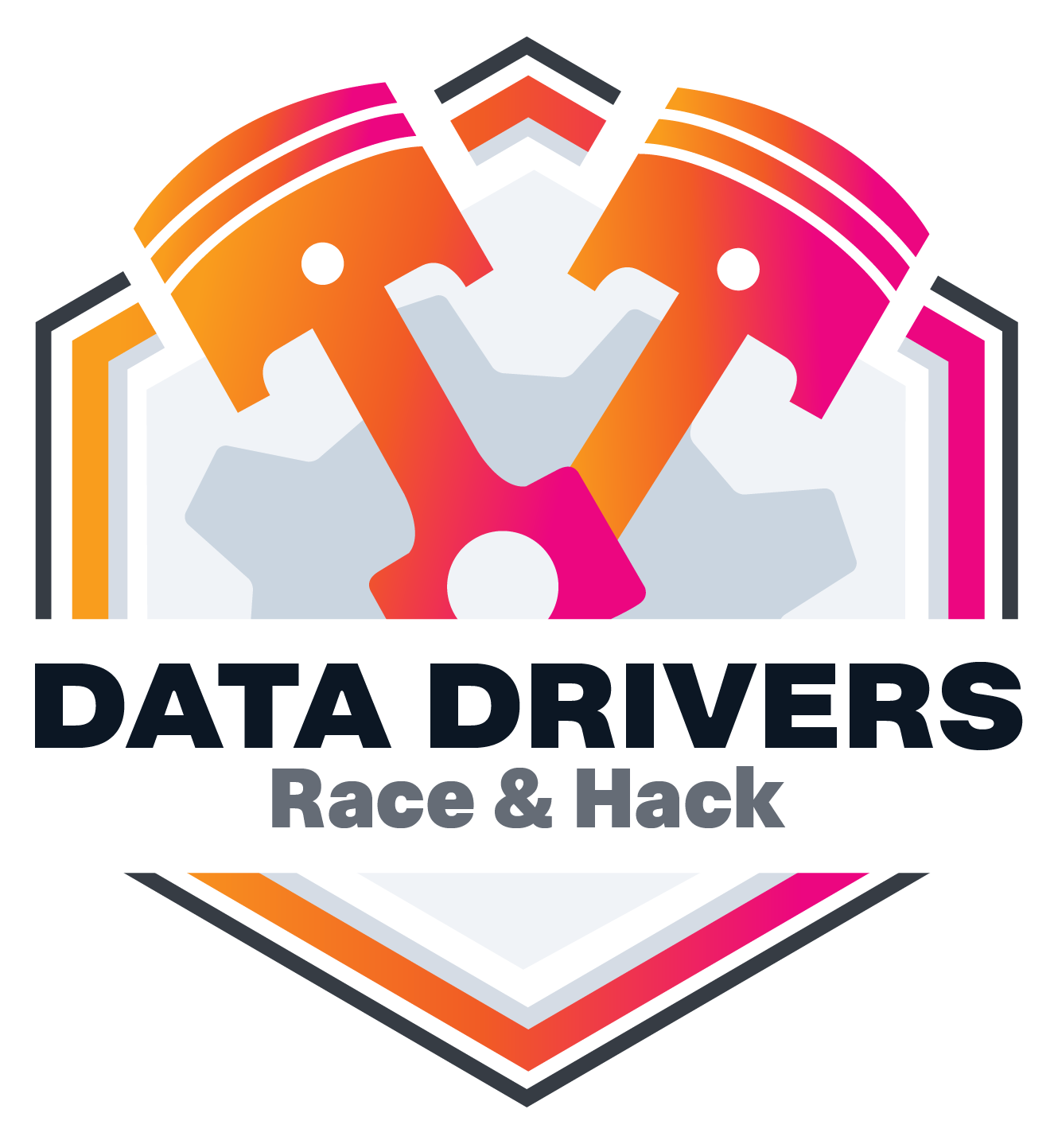 reat combinations make the world a better place. Spaghetti and meatballs, peanut butter and jelly, macaroni and cheese are all good, but my new favorite is Racing and Hackathons! Last week we kicked off the first round of our Data Drivers series here at Splunk where we invite you to come racing with us on iRacing.com then use the data we create there to get hands-on with Splunk to extract actionable insights. The hackathons we host are guided by seasoned esports racers and team managers from McLaren's Shadow Esports team, which Splunk is excited to sponsor in 2021. While we are certainly building interesting insights for sim racing, the tools we are using from Splunk's portfolio and the skills necessary to employ them are the very same capabilities Splunk customers use to power their journey towards AIOps. That's what makes this combination my new favorite; the fact that we can go racing, get nerdy and build useful skills for our careers at the same time...delicious!
If you missed the first Data Drivers race hosted at Barber Motorsports Park in Birmingham, Alabama (my home track...I needed home field advantage at least one time), you can check it out on the Splunk YouTube channel and see one of McLaren's Shadow Esports development drivers, Tomek Poradzisz, absolutely dominate the entire field lapping all but one racer in the short 20-minute challenge.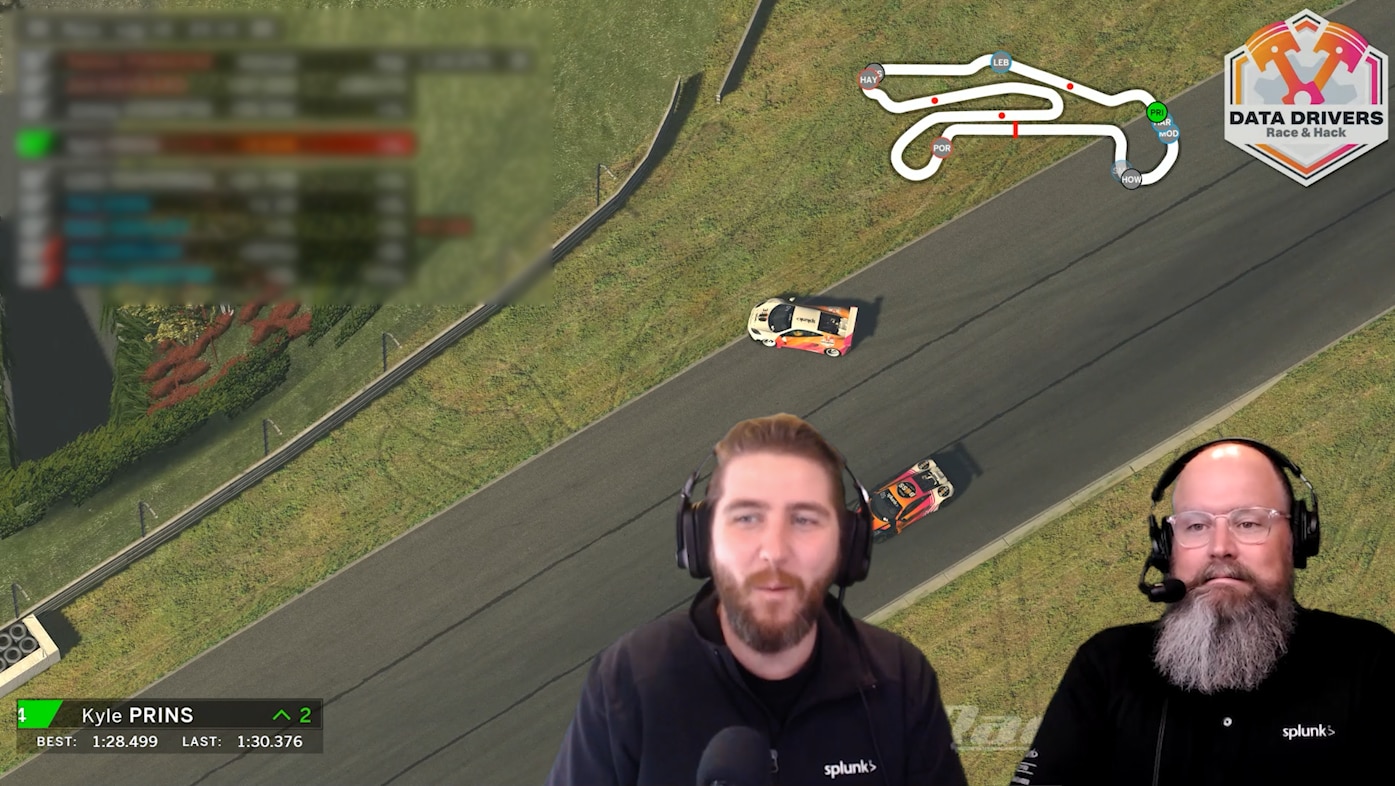 Spoiler alert, I may or may not have hit Kyle Prins, causing him to spin and me take 4th place
Not only did McLaren have their talents on display in the race broadcast, we were excited to have Tobin Leigh, manager of McLaren's Shadow team join us for the first hackathon and provide us valuable insights into how data can help both drivers and team managers create competitive advantage (REWATCH THE HACKATHON HERE). Tobin shared that while there have been plenty of efforts to create real-time visualizations of sim racing data, there has been very little work done in esports racing to use data to derive more meaningful insights into driver and car performance. His excitement for this series was evident and we're excited to have him joining us in future sessions to drill deeper into his ideas for how we can bring the Splunk Data-To-Everything Platform to esports. As we talked about in the broadcast, having Tobin as our "service owner" will be critical to making sure that what analytics we pursue in this series have a usefulness and impact on something mission-critical to McLaren; that's winning!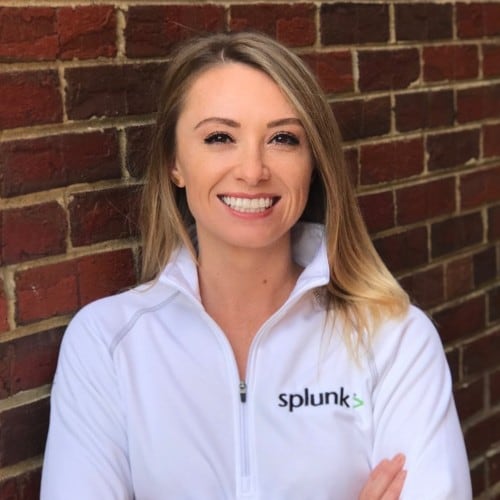 While Kyle Prins and I are excited to host this whole Data Drivers series, we recognize that there are folks across Splunk who are incredibly talented and bright who can help all of us be more successful learning and using Splunk's ITOps capabilities for racing insights. So this week, we invited Jenna Eagle, a Splunk IT Strategist and pro at helping customers understand the power of Splunk Infrastructure Monitoring to help guide our hands-on efforts. Jenna is known as "The Enforcer" in her work on Boss of Ops & Observability.
Just like many of Splunk's customers, we wanted to start with getting some basic infrastructure data flowing into Splunk so that we can monitor and troubleshoot any technical issues that might impact our ability to win on the track...or whatever critical business services you support. So once we introduced the series and heard from our friends at McLaren, it was time to dive into Splunk Infrastructure Monitoring (SIM). Jenna shared with us that SIM delivers real-time metrics-based monitoring with sub-second visibility while making it super easy to adopt with hundreds of out-of-the-box (OOTB) integrations and dashboards for on-prem, hybrid and multi-cloud environments.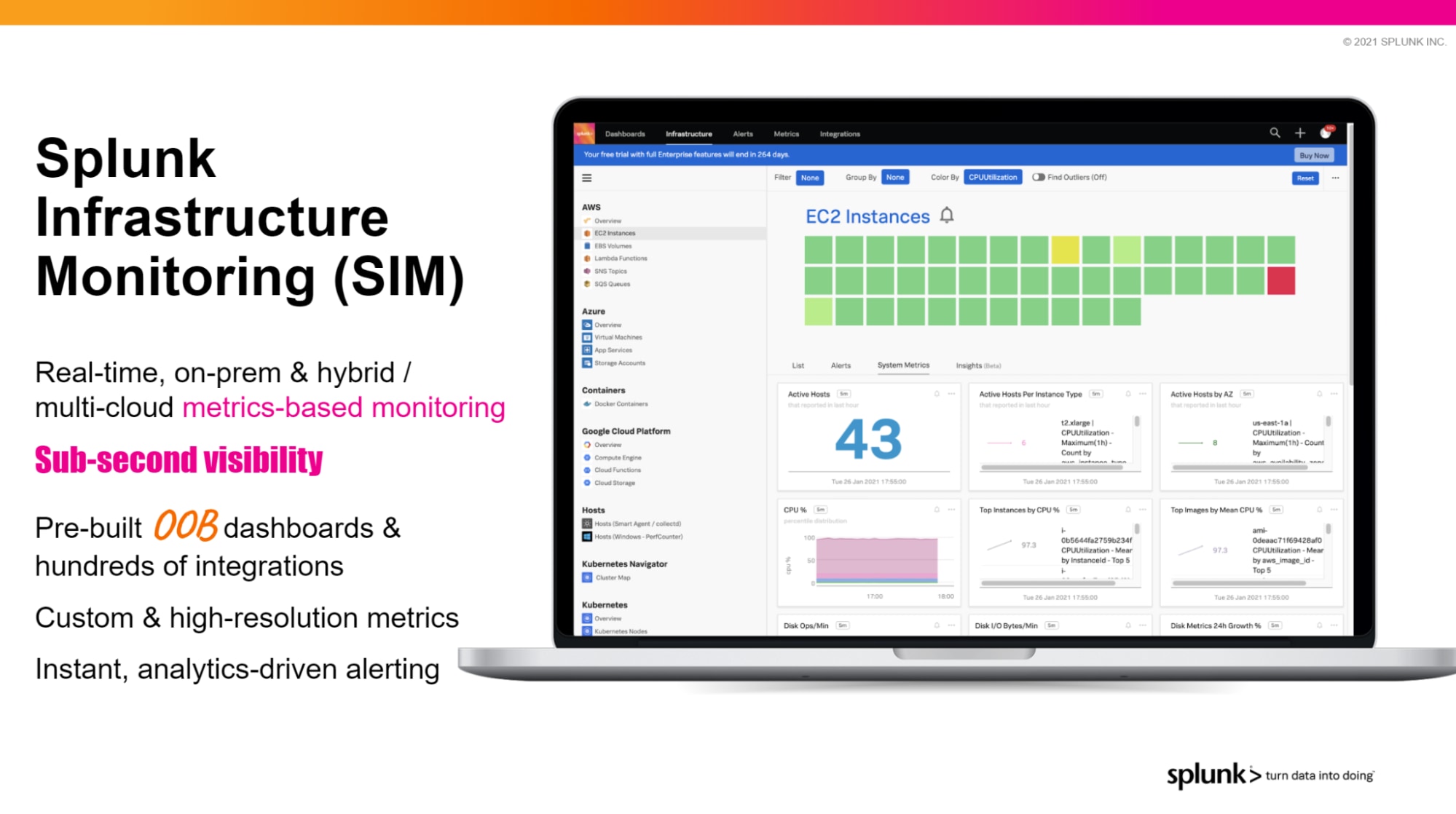 Given that we are using iRacing.com for the racing, our gaming PCs have to be running Windows, so this week's hackathon challenge was to: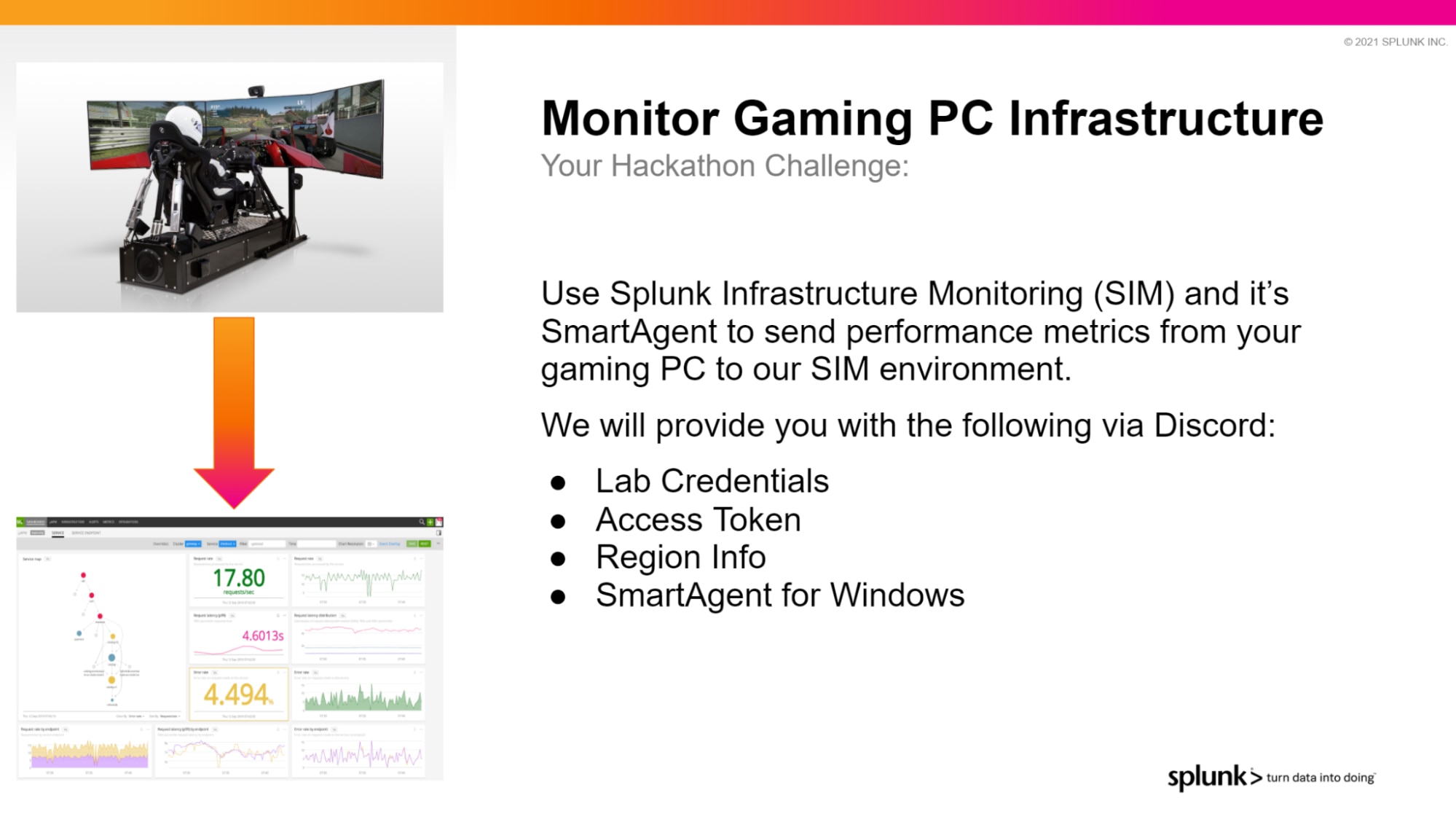 After providing our hackers with their lab credentials and a unique access token for the ingestion API, we were able to use the pre-built SmartAgent for Windows to begin sending performance metrics from all of our racers and hackers into our Splunk Cloud environment with the execution of a simple PowerShell script. With the deployment complete so quickly, we were able to shift our focus to exploring all the data that the SmartAgent collects and review the OOTB dashboards and visualizations that a race team manager might want to monitor...like CPU performance for in-game processing and network throughput to insure that racers had a quality connection to iRacing.com. If you want to go back and see this deployed in real-time, follow this link to direct you to the exact spot we do this in the Hackthon broadcast.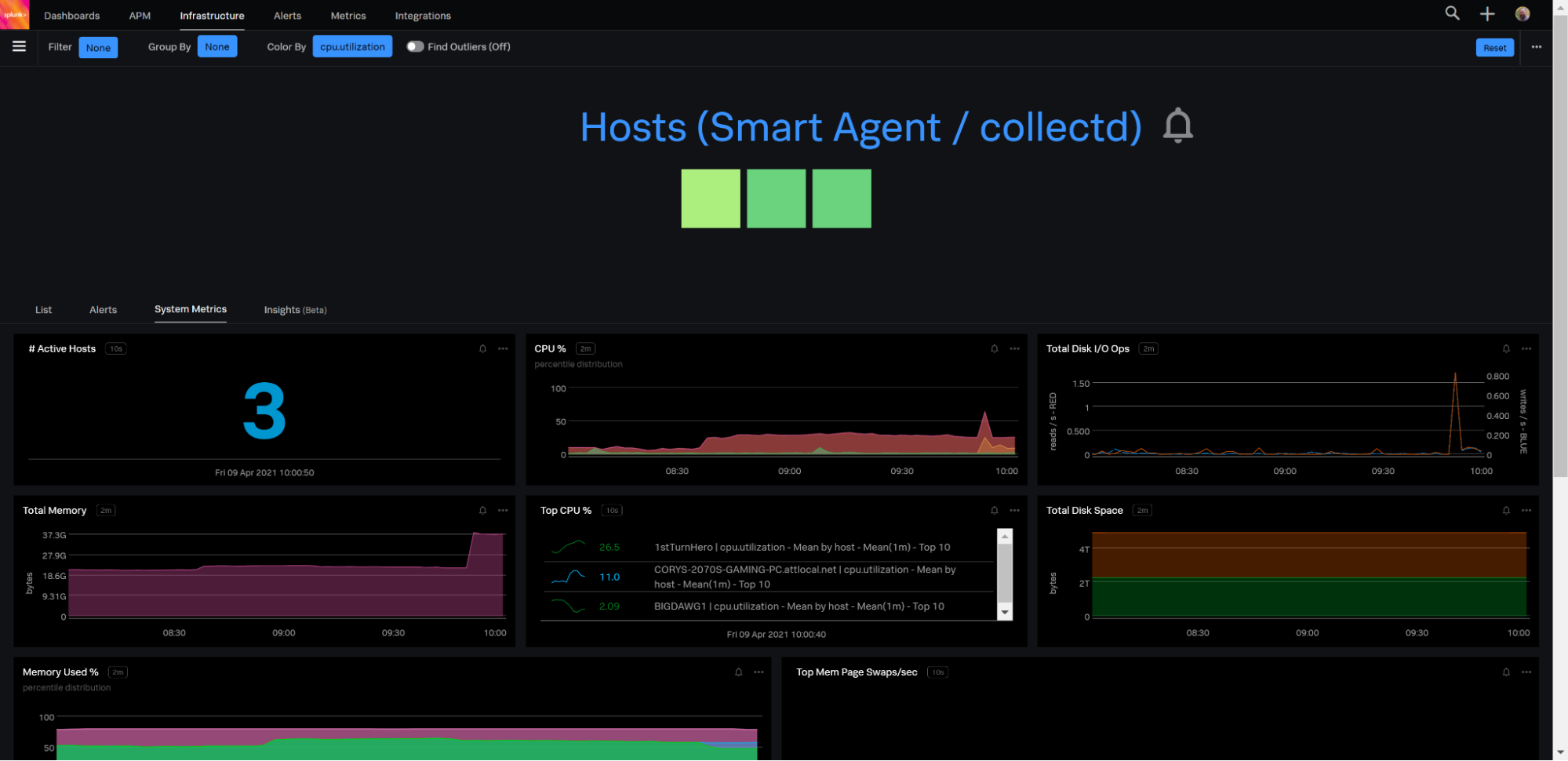 This is the OOTB SIM Infrastructure dashboard for Windows
Jenna then walked us through how SIM can provide real-time alerting to metrics of interest, all powered by intelligent machine learning that keeps alert noise low and focused on the incidents falling out of learned patterns and trends. We even integrated the alerts into our Slack environment!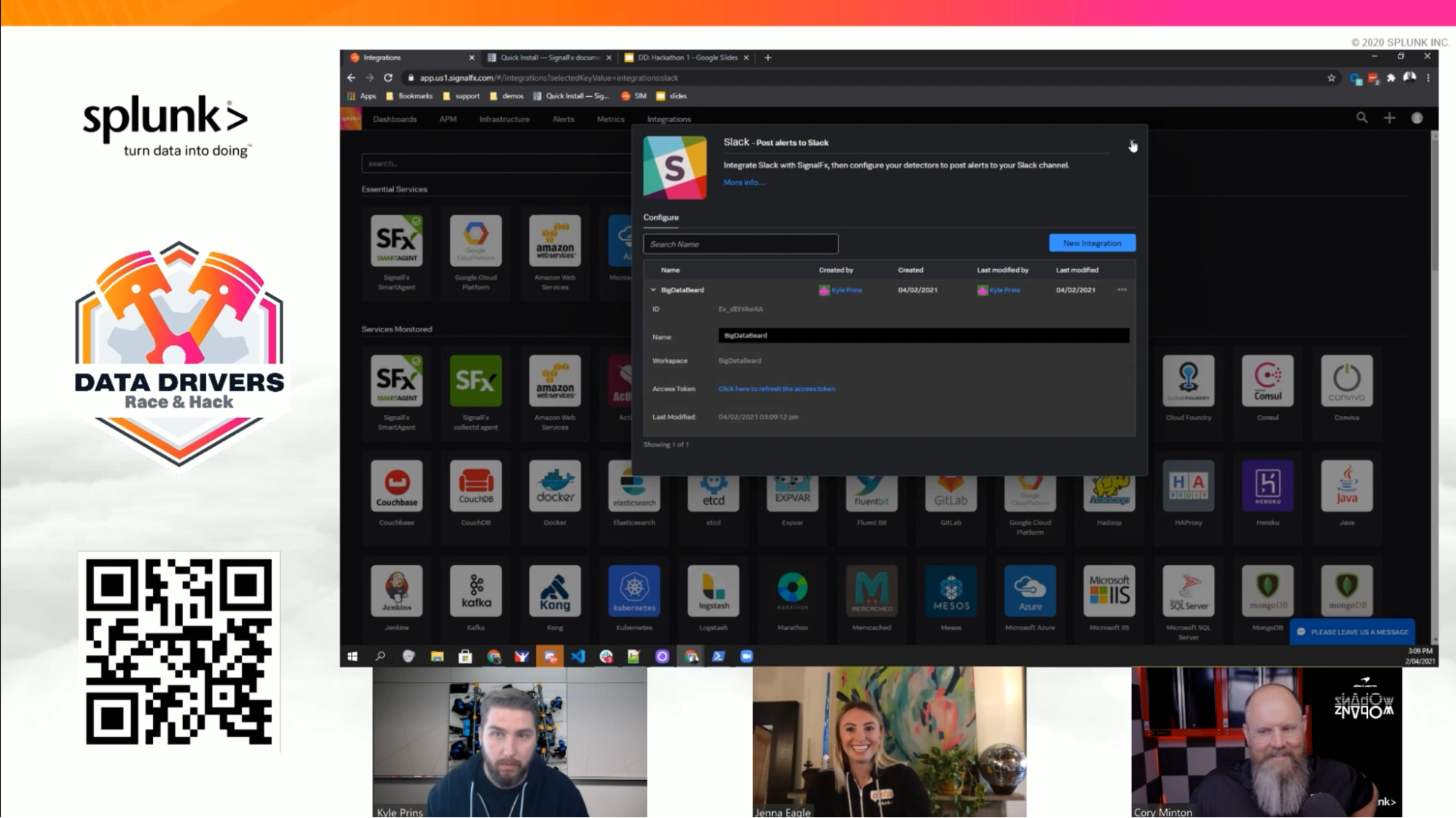 Slack is just one of hundreds of OOTB integrations in Splunk offers
It was pretty clear to our hackers that there is so much more we could monitor with Splunk Infrastructure Monitoring's OOTB capabilities, but we need to focus on what matters to our friends at McLaren and that is all about winning the race. So we called this week's hackathon challenge complete with the SIM SmartAgent deployed, data flowing into Splunk Cloud and some mission critical alerts enabled.
However, we did leave our hackers with a challenge to get them to come back and get more hands on even after the Twitch stream ended. The SIM SmartAgent for Windows does not natively pull any performance data for on-board GPUs and given that our iRacing.com experience is heavily dependent on this component, we thought this would be a fun challenge worthy of a sweet prize for the first participants who shows us how they did it on social media and we will certainly show you all how to do this in the next Data Driver's Hackathon!
Speaking of the next session, be sure to join us April 29th at 12pm PT on the Splunk Twitch channel to check out our race at Brands Hatch in the UK. Then join us again on April 30th at 12pm PT on the Splunk Twitch channel where we will dive into building a custom data pipeline with Python to ingest more than 300 metrics from iRacing.com's API as we work toward building more powerful insights into the racing action...all again guided by our friends from McLaren Shadow Esports as the experts in racing and the consumers of the data insights we will build. If you want to do more than just watch all this on Twitch, you can register to get your hands on the wheel in a race and your hands-on on the data in our hackathons, all guided by Splunk experts.
Whatever you are into, be data driven. Join Data Drivers.