Analyst Report   |   Market Guide for IT Infrastructure Monitoring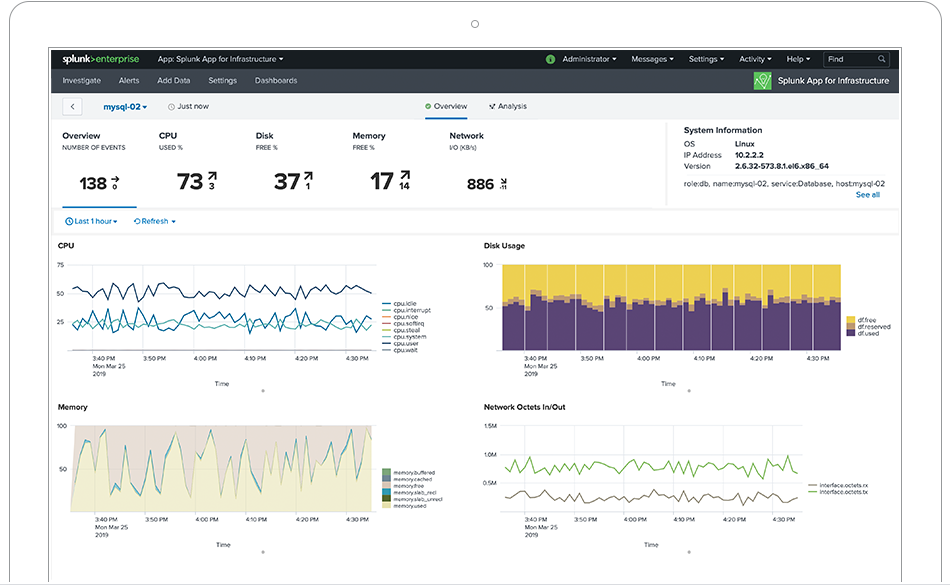 INFRASTRUCTURE MONITORING
One Product. Total Visibility.
Now you can have a comprehensive view of your entire infrastructure. Splunk App for Infrastructure (SAI) unifies and correlates logs and metrics, providing an integrated experience for monitoring, troubleshooting, and alerting. Help to prevent outages, ensure uptime and maintain performance.
Select your use case and estimate how much your organization could save using Splunk
VICTOROPS
Automate incident management to reduce alert fatigue and increase uptime.
VictorOps integrates metrics, logs and your monitoring toolset into a single source of truth that allows on-call teams to quickly fix problems. Additionally, teams can collaborate on problems via chat integrations and alert routing through mobile and web interfaces, and post-incident reports mean teams' services improve over time. Make on-call monitoring easy with VictorOps.

I don't believe there is any other product on the market that is able to quickly bring together diverse data sets, offer a powerful language to engineers for data analysis and then ultimately deliver beautiful, visual, actionable reports to the business users.
Previous
Next

Financial Services
Your IT environment is complex and your customers are demanding. Give them what they want.
Bank on Machine Data

Healthcare
Your IT systems enable the HIE platform. Analyze them to see what's going on.
Boost IT Health

Public Sector
Your citizens and government employees expect better services.
Find Out How to Deliver

splunkbase
Infrastructure Monitoring for All of Your Data in One Place—Any Source, Any Format
Splunkbase has 1000+ apps and add-ons from Splunk, our partners and our community. Find an app or add-on for many data sources and user needs.


Bring data to every question, decision and action with Splunk.