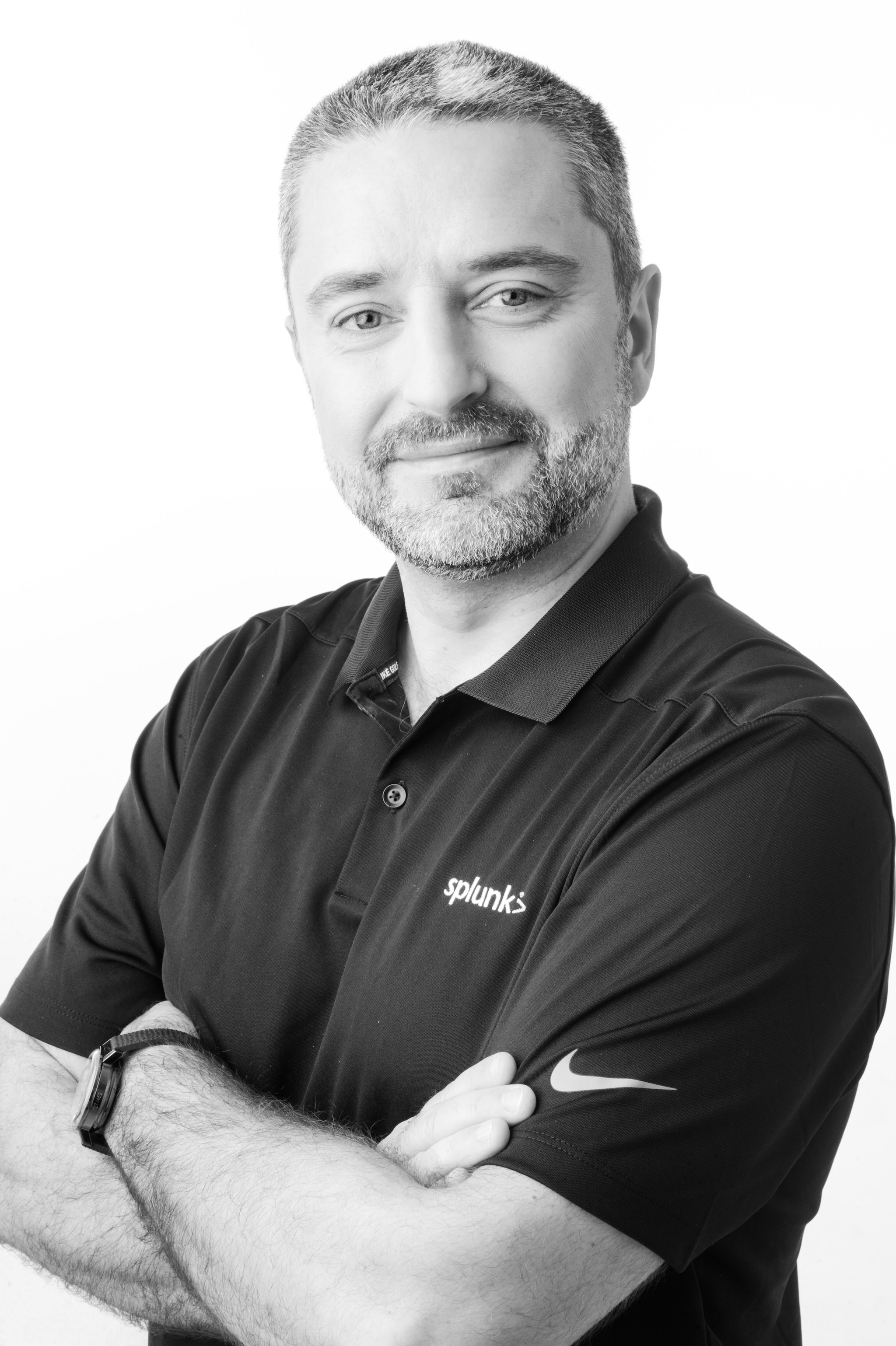 By Stéphane Estevez August 30, 2021
Today, Splunk is excited to announce the addition of regional availability (eu-west-1) to the world's first end-to-end, enterprise-scale, fully-integrated Observability Cloud. The Observability Cloud launched in North America on May 5, 2021, and has already empowered customers to get more actionable insights, faster, from all of their data. For example, Quantum Metric, one of 2020's unicorns, and a Splunk Cloud Platform customer, used Splunk Observability Cloud to develop applications 96% faster and to save nearly US$80,000 thanks to better visibility and capacity planning driven by Splunk's analytics-driven approach to observability.
"The Splunk Observability Cloud helps us see clearly into our complex environment, allowing us to act based on data, so we can deliver on our mission to help customers build better products, faster."
- Glenn Trattner, Chief Operating Officer, Quantum Metric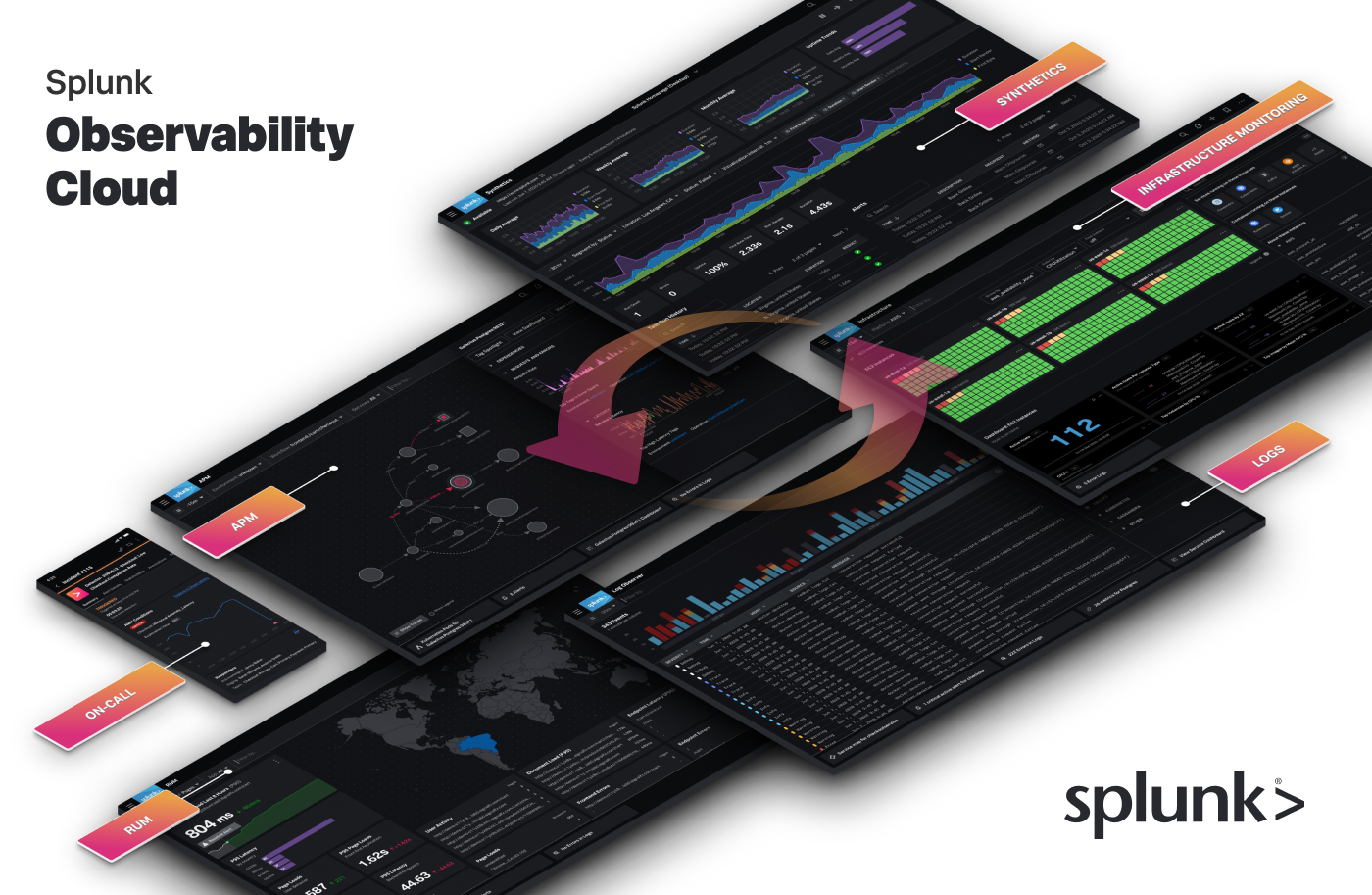 Splunk Observability Cloud helps cut through the complexity of modern infrastructure and applications, and brings together the world's best-in-class solutions for infrastructure monitoring, application performance management, real user monitoring, synthetic monitoring, log investigation and incident response. The full Splunk Observability Cloud includes Splunk Infrastructure Monitoring, Splunk APM, Splunk RUM, Splunk Synthetic Monitoring, Splunk Log Observer, and Splunk On-Call. Backed by Splunk's industry-leading technology - NoSample™ full-fidelity data ingestion, real-time streaming analytics and massive scalability, Splunk Observability Cloud delivers unprecedented capabilities for monitoring, troubleshooting and resolution of business-critical incidents, and allows you to take advantage of and do more with the log data you may already be collecting.
---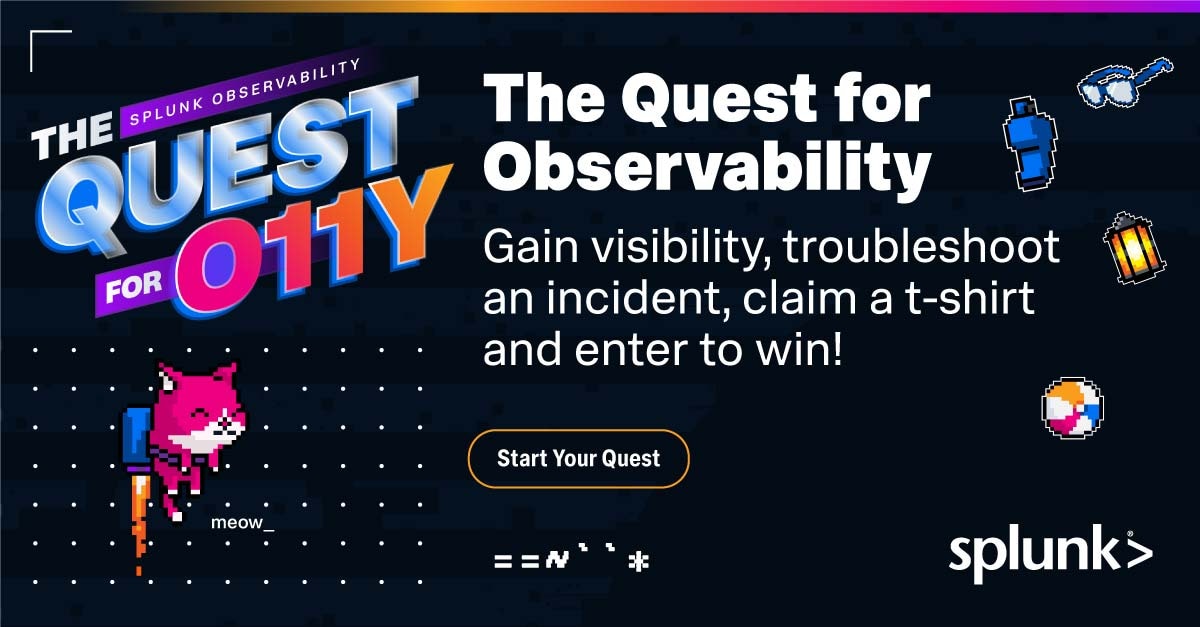 Want the chance to win a Splunk t-shirt and test your skills as an SRE? Start the Quest for Observability game.
---
Take Advantage of New Products Available
Products newly available as part of the launch of Splunk Observability Cloud further illustrate how Splunk can provide unique value for DevOps use cases. Splunk Log Observer brings the power of Splunk logging to SREs, DevOps engineers and developers that need a real-time and troubleshooting-oriented logging experience. Splunk RUM provides the fastest troubleshooting and most comprehensive view of web browser performance. Together, Splunk APM and Splunk RUM provide the industry's only end-to-end full-fidelity visibility across the entire user transaction, from browsers through front-end, mid-tier microservices, all the way through to back-end data stores.
Splunk Observability Cloud is the only OpenTelemetry-native observability product, designed to collect and correlate all your metrics, trace and log data at scale, without the need for proprietary agents. The OpenTelemetry collector is open-source and lightweight, with integrations built in for major programming languages. Thanks to OpenTelemetry, you'll have full control over all your data and will only need to instrument once to be able to monitor your infrastructure and applications fully, no matter what the future holds.
Observability Cloud is available for all, standalone and to both new and current users/ customers. The Splunk Cloud Platform is the gateway to Splunk's cloud-based portfolio of services including Observability Cloud. If you already leverage Splunk, consider how you can bolster your existing investment and extend the power of your data for better operational efficiency with observability.
If you aren't already on Splunk Cloud, make the move today to take advantage of Observability Cloud and Splunk's future cloud-based services, while freeing yourself up from managing a Splunk instance.
Simplified Pricing Helps Customers Tackle Increased Volumes of Data
Unlike many monitoring products that have confusing pricing with hundreds of variables and choices you have to make, Splunk offers the full set of observability capabilities with a simple, entity-based pricing model. Splunk Observability Cloud offers one clear host-based pricing metric directly tied to the value IT and DevOps teams may gain.
We're thrilled to announce that customers can purchase Splunk Observability Cloud in the eu-west-1 region starting today. You can start a free trial with no credit card instantly. Currently, Splunk Observability Cloud for customers in this area is hosted in the AWS eu-west-1 region, with future availability for other regions and cloud platforms planned.
Curious To Learn More About Observability?
DevOps teams have felt pressure from all sides to innovate faster and keep services reliable. DevOps and IT expert IAmDevloper and Splunk's Chief Technical Advisor EMEA, Mark Woods discuss how observability can help teams spend less time fixing and mitigating unknown problems with real-time, analytics-powered insights. Check out this video as they weigh in on observability and watch the complete conversation HERE.