use case
Container Monitoring
Splunk® software helps you unify insights across container environments and the entire technology stack with a single solution. Now your developers can focus on what's most important—the application itself. Splunk for container monitoring provides a solution to help you ensure your containers are available and issues are fixed quickly with minimal effort.

Keep up with your dynamic environment with unified insights
Insights on app performance running in containers and the container environment as whole means a better customer experience
Why Splunk for Container Monitoring?
You want to deliver the best application experience possible. With Splunk solutions, you can monitor performance to help you ensure containers are available and that issues are fixed quickly with as little effort as possible.

Manage your containers while monitoring your entire IT stack at the same time, enabling you to incorporate container performance as a service-centric KPI.

Gain insights on apps running in containers as well as the container environment and build dashboards, alerts and perform search to better understand your data.

PRODUCT CAPABILITIES
Keep your containers happy and healthy
Optimize Container Usage
Manage Container Resources
Monitor CPU utilization to manage the resources required for your containers—including measuring the impact on service reliability and container resource requirements.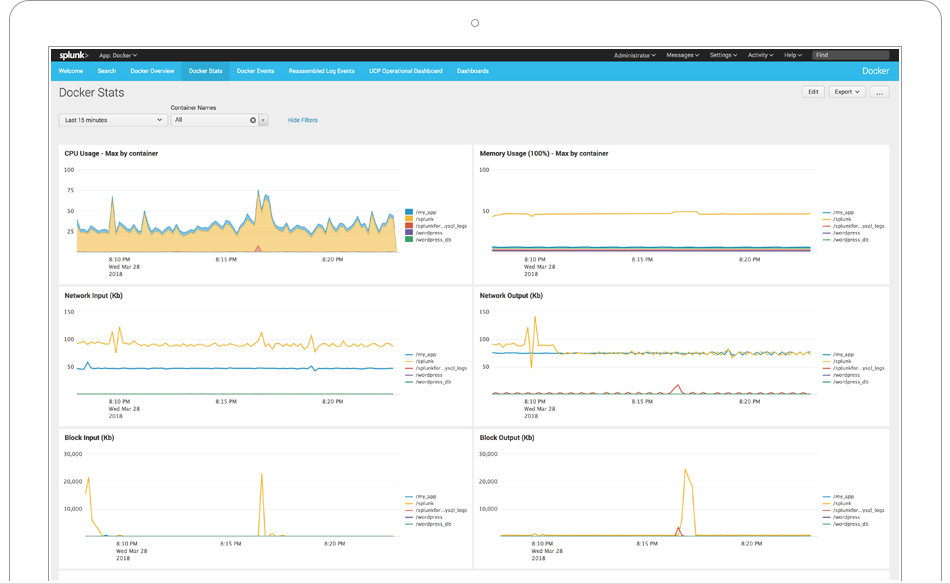 Monitor Utilization and Performance
Quickly Answer Performance Questions
Gain insight into the availability and performance of containers in real time by monitoring memory utilization across all containers over time.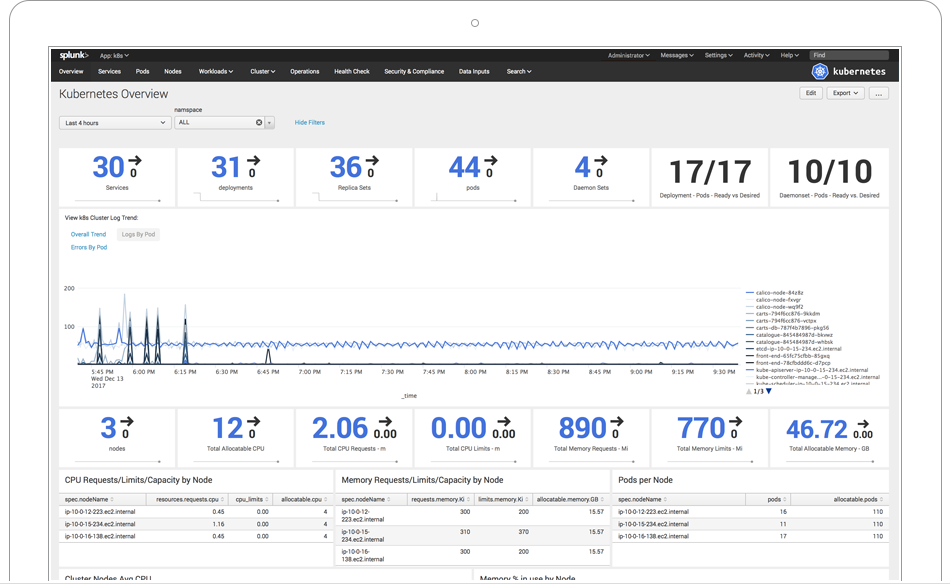 Find Root Cause of Performance Errors
Troubleshoot Containers in Real Time
Identify and troubleshoot in real time to help quickly isolate the specific container causing the issue. Determine whether the container, or the application that is running the container is at fault for performance errors.
splunkbase
Modern Architecture. Complex Problems. Splunk Solutions.
Splunk apps for container monitoring provide the ideal solution to ensure your containers are available, and issues are fixed quickly with minimal effort.

Financial Services
Your IT environment is complex and your customers are demanding. Give them what they want.
Bank on Machine Data

Healthcare
Your IT systems enable the HIE platform. Analyze them to see what's going on.
Boost IT Health

Public Sector
Your citizens and government employees expect better services.
Find Out How to Deliver