use case
Container Monitoring Solutions
Splunk App for Infrastructure (SAI) offers a unified view into both application and infrastructure performance and activity, giving you insights across container environments and the entire technology stack. Now, developers can investigate, spot trends and find the root cause of container problems faster. This means more time to focus on what's important — the application itself. 
Enjoy peace of mind knowing containers are working properly
Monitor Container Behavior

Get a comprehensive view of an entire microservice infrastructure by correlating performance metrics, container logs and OpenShift/Kubernetes data
Why Splunk for Container Monitoring?
SAI offers a consolidated experience to ingest data from OpenShift and Kubernetes environments to easily observe and understand platform performance and activity.

Microservices are updated frequently, have a short lifecycle and may undergo frequent updates and be replaced. SAI makes it easy to keep tabs on Docker environments, offering unified views into application and infrastructure performance.

Out-of-the-box visualizations for Kubernetes Nodes and Pods are available with ready-built dashboards and workspaces for easy troubleshooting and monitoring.

Product Capabilities
Kubernetes, OpenShift and Docker support to help ensure healthy containers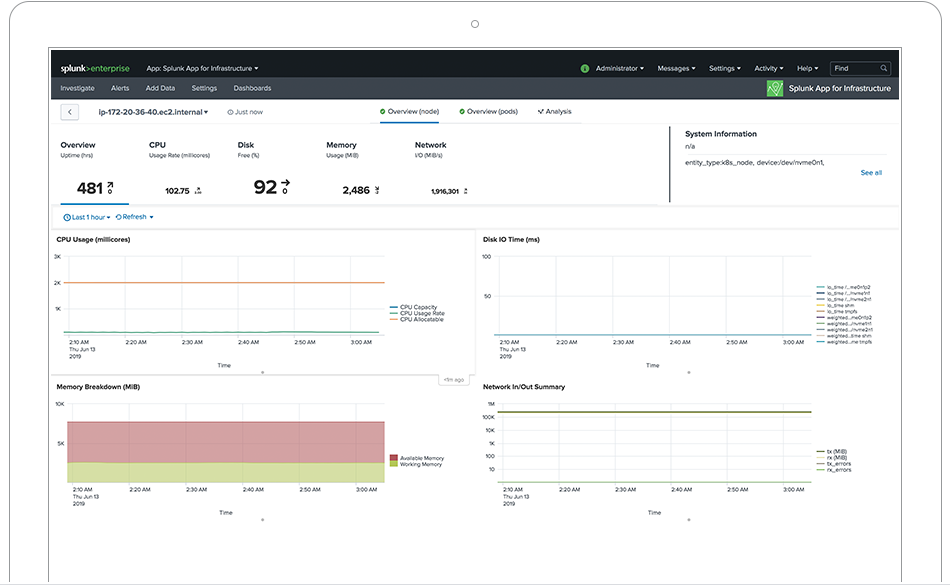 MONITOR UTILIZATION AND PERFORMANCE
Complete Views of Kubernetes and OpenShift Environments
Correlate performance metrics, container logs and OpenShift/Kubernetes configuration and metadata for a better understanding of how your infrastructure is performing and how hosted applications are behaving.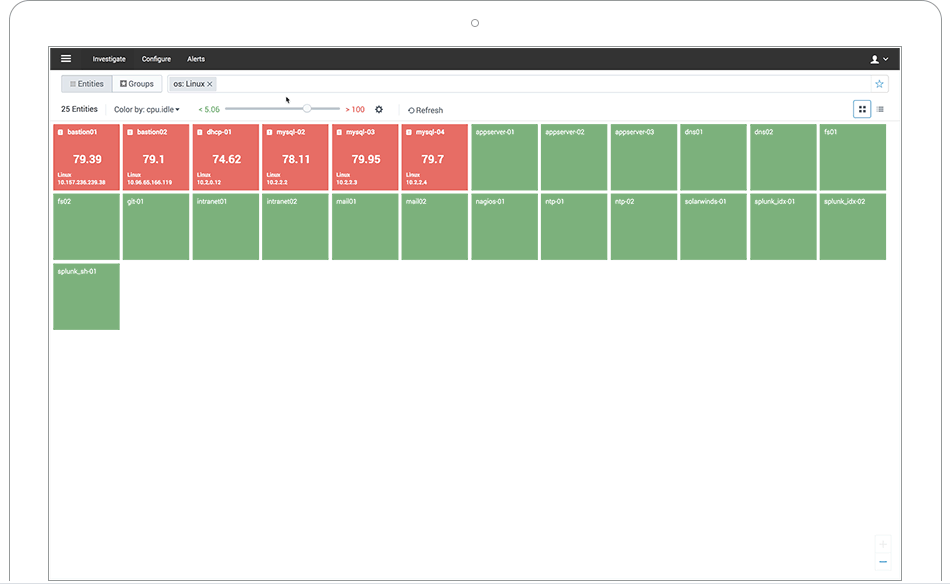 SOPTIMIZE CONTAINER USAGE
Manage Container Resources
Monitor CPU, memory, disk and network performance metrics from your containers. Pay only for what you need by managing resources and measuring the impact on service reliability and container resource requirements.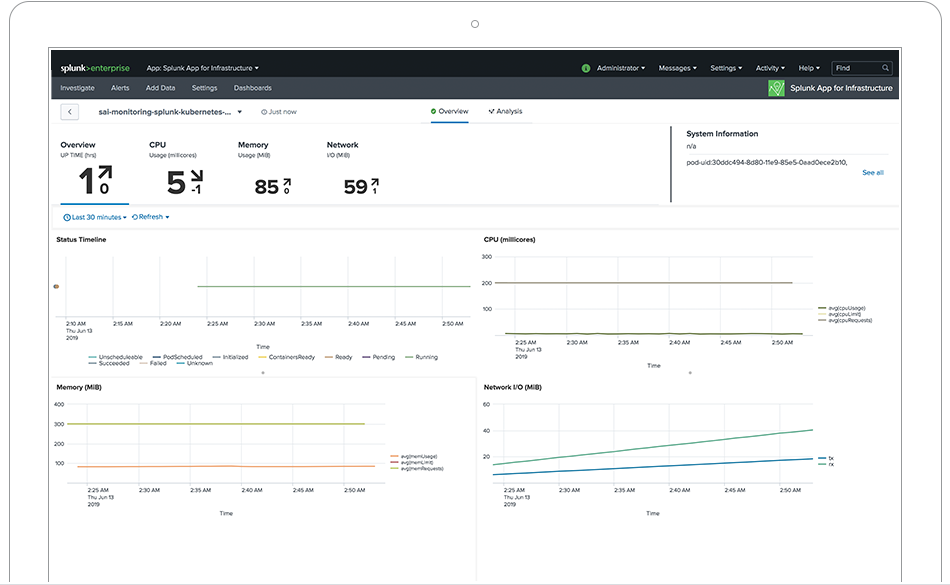 FIND ROOT CAUSE OF PERFORMANCE ERRORS
Troubleshoot Containers in Real Time
Ready-built dashboards and workspaces make troubleshooting easier than ever. Pinpoint exactly where issues are occurring and whether it's the container or application running the container is at fault for performance errors.
splunkbase
Modern Architecture. Complex Problems. Splunk Solutions.
Splunk apps for container monitoring provide the ideal solution to ensure your containers are available, and issues are fixed quickly with minimal effort.

Financial Services
Your IT environment is complex and your customers are demanding. Give them what they want.
Bank on Machine Data ›

Healthcare
Your IT systems enable the HIE platform. Analyze them to see what's going on.
Boost IT Health ›

Public Sector
Your citizens and government employees expect better services.
Find Out How to Deliver ›