By Blessing Onyegbula June 16, 2023
Today, cybersecurity is a non-negotiable for business success. Original research from our annual State of Security confirms this is no easy task – which is why we are proud that the solutions we deliver help make organizations digitally resilient.
Splunk Cloud, Splunk Enterprise and Splunk Enterprise Security are our most well-known and popular solutions, which we'll share more about below. These products combine data analytics with the latest in cybersecurity to fortify your digital environment – whether you're a private organization, a global enterprise or in the public sector.
So, take a look at what our three primary products deliver to users. We'll break down reviews from top software review platforms on what users think about these products. We draw insights from G2, TrustRadius, PeerSpot and Gartner Peer Insights™, all trusted software review platforms, to highlight what customers love about these Splunk products.
Let's dig in!
(Want more Splunk? See what Splunk does & explore these tutorials.)
Splunk Enterprise
First up, let's look at our original and most-known product. Splunk Enterprise is on-premises software for collating and analyzing machine data to generate insights into your organization's IT structure–looking at all areas from security to software development to data analytics.
Based on reviews from different outlets, Splunk Enterprise is a favorite amongst security analysts and engineers. See all the features in Splunk Enterprise or take a free tour.
Pros
Data collation and analytics
Smart alerting to relevant parties
Cons
A bit cost intensive – it's an investment
A long learning curve to familiarize your staff with the tool and all its possibilities
Now let's look at some real-world reviews from real users of Splunk Enterprise.
TrustRadius review of Splunk Enterprise
Splunk Enterprise has earned a top-rated badge on TrustRadius. From the 425 ratings from users on this platform, Splunk Enterprise gets a score of 8.7 out of 10, based on the following:
Ability to centralize events and log data collection
Deployment flexibility
Integration with identity and asset management tools
Creation of custom dashboards and ratings
Most reviewers also mentioned their willingness to repurchase the software or extend a subscription, as well as recommend it to others. Users agree that Splunk Enterprise delivers great value for money.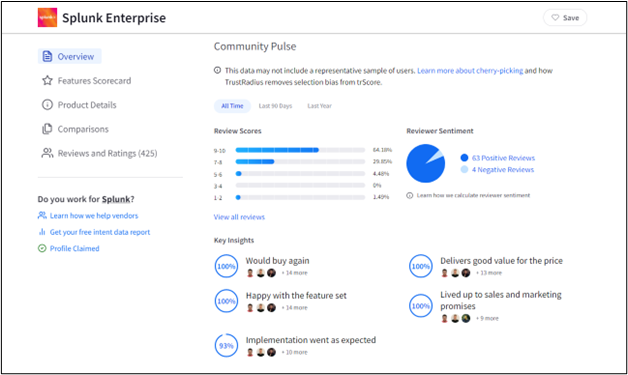 G2 review of Splunk Enterprise
G2 also shows that Splunk has an above-average rating of 4.3 out of 5, from the 370 reviews of the product. Most reviewers agree that working with a large amount of data is easier with Splunk Enterprise, and that it's especially great for automation and log analysis.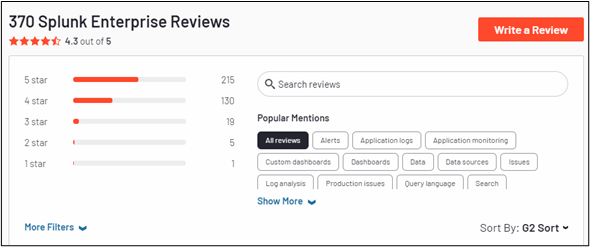 Customer reviews of Splunk Enterprise on Gartner Peer Insights
On Gartner Peer Insights, Splunk has a 4.3-star rating based on 775 reviews from customers as of June 2023 in the Security Information and Event Management market.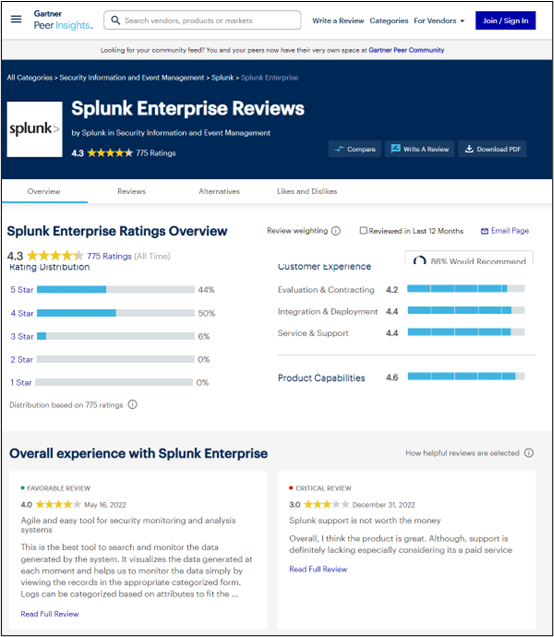 Splunk Cloud Platform
Now let's turn to another product: Splunk Cloud Platform, or Splunk Cloud for short. Splunk Cloud delivers cloud-powered insights for large-scale (petabytes!) data analytics in the hybrid cloud. Check out a free tour, if you're interested.
Splunk Enterprise and Splunk Cloud are both analytics platforms with one clear distinction around deployment: the former is hosted on-premises or within the customers' data centers. Splunk Cloud Platform, however, runs in the cloud as a SaaS offering. Both, of course, focus on enterprise security, risk management, and general data analytics.
Pros
Great for data processing and visualization
Integrates well with other apps
Data infrastructure is reliable and scalable, especially because you don't have to manage the hardware
Cons
Editing the configuration files can be tricky
App deployment takes time
TrustRadius review of Splunk Cloud Platform
Splunk Cloud Platform has a cumulative rating of 8.2/10 from 101 reviewers on TrustRadius. For users, the biggest benefits lies in three key areas:
Centralized monitoring (aka observability)
Security use cases for enterprises
Easy to create and filter dashboards
As for longevity, Splunk Cloud scores 100% based on reviewers' willingness to repurchase.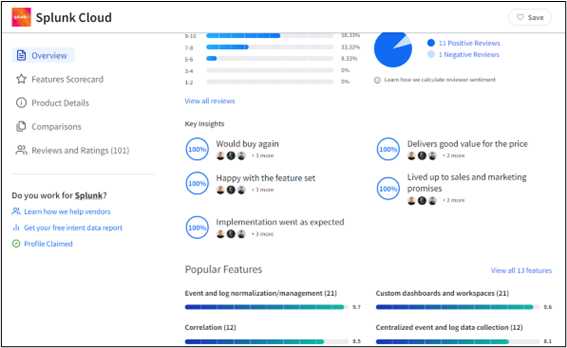 G2 review of Splunk Cloud
The 4.3-star rating for Splunk Cloud on G2 confirms it's great for data logging and analysis.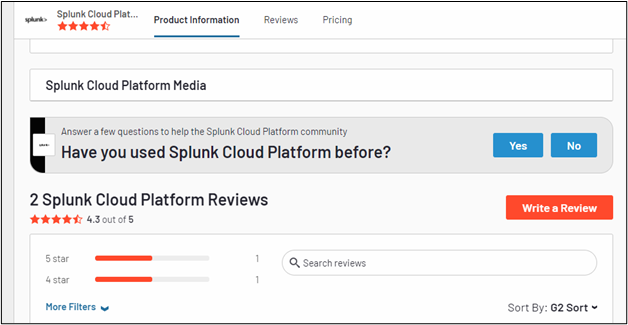 Customer reviews of Splunk Cloud Platform on Gartner Peer Insights
Reviews on Gartner PeerInsight rate Splunk Cloud Platform an average of 4.3 stars out of 5.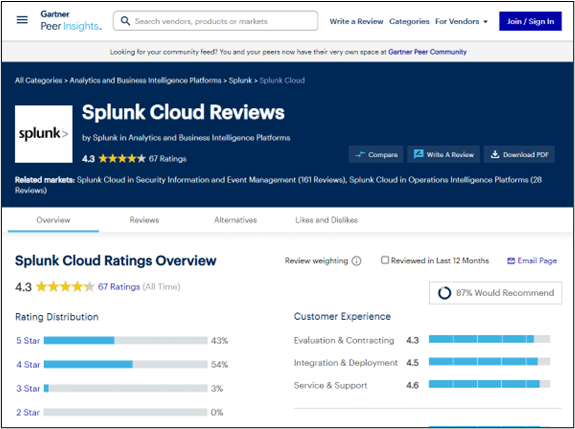 PeerSpot Review of Splunk Cloud Platform
PeerSpot has rated Splunk Cloud Platform overall with 3.5 out of 5 stars. Formerly IT Central Station, PeerSpot is a well respected site where decision makers who are in tech go to read peer product reviews and discussions in IT, cybersecurity and DevOps. For users, the biggest benefits are:
Getting a million data points within seconds
Awesome indexing where the solution is constantly improving
User friendly
Straightforward initial setup was
A review mentions that "Splunk Cloud's most valuable features are log aggregations, dashboarding, business management, reporting, and business controls."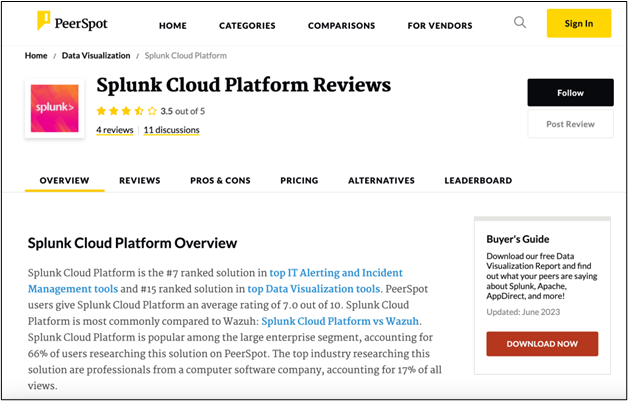 Splunk Enterprise Security (ES)
Finally, let's come to SIEM: Meet Splunk Enterprise Security, our industry-leading SIEM solution. Users know it best as Splunk ES.
To clarify a couple points: Splunk Enterprise or Splunk Cloud visualizes and analyzes the data, whereas Splunk ES works on detecting threats and resolving cybersecurity-related issues. It's a premium solution for customers of Splunk Cloud and Splunk Enterprise – it relies on these products to work.
Learn more about the features or take a free tour!
Pros
Splunk Enterprise Security comprises the six SIEM essentials that every Security Operations Center (SOC) must have. This, in turn, provides the following benefits for users:
Integration with most network and security devices
Purpose-built for world-class threat detection and response, and comes with security alerting
Security automation to save time and boost efficiency within the SOC
Cons
Updating data logs can be a hassle
Configuration and deployment is quite complex
TrustRadius review for Splunk Enterprise Security
The 229 reviews on TrustRadius give Splunk ES a total rating of 8.4 out of 10, a well-above-average pass mark. The product also claims TrustRadius' award in 2023 for:
Best feature set
Best relationship
Best value for money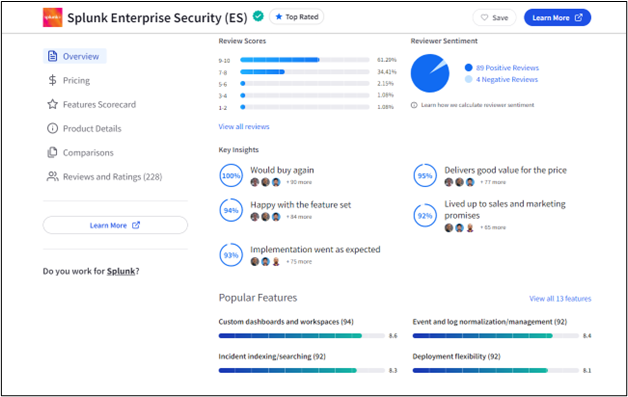 G2 review for Splunk ES
Most reviewers' love for this SIEM tool is tied to its incident investigation and 24/7 threat monitoring features. These among other features have earned Splunk ES an average rating of 4.2 stars out of 5, from 186 reviews on the platform.

Customer reviews for Splunk Enterprise Security on Gartner Peer Insights
More than 390 reviewers on Gartner Peer Insights gave Splunk Enterprise Security an average 4.3 stars out of 5, with 81% willing to recommend the solution to others as of June 2023 in the Security Information and Event Management market.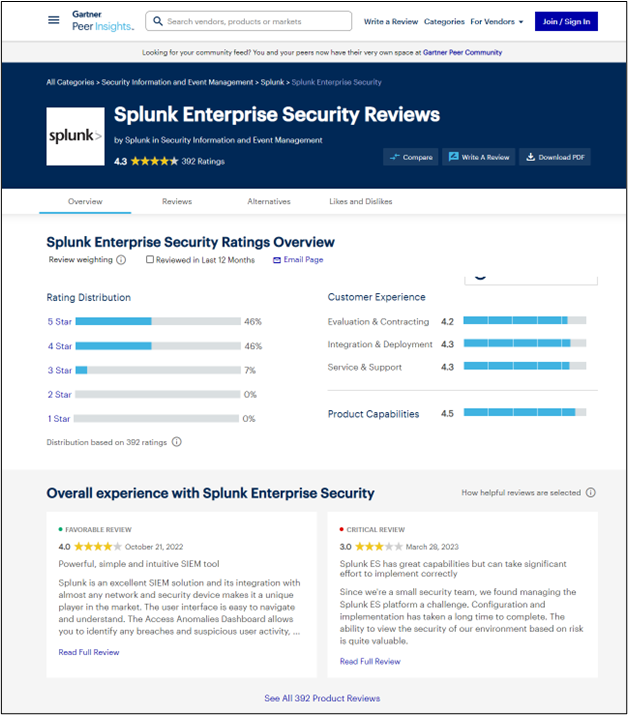 PeerSpot Review of Splunk Enterprise Security
PeerSpot has 47 reviews of Splunk Enterprise with an average score of 4.1 out of 5! Peers who loved Splunk Enterprise Security seemed to specifically love:
A customer says, "The varied prebuilt feature is the most valuable because it ensures that we have complete coverage over all of the key questions."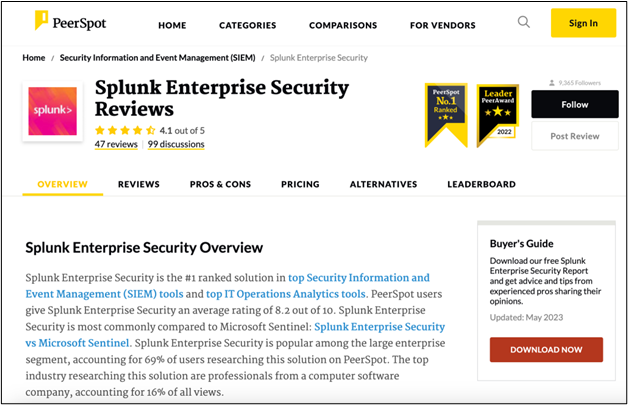 Which Splunk solution is right for you?
Answering this question depends on the problem you're trying to solve. Our products are built to compete at a global standard. Plus, they are usually feature-rich, which means less need for add-ons and other integration.
Ready to determine which Splunk solution is right for you? Speak with our sales experts to discuss your business needs today.
What is Splunk?
This posting does not necessarily represent Splunk's position, strategies or opinion.
Gartner® and Peer Insights™ are trademarks of Gartner, Inc. and/or its affiliates. All rights reserved. Gartner Peer Insights content consists of the opinions of individual end users based on their own experiences, and should not be construed as statements of fact, nor do they represent the views of Gartner or its affiliates. Gartner does not endorse any vendor, product or service depicted in this content nor makes any warranties, expressed or implied, with respect to this content, about its accuracy or completeness, including any warranties of merchantability or fitness for a particular purpose.