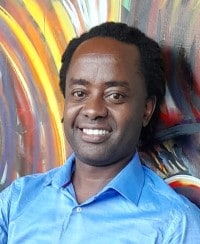 By Joseph Nduhiu May 01, 2023
Understanding the difference between data governance and data management is paramount in any setting where you're managing (and monetizing) data. The short answer is this:
Data governance is defined as the ownership, stewardship and operational structures needed to ensure that you're managing corporate data as a critical asset.
Data management involves the coordinated activities to define, control, supervise and improve the entire data lifecycle.
Let's dive into these concepts in greater detail.
Governing data, managing data
The surge in the amount of data being generated and consumed continues — with no sign of stopping. An IDC study estimates that global data will double in size within the next three years, passing 180 zettabytes (billion terabytes) in 2025.
---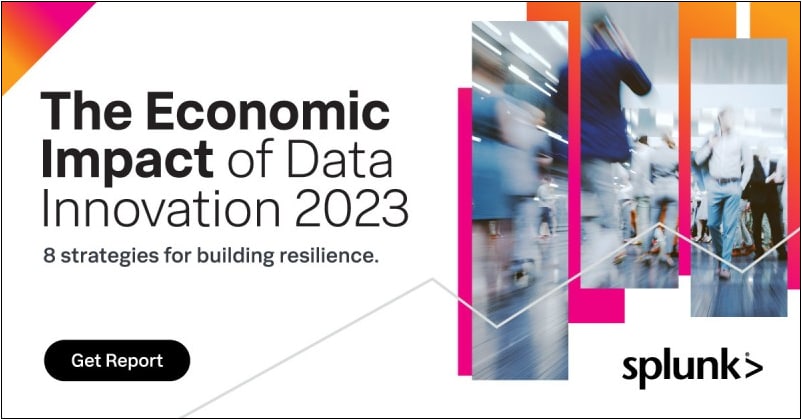 ---
Meanwhile the fines for breach of data privacy laws are in the hundreds of millions of dollars, with China's Didi Global getting hit with a penalty of $1.19 billion in 2022. Enterprises are now facing the sometimes-conflicting objectives of:
Exploiting the financial benefits that come from their digital data services.
Having to protect and control user's personal data in order to meet compliance requirements and contain risks.
And with the risk of data loss or misuse no longer restricted to financial impact, C-suite occupants require a more rigorous grasp on the data lifecycle, in order to tackle complex and evolving issues related to privacy, compliance, security and benefit realization.
Understanding the difference between data governance and data management is paramount for anyone involved in extracting value from enterprise data, while managing risks that include legal and societal perspectives. Clarifying the activities, roles and responsibilities related to these two dimensions helps to:
Facilitate responsible use of data.
Enable better stakeholder engagement.
Ultimately lead to full value realization from the organization's investment in the business processes that interact with this data.
Data Governance overview
The increased financial worth assigned to digital data as seen by big tech valuations, plus the enhanced scrutiny from governments and consumers on how enterprises use it for this gain, has triggered the need for oversight within organizations. Facing the twin risks of massive financial loss as well as huge penalties for non-compliance, the need to ensure data is correctly used and adequately protected is a responsibility of the highest leadership level.
According to the CMMI Institute's Data Management Maturity Model, the purpose of data governance is to develop the ownership, stewardship and operational structures needed to ensure that corporate data is managed as a critical asset and implemented in an effective and sustainable manner.
(Check out our data governance explainer.)
Activities that support data governance
Governance is all about direction and control. Data governance focuses on how decisions are made about data, as well as the behavior expected from people and processes interacting with it. The three iterative activities involved in the governance of data are: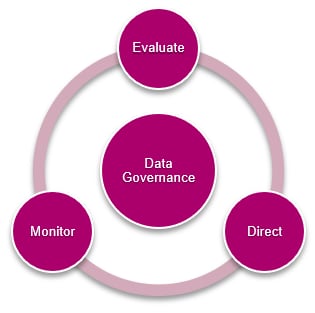 Iterative activities in Data Governance
Evaluate
The data governance body needs to assess the internal and external context in which the organization operates in order to make effective decisions on how data will be used and controlled.
Use techniques like SWOT and PESTLE analysis to identify what factors could enable or hinder the achievement of business benefit through the handling of data within the enterprise as well as its partners and suppliers. Key focus areas include:
Business operations
Market trends
Consumer behavior
Evolving legislation and regulation
Direct
Based on the context, the data governance body will provide clear direction to the management, staff, partners and suppliers with regard to the chosen approach to handling and exploiting data to deliver value to the organization. Direction can come in many forms including:
Vision and mission
Goals and objectives
Ethics and principles
Strategies, policies and controls
Communicate this direction in such a way that you're influencing — not forcing — the audience to follow and comply, especially where behavior change is required to guarantee data privacy.
Monitor
The data governance body will regularly check to see whether the direction set for the handling and security of data is being followed, and that it is still relevant to the organization's context.
Monitoring mainly involves reviewing information and reports received from the management team on the use and control of data, as well as from independent auditors and third party assessors including regulators. The output of the review is fed into the evaluation and direction activities.
Roles involved in data governance
Data governance facilitates effective and prudent data management which ultimately translates into long term success both financial and on the compliance side. Drivers for data governance are two-fold: Ensuring that you're getting value from the data, while reducing associated risks and improving lifecycle processes.
The ITIL® 4 Direct Plan and Improve publication identifies 3 key players who would make up the data governance body that would operate under an established framework:
The Board of Directors sets data strategy, and supervise the executives to deliver on it, and report to shareholders and other stakeholders.
Shareholders participate in the appointment of board directors and auditors, as well as evaluating their performance.
Auditors support the board and executives by reviewing the comprehensiveness and reliability of data assurance mechanisms.
Now let's shift from data governance to data management.
---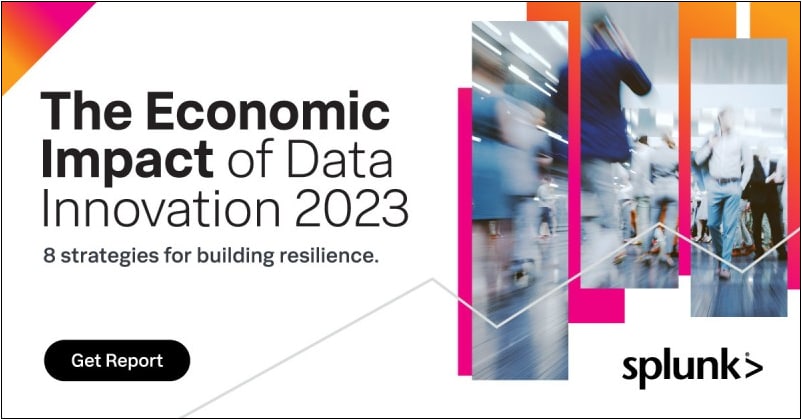 ---
Data Management overview
Data management involves the coordinated activities to define, control, supervise and improve the lifecycle of data from its creation to finally archiving or deletion. The DAMA DMBoK publication identifies the following goals of data management:
Understanding and supporting the data needs of the enterprise and its stakeholders.
Capturing, storing, protecting and ensuring the integrity of data assets.
Ensuring the quality of data.
Ensuring the privacy and confidentiality of stakeholder data.
Preventing unauthorized or inappropriate access, manipulation or use of data.
Ensuring data can be used effectively to add value to the enterprise.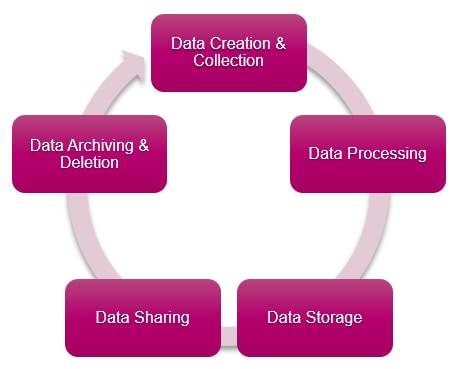 Data Management Lifecycle
Data management is the outcome of the direction provided by data governance. Data management is the role played by the executives of the organization as well as their staff, contractors, partners and suppliers.
Data is an asset that facilitates effective decision making and efficient operations — that means its management is a crucial capability that must be planned and nurtured in order to fully extract the value that the enterprise expects.
(Read our full data management explainer.)
Ensuring data quality
One of the hallmarks of effective data management is ensuring data quality is of the highest order. Gartner estimates that poor data quality costs organizations an average $12.9 million annually, primarily via introducing unnecessary complexity that hampers decision making, ultimately leading to lost business opportunities.
Producing high quality data is a full-time job that requires planning, commitment and a mindset that builds quality into processes and systems throughout the data lifecycle. It is critical for your organization to:
Define data quality metrics.
Build data quality into the design of processes and technology systems.
Rigorously review and implement improvement of the data quality posture, including driving the culture of high quality in its employees and data handlers.
(Learn about the data analyst role or compare data science with data analytics.)
Securing data
The securing of data is another essential aspect of data management. Apart from data theft, system downtime and regulatory penalties, the risk of data breaches from cyberattacks can also result in compounded reputational impact whose damage can last for a very long time.
Requirements of data security come from a variety of sources including users, stakeholders, government regulations and contractual requirements. The right approach to data security involves adopting a framework that facilitates…
Inventorying data assets.
Identifying threats and vulnerabilities faced.
Assessing and evaluating risks.
Afterwards, coming up with appropriate treatment options which should be implemented, reviewed and improved.
Such frameworks include those driven by government bodies such as the NIST Cybersecurity Framework, or international standards such as ISO/IEC 27001, PCI and SOC 2 among others.
Data governance vs Data management: Which comes first?
Most data management activities would naturally occur because of day-to-day activities related to the data lifecycle. However, oversight isn't a guarantee in most organizations. Without a deliberate effort, governance of data can be insufficient — or altogether absent.
To extract full value from the data that the enterprise holds and processes, direction and oversight are indispensable. Establishment of a data governance framework that encompasses the data management lifecycle is the only sure way that organizations can benefit fully from their investment while addressing compliance needs in an effective and efficient manner.
What is Splunk?
This posting does not necessarily represent Splunk's position, strategies or opinion.