AIOps: Artificial Intelligence for IT Operations
Gain the agility and cost reduction necessary to have a competitive edge today
Data chaos is everywhere, bringing with it more data than organizations know what to do with it — great volumes, different kinds, and at ever-increasing speeds. At Splunk, we want you to embrace your data. We've made it our mission to empower customers to transform this explosion into opportunity to drive effectiveness, productivity, insights and automation.

The secret lies in our unique approach to Artificial Intelligence for IT Operations (AIOps). As one of only a few true AIOps platforms, we understand the importance of going beyond just "features" to instead provide a platform capable of combining big data, AI and machine learning, with a mature understanding of IT operations. We make it easy to ingest almost any kind of data from almost any source, in real-time or historical, and then apply cutting edge AI and ML capabilities — predictive analytics, prediction and forecasting, event management and analytics, clustering, adaptive and statistical thresholding, anomaly detection, root cause determination, and more. It is this unique approach that helps replace a broad range of IT operations processes and tasks and allows companies to get value not possible with human analysis alone.

Download your courtesy copy of Gartner's Market Guide for AIOps Platforms
Breadth of AI and ML Capabilities for New IT Operations
Webinar - 5 Steps to a Predictive IT Strategy
THE DATA CHALLENGE
A DIFFERENTIATED APPROACH TO DATA
Even the best AI and machine learning capabilities become powerless without the right data to support them. The rise in complexity, caused by the rapid growth in data volumes generated by IT infrastructure and applications, the increasing variety of data types, and the increasing velocity at which data is generated, is met with opposing forces of cost reduction — making it challenging for IT operations to adequately get their jobs done, let alone leverage the best in AI and ML for transformation.

A differentiated approach to data can make all the difference between dabbling with features and achieving true success and transformation. Splunk can ingest nearly any kind of data, like logs, metrics, text, wire, API, and even social-media derived, just to name a few, and from nearly any tool and system. Splunk can ingest these data as structured, semistructured, or unstructured, and in real-time or historically.

Imagine a single platform for unifying all your disparate data across all of your silos… and then imagine what AI and ML could do with it. Imagine teams no longer burdened with too many alerts, complex tools, and siloed views, and imagine them no longer forced to react to problems, but instead proactively getting ahead of them.
Unified Monitoring for All Your Teams
GET AHEAD WITH PREDICTIVE IT:
You need a solution that can wrangle all of your data across all silos — logs, text, wire, metrics, API and social-media derived data — and from nearly any aspect of services, apps, or infrastructure. Legacy monitoring tools and solutions that add on a few AIOps features can't handle the volume, variety and velocity of complex structured and unstructured data. And add-ons and afterthoughts don't scale as data demands grow.
Introducing Splunk IT Service Intelligence (ITSI)
Splunk ITSI is a monitoring and analytics solution that uses AI to go from reactive to predictive IT and gives observability and insights across services, applications and infrastructure. Splunk ITSI is able to handle all the data categories that matter, from historical and real-time data, and is designed to scale. It's one of the only a few true AIOps platforms.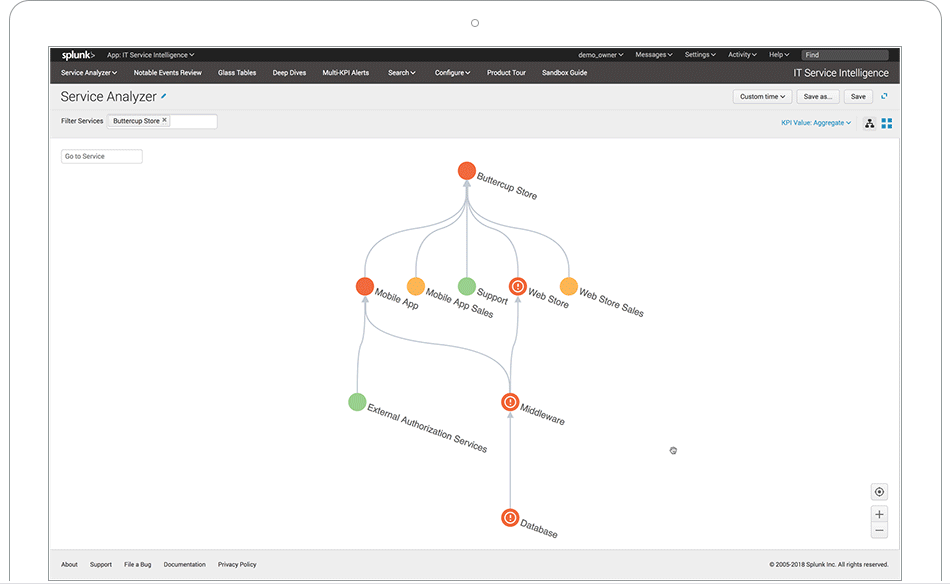 By taking a predictive and preventative approach you're able to:
Maintain consistent, if not improve, customer experience

Protect your bottom line by avoiding service interruption

Boost productivity with streamlined operations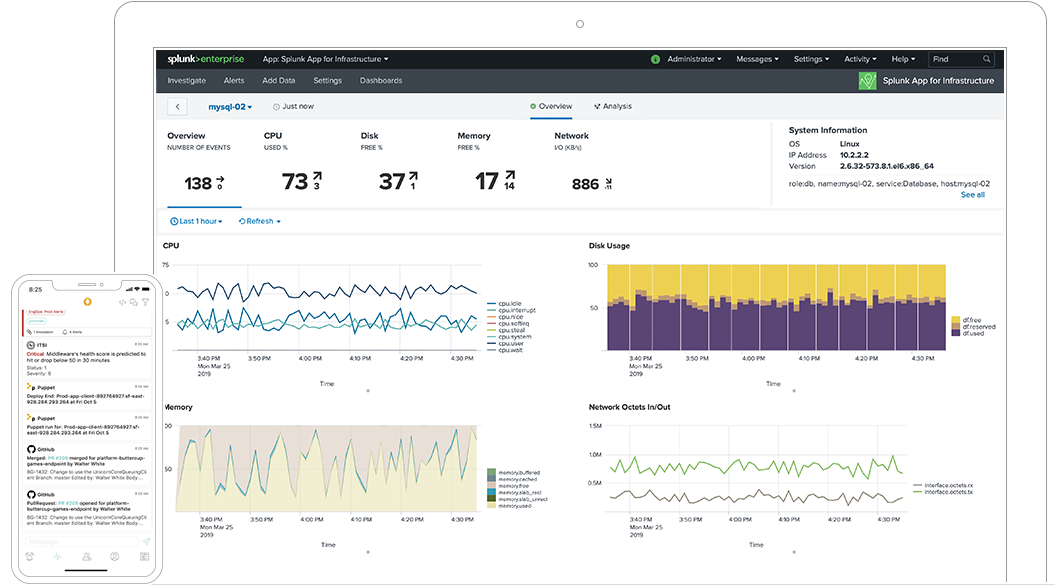 Understanding AIOPs - What's Next?
Solution Details: AI as a Service
Data is the fuel for successful AI, but most platforms can't collect and analyze structured and unstructured data in real-time. Organizations need a platform that has the ability to wrangle large amounts of log, metric, and API data that support their on-premises, cloud, or hybrid-supported applications and infrastructure, and then easily apply machine learning to their real-time production environments in a single accessible view.

Splunk ITSI, a transformational AIOps platform, has been solving these pain points for companies and organizations around the world by marrying machine data with machine learning to help customers simplify incident detection, train systems on incident severity, detect root cause more quickly, trigger procedures for specific alerts, and predict the future state of a system when a failure might occur.

A machine learning-powered data platform that enables you to take your organization to move through the traditional IT tasks quicker and gain continuous insights is in fact what defines an Artificial Intelligence for IT Operations (AIOps) platform. By investing in an AIOps platform you gain the agility and cost reduction necessary to have a competitive edge today within both IT and the business.