Artificial Intelligence for IT Operations (AIOps)
Gain the agility and cost reduction necessary to have a competitive edge today
Artificial Intelligence for IT Operations (AIOps) is a Gartner-defined platform that combines big data and artificial intelligence (AI) functionality to replace a broad range of IT Operations processes and tasks including availability and performance monitoring, event correlation and analysis, IT service management, and automation.

By harnessing log, application, cloud, network, metric data and more, AIOps enables organizations to monitor, flag and surface possible dependencies and issues in their systems. It automates routine practices in order to increase accuracy and speed of issue recognition and streamline operations.

The Importance
Managing IT Complexity and Expectations
IT Operations must avoid downtime and outages. It must demonstrate business value (e.g. preserving revenue line, protecting your brand reputation, improving your customer satisfaction) and reduce the friction between IT and the business. This requires a data platform that brings together data and performance metrics between the business and IT, in one consumable place, so your organization can move forward with the agility necessary to meet modern demands, including:
Ensure Performance

Improving Their Customer's Experience

Providing Agility for the Business via New Services
Investing in an AIOps solution is a necessity to continue to drive forward your digital business transformation.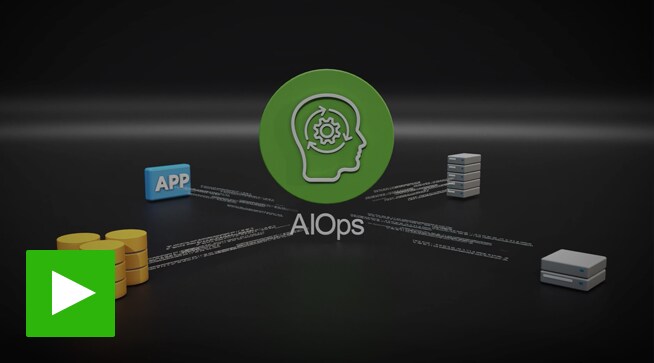 Webinar - 5 Steps to a Predictive IT Strategy
The Difficulty
IT'S NOT EASY BUT IT'S WORTH IT
IT operations is only continuing to grow in complexity. Already, there are too many alerts for human operators to process and little to no visibility into which alerts are business impacting. And it's only getting worse with the addition of new devices and the growing list of services being employed by organizations — slowing detection and resolution times. Going through the noise manually doesn't work, instead, it leads to a massive loss in productivity as resources are misallocated.

Why is this a problem? Legacy IT solutions have left organizations in a complex and manual state. With too many complex and siloed tools, productivity for IT remains low, and they're often plagued in their inability to find the exact root cause. There is simply no easy way to get a 360-degree view of all of their IT and business services across the stack.
These Critical Issues Cost the Business
and Hurt Customer Experience
The Solution
GET AHEAD WITH PROACTIVE IT:
You need a solution that is predictive and proactive, not reactive. Imagine a world where 30 minutes before an incident even crosses the service desk, your team is alerted of the potential incident. How do you get to this kind of state?

You need a solution that can wrangle all of your data across all silos, and uses sophisticated predictive AI and machine learning. Training on relevant, available data is critical in making this strategy work. You need lots of historical and real-time data for context that helps understand the past, in turn, helping you predict what most likely will happen in the future. Only then can you be proactive and prevent costly incidents from happening.

By taking a predictive and preventative approach you're able to:
Maintain consistent, if not improve, customer experience

Protect your bottom line by avoiding service interruption

Boost productivity with streamlined operations
Put simply, you can get ahead of problems and return time and money to the business.
It's not out of your reach to enjoy
Reduction in High Priority Incidents
Improved Time to Market
Early Prediction of Imminent Outages
Reduction in Incident Investigation Time
Meet Splunk IT Service Intelligence (ITSI)
Splunk ITSI is a machine learning-powered monitoring and analytics solution that correlates real-time and historical log, metric and event data across IT and the business to predict service degradation before it potentially impacts the organization's customer experience and revenue.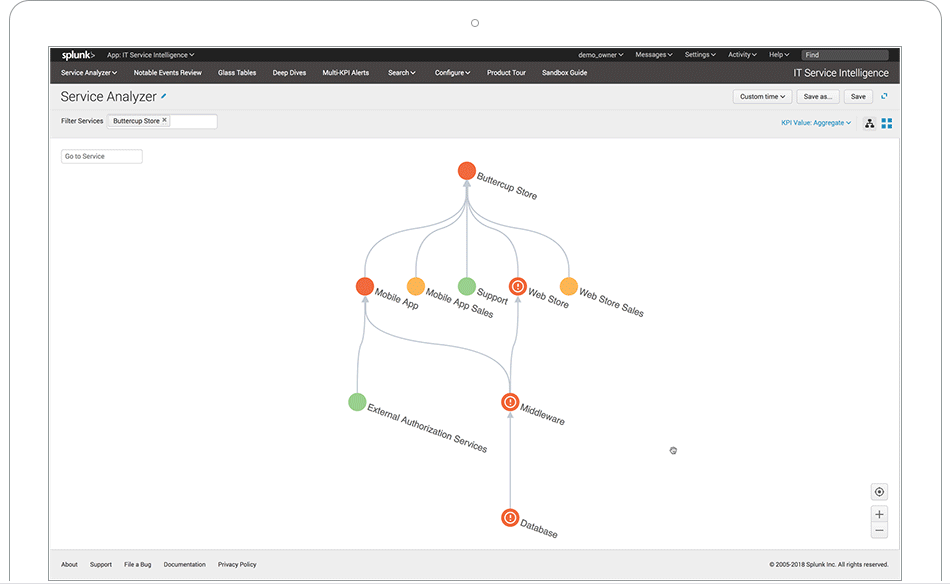 How AIOPs Platforms Work?
How It Works:
Splunk IT Service Intelligence (ITSI) empowers IT and business professionals to predict and prevent problems before they impact revenue and customer experience. ITSI is a monitoring and analytics solution with AI powered by machine learning at its core, aggregating any kind of data, tracking any kind of trend, and delivering the business-critical insights and predictions you need to stay ahead of service degradations, resource constraints, and system outages. Unlike legacy platforms that silo data, don't scale, and can't trend and predict problems, Splunk ITSI is built on the Splunk platform, bringing disconnected data together, scaling when and how you need, and delivering the intelligence-driven insight you need to detect problems, simplify investigations, triage issues, and accelerate resolutions.
Transparency
Packaged solutions describe the actual algorithms leveraged



Users can determine what data drives the algorithms and identify expectations to create more accurate models

Training
Packaged solutions enable human intervention to improve model and results



Solutions also provide users ability to easily create custom models

Breadth of Machine Learning Capabilities
Understanding AIOPs - What's Next?
Solution Details
Data is the fuel for successful AI, but most platforms can't collect and analyze structured and unstructured data in real-time. Organizations need a platform that has the ability to wrangle large amounts of log, metric, and API data that support their on-premises, cloud, or hybrid-supported applications and infrastructure, and then easily apply machine learning to their real-time production environments in a single accessible view.

Splunk ITSI, a transformational AIOps platform, has been solving these pain points for companies and organizations around the world by marrying machine data with machine learning to help customers simplify incident detection, train systems on incident severity, detect root cause more quickly, trigger procedures for specific alerts, and predict the future state of a system when a failure might occur.

A machine learning-powered data platform that enables you to take your organization to move through the traditional IT tasks quicker and gain continuous insights is in fact what defines an Artificial Intelligence for IT Operations (AIOps) platform. By investing in an AIOps platform you gain the agility and cost reduction necessary to have a competitive edge today within both IT and the business.