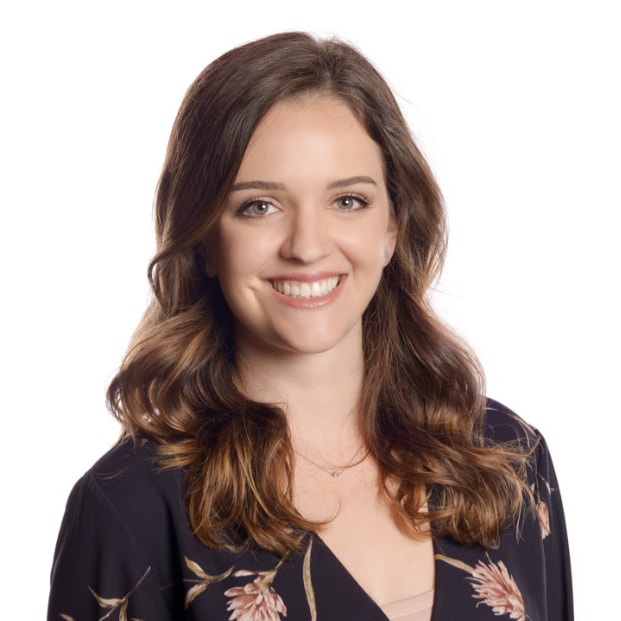 By Natalie Kelly April 07, 2023
Each quarter we recognize five individual Splunkers and one Splunk team who truly embody our core values: Innovative, Passionate, Disruptive, Open and Fun. These special Splunkers have all been nominated by their colleagues for their commitment to living these values everyday! Learn more about each winner and why they were selected below.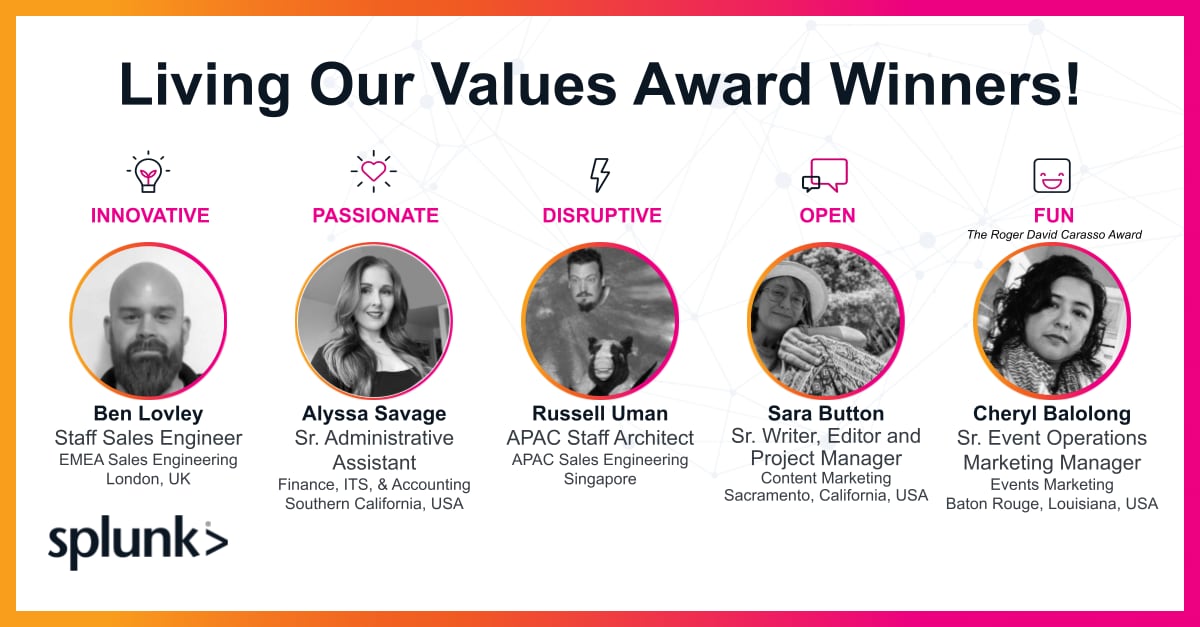 Innovative
Ben Lovley
Staff Sales Engineer | London, UK
Ben has helped to create the Virtual Experience Database app - built by a Splunker, for Splunkers. The app allows us to learn more about each other's career experiences in and outside Splunk. When you're struggling to find that one person in the company who knows all about some unique piece of technology or business system, you just have to jump on the VED and you're presented with the details about a Splunker who just might make the difference in closing a deal and getting you to target!
Passionate
Alyssa Savage
Senior Administrative Assistant | Southern California
Alyssa has a genuine passion for Splunk and shows it in many ways. Her passion seeps into everything she does, helping to solidify her as a reliable and invaluable resource to anyone in need of guidance. She promotes ways to boost morale, collaboration, team spirit and participation to ensure that everyone feels part of her team. She truly seeks to preserve the rhythm of business in her org and garners respect and admiration from many along the way. Alyssa's passion and knack for helping others is truly one of her best qualities, and her selflessness does not go unnoticed.
Disruptive
Russell Uman
APAC Staff Architect | Singapore
Time and time again Russell steps up to the plate to help us succeed with customers in new and emerging regions to cement our position from a Splunk Platform/Cloud perspective. From asking tough questions to the PM teams, to really helping advocate for and challenge a more global approach and global thinking to our service offerings. Russell has been so versatile across any opportunity and engagement, and is always willing to challenge, ensuring we think about the customer at the core of what we are setting out to achieve – usually with his trademark sense of humor too!
Open
Sara Button
Senior Writer, Editor and Project Manager | Sacramento, California
Sara approaches every challenge with not just a can-do attitude, but a can-do better attitude! Through her openness, empathy, and excellent communication skills, Sara has greatly improved the connection and working dynamics between teams, making it much easier to deliver customer-centric web experiences that drive results for the business.
She also does her best to be flexible to meet other team's timelines and needs, and finds ways to be efficient in communication. For example, to save time, she recorded a video of herself walking through project guidelines and sending it to her team through Slack! She is super-transparent with her thoughts and concerns up front, so that we get things right the first time.
Fun - The Roger David Carasso Award
Cheryl Balolong
Senior Events Operations Marketing Manager | Baton Rouge, Louisiana
Even with the extensive planning, logistics, meetings and stress associated with multiple kickoff events for our employees, Cheryl always has a smile, manages to crack a few jokes to get everyone laughing, and has fun. Cheryl is a constant pleasure to work with. She's always calm and collected, and has built a real sense of community with all of the stakeholders involved in the planning of four back-to-back events.
Team Award
Observability Product Marketing, led by Michael Olson
Annette Sheppard
Anya Gostrer
Connor Tye
Courtney Gannon
Greg Leffler

Ori Broit
Mat Ball
Joanna Zouhour
Wes Cooper
Teneil Lawrence
In the run up to Sales Kickoff this year, the Observability Product Marketing team wrote an entire new set of content, new messaging, and new guidance as things were revised throughout the planning process. Despite all this change and the huge amount of content that had to be created, the team has fun together, with weekly social hours, a "water cooler" Slack thread, and regular activities to build relationships.
---
Sound like people you'd want to work with? Lucky for you, we're hiring. Check out our open roles today!