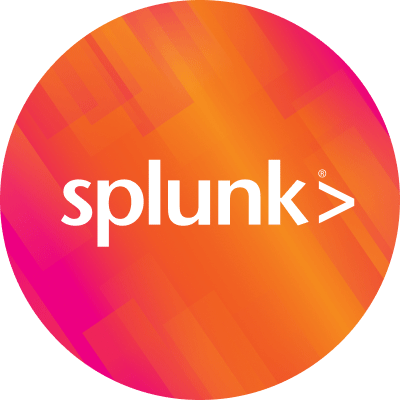 By Splunk April 19, 2021
Are you ready for the best .conf ever? Though .conf®21 (October 18-21) may feel ages away, the Call for Speakers (CFS) deadline is right around the corner — May 20! To get the skinny on what it's like to be a .conf speaker, we sat down with Tom Kopchak of Hurricane Labs to talk about his experiences presenting at multiple .conf events, get his tips for newbies submitting proposals and, of course, inquire about his favorite Splunk t-shirt.
---
How many times have you spoken at .conf?
I delivered talks in 2016, 2019 and 2020. I also helped support a few of my colleagues at Hurricane Labs develop and prepare a session in 2018.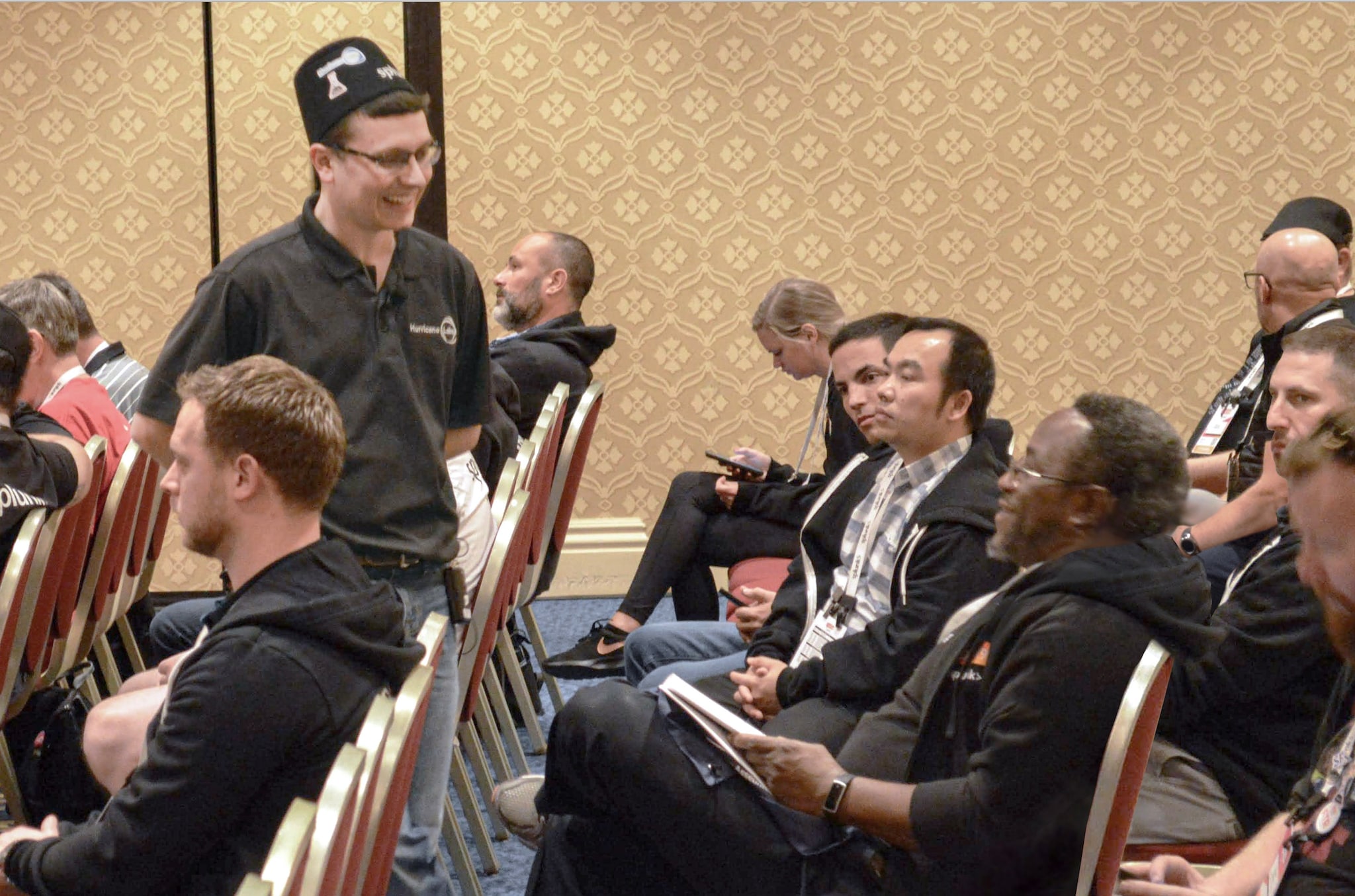 What has been the best part of your .conf speaking experience?
One of the highlights of speaking at .conf is getting feedback from everyone who attends my sessions. Reading positive comments from hundreds of people helps me appreciate the scope of my contributions to the Splunk community. I've also been told that my sessions in 2019 and 2020 were among the highest rated by attendees in the entire event. I know this isn't some sort of competition, but when given the opportunity to do something, I want to do the absolute best that I can.
What three tips would you give to someone to get their Call for Speakers submission accepted?
Take the time to thoroughly review all the information the .conf team prepared to help you put together the best submission possible. The materials they produced in 2020 — and have made available again this year — are top-notch.
Next, understand what types of topics the CFS reviewers will be interested in including at the event. Many of these are covered in the CFS materials mentioned above.
Most importantly, put yourself in the shoes of different .conf attendees — potentially hundreds or thousands of different people from different backgrounds — and make sure your topic is interesting to your audience, whether they have been working with Splunk since last month or for the last decade. It's not easy to accomplish, but a well-designed presentation will keep the audience engaged and coming back to learn more.
How were you supported as a .conf speaker?
The Splunk .conf team has always been supportive throughout the presentation development process, assigning two different team members to assist with content development and preparation. The team does a great job of keeping you on track with deadlines and delivering a quality session.
Personally, the best resource provided for .conf20 was offering speakers one-on-one coaching sessions with Steve Multer, Splunk's corporate speaking coach. While I'm an experienced speaker for in-person events, the remote 2020 event was a completely new experience for me. Steve spent a good hour helping me improve my skills with presenting to a camera and making an effective remote presentation that resonated with an online audience.
What advice would you give to someone who wants to be a .conf speaker?
If you know your Splunk and want to share that with others, there's no better way to do that than at .conf. Use the Call for Speakers as an opportunity to share your experience and journey with Splunk to an audience of people just as enthusiastic about the product as you are.
What would you say to someone who is on the fence about submitting?
Give it a shot! As someone who's been on the receiving end of many conference acceptances and even more rejections (including a number of .conf sessions), I know the only guaranteed way not to be able to participate is not to submit at all. If you're excited about Splunk and want to share that excitement with thousands of fellow Splunk enthusiasts, there's no better place to do that than .conf.
What is the best outcome that you experienced from being a .conf speaker?
Being a speaker at .conf gives me immediate professional credibility when working with a new customer and diving into all sorts of technical Splunk-related topics. I can't count the number of times I've had people bring up previous presentations that I've given when we're working together.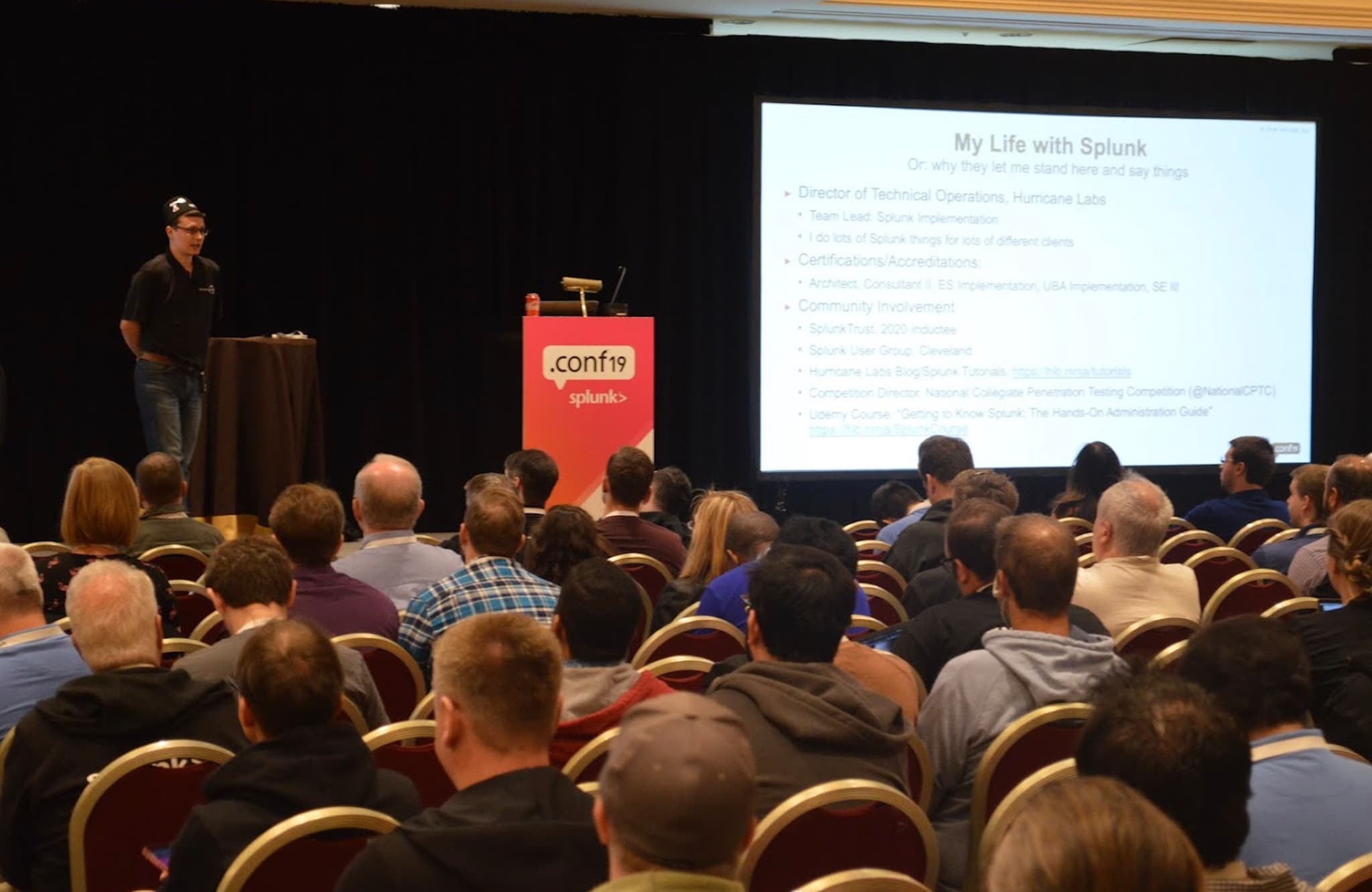 How did being a .conf speaker make you feel?
With all the things that didn't quite work the way we hoped last year, presenting virtually at .conf20 was one of the highlights of the year for me. Over the years, I've had the opportunity to share Splunk best practices and administration advice with thousands of attendees, many of whom keep coming back for new and updated information based on everything I've learned (and keep learning) while working with Splunk every day.
Presenting is a two-way-street; attendees trust me to deliver a meaningful presentation in the time they've given me out of their day, and it's my responsibility to deliver on that. It's humbling to take the stage and see an entire audience that's there to listen and learn from what I have to say.

What's your favorite Splunk t-shirt slogan?
index=conf20 status=speaker
Hopefully I can earn an index=conf2* one someday!
Are you ready to submit your proposal for .conf21? Want to learn more about the perks of being a speaker, what resources are available to you and what tracks to consider as you brainstorm your proposal? Check out the .conf21 Call for Speakers and get your submission in by May 20, 2021.
----------------------------------------------------
Thanks!
Leslie Hasvold