By Burch April 08, 2021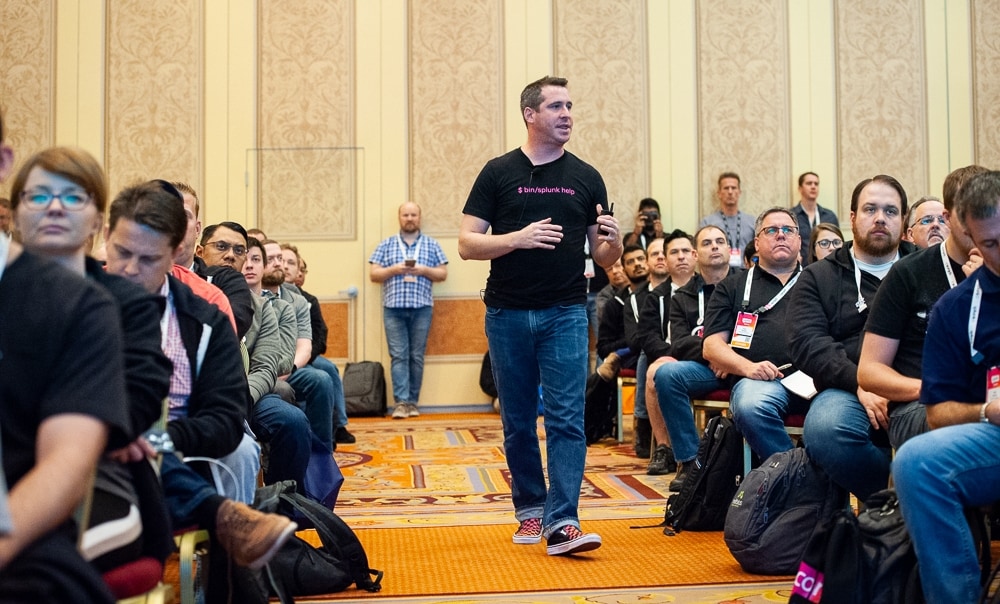 Hey. Yeah, you. Come closer. No, closer. OK, too close for COVID-19, back up. OK, that's good. Listen, this whole .conf thing — we gotta talk. You should do it. Submit your idea as a breakout session via Call for Speakers (CFS). Really, I'm serious! I know, I know, you probably think it's easy for me to say that. Yeah, I'm really proud of how prolific I've been with .conf. I've spoken at .conf about 27 times from .confs 2015-2021, including 11 sessions one year! You're right, enough bragging. But I am going somewhere with this — it didn't happen overnight. I was intimidated, vulnerable, merely a power user. Then I went to my first .conf and got hooked. I'd love to share some of my story, why speaking and presenting is so rewarding for me and what I've done to be so successful at it. My hope is that a peek into my own experience will inspire you to submit your idea and follow through with a mind-changing presentation.
I fell in love with my first .conf. My co-workers said I looked like a kid at Disney World, running from ride to ride as I beelined between breakout sessions. Toss in my loves of presenting, Splunk products and empowering others, and the outcome was a wild obsession with presenting at .conf. The smiles on peoples' faces as they enjoy the content is the best part of speaking. Second is the excellent Q&A, which always results in attendees answering each others' questions rather than me. How cool is that!? I love how supportive the Splunk community is and I always end up learning something new during my session Q&A.
The .conf team also supports speakers in so many ways. Pre-submission, there are speaker resources all over the place (check out this year's Submission Guidance doc, Submission Guidelines and, of course, the Call for Speakers webinar on April 19th at 12pm Eastern). Post-submission, there's an amazing speaker coach that teaches about presenting and is also available for individual coaching sessions. Each .conf breakout session has three content reviews with a session content reviewer who supports you in both strengthening your content and your presentation skills. You'll get a planning manager who helps you track your timelines and deliverables, and there's also a speaker resource room on-site for any additional dress rehearsals. Toss in a tumbler and hoodie, and how could you say no?
Now my mind is racing in excitement for .conf21. Before I ramble too much, here are some key things I do as part of my .conf process.
Burch's Best Practices for Submitting to CFS
Share your submission idea with a friend or co-worker. Chances are your idea has merit and the only thing stopping you from submitting is your own confidence. Often our friends and co-workers can recharge our confidence by validating the idea. Don't be afraid!
Submit, submit, submit! Assume they won't pick all your sessions, but also be prepared in case they do.
Don't overthink it. I thought that submitting meant I needed to have already built the entire presentation. In reality, I just needed a good grasp on what I wanted to convey in order to submit. When I realized that, I felt a load leave my shoulders and I laughed at myself for worrying so much all the years before. A solid idea is where it starts.
Think about how, as an attendee, you read the session descriptions and what catches your eye. Skip the buzzword bingo and verbosity. Hook 'em with your title and description, and assume others are skimming, not reading, each of the hundreds of session options. The tone you set in that description will inform the expectation the audience has for your session.
Block out time in your calendar to submit your session proposal. Don't put it off and then miss out.
Burch's Best Practices for Presenting After You're Accepted
If you have any videos or demos, also have slides with screenshots as a backup. If the video or demo doesn't work when you take the stage, you can always revert back to slides and speak to the material.
Have fun! Everyone at .conf is pretty positive and encouraging. Feel free to let your personality shine in your content. That might mean jokes or using something you love as a conduit for delivering your content. For example, if you love to climb, then use a climbing analogy to tell the narrative of your session. If you love baseball, then organize your material like the narrative is rounding the bases. Whatever it is, it will lighten the tone and build your confidence to have such comfort with your content.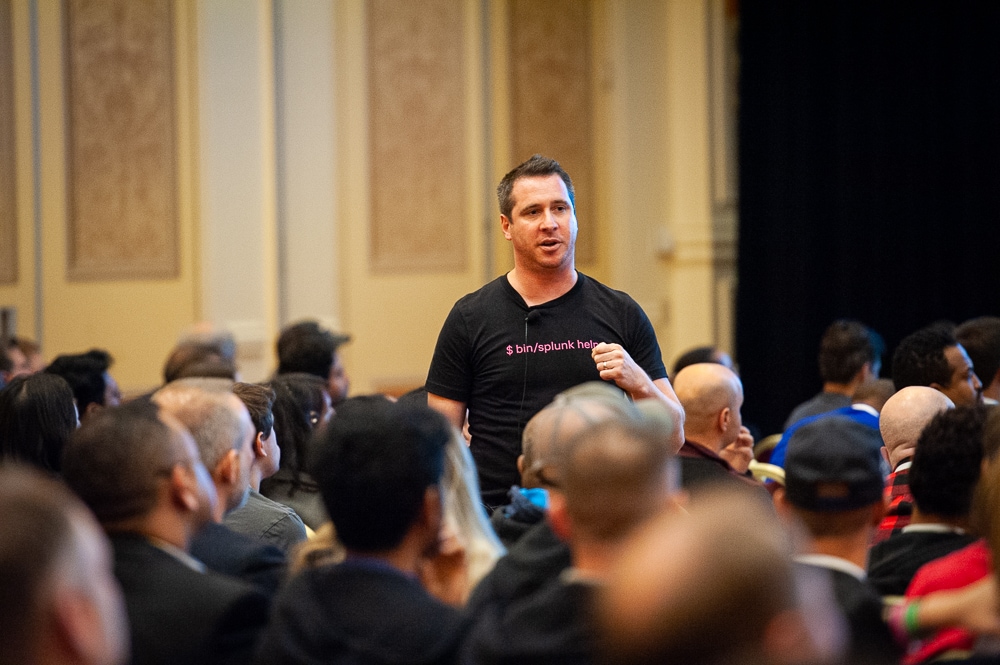 I feel like I'm on a high when I get to speak. Even just talking about it now is pumping me up. When I can see I'm getting through to the audience and they are really benefiting, that's the best it can get. In reminiscing about my more than 25 .conf session presentations, having my content come back to me is really the most satisfying outcome. Account teams have told me that their customers mentioned my material, and sometimes I even get recognized when I join a customer meeting or user group. These experiences are always positive and make me realize how much .conf attendees value what I worked on. Plus, it makes me feel like a Splunk celebrity. And don't forget that swag that speakers get. I love my tumblers and hoodies! Did I mention that enough yet?
I know you want to be a .conf21 speaker, so make it happen. You're probably being modest if you can't think of an idea. I bet a lot of your thoughts, ideas, practices and implementations are fascinating — don't sell yourself short. While you wait to realize how cool you are, check out all the resources on conf.splunk.com. When you're ready, put together a Splunky title and abstract and submit a proposal. This year's Call for Speakers is open through May 20. If you need some inspiration, check out .conf Online. Here's a link to it filtered by just my sessions, because, you know, ego.

Happy Splunking and see you at .conf21 on October 18-21!