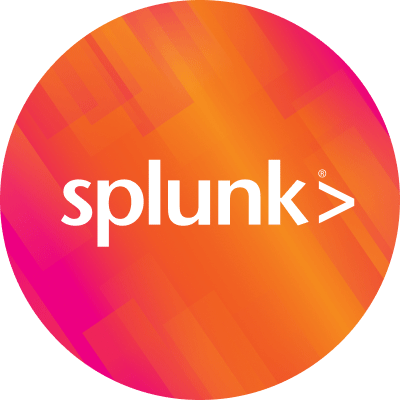 By Splunk June 09, 2016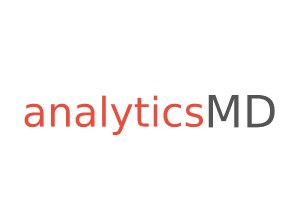 As more and more of the healthcare industry goes online an interesting question arises. Who is monitoring the health of your healthcare system? Or to put it another way your health is increasingly dependent on the health of your healthcare system (say that three times fast and your lung function is just fine). Recently analyticsMD showed that Dr. Splunk Light is watching out for you (well indirectly at least). Stay with me, this will only hurt for a second and you'll feel better after…
analyticsMD provides HIPAA-compliant SaaS software that empowers frontline teams at hospitals to make the right data-driven decisions regarding efficiency, patient safety and experience. In many ways analyticsMD is an "air traffic control" platform that boosts the operational efficiency of hospitals and improves patient care using machine learning and real-time analytics.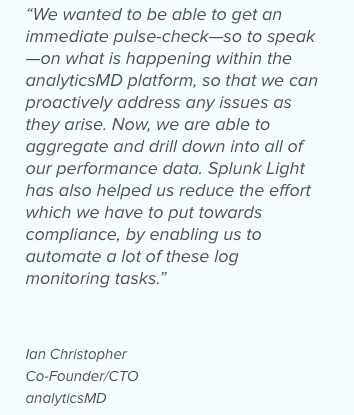 However with all the growth and change, not to mention ever-present HIPAA compliance regulations, analyticsMD was faced with a whole host of complications they needed to remedy including:
How to maintain patient information privacy in a cloud based system that works with so many healthcare organizations.
How to scale their emerging company as e-healthcare initiative growth explodes while not having to increase staff costs at the same explosive rate.
How to prioritize new features to meet the ever-evolving needs of healthcare providers
analyticsMD realized that the solution to this was to have full visibility into system performance, health and security and for that they turned to a Splunk Light Amazon Machine Image (AMI) deployed on a HIPAA-compliant Amazon Web Services (AWS) instance.
As an emerging company another issue is working within tight budget constraints and that also drove analyticsMD's decision. According to Pooja Gada, full stack software engineer at analyticsMD:
"We looked at various open-source solutions and other individual network and log monitoring tools like syslog, but in the end, Splunk Light basically solved all our problems for us in one package. Splunk Light is flexible and has allowed us to get started quickly with the key product features of Splunk Enterprise at a price that made sense for us."
To learn more about how analyticsMD protects the health of its healthcare platform check out the analyticsMD case study here.
----------------------------------------------------
Thanks!
Marc Itzkowitz