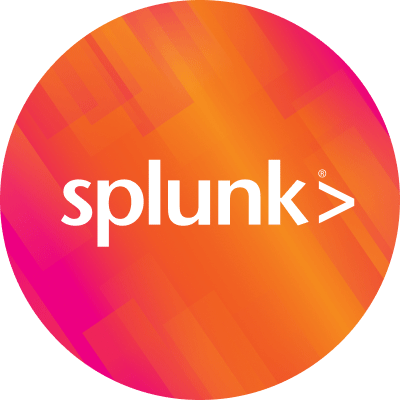 By Splunk June 18, 2013
Overview
More and more products,services and platforms these days are exposing their data and functionality via RESTful APIs.
REST really has emerged over previous architectural approaches as the defacto standard for building and exposing web APIs to enable third partys to hook into your data and functionality. It is simple , lightweight , platform independent,language interoperable and re-uses HTTP constructs. All good gravy. And of course , Splunk has it's own REST API also.
The Data Potential
I see a world of data out there available via REST that can be brought into Splunk, correlated and enriched against your existing data, or used for entirely new uses cases that you might conceive of once you see what is available and where your data might take you.
What type of data is available ? Well here is a very brief list that came to mind as I typed :
Twitter
Foursquare
LinkedIn
Facebook
Fitbit
Amazon
Yahoo
Reddit
YouTube
Flickr
Wikipedia
GNIP
Box
Okta
Datasift
Google APIs
Weather Services
Seismic monitoring
Publicly available socio-economic data
Traffic data
Stock monitoring
Security service providers
Proprietary systems and platforms
Other "data related" software products
The REST "dataverse" is vast , but I think you get the point.
Getting the Data
I am most interested in the "getting data in" part of the Splunk equation. As our esteemed Ninja once said , "Data First , Sexy Next".
And I want to make it as easy, simple and intuitive as possible to allow you to hook Splunk into your REST endpoints, get that data , and starting writing searches.
Therefore building a generic Splunk Modular Input for polling data from any REST API is the perfect solution. One input to rule them all so to speak.
Building the REST Modular Input
From a development point of view it is actually quite a simple proposition for some pretty cool results.
For RESTful API's we only need to be concerned about RESTful HTTP GET requests , this is the HTTP method that we will use for getting the data.
And by building the Modular Input in Python , I can take advantage of the Python Requests library , which simplifys most of the HTTP REST plumbing for me.
Using my Python Modular Inputs utility on Github , I can also rapidly build the Modular Input implementation.
You can check out the REST Modular Input implementation on Github
Using the REST Modular Input
Or if you want get straight into Splunking some REST data , make your way over to Splunkbase and download the latest release.
Installation is as simple as untarring the release to SPLUNK_HOME/etc/apps and restarting Splunk.
Configuration is via navigating to Manager->Data Inputs->REST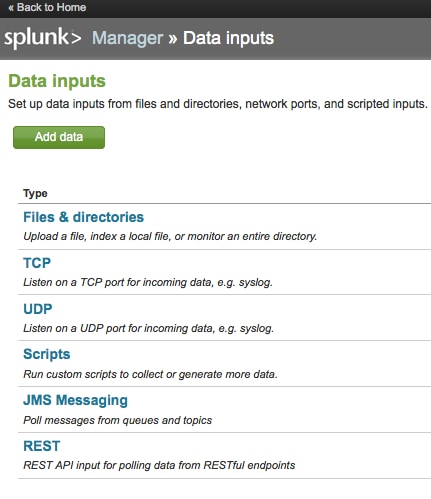 And then clicking on "New" to create a new REST Input. As you can see below , I have already created several that I used for testing.

Configuring your new REST input is simply a matter of filling in the fields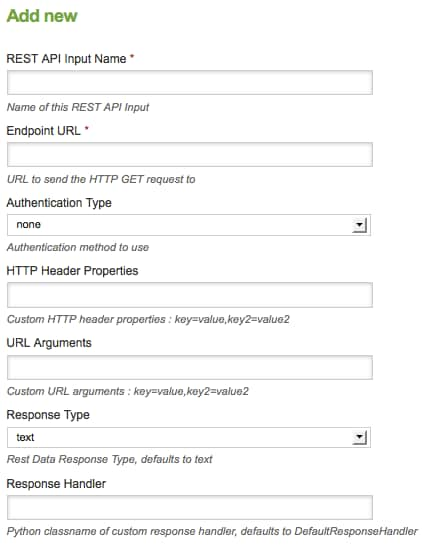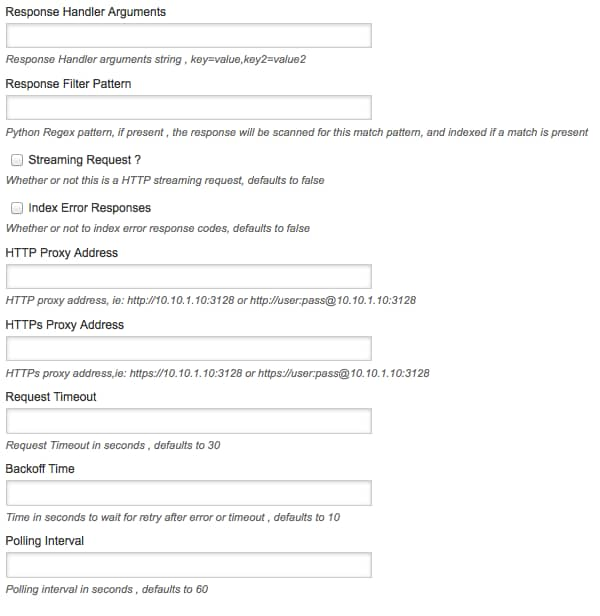 Then search your data ! Many RESTful responses are in JSON format , which is very convenient for Splunk's auto field extraction.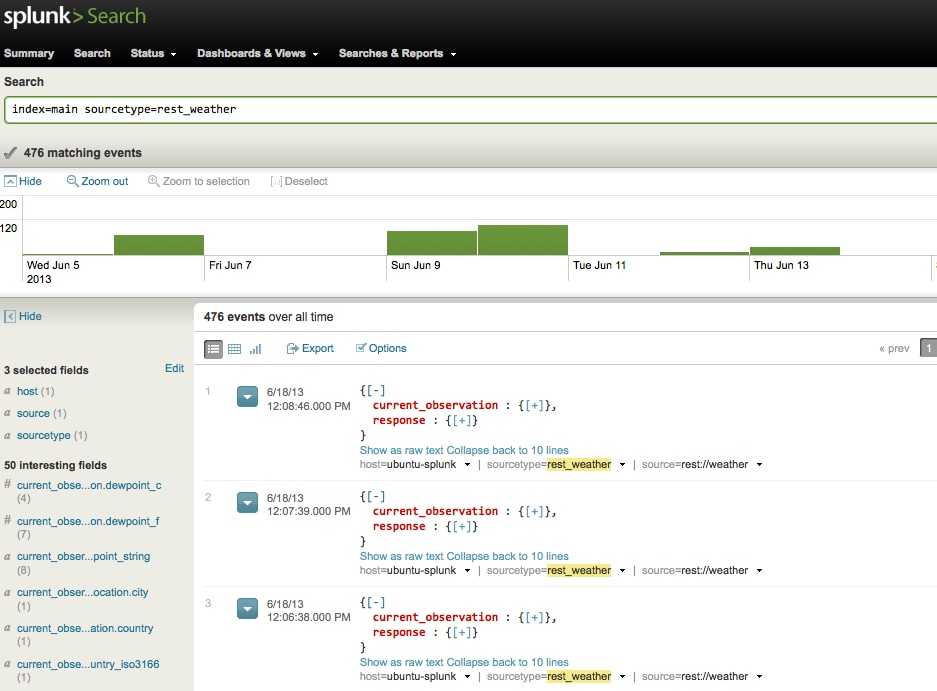 Key Features

Perform HTTP(s) GET requests to REST endpoints and output the responses to Splunk
Multiple authentication mechanisms
Add custom HTTP(s) Header properties
Add custom URL arguments
HTTP(s) Streaming Requests
HTTP(s) Proxy support
Response regex patterns to filter out responses
Configurable polling interval
Configurable timeouts
Configurable indexing of error codes
Authentication
The following authentication mechanisms are supported:
None
HTTP Basic
HTTP Digest
OAuth1
OAuth2 (with auto refresh of the access token)
Custom
Custom Authentication Handlers
You can provide your own custom Authentication Handler. This is a Python class that you should add to the
rest_ta/bin/authhandlers.py module.
You can then declare this class name and any parameters in the REST Input setup page.
Custom Response Handlers
You can provide your own custom Response Handler. This is a Python class that you should add to the
rest_ta/bin/responsehandlers.py module.
You can then declare this class name and any parameters in the REST Input setup page.
----------------------------------------------------
Thanks!
Damien Dallimore