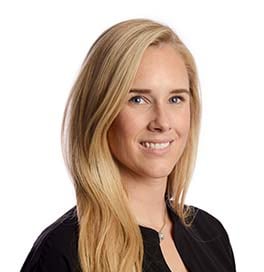 By Katia Ratkovich January 12, 2023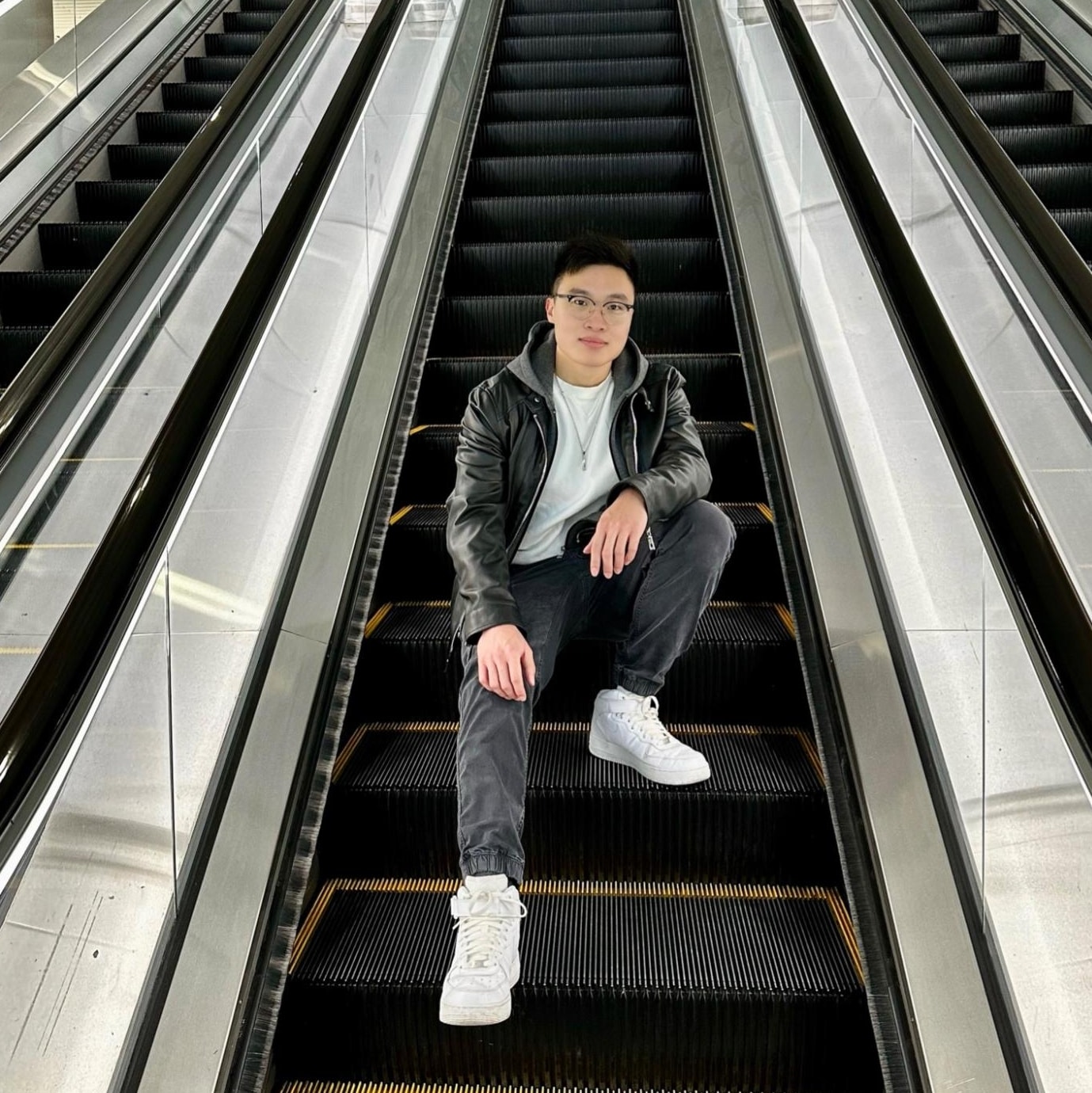 In this next installment of our "Meet the Splunktern" series, we're featuring Geoffrey Qin, our Software Development Engineering Co-Op on the Augmented Reality (AR) team. Geoffrey is a senior at the University of Waterloo majoring in Computer Engineering! Read on to learn more about Geoffrey's journey at Splunk.
What motivated you to apply to Splunk?
I learned about Splunk in my sophomore year back in 2019, but seeing Splunk AR being featured in the Apple Keynote in 2021 motivated me the most to set the goal of being in this amazing and innovative organization one day. Attending the Splunk Networking sessions and learning about the exciting projects at Splunk, as well as the amazing work culture enjoyed by current Splunkers, has also strengthened my determination to apply and join the talented teams here!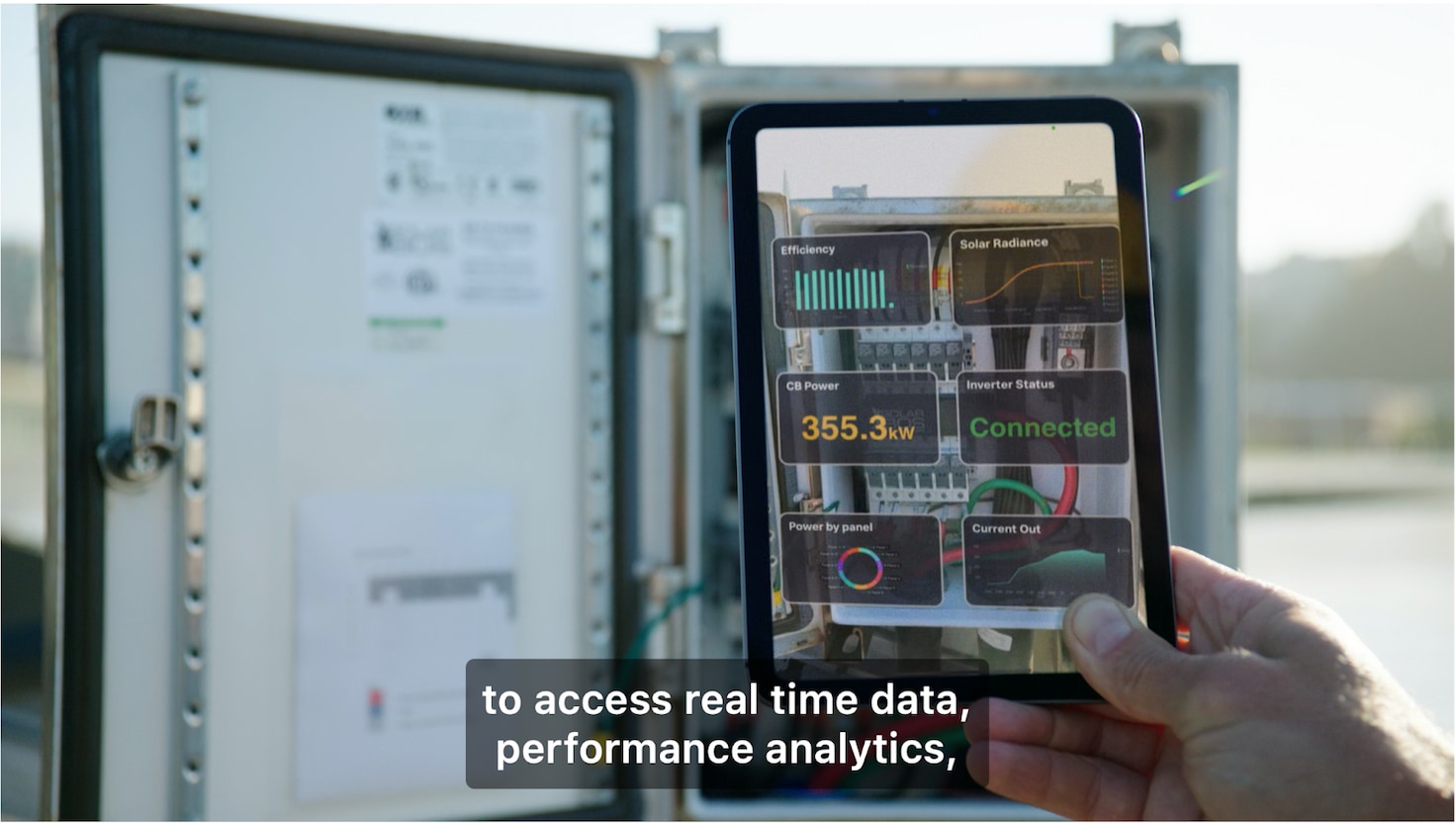 Source: Apple Keynote September 14, 2021
How is your internship going thus far?
The internship has been going amazing and I have had the opportunity to meet many interesting people as well as try new things. Everyone at work is incredibly friendly and I feel that I have gained so much technical guidance and life lessons from my fellow Splunkers through conversations and coffee chats. There are also many fun and meaningful events like Pilipinx-Filipino and Diwali that allow us to learn about different cultures and taste food from different areas.
What projects are you working on?
I am developing the 3D model note feature for the Splunk AR app where users view real-time augmented reality visualizations and Splunk dashboards on their mobile device. While the current Splunk AR app allow users to add 2D media such as text, video, image, audio, and PDF files to the workspace being shown, my project is to implement custom views and codes to render, preview, display, position, rotate, scale, and save 3D model files like real-life object capture or model simulations. With the 3D model note feature I developed, users can add 3D model notes to be shown in the Splunk AR workspace by providing the link to the 3D model files. Others can view and interact with the added 3D model notes when they scan barcodes or use beacons and geofences on the Splunk AR app.
I have also worked on a new registration flow where users are automatically redirected to a Splunk instance's login page when they scan a registration QR code in Splunk AR. There is a new accessory node that recognizes the QR code payload that contains Splunk instance registration info. When users click on the registration accessory node I developed, they will be redirected to the instance login page to proceed with the registration process instead of being shown with the old asset accessory node only.
How much flexibility do you have in determining how you perform your job?I have a lot of flexibility in my job, and my mentor, manager, and team are all very supportive. Each week, I have separate 1-on-1 meetings with my mentor and manager where we discuss my progress on the projects and any technical issues or suggestions that arise during my work. They also help me estimate the time needed for different projects, and we make any necessary adjustments to the timeline to align with current progress and dependencies with other projects.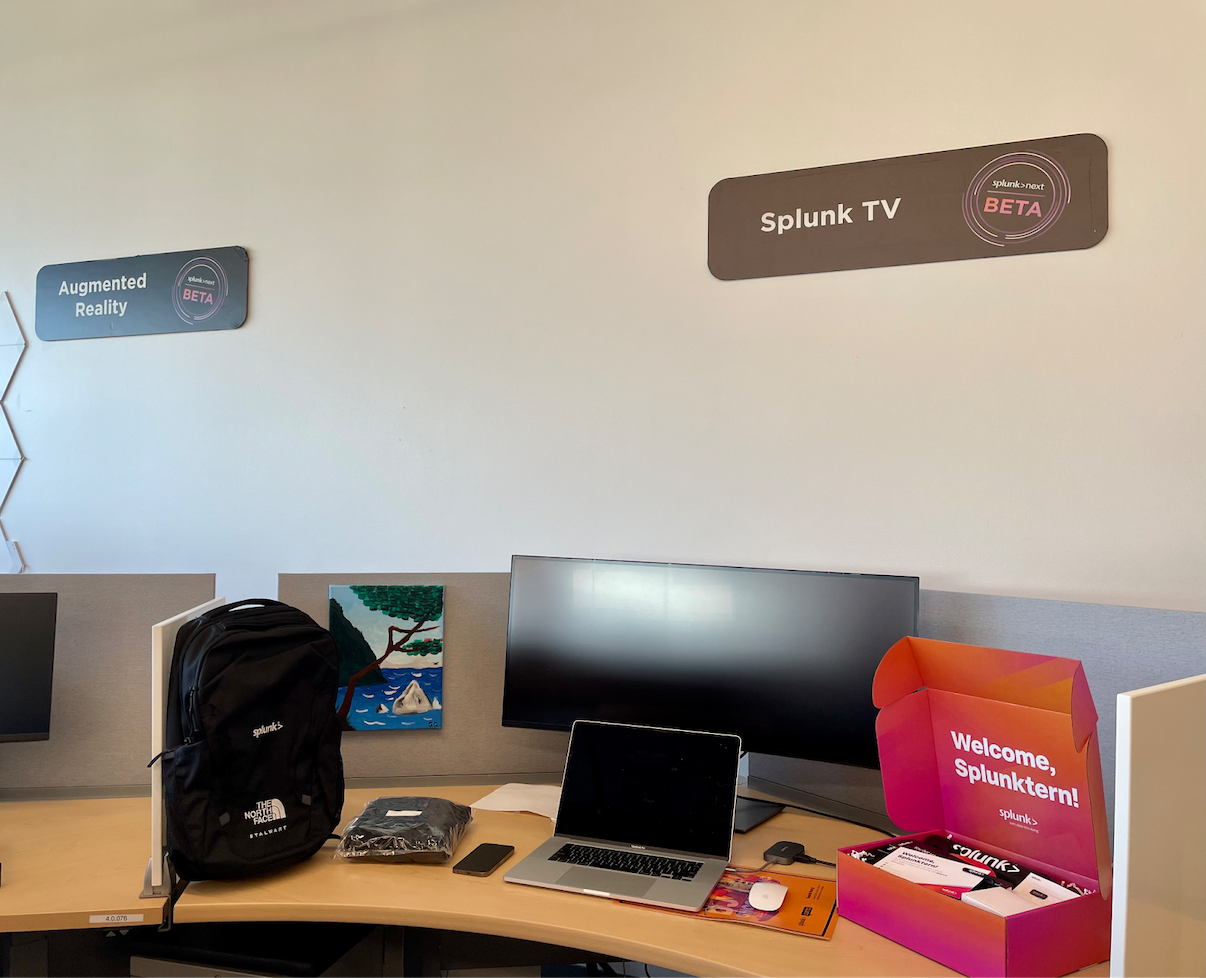 What skills have you learned at Splunk that will be valuable in your career?
I have learned a great deal about time management skills through a workshop hosted by one of the senior managers at Splunk. The host explained the differences between an engineer and manager's regular schedules, and the impacts of uninterrupted time on their productivity in each role. With the information and tips from the session, I have been able to restructure my schedule and manage my time better to be more productive during regular working hours.
What has been the most memorable part of working with your team?
I think preparing and working on the demos for clients has been the most memorable part of working with my team. From time to time, our AR team has demos to showcase the capabilities of the Splunk AR to various partners and executives. I found the demo preparation to be very interesting because I got to learn more about my team members and collaborate more closely in person, as well as learn many cool things about our products. I still remember how my manager walked us through how to set up each of our demo experiences, and having lunches with my team members to learn about what was going on in their lives.
How would you describe Splunk's culture?
I find that Splunk's culture is very supportive, where employees feel welcomed and encouraged to reach their full potential. When I first joined my team, my mentor and manager put together and walked me through onboarding documents with a lot of helpful information to reference. Everyone on the team is also very nice and patient. I have asked them many questions, especially about backend support, and they always answer my messages within the hour and explain the processes in detail for me.
Besides my weekly 1-on-1 meetings with my team's mentor and manager, I have also been paired with another full-time engineer who shares a similar background as mine for career coaching and mentorship. I have gained so many valuable insights from my mentors and managers, and their support and guidance have made me more confident in achieving my goals. I have also asked other Splunkers for places to visit during weekends, and they have given me so many amazing recommendations such as Yosemite and Napa Valley.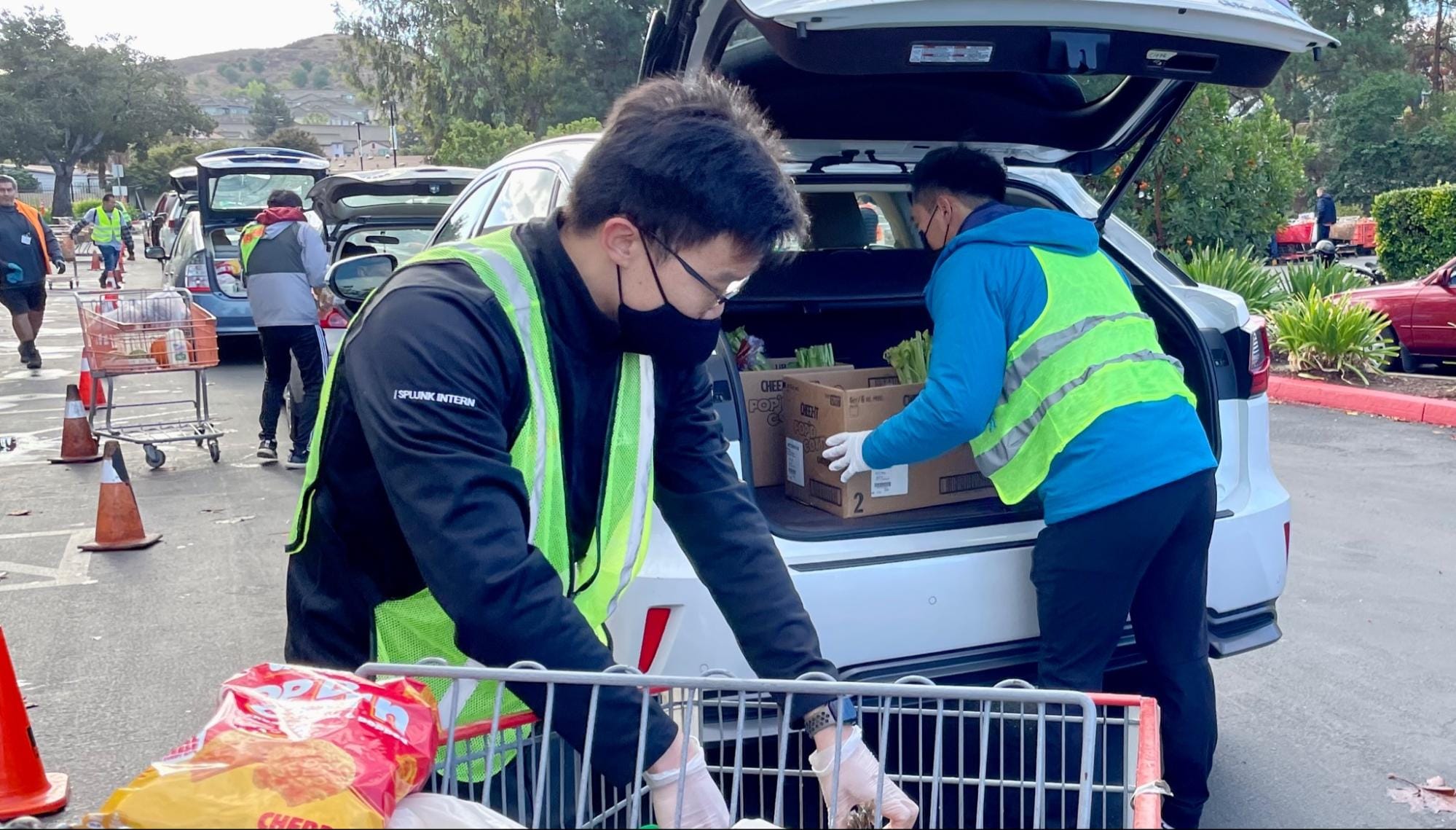 What has been your favorite Splunktern event or workshop?
My favorite Splunktern event was the volunteer event at the Second Harvest of Silicon Valley where we volunteered at the food bank to package and load food for delivery to people in need. I think the volunteer event was very meaningful because we got to see how our donations and volunteering created a positive impact in the community, and how Splunk encourages employees to engage in volunteering events through dedicated volunteer days off and matching donation programs. The event also helped us to have a team bonding experience as we worked together to assemble the food boxes and coordinate with each other to load the cars. Seeing the smiles on the faces of the families when they received the food and baby products they needed was very touching for me.
What are your career goals?
I aspire to become a people leader empowering others to reach their full potential and achieve goals. I am planning to gain a solid foundation in one of the technical domains, like AR or iOS development, to practice my technical and problem-solving skills first. Once I have gained sufficient experience and technical insights in the field, I would like to take greater ownership of the products and transition to a people leader role to support others in the team. I believe that I can leverage my interpersonal and technical skills to liaise and support the team, and I gain more happiness when I see that I can help others succeed and reach their goals. Therefore, I plan to be an empowering leader and support teams to succeed once I have gained the experience and technical mindset needed.
What advice would you give someone considering interning at Splunk?
I would suggest that future Splunk interns have perseverance and stay focused on their career goals. I applied to the Splunk AR team before and didn't get in the first time, but I am glad that I did not give up and continued to improve my skills and gain relevant experience. Otherwise, I wouldn't have been able to join the amazing Splunk AR team this fall to work on such cool things. I believe that staying focused on my goal of joining the front-running Splunk AR team in the Silicon Valley and putting in the hard work to gain the necessary skills and experience allowed me to land the job in the end. That is why I encourage all future Splunk interns to never give up on their career goals and I am confident that you will all reach them if you stay focused and put in the hard work.
Want to learn more about the Splunk Internship Program? Visit our LinkedIn, or check out open Splunktern opportunities.