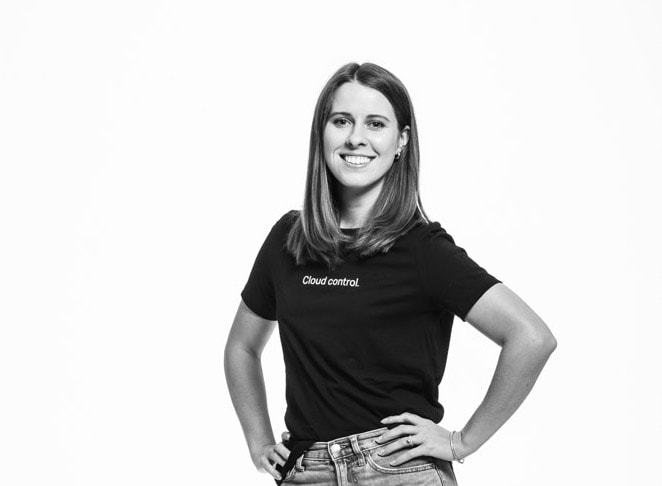 By Patricia Toothman April 28, 2022
At Splunk, volunteering has long been a cherished part of our culture – you could say it's part of our DNA. Each year, Splunkers donate their time and talent to nonprofits around the world, making excellent use of our Volunteer Time Off (VTO) program that provides each Splunker with up to 40 hours of paid volunteer time each calendar year.
While we've proudly shared their stories in the past, we saw an even greater opportunity to honor our amazing Splunk volunteers and heighten awareness of their impact. Put simply, we saw too much goodness that needed to be celebrated. That's why in April 2022, when the U.S. and Canada observe National Volunteer Week, we've unveiled a brand-new global recognition program: The Splunk "Data Points of Light" Volunteer Awards.
Why "Data Points of Light"? At Splunk, we're all about turning data into doing. By volunteering, Splunkers bring our mission to life in diverse, powerful ways – and they inspire others (inside and outside Splunk) through their contributions and commitment. Each honoree logged forty or more volunteer hours in 2021, and our special tier of Illuminators logged more than one hundred. Each winner received a donation of $400-$1,000 to the charity of their choice and a certificate co-signed by Splunk's CEO, Gary Steele, and Chief Social Impact Officer, Kriss Deiglmeier.
We reached out to three of our honorees to learn how and why they selected their organizations – and why volunteering keeps them coming back.
Chris Gales
Prisoners Literature Project, Berkeley, California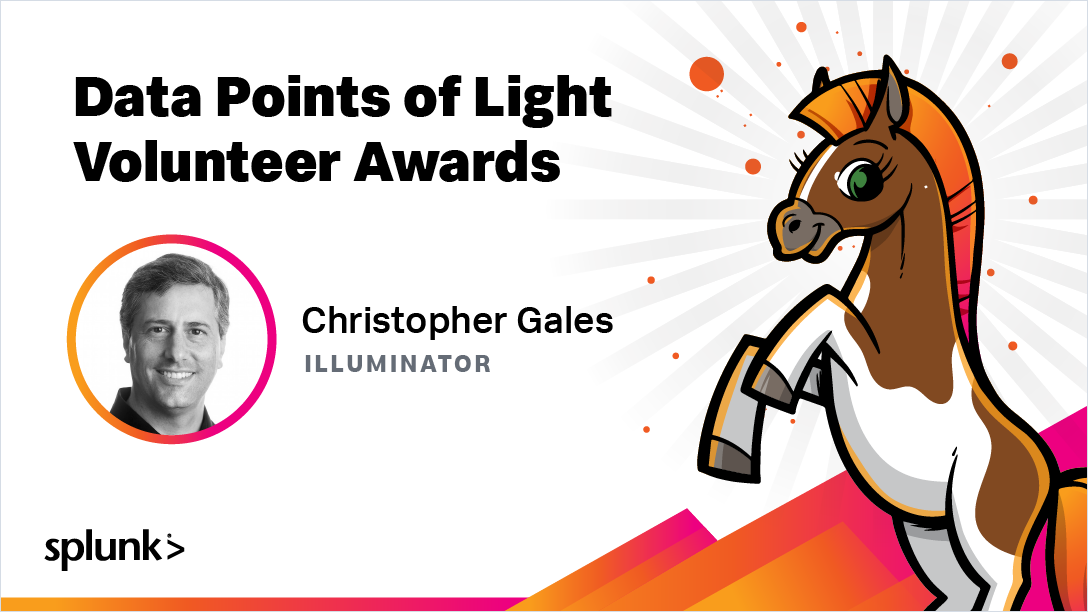 At Splunk, Chris is Senior Director of Documentation, and his volunteer commitment reflects his love of the written word.
Chris discovered Prisoners Literature Project (PLP) through his child, who volunteered there to fulfill a service requirement in high school. PLP is an all-volunteer nonprofit that encourages reading and the pursuit of knowledge among incarcerated people. For more than thirty years, it has sent free reading materials to people behind bars in nearly every state.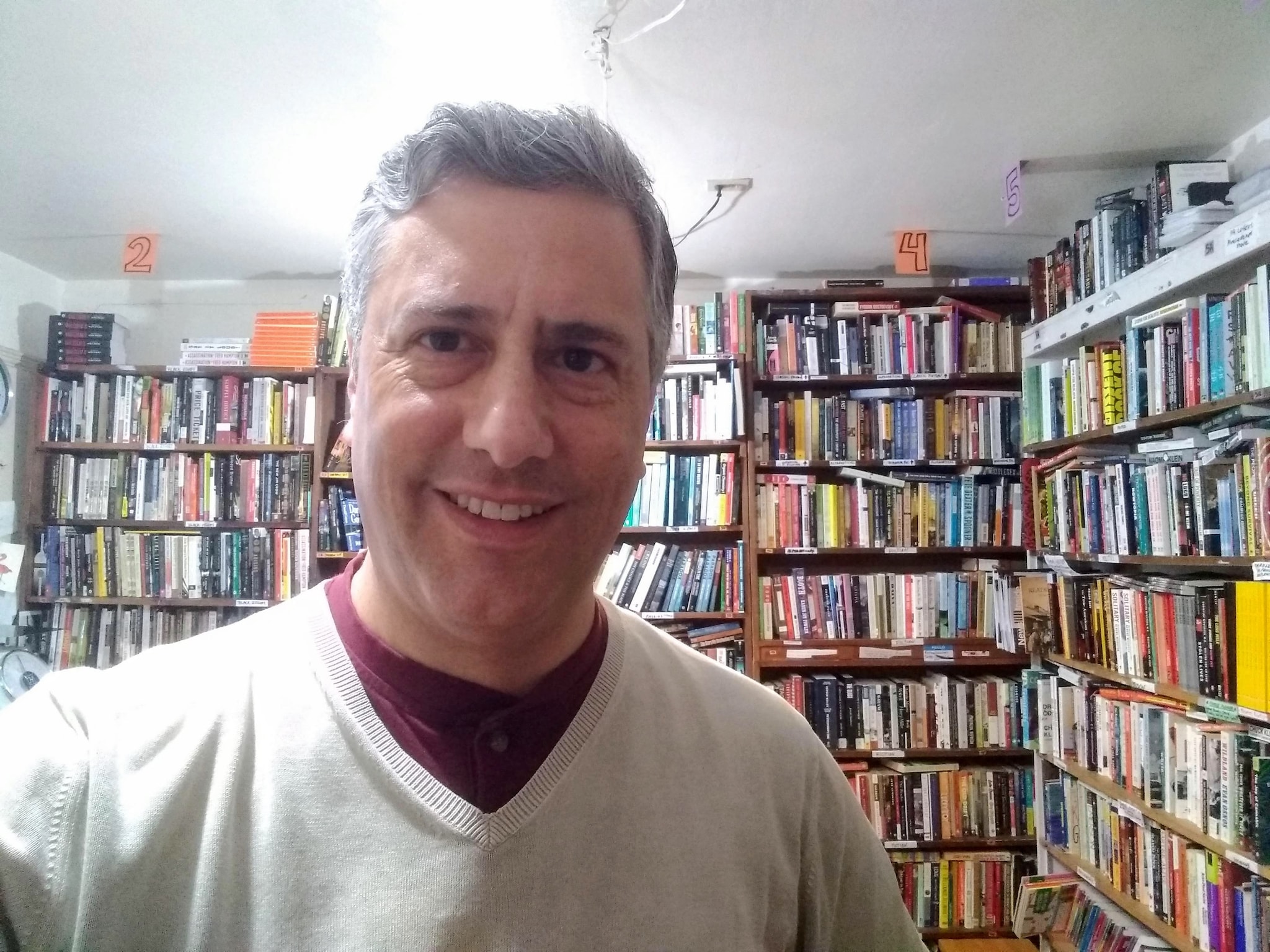 "Reading supports learning, critical thinking, and self-determination," says Chris. "Those skills increase the chances of success for incarcerated people when they re-enter society."
Volunteers fulfill individual requests for books from incarcerated people, package them according to the requirements of the institutions, and send them out. "While the volunteer work itself focuses on logistics and order fulfillment, it's a reminder of the true diversity of the U.S. and our range of experiences," Chris says. "As different as our circumstances are, incarcerated people and volunteers find a meeting point around books and reading."
Iryna Vogler
Cake4Kids, Sunnyvale, California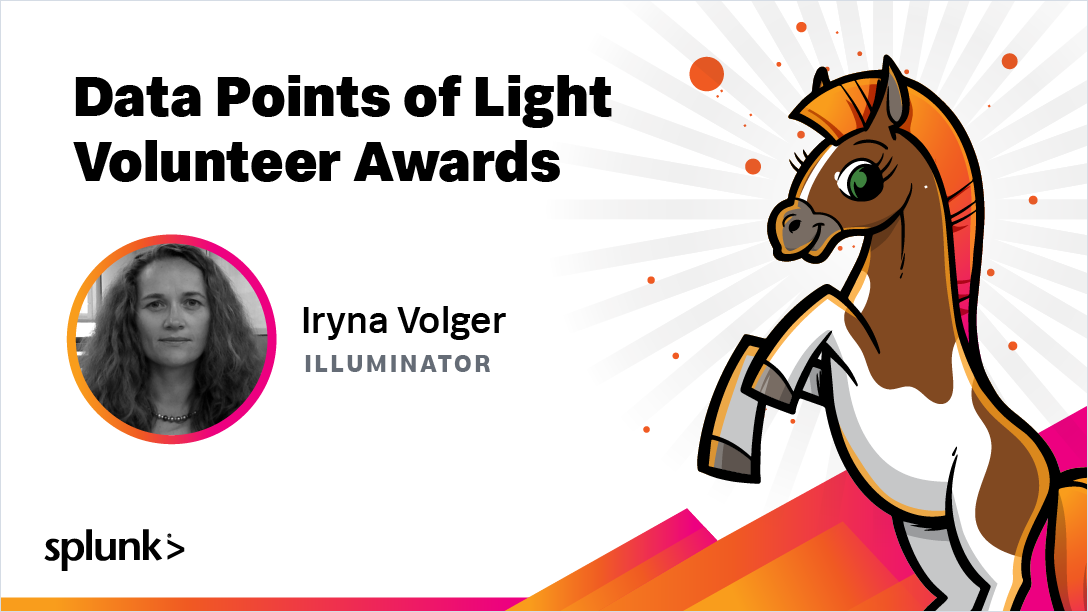 Iryna is a Principal UX Designer at Splunk – and her visual and project management talents serve her well in her volunteer role as baker extraordinaire.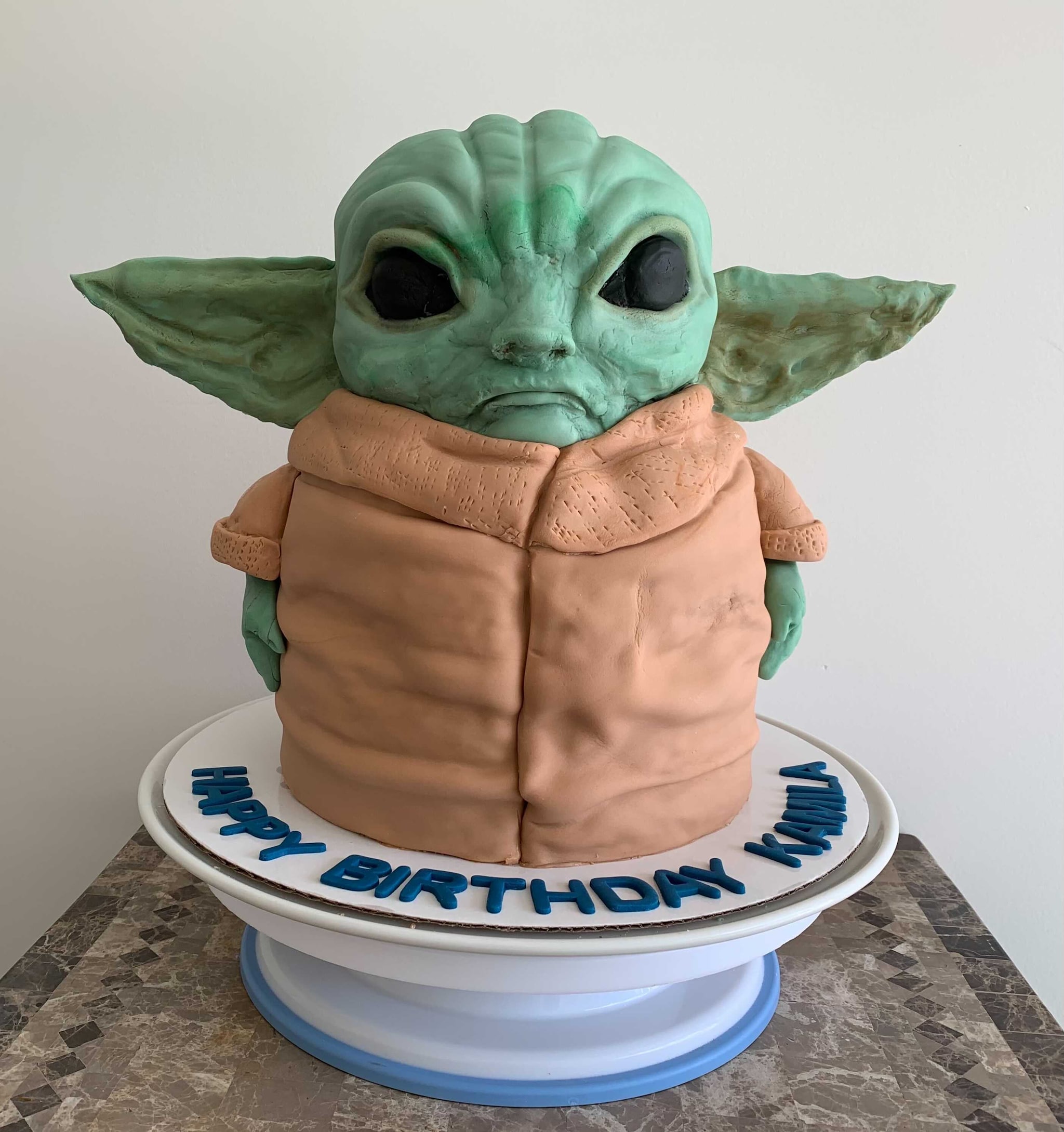 A few years ago, Iryna was looking for volunteer opportunities for herself and her family. Through Splunk's Benevity platform,she discovered Cake4Kids. As a volunteer. Iryna bakes cakes for children identified by social service agencies, so therecipients have a delicious treat to mark a birthday, graduation, or other celebration – and know that a stranger took the time to do something special just for them. Social service agencies deliver the cakes, preserving the privacy of the families.
"Besides being a great fit for my interest in baking, I wanted an opportunity to expose my children to less fortunate neighbors in our nearby communities," says Iryna. ""Creating customized cakes is a wonderful outlet for our creativity. It's also an excellent stress reliever and a chance to spend time with my daughter."
For Iryna and her family, baking isn't just about artistry – it's also about building human connection. "In a virtual age, baked goods have been a tangible way to show how much we care about the people in our lives."
Peter Connolly
Scoil Bhride, County Kildare, Ireland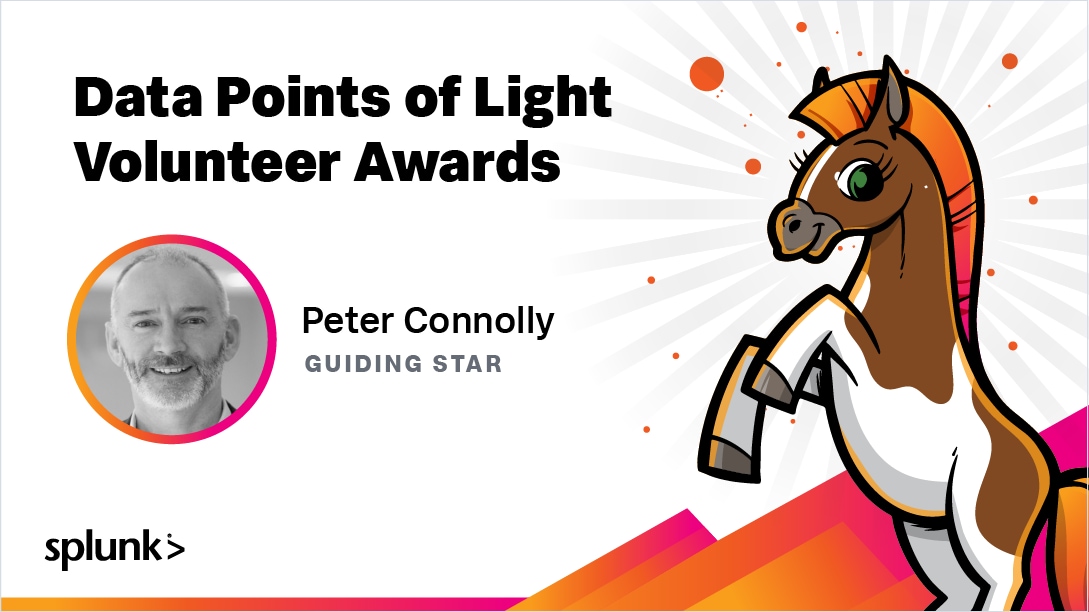 As Director, Business Practices-EMEA at Splunk, Peter has a strong background in finance and strategy. When his daughters' school (Scoil Bhride) learned about his expertise, they came to him with a request he couldn't refuse.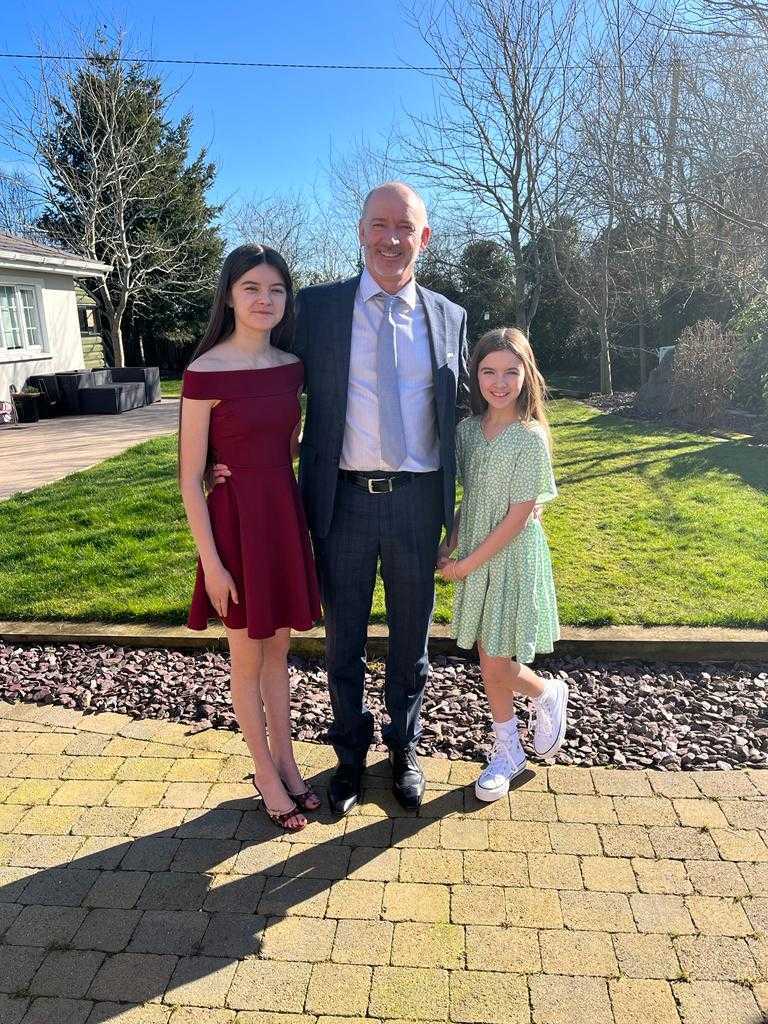 "They asked me a simple question: was there any reason I wouldn't be able to join the Board of Managers?" says Peter.
"When I thought about it, the only reason was that I was very busy, and on further thought, I decided I'd be happy to give something back to the school and the community." The local village has deep meaning to Peter, who lives in the samecommunity where he grew up.
Besides serving on the board, he has a monthly one-on-one with the school principal, "While I coach the principal on finance and accounting, she coaches me on school management and education," he says.
When asked for his advice for prospective volunteers, Peter is unequivocal. "If you have the chance, grab it. Volunteering gives a second perspective on your day job, and put simply, giving back makes me feel better as a person."
To learn more about our commitment to the community, visit the Splunk Global Impact page.