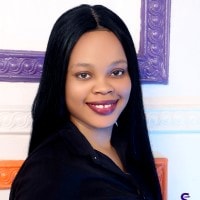 By Blessing Onyegbula October 23, 2023
Organizations ready to embrace digital transformation need a Chief Digital Officer to steer them in the right direction. From creating a digital strategy to overseeing its implementation and working with disruptive technology, it's a career option for critical thinkers with the right tech skills, digital savviness, and out-of-box ideas.
In this piece, we dive into the role of a CDO, highlighting their duties, skillset, and salary expectations.
---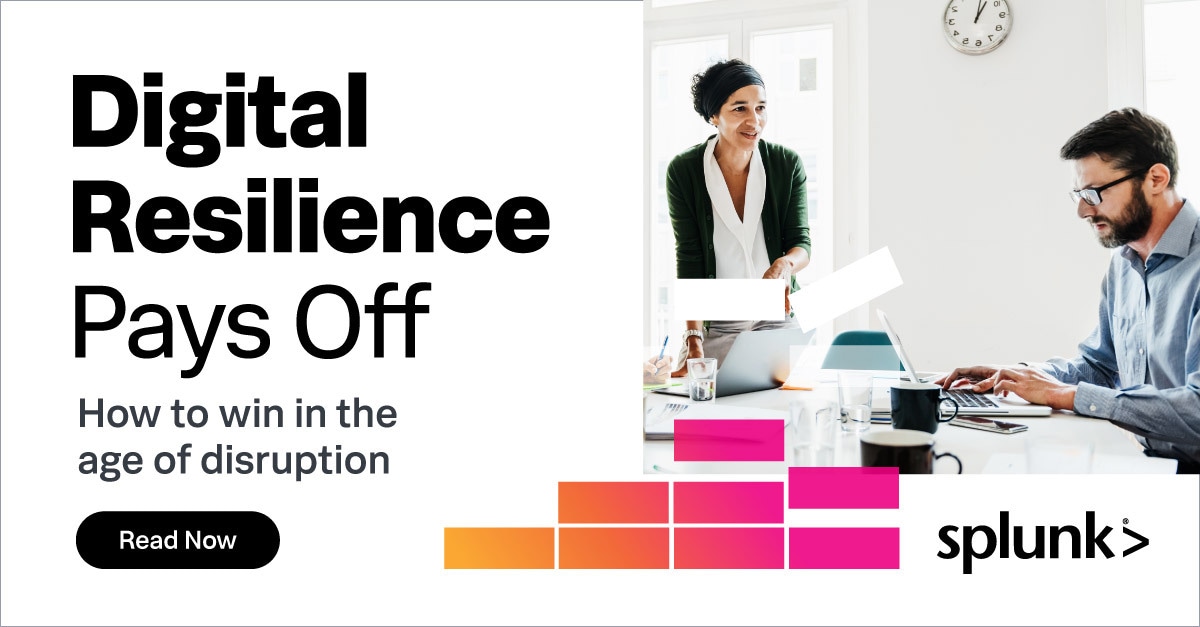 ---
What is a Chief Digital Officer
A Chief digital officer is an individual who oversees the digital transformation of an organization to drive growth. They are also described as "change agents" or "digital evangelists," and the reason for this is clear. They ensure the smooth transition of business processes from a traditional or analogous system to a digital one that reflects the business strategy and customer experience.
As a CDO, you're responsible for implementing digital technology tools, cloud migration, digital marketing, and other initiatives to advance your company's digital strategy.
Challenges of being a CDO
The different hats a CDO has to wear make the role equal parts exciting and challenging. For now, let's focus on the challenging bits.
The first stumbling block to a CDO's success is people's perception of the role, which extends to the management and other C-suite members.
For many companies, digital transformation is a once-and-done project, not a continuous journey to ensuring relevance. Hence, CDOs are viewed as dispensable, with many full-time CDOs finding out their roles have been sunsetted after digitization is "done."
There's also the issue of friction with other C-suite roles, particularly the CIO and CMO.
In a way, this is because certain aspects of a CDO's job description overlap with these other roles. For instance, a CIO focuses on the organization's overall IT strategy, which a CDO should be concerned about while carrying out other digital initiatives. Similarly, a CMO oversees marketing and advertising initiatives, which a CDO should be involved in to ensure alignment with the overall digital strategy. Still, CDOs are the only ones that have to justify their relevance in the company.
Next, as relevant as this role is to business growth, many organizations need to be equipped and have an existing culture that can accommodate a CDO. For instance, in an interview, Lisa Heneghan, Global CDO of KPMG, described her role as having three core responsibilities: laying a strong foundation for technology, integration, and ensuring a brand shift. For her, integration is the hardest of all three as it's met with lots of pushback, especially from teams unwilling to embrace an agile work style.
Roles and responsibilities
The CDO has various responsibilities in bringing a company's digital vision to life. Let's look at some of them:
Creating a digital strategy
Ideally, this is the starting point of every CDO's tenure. To do this, they should create a plan for establishing an online presence, developing customer-facing digital solutions, and implementing the necessary digital technologies. A successful digital strategy will not just align with the overall business strategy; it will prioritize end-user experience and unlock competitive advantage for a business.
Set up digital initiatives and processes
CDOs are also executors, meaning they are to implement the digital initiatives in their strategy. For this to happen, they work with other departments to bring the plans for digital transformation to life. Here's how they do it:
Working with the marketing team to create a marketing campaign to help the company establish an online presence, build a reputable brand image, and penetrate new markets.
Working on digital solutions by making inputs at different parts of the product development lifecycle without sidelining the Chief Product Officer.
Each of these initiatives should have its key performance indicators to be used during evaluation.
Measuring ROI on digital initiatives
Using the metrics set in the digital strategy, the CDO periodically measures progress in the digital transformation journey. Depending on the results, they can tweak the goals, adjust the metrics, or explore more areas for digital growth.
Talent attraction and retention
Achieving digital excellence is not a one-person job. So, new and old employees have to take up the task of embracing the digital culture in their day-to-day operations. The CDO makes this possible by collaborating with the HR department on work policies, designing employee value propositions, and telling the company's story of embracing digital transformation in a way that excites employees and attracts the right kind of talent.
Monitor trends in the tech space
Industry trends influence the digital initiatives needed in the transformation journey, so the CDO should always have a pulse on what's happening. This could be by subscribing to relevant newsletters and publications, attending tech conferences, or engaging in professional communities like the CDO club.
How to become a Chief Digital Officer
Your journey to becoming a CDO starts with the right experience. As Mike McDonald, who has over a decade of experience hiring CDOs, puts it: "Chief digital officers should ideally have a background in technology but don't feel limited by that. The first chief digital officers came from the marketing and customer service fields."
So, having a Master's degree in computer science, communications, and marketing and at least a decade of experience in a tech or business-related role gives you a headstart to begin this journey. With such qualifications, you must have accumulated reasonable technical skills to build expertise on digital matters, plus you'll most likely be at the senior level of your career.
Next, gain knowledge of disruptive technology. Learn about the applications of Big data, Blockchain, Artificial intelligence, the Internet of Things, and others so that you can identify the ones needed for your company. Speaking on this, Heneghan again says, "Successful CDOs act as enablers – digital chiefs take the best of the technology that's available on the market and apply it to the challenges they find."
This chart by Gartner ranks the most relevant ones that Board Directors are interested in for achieving digital business success.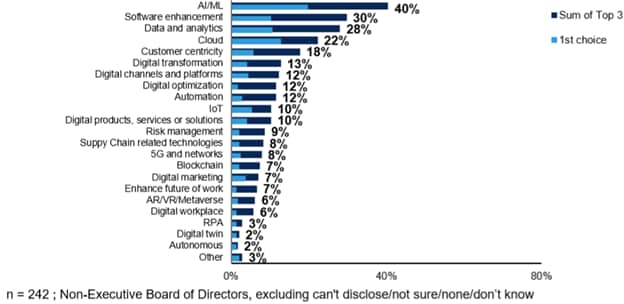 Then, you stay ahead in your industry by researching emerging technologies.
Also, learn more about the field by taking certification courses or reading books. This one by MIT and this list of digital transformation books is an excellent place to start.
Skills needed to become a chief digital officer
As a CDO, your role will drive operational efficiency, bring about innovation, and influence the overall direction of a company's growth. The following qualities should be part of your skillset if you want to excel in the role:
Business acumen
You need to know how to relate with stakeholders, make a compelling case for any strategy you come up with, and always look out for your company's interests, which align with their overall values.
Data-driven
CDOs lean heavily on data to make decisions. Hence, you should be able to work with different data types, aggregate data, and figure out how to apply their insights to various digital initiatives.
Change management
Change is never an easy journey, no matter how impactful the results will be. However, change management equips a CDO to understand resistance to new policies and how to overcome them for the greater good.
Collaboration
The ability to influence and work with other C-suite members and their teams is a must-have for CDO.
Innovative mindset:
An out-of-box thinking is required to succeed in this role. To reinforce the digital strategy, you must reinvent the company's processes and products.
Leadership
CDOs are also called digital leaders, which hints at an expectation for them to create a digital vision and own the strategy to establish a digital culture. Examples of qualities that enable this are:
Project management
Thought leadership
Persuasiveness(since buy-in from other company heads is essential).
Salary expectations for the Chief Digital Officer role
According to Glassdoor's salary report for October 2023, a Chief Digital Officer in the United States earns an average of $176,028 annually, with a total pay range of $166k - $311k per annum. Salary.com puts the average figure at $$214,601 for September 2023 and a range of $190,166 and $234,673. Comparably, on the other hand pegs the average annual pay at $203,609.
---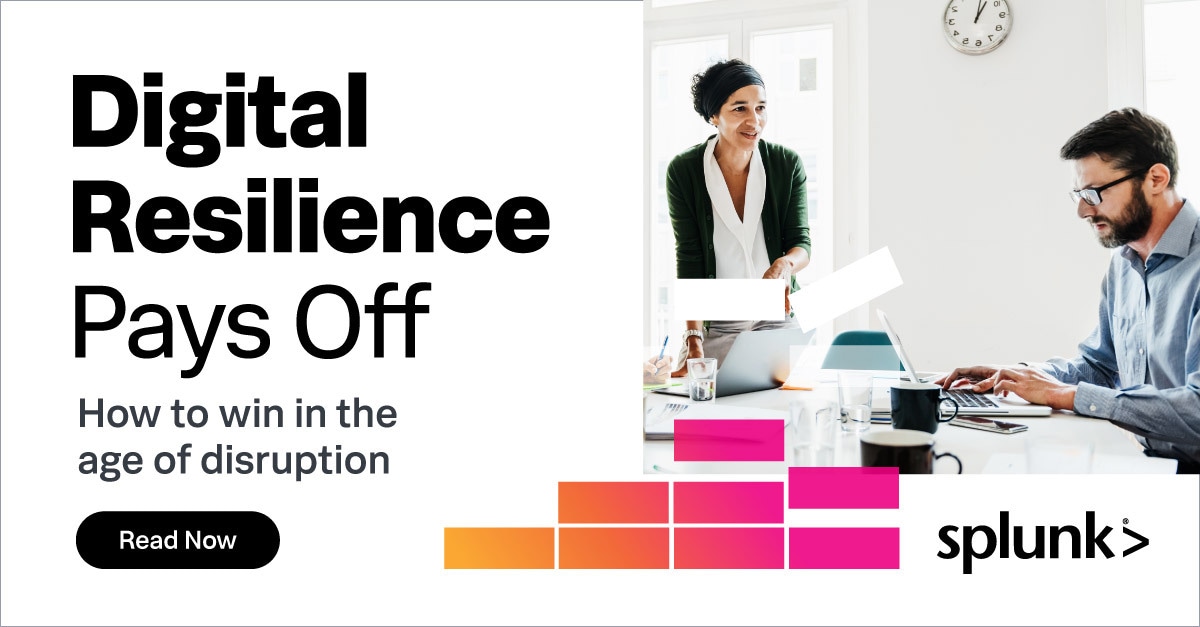 ---
Chief Digital Officers make digital transformation easier
Even if digital transformation is still a buzzword in many organizations, a CDO's role in spearheading it cannot be downplayed. CDOs who excel at it are people-oriented, willing to immerse themselves in the industry, customer needs, employee's reactions to changing processes, and stakeholder sentiments.
What is Splunk?
This posting does not necessarily represent Splunk's position, strategies or opinion.