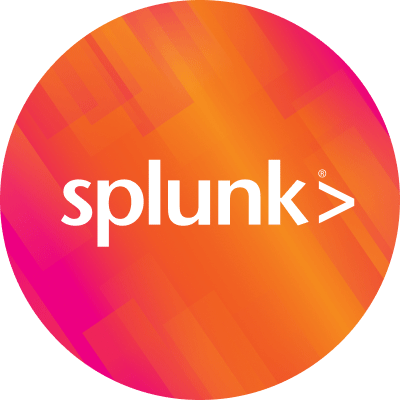 By Splunk January 29, 2021
We often hear that our customers love using Splunk, know the power behind our platform and want to expand usage to IT. But they aren't sure what steps to take first. We want our customers to maximize their Splunk investment and get them jump-started with Splunk for IT use cases by providing the guidance and best practices they seek.
We're excited to introduce two free new apps — IT Essentials Learn and IT Essentials Work — to help guide you on your journey towards IT modernization. Here's what you get:
An easier and faster onboarding experience to get started with Splunk for IT
Reference materials to teach yourself Search Processing Language (SPL) searches for faster time-to-value
Out-of-the-box dashboards and templates with a recommended set of searches per data source, based on your role
Logs and metrics data in one view for a unified experience

And the best part is...they're free on Splunkbase! Sound good? Keep reading!
IT Essentials Learn: Where You Learn How to Use Splunk
Splunk IT Essentials Learn (ITE Learn) enables you to get started easily with Splunk for IT use cases. This app provides a hands-on onboarding and learning experience for anyone new to Splunk or looking to build their knowledge around IT use cases.
Tailored, pre-built SPL searches (called procedures) let you focus on learning a single IT task at a time, spanning across a variety of use cases like monitoring and troubleshooting AWS, Apache, VMware and more. Every procedure also explains the importance of the task and situation that would require it, required SPL and which data sources are involved. You can run the search command in-app with live or demo data, meaning you can start learning immediately, without needing to bring your own data into Splunk.
As you explore ITE Learn and deploy new procedures, easily keep track of your progress through the My Progress feature. This page allows you to view and track progress, seeing which procedures you have deployed, an aggregated summary of your progress, or do a deeper dive with the heat map view. Tracking your progress allows you to set new goals for yourself as you continue developing your Splunk expertise.
Within ITE Learn you will also find the IT Maturity Journey feature, which maps procedures to the different stages of Splunk's prescriptive value path. Each of these stages in the IT Maturity Journey includes the benefits, data sources, products and use cases that commonly fall under each stage. Seeing where you currently are as an organization can help you better understand what to expect as you progress towards IT modernization, for an improved IT strategy.
Want to learn more? Check out our product brief on ITE Learn.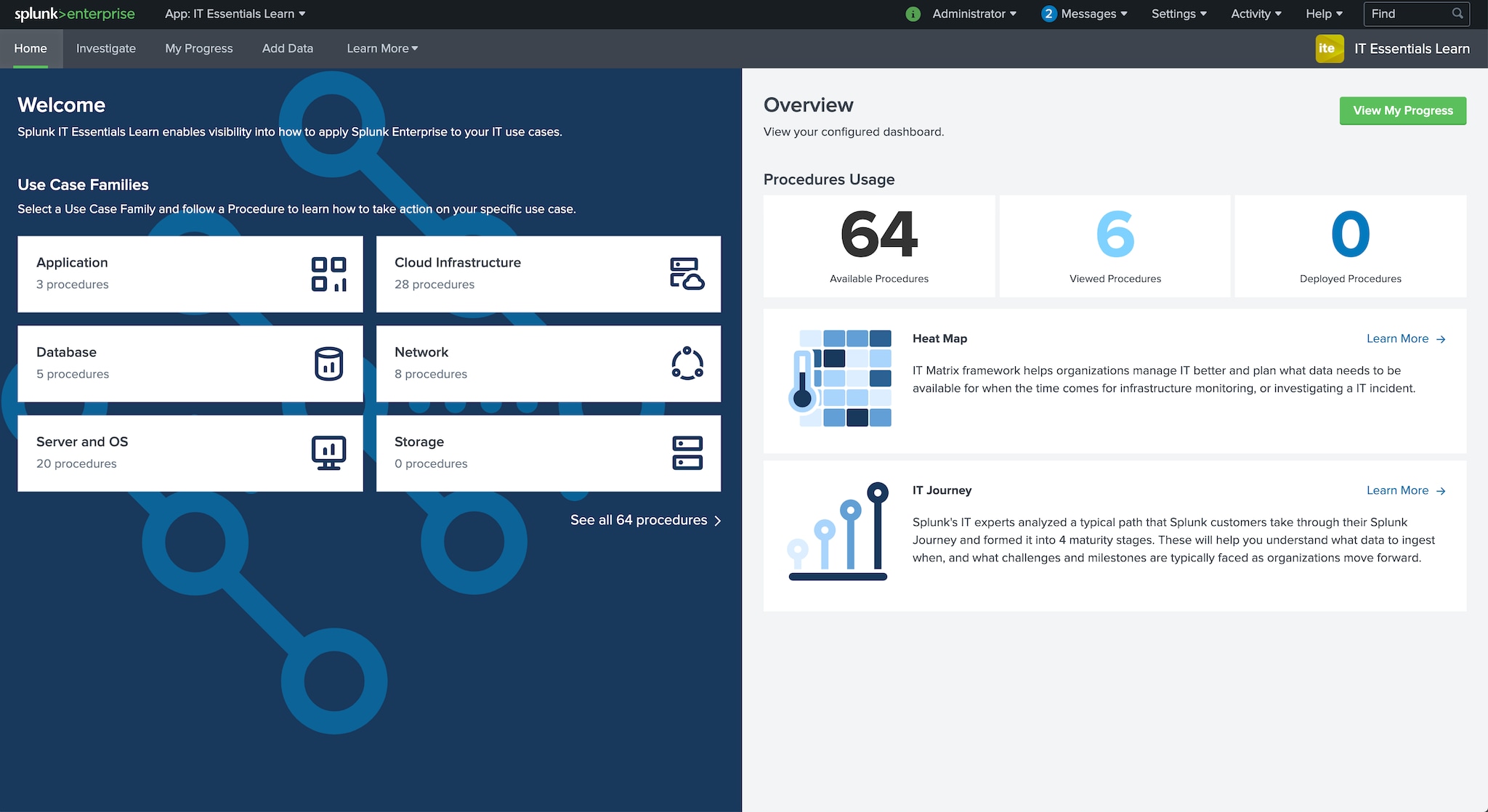 IT Essentials Work: Where You Work With Your Own Data
Splunk IT Essentials Work (ITE Work) speeds up troubleshooting using log-based analysis and offers pre-built dashboards that are automatically populated once data is in Splunk. By correlating logs and metrics for each of your entities, you're able to use that information to observe, investigate and understand the performance of your entities.
For customers that are currently using individual Splunkbase infrastructure apps (Splunk App for Infrastructure, Unix, Linux, Windows, VMware, NetApp, Exchange, AWS, Azure, GCP) now you can get a more cohesive, unified, cross-data source experience to pinpoint root causes faster.
With ITE Work, you get instant visualizations specific to your role and the data that matters to you, saving you time and energy from pestering Splunk admins for new dashboards or having to build and create your own. ITE Work also offers quick entity context based on logs and metrics so you can view key dimensions of a single entity — host name, IP address, location, OS, server, and other tags — alongside standard metrics and related logs in one view.
The power behind ITE Work is the ability to see what's going on across your entire infrastructure from a single place and being able to drill down into specific entities that are having issues. See that high CPU usage? Know exactly what's causing it. Discover the logs that are associated with specific metric data and get a better overall understanding of the health of all your different entities.
Download the Apps Today, For Free!
ITE Learn educates you on how Splunk can best be utilized for IT use cases, without needing to use your own data. Once you're comfortable and ready to work with your own data, ITE Work makes it easy to onboard data quickly, allowing you to work in Splunk without having to learn Splunk's Search Processing Language (SPL). ITE Learn is now generally available for all Splunk customers, ITE Work is ready now for Splunk Cloud customers and will be available for Splunk Enterprise customers in the near future.
Download the free apps, IT Essentials Learn and IT Essentials Work today!
----------------------------------------------------
Thanks!
Rahul Mehta