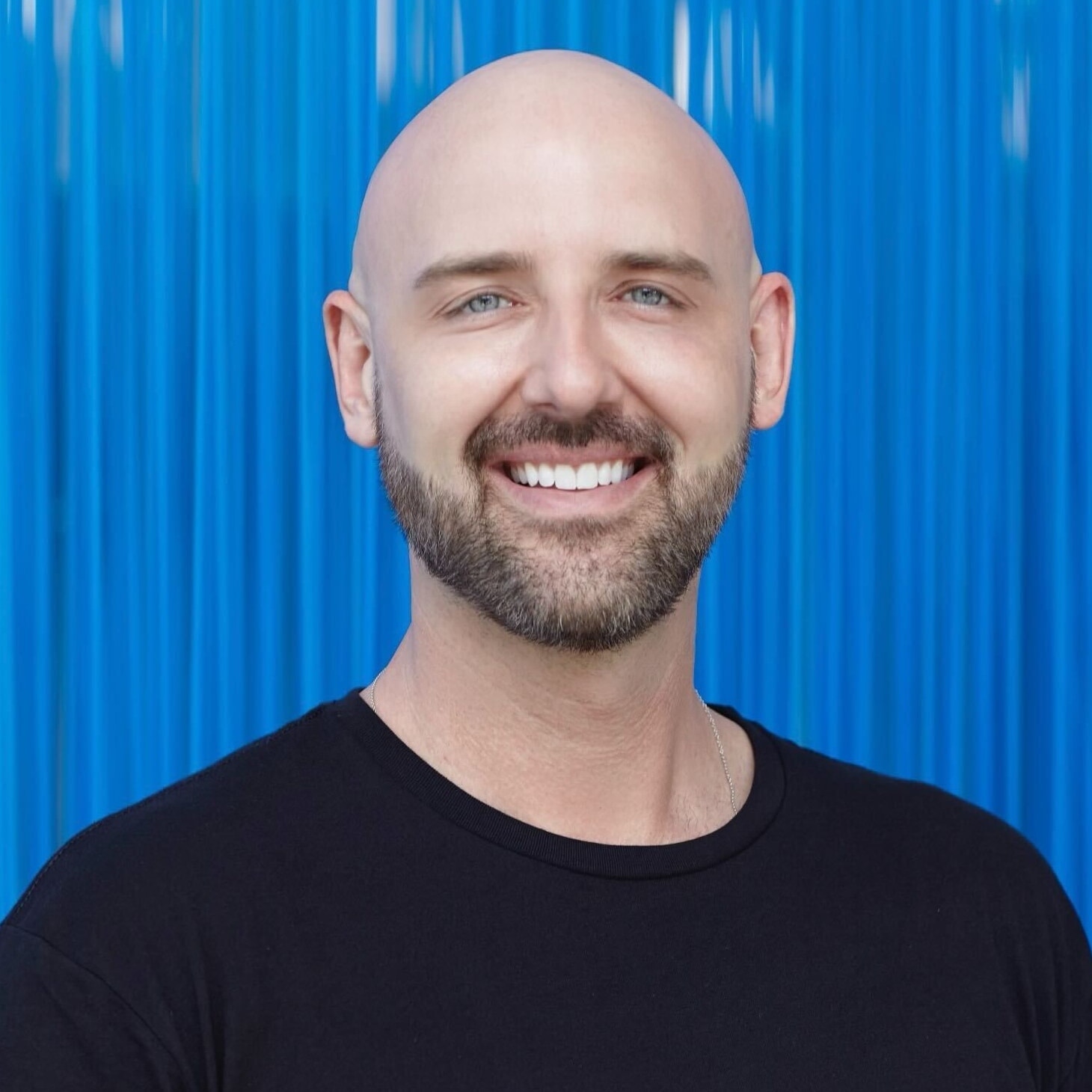 By Derek Dykens June 24, 2022
Everyone loves a good shirt. As many know — our Splunk T-shirts are almost as popular as our software. And as Shelly often encourages us Splunkers, "let's make shirt happen." That is exactly what the team did at .conf22 in Las Vegas as we took the opportunity to bring The Splunk T-Shirt Company to life.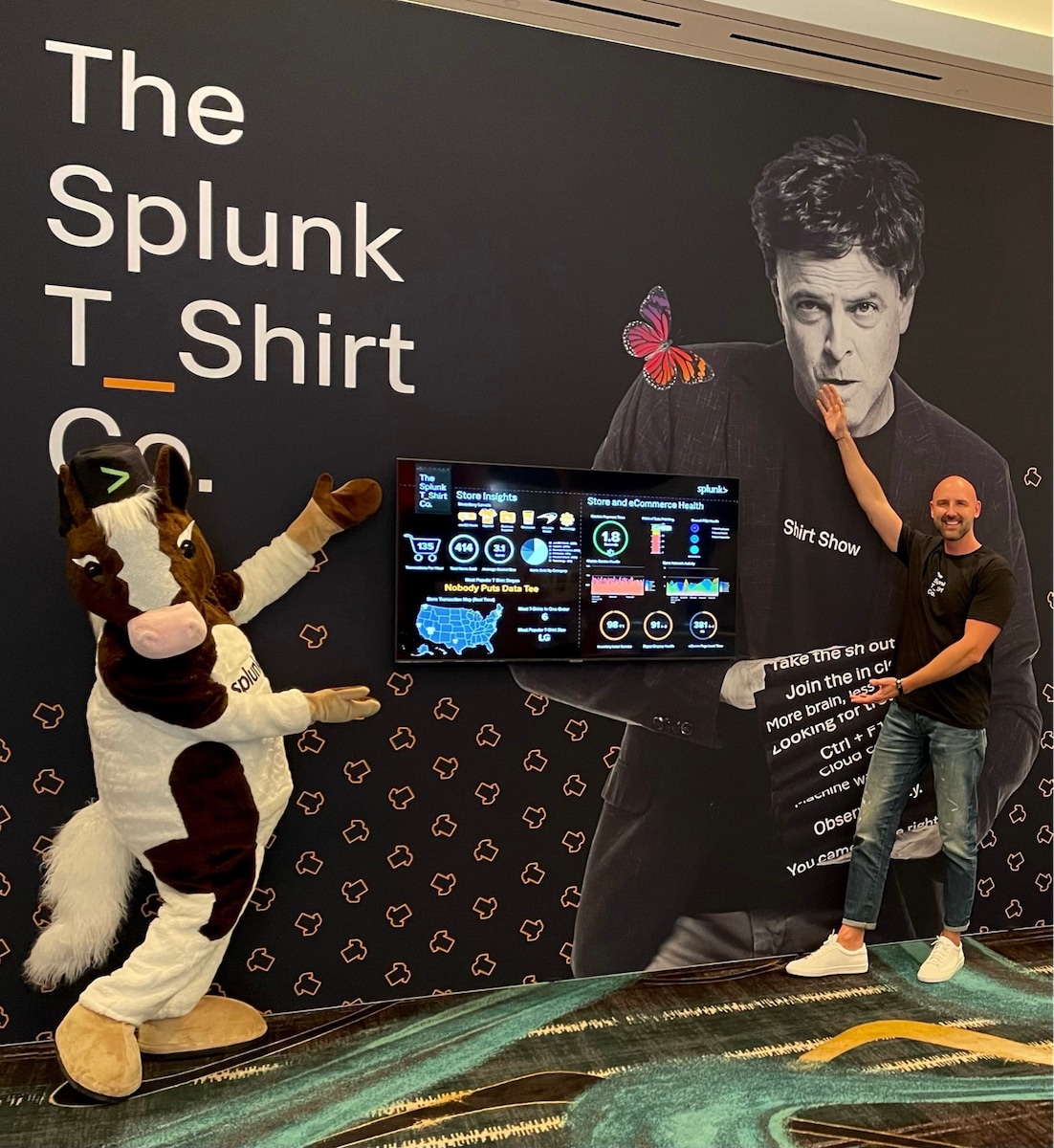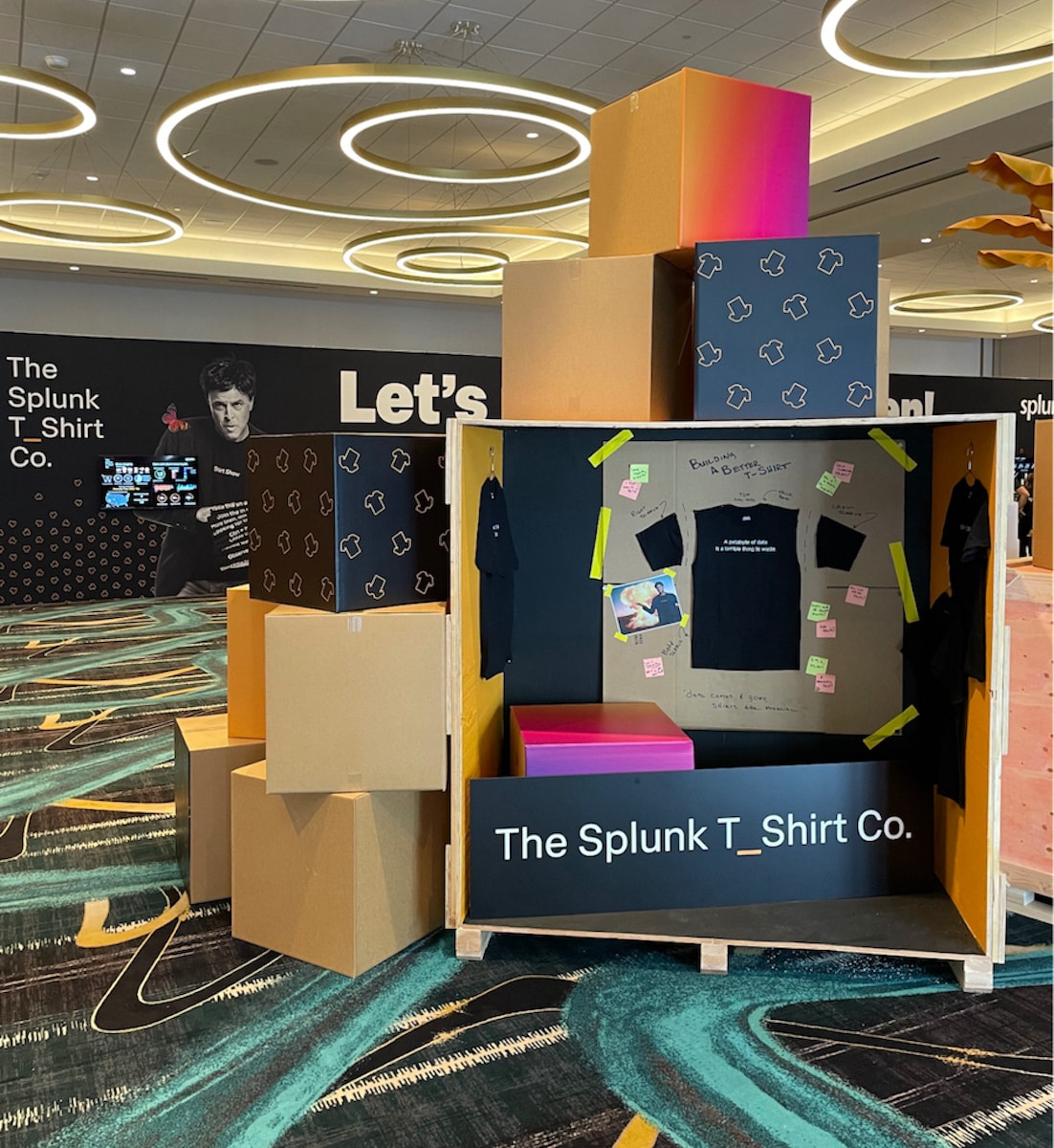 Derek Dykens and Buttercup pose for a quick photo as The Splunk T_Shirt Co. comes to life at .conf22 in Las Vegas
Stickers, McLaren merchandise, hats, mugs, backpacks…and of course a wide variety of Splunk T-shirts were all up for grabs. It didn't come as a surprise that customers, partners and Splunkers formed a line that wrapped all the way to the source=*Pavilion well before we opened our doors on each day of .conf22. The team on-site quickly realized that The Splunk T-Shirt Co. was going to be a popular destination throughout the conference as attendees looked to collect, gift, and wear the heck out of the new swag.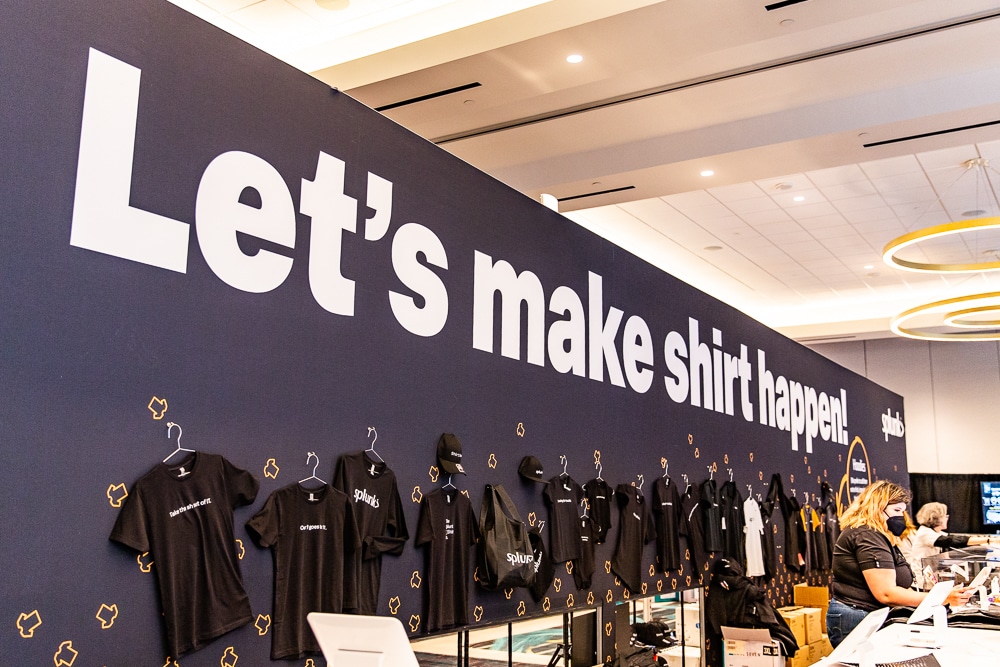 Splunk swag on display and available for purchase throughout .conf22 including McLaren licensed merchandise
The idea for the store originated as the Splunk event's team planned to shift from a virtual-only conference to the hybrid model that allowed for in-person attendees. What better way to showcase our Splunk platform than to put data into action by highlighting our retail use cases. The physical store concept created a broad range of data sources to work with which included inventory, point of sale transactions, payments, environmental data and more.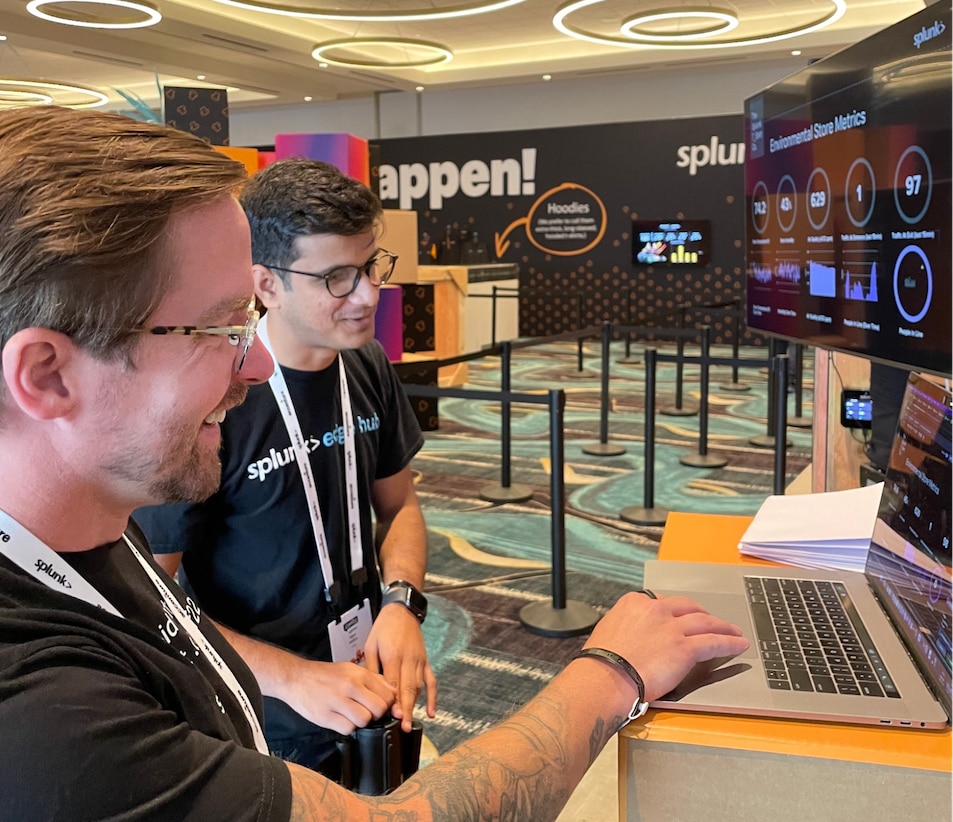 Ryan O'Connor and Neel Mehta apply a few finishing touches to our Splunk dashboards
At Splunk, we recognize that innovation is imperative. Splunk Dashboard Studio provides the innovative and flexible framework for great visualizations to highlight KPIs in a visually impactful way while catching our attendees attention. KPIs included everything from store insights on which merchandise was selling at a point in time, to the most t-shirts sold in a single order, to IT health metrics for applications, infrastructure and security. Bringing all of this together in a single dashboard to keep a pulse on how the business is performing while having visibility to the IT service metrics that matter most.
A retailer's systems need to be secure and resilient. Putting data at the center can tackle the most important problems across your entire tech stack, defend against threats while facing larger attack surfaces and discover game-changing opportunities in the business. The Splunk T-Shirt Co. was able to act confidently on every insight and ensure systems were working as expected with a real-time contextual view that integrated security and observability.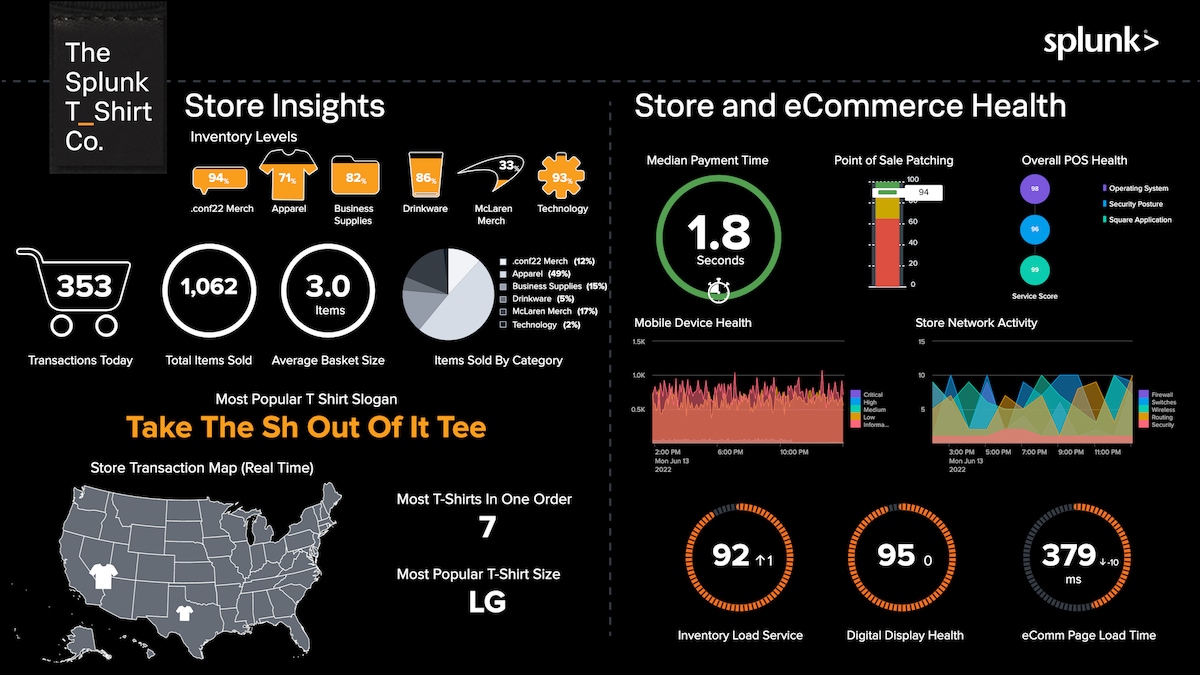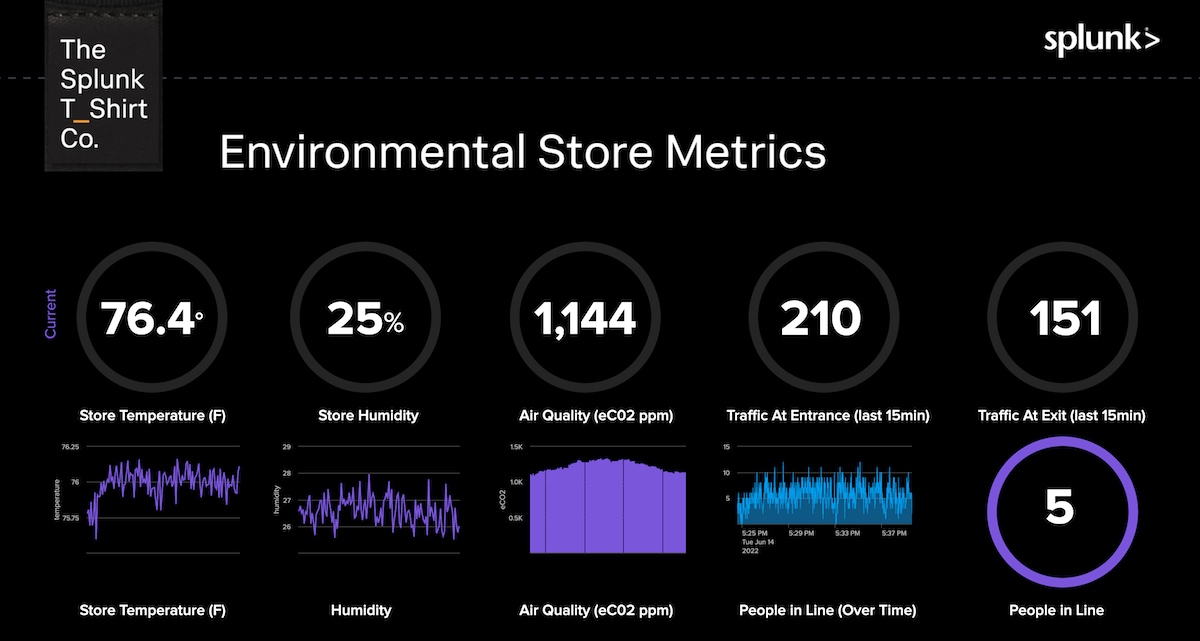 Two of the many Splunk dashboards with real-time insights from The Splunk T_Shirt Co. store
Sometimes I find myself daydreaming that Splunk is actually a T-shirt company that makes really good software on the side. But until that day comes, I'll keep reminding myself that I work for the best Unified Security and Observability Platform in the industry. Reach out to retail@splunk.com or visit splunk.com to learn more about our retail use cases and why retailers around the world rely on Splunk to drive innovation, transform security operations and deliver the best customer experience possible every time.