Upcoming Webinar: 4 Data Sources to Improve your Security Posture
Defend, Protect and Respond.
Advanced threats that get into and persist within an environment are among the biggest security challenges faced by enterprises and government agencies. In addition to traditional security monitoring, reporting, searching and alert management, Splunk® products can help security analysts conduct compromise and breach assessments using the kill chain methodology. Analysts can trace the different stages of an advanced threat and link the sequence of events together by finding relationships using any field, across any data, over any timeframe.
All data is security relevant. Splunk software can help you:
Detect compromised hosts associated with advanced threats and malware infections
Find activities and events associated with successful attacks and malware infections to help operationalize threat intelligence
Determine the scope and impact of compromised systems
Find indicators and artifacts associated with compromised hosts and quickly create new correlation searches and alerts to monitor the newly discovered threats without having to write complex correlation rules
Detect cyber-attacks with an out-of-the-box User Behavior Analytics solution that leverages data science and machine learning
Detecting Advanced Threats
Apply the Kill Chain Methodology
Splunk software can help you find indicators of compromised systems and important relationships hidden in your machine data by examining logs from malware analysis solutions, email, and web solutions that represent activities associated with different stages of the kill chain.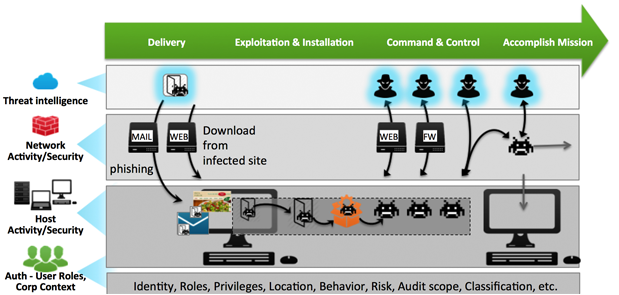 Determine the Scope and Impact of Incidents

Reconstruct the attack sequence by linking events together using any field value to find related events across different security technologies including threat intelligence, network security such as email and web gateway, firewalls, endpoint security and endpoint threat detection and response solutions.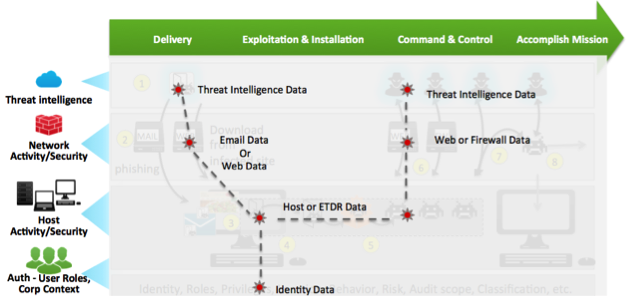 Get End-to-End Visibility into Advanced Threats

Splunk software allows different security teams to collaborate, respond to and defend against advanced threats. Teams can look up, down and across the security and IT technology stack as well as look back in time to find, analyze and respond to activities associated with compromised hosts and advanced threats. Team members can quickly create real-time correlation searches on any activity or condition so that intelligence can be incorporated back into the system for continuous monitoring.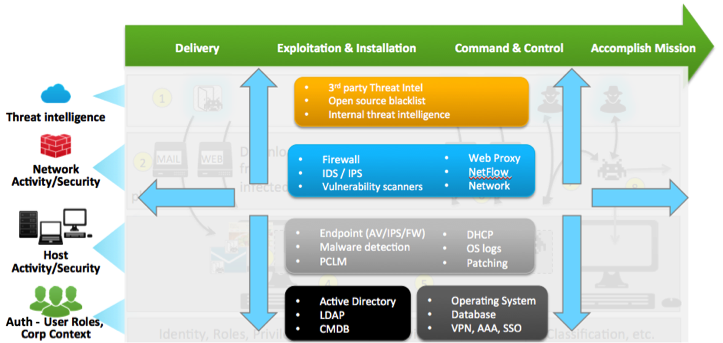 Ask a Security Expert
Need help with your environment and requirements? Send us your questions and we will get back to you as soon as possible.
If you need immediate assistance, check out our community forum, Splunk Answers.
Contact Us