USE CASE
Enterprise Fraud Monitoring
Armed with machine data and machine learning, fraud teams can search, detect and investigate data to quickly find anomalies—reduce loss of money, reputation and organizational inefficiencies.

Learn how to solve security challenges with Splunk
Splunk delivers integrated enterprise fraud management software that quickly defines behavior patterns and protects enterprise information

Proactive Rules and Monitoring

Search and monitor any data with custom rules and automation

Find Outliers


Detect and investigate outliers via anomalies in machine data that will help pinpoint fraudulent activity
Why Splunk for Enterprise Fraud Monitoring?
Splunk helps organizations search, detect, investigate and visualize fraudulent behaviors and transactions to determine the anomalies that typically slip through undetected. Take the appropriate steps to detect compromised user accounts.

Splunk defines fraud rules on wire transfer, card transactions to identify suspect activity. It also makes it possible to implement multiple velocity-based rules, such as geographic and merchant changes, and more to determine indications of fraudlent transactions. Splunk can also better identify anomalous behavior utilizing the Machine Learning Toolkit (MLTK). The Clustering algorithm considers multiple fields in the transactions to identify outliers.

Splunk helps healthcare providers identify anomalous providers with highly abnormal prescription drug distributions and volumes compared to peers.
Splunk also helps organizations with billing to identify anomalous providers with highly abnormal current procedural terminology (CPT) code submissions and volumes compared to peers—get better visibility into each provider and their specialty. Healthcare program administrators of third-party consultants use Splunk to employ techniques that allow them to index, analyze, interpret and transform program, case management, and EMR data to help detect potential instances of fraud and implement fraud monitoring programs.
Spunk offers insights to identify unusual trends, data anomalies and control breakdowns, by developing repeatable tests and, in some cases, even serve as an early warning systems before fraud becomes material.

Rather than pore over thousands of lines of transactions, we use Splunk Cloud dashboards to visualize patterns and trends. We can observe login anomalies, detect questionable activities and behaviors, and promptly take measures to remediate them.
Previous
Next

Product Capabilities
Patterns of fraud can be seen in machine data that legacy anti-fraud tools don't see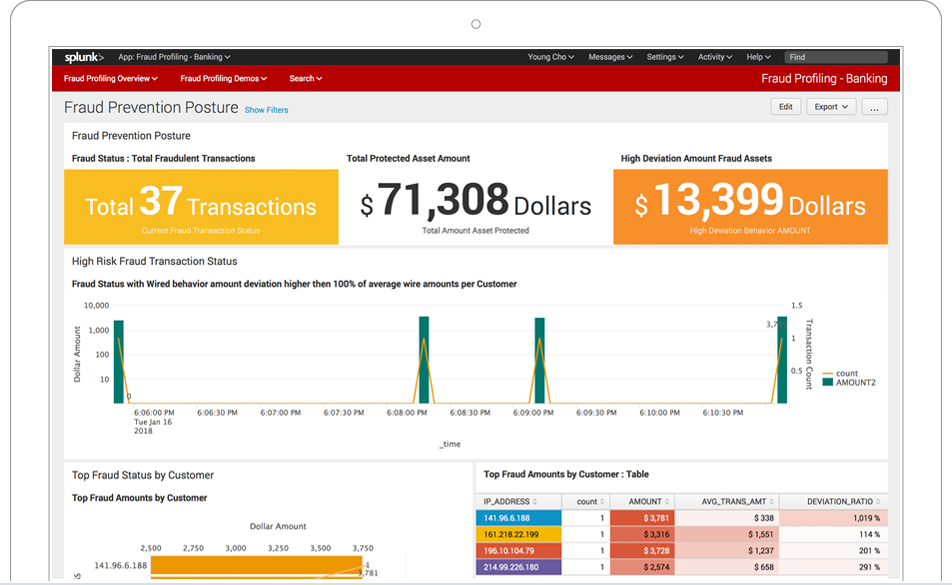 Analyze and Report for the Future
Flexible, advanced reporting and visualizations support any user or role and makes it easy to analyze, measure and manage fraud risk.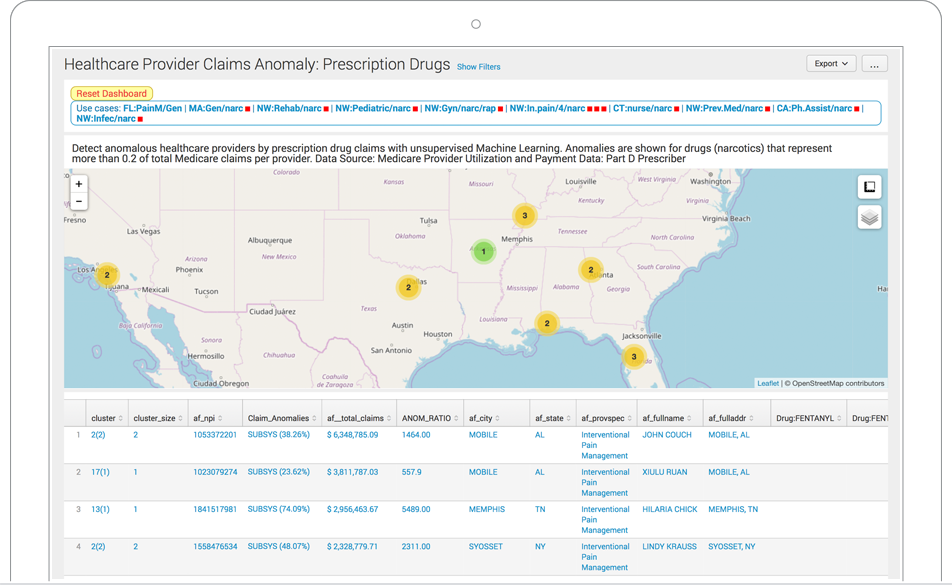 Enhance Your Security Ecosystem
Index and consolidate the event data from siloed tools and consolidate fraud scores they produce.
splunkbase
Splunk Security Essentials for Fraud Detection
Splunkbase enhances and extends the Splunk platform with a library of hundreds of apps and add-ons from Splunk, our partners and our community.

Customers can learn how Splunk Enterprise may be used to detect various forms of fraud using the example scenarios in Splunk Security Essentials for Fraud Detection. The app will demonstrate how Splunk Enterprise, as well as how machine learning can solve different of fraud scenarios and use cases from detection to complex visualization and investigation. Each detection use case includes a description of how it was implemented using the Search Processing Language (SPL) and the Machine Learning Toolkit (MLTK).
What can you do with Splunk?