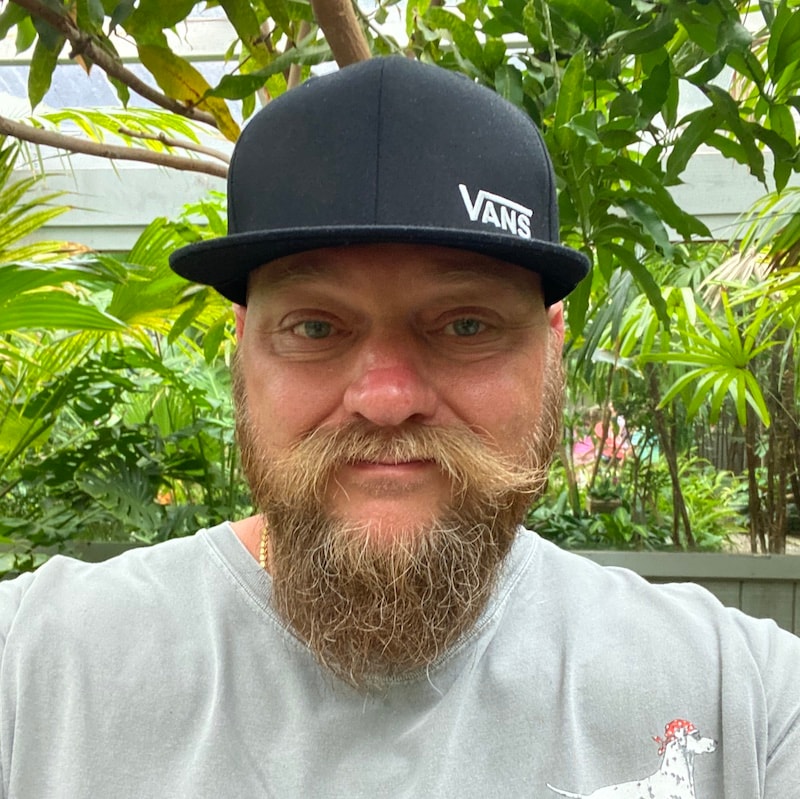 By Paul Pelletier November 17, 2023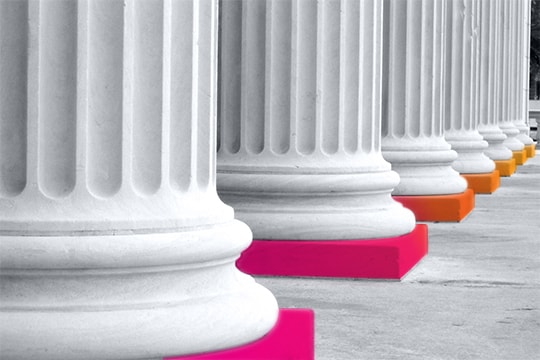 In today's digital landscape, organizations face increasingly sophisticated cyber threats that can compromise sensitive data, disrupt operations, and tarnish their reputation. To mitigate these risks, regulatory frameworks have been developed to ensure robust cybersecurity practices. Managing compliance is challenging, which is why we're so excited to share the latest on Compliance Essentials for Splunk (CES), an essential part of your toolkit to help your organization maintain and monitor your compliance status and cyber resiliency with various frameworks.
Splunk Compliance Essentials 2.1.0 not only covers some of the most utilized frameworks for our Public Sector customers in America, but across the globe as well. In this release we have added support for:
Australian Energy Cybersecurity Framework (AESCSF)
Information Security Manual from the Australian Signals Directorate (ISM)
Australian Essentials 8 (E8)
The Cyber Assessment Framework from the United Kingdom (CAF).
These new frameworks are available in addition to the frameworks already supported in Splunk Compliance Essentials such as:
Cybersecurity Maturity Model Certification (CMMC)
Federal Information Security Modernization Act (FISMA)
Risk Management Framework (RMF)
Defense Federal Acquisition Regulation Supplement (DFARS)
Office of Budget and Management Memorandum M-21-31 (M-21-31)
Understanding and adhering to these frameworks can significantly enhance an organization's security posture and protect against cyber threats. Splunk is here to help! Let's start with a quick overview of what each of these frameworks covers.
The AESCSF is a voluntary program that is primarily intended to be used by electricity, gas, and liquid fuels organizations in Australia to assess and improve their cybersecurity posture. It provides a set of guidelines and best practices for managing cybersecurity risks, covering areas such as governance, risk management, asset management, identity and access management, security awareness and training, incident response, and supply chain security. The AESCSF is aligned with international standards and frameworks, such as the NIST Cybersecurity Framework and the ISO/IEC 27001 Information Security Management System. CES supports the AESCSF version 1 (version 2 was just released and will be supported in a future release).
The ISM is a comprehensive framework designed to guide organizations in safeguarding their systems and data from cyber threats. Developed by the Australian Signals Directorate (ASD), the ISM provides a risk-based approach to information security management, emphasizing the identification, assessment, and mitigation of potential risks. The manual outlines essential cybersecurity principles and guidelines, covering a wide range of topics such as access control, incident response, and cryptography. The ISM is intended to offer practical guidance for implementing effective cybersecurity measures within various organizations. CES supports the latest ISM version from March 2023.
The Australian Essential Eight is a cybersecurity framework developed by the Australian Cyber Security Centre (ACSC) and recommended by the Australian Signals Directorate (ASD) for all Australian organizations. It consists of eight mitigation strategies that are designed to protect organizations from cyber attacks. The eight strategies are divided into three primary objectives: Prevent Attacks, Limit Impact, Data Availability. CES supports the latest E8 version from November 2022.
CAF is a comprehensive framework developed by the National Cyber Security Centre (NCSC) in the United Kingdom. It provides a systematic and structured approach for organizations to assess the extent to which cyber risks to their essential functions are being managed effectively. The framework is intended to be used either by the organization itself (self-assessment) or by an independent external entity. The CAF is based on 14 cybersecurity principles and outlines a set of contributing outcomes and indicators of good practice (IGPs) that organizations can use to measure their cybersecurity maturity. CES supports version 3.1 of CAF released in April 2022.
The CMMC is a unified standard introduced by the U.S. Department of Defense (DoD) to assess and enhance the cybersecurity posture of Defense Industrial Base (DIB) contractors. It establishes a tiered approach for implementing cybersecurity controls based on the sensitivity of the data handled by the contractors. CMMC compliance involves undergoing rigorous assessments conducted by certified third-party organizations, ensuring that contractors have the necessary safeguards to protect Controlled Unclassified Information (CUI). By complying with CMMC requirements, organizations demonstrate their commitment to protecting sensitive information and can enhance their security capabilities. CES supports CMMC 1.0 currently and will support 2.0 as soon as that is finalized.
FISMA sets the framework for information security within U.S. federal government agencies. It mandates the development and implementation of robust information security programs, including risk assessments, security controls, continuous monitoring, incident response, and security awareness training. Compliance with FISMA enables federal agencies to establish a strong security foundation and protect the government's critical systems and data. Moreover, organizations doing business with the federal government must align their security practices with FISMA requirements to ensure consistency and protection of shared information. CES supports NIST SP 800-53 R5 for FISMA.
RMF provides a structured process for managing and reducing cybersecurity risks in federal information systems. It outlines a six-step cycle: categorization, selection of security controls, implementation, assessment, authorization, and continuous monitoring. RMF helps organizations identify and prioritize risks, implement appropriate controls, and monitor their effectiveness. By integrating RMF into their security practices, organizations can proactively address vulnerabilities, comply with federal regulations, and make informed decisions regarding risk mitigation strategies. CES supports NIST SP 800-53 R5 for RMF.
DFARS includes cybersecurity requirements for contractors working with the DoD, particularly those handling Controlled Unclassified Information (CUI). It mandates compliance with the National Institute of Standards and Technology (NIST) Special Publication 800-171, which outlines security controls for protecting CUI. DFARS requires contractors to implement and maintain adequate security measures, report cybersecurity incidents, and conduct assessments of their systems. Adhering to DFARS ensures that contractors can safeguard sensitive DoD information and contribute to the overall security of the defense supply chain. CES supports NIST SP 800-171 R2 for DFARS.
The purpose of M-21-31 is to improve the federal government's ability to respond to cybersecurity incidents by improving the visibility and availability of security logs. Security logs are records of events that occur on a network or system, such as user logins, file accesses, and network traffic. By collecting and analyzing security logs, agencies can identify signs of suspicious activity and take steps to prevent or mitigate cybersecurity incidents.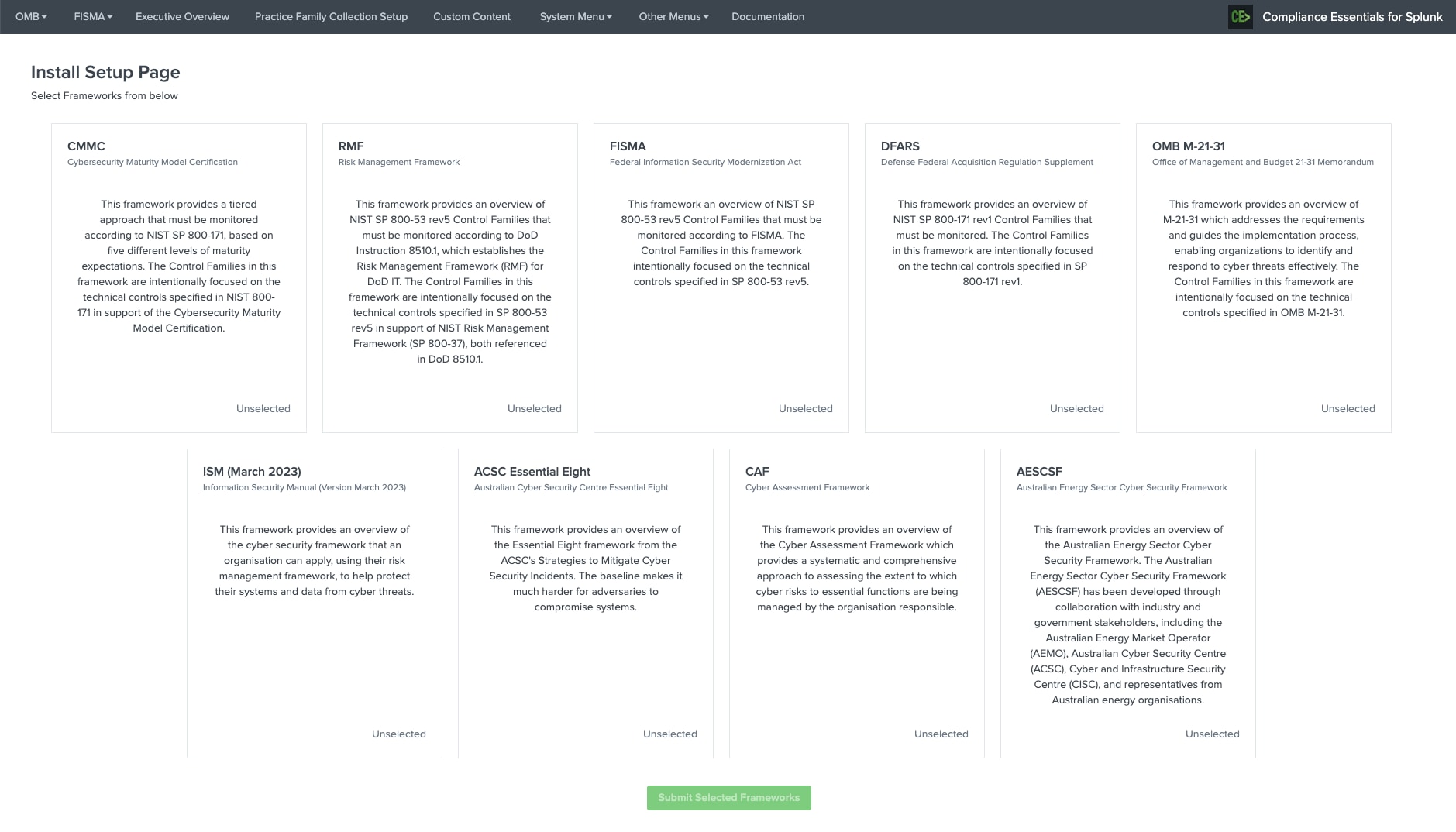 So How Does Compliance Essentials for Splunk Help?
Well all of these frameworks are trying to achieve similar outcomes, just in different fashions. Splunk Compliance Essentials can help monitor the various controls with pre-built content for each of these frameworks to ensure an organization's compliance to these various regulations. This app is also meant to integrate into the overall Security Operations program to help improve resilience. In an era of persistent cyber threats, a continuous monitoring program against frameworks such as ISM, AESCSF, E8, CAF, CMMC, FISMA, RMF, DFARS and OMB M21-31 is crucial for organizations aiming to enhance their security posture. These frameworks establish standardized guidelines and best practices for protecting sensitive information, mitigating risks, and ensuring regulatory compliance. By adhering to these frameworks, organizations can demonstrate their commitment to cybersecurity, build trust with stakeholders, and proactively defend against evolving cyber threats. Investing in cyber compliance monitoring not only protects valuable assets but also strengthens an organization's ability to withstand and recover from potential cyber incidents.
The Role of Splunk Enterprise Security in Regulatory Compliance
A Security Information and Event Management (SIEM) system, such as Splunk Enterprise Security (ES), plays a pivotal role in monitoring compliance with ISM, E8, AESCSF, CAF, CMMC, FISMA, RMF, DFARs and M-21-31. Here's how it enhances an organization's security posture:
Centralized Log Management:
Splunk Enterprise Security collects and analyzes log data from various sources across the organization's IT infrastructure. By aggregating logs from network devices, servers, endpoints, and applications our SIEM provides a comprehensive view of security events that can be correlated across disparate data sources. This enables efficient monitoring and ensures compliance with regulatory requirements while providing enhanced visibility across the entire enterprise.
Real-Time Threat Detection:
Splunk Enterprise Security employs advanced correlation and pattern recognition techniques to identify security incidents in near real-time. It helps organizations detect and respond to potential threats, including unauthorized access attempts, data breaches, or policy violations. By continuously monitoring compliance requirements, Splunk enables swift incident response to minimize the impact of security breaches.
Enhanced Incident Response:
Splunk Enterprise Security's detection capabilities coupled with Compliance Essentials and Splunk SOAR can ensure that incidents are responded to promptly. By identifying threats early and automating the response with Splunk SOAR playbooks the analyst is able to make more intelligent decisions quicker, thereby reducing Mean-Time-To-Respond (MTTR) and downtime while mitigating financial impact and reputational damage.
Proactive Risk Management:
Splunk Enterprise Security provides a proactive risk based approach to risk management. By continuously monitoring compliance controls, Splunk ES can identify security gaps and vulnerabilities. It enables organizations to take corrective actions promptly, enhancing their security posture and reducing the likelihood of regulatory violations.
Audit and Reporting Capabilities:
Complying with regulatory frameworks necessitates regular audits and reporting. Splunk Enterprise Security and Splunk Compliance Essentials streamlines this process by generating comprehensive reports that demonstrate compliance with ISM, E8, CMMC, FISMA, RMF, DFARs and M-21-31. These reports provide organizations and auditors with valuable insights into their security status, aiding in the identification of areas for improvement.
Improve Digital Resilience:
Splunk Enterprise Security with Compliance Essentials for Splunk offers actionable insights through advanced analytics and crucial reporting functionality. Leveraging this information, organizations can make informed decisions regarding security investments, risk mitigation strategies, and continuous process improvements. This data-driven approach enhances digital resilience and empowers organizations to stay ahead of potential threats.
Get Started with Compliance Essentials for Splunk!
Download Compliance Essentials for Splunk from Splunkbase today to get started on your continuous compliance monitoring journey! If your organization is concerned with ISM, AESCSF, E8, CAF, CMMC, FISMA, RMF, DFARs or M-21-31 using Compliance Essentials for Splunk is a vital step towards strengthening an organization's security posture. By centralizing log management, enabling real-time threat detection, facilitating proactive risk management, and supporting audits and reporting, Compliance Essentials for Splunk can help enhance organizational resilience and provide adherence to regulatory requirements. Embracing Splunk empowers organizations to protect sensitive data, maintain contractual obligations, and cultivate trust among their stakeholders in an increasingly complex cybersecurity landscape.