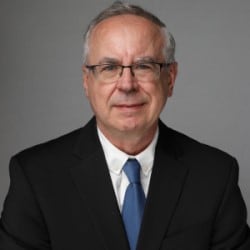 By Joe Hertvik January 30, 2023
Business is digital. And when it comes to critical IT operations, perhaps no two teams are more critical than:
The Network Operations Center, shortened to NOC and pronounced "knock"
The Security Operations Center, aka SOC, pronounced "sock"
Despite similar names and some overlapping responsibilities, both serve distinct and important roles in managing and protecting organizational networks.
This blog examines the real and practical differences between NOCs and SOCs, why most organizations need the functionality provided by both, and how each operations center protects your business needs and the network.
---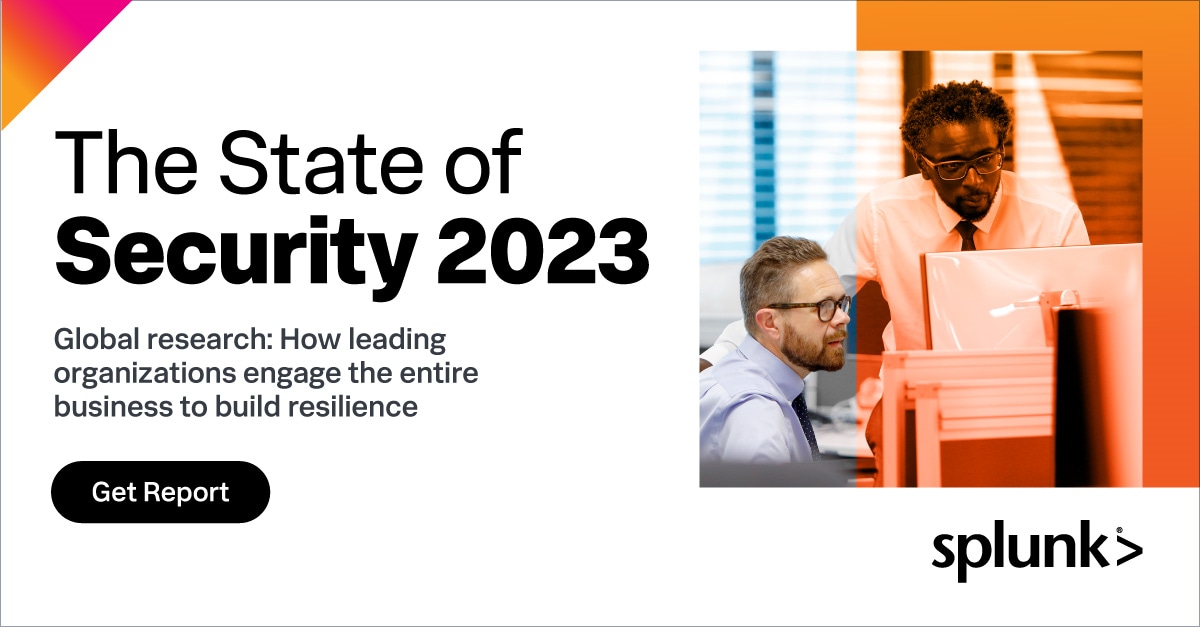 ---
Network & security operations centers: goals and responsibilities
NOCs and SOCs share two common goals:
To ensure the continuous availability of services, applications and data over your networks (private, public, hybrid, multi-cloud, etc.) and minimize downtime.
To prevent, detect and recover from service, application, and data failures caused by network problems, performance issues and cyberattacks.
Although they have similar objectives, NOCs and SOCs achieve these goals by monitoring different IT operational areas, with some overlap: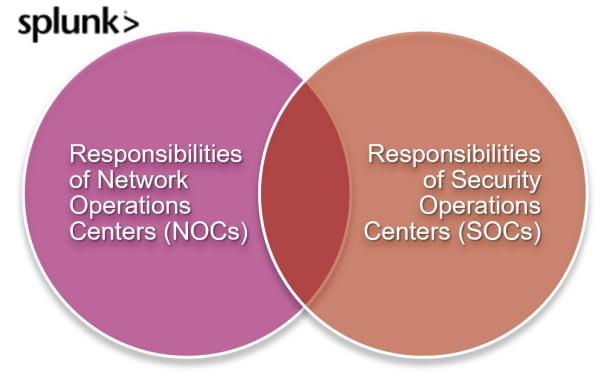 What Team NOC does…
A Network Operations Center focuses on network installation, maintenance, performance, and availability. Its job is to ensure that network access, servers, apps, and data are always available, and that they meet or exceed organizational needs and Service Level Agreements (SLAs). NOCs primarily focus on service and application delivery, operation, maintenance and prevention/recovery from operational and natural disasters: such as a flood, earthquake, fire, or service outage.
The classic NOC is a large, dedicated room looking out over or containing racks of network infrastructure hardware. They frequently feature a video wall that monitors various network health parameters and alerts NOC operators when network issues occur.
NOCs can be staffed internally, or they can be staffed by a cloud provider, managed service provider (MSP) or other third-party providers.
(See our Network Operations Center Guide for more information on the purpose, key roles, design and best practices of an NOC. )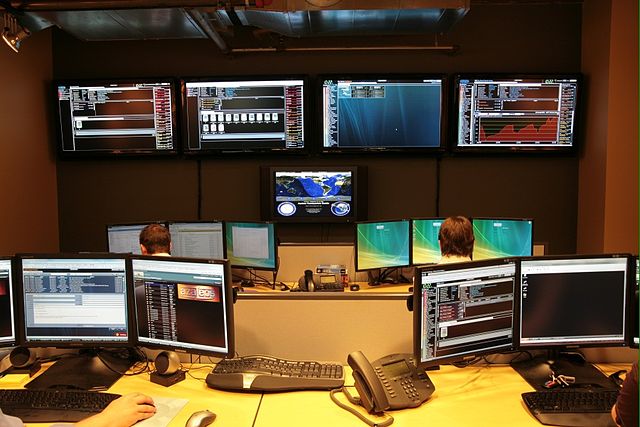 What Team SOC does…
A Security Operations Center focuses on all things security:
Threat detection, installation, maintenance, monitoring, analysis, incident response and forensics. SOCs ensure availability and protect your network by creating and continually improving the security architecture and infrastructure protecting your IT resources. They guard your network against human-engineered threats such as:
Malware
Hackers

Other cyberattacks
Like the NOC, a SOC is a centralized location where your IT security team works 24/7/365 to protect your IT resources. The SOC team can be internal, virtual or outsourced. Wherever the SOC is located, there is likely at least one person serving as the SOC Manager or Director.

(See our full Security Operations Center Guide for SOC-specific details.)
NOC vs SOC: What's the difference? Why do I need both?
We previously stated that the responsibilities for NOCs & SOCs have overlapping areas. Now, let's look closer at many of the responsibilities NOCs and SOCs fill to satisfy business needs. This table shows which responsibilities are overlapping, which duties are NOC-only, and which are SOC-only:
What NOCs & SOCs are responsible for

Responsibility

Network Operations Center (NOC)

Security Operations Center (SOC)

Focuses on

Anti-Virus, malware & ransomware remediation

✅ Yes

✅ Yes

Malware, viruses and ransomware detection and response

Audit compliance reporting

✅ Yes

✅ Yes

Documented compliance with internal & external audit requirements for IT assets

Availability

✅ Yes

❌ No

System/data backup & recovery, high availability, disaster recovery

Cyberattack root cause analysis

❌ No

✅ Yes

Analyze & understand the root cause of cyberattacks to prevent future attacks

Device & software management

✅ Yes

✅ Yes

Software/hardware deployments, installations, updates, troubleshooting & distribution

Enforce security policy

❌ No

✅ Yes

Security policy creation & enforcement

Forensic analysis of security & event log data

❌ No

✅ Yes

In-depth analysis from multiple sources looking for threats & security trends

✅ Yes

✅ Yes

Coordinate & implement incident response

Monitor and manage firewall & intrusion prevention systems

✅ Yes

✅ Yes

Installation, administration, update, penetration testing, ethical hacking, etc.

✅ Yes

❌ No

Monitoring network status, detecting network problems needing special attention and alerting incident response team when network events occur.

Network security surveillance

❌ No

✅ Yes

Detect security breaches and trigger incident response

Patching

✅ Yes

✅ Yes

Apply latest security fixes & patches

Performance

✅ Yes

❌ No

Monitor/maintain network speed & throughput to match SLAs

Provide security expertise

❌ No

✅ Yes

Consult with organizational entities, users, business partners, and outside entities to implement security methods and tools

✅ Yes

✅ Yes

Monitoring, tool deployment, incident response

Security trend analysis

❌ No

✅ Yes

Investigate & analyze security data to determine whether trends are developing around specific types of security alarm events

❌ No

✅ Yes

Modifying and maintain allow/deny lists for web sites, email & other processes
For smaller organizations and SMBs, a NOC is always required (if only informally), but an SOC is optional. In those organizations, the NOC-SOC Venn diagram may look like this:
These organizations have little-to-no budget for separate operation centers. Meaning the people who staff the NOC, out of necessity, also perform all the SOC duties. There isn't any choice.
As organizations scale up and become bigger in both their revenue (multibillion-dollar enterprises versus a sub-$500 million SMB) and their scope (number of internal users and customers), it becomes more critical to split NOC and SOC responsibilities. With growth, the jobs and responsibilities that could previously be handled solely by a NOC now need a separate function to handle security.
(See how Cal Poly scaled their SOC for university-wide visibility and ongoing security training and optimization.)
Do you need both NOCs & SOCs?
It's not a binary choice whether any enterprise needs a NOC or a SOC for business and network protection. All businesses need the services provided by NOCs and SOCs to ensure service levels, provide continuous availability, and guard against threats.
There are many ways you can protect your IT services and assets:
In some organizations, these goals are covered solely by a NOC that handles both NOC and SOC functionality.
Large enterprises employ separate NOC and SOC divisions to handle each need.
Others outsource NOC & SOC functioning to MSPs, third-party providers or cloud providers.
It doesn't matter how you organize your network and security. Only that you have the correct processes, infrastructure, tools and personnel in place to meet those needs, as outlined here.
---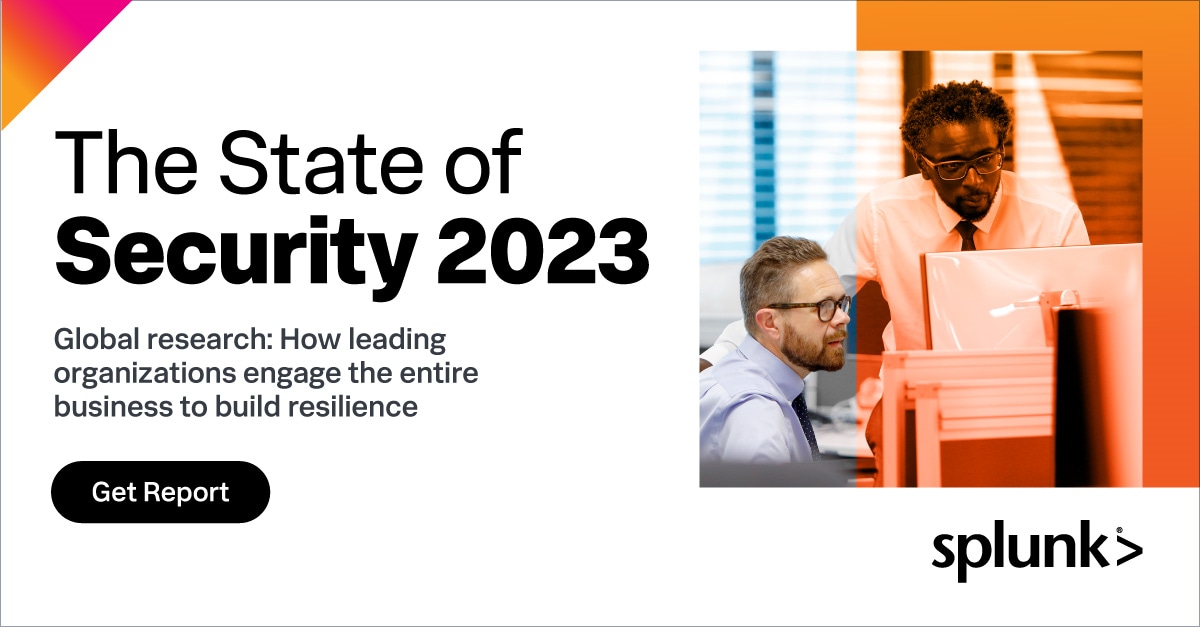 ---
NOCs and SOCs are valuable organizational tools that you can employ to structure and protect IT business services. Use and deploy them in the ways that make the best sense for your enterprise.
Splunk enables enterprise resilience with observability-driven, security-focused products and services. Already a Splunk user? Explore these self-service locations:
What is Splunk?
This posting does not necessarily represent Splunk's position, strategies or opinion.
---