By Teneil Lawrence April 19, 2023
As engineering teams continue to build applications in the cloud, they require increased visibility to ensure reliability and performance. But as teams look to scale their observability practice to support these new business needs, they are faced with new challenges: added complexity, loss of control, and steep costs. You can start to alleviate these challenges for your business and your team with the recent additions to Splunk Observability: Metrics Pipeline Management and Network Explorer within Splunk Infrastructure Monitoring (IM), and logs in dashboards within Splunk Observability Cloud.
With these latest enhancements, Splunk Observability Cloud provides deeper visibility into cloud and hybrid environments and helps teams centralize control over costs and usage as they expand observability and scale to meet new business demands–all within one unified tool.
Empower your Teams with Unified Observability While Controlling Cardinality and Cost
Outcomes aren't always improved as the data you collect increases. It might be the opposite. You could be left no better able to easily find what's broken in your environments even as you collect more data and spend more. You might also be feeling the consequence of excessive data collection as your queries slow down. Even with this realization, teams may find themselves struggling to regain control of the amount of data being collected. With Metrics Pipeline Management, Splunk users get the flexibility to control their metrics data at the point of ingest without any changes to agent configurations or edge-based data processing.
Take What You Need and Leave the Rest
From the new Metrics Pipeline Management UI, users can aggregate or drop metrics before they are ingested to keep the metrics they need, discard the non-critical, high cardinality metrics they don't, and ultimately reduce their metrics volume. You'll only pay for what you store after aggregation or filtering so that you can reduce your total cost of ownership. Aggregation and data filtering can be managed using pipeline rules that you can adapt and refine as business needs change.

Be the Hero - Give the Gift of Observability to More Users
With aggregation rules, you'll be able to consolidate the high cardinality metrics data you select into new metrics that require less storage and improve computational performance. Engineering teams will continue to have access to their familiar workflows, detectors, and charts within Infrastructure Monitoring after ingesting only the vital data. You'll have the flexibility to scale observability to more environments and distributed teams even as you control usage and costs.
Learn more about metrics pipeline management.
Understand Cloud Network Behavior to Quickly Isolate Problems in your Kubernetes Environments and Control Cloud Costs
In cloud and microservice environments, SREs and developers often struggle to find out whether an application or service problem is caused by the network, resulting in prolonged outages and poor MTTR metrics. At the same time, teams might be blind to the service dependencies and cross-zone traffic patterns that are breaking their cloud budgets. These environments demand observability tooling that can instantly track every service dependency and health metric so you can tell how infrastructure impacts distributed services. Network Explorer can help you do just that. Using Extended Berkeley Packet Filter (eBPF) technology, Network Explorer collects fine-grained network telemetry data and correlates it with application metadata to provide a real-time view of all known and unknown service dependencies.
Shorten the Time Between 'Uh Oh' and 'Eureka!'
Network Explorer leverages in-stream analytics to automatically detect and separate network outages from application issues in seconds. Users can quickly detect whether a service or application issue is caused by the underlying network and improve their MTTR. And the bonus - you won't have to change application code or container images since Network Explorer, like the rest of Splunk Observability Cloud, is built on OpenTelemetry.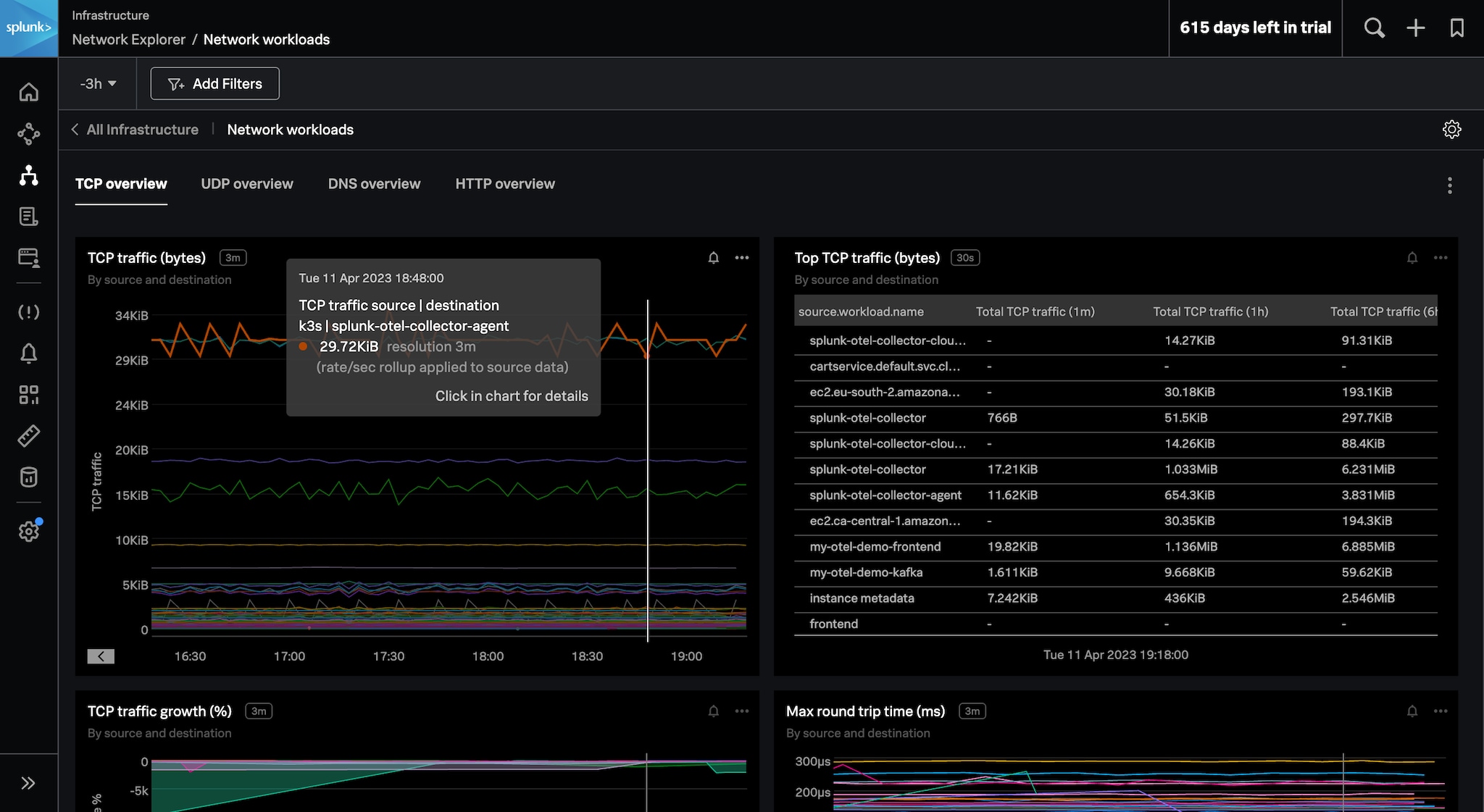 Get Rid of Those Pricey Service Traffic Flows
The Network Explorer service map details your service topology, even for services that may not be generating traces, for an out-of-the-box view across your environment plus the ability to double click into each one. It also includes new charts to visualize network errors, connection failures and resets, DNS data and HTTP responses, and network traffic amounts. Users are able to see historical cross-zone, cross-region, and egress traffic patterns. With this information, you can find cost efficiencies and optimize your traffic flows to control spending and avoid surprise charges from your cloud providers.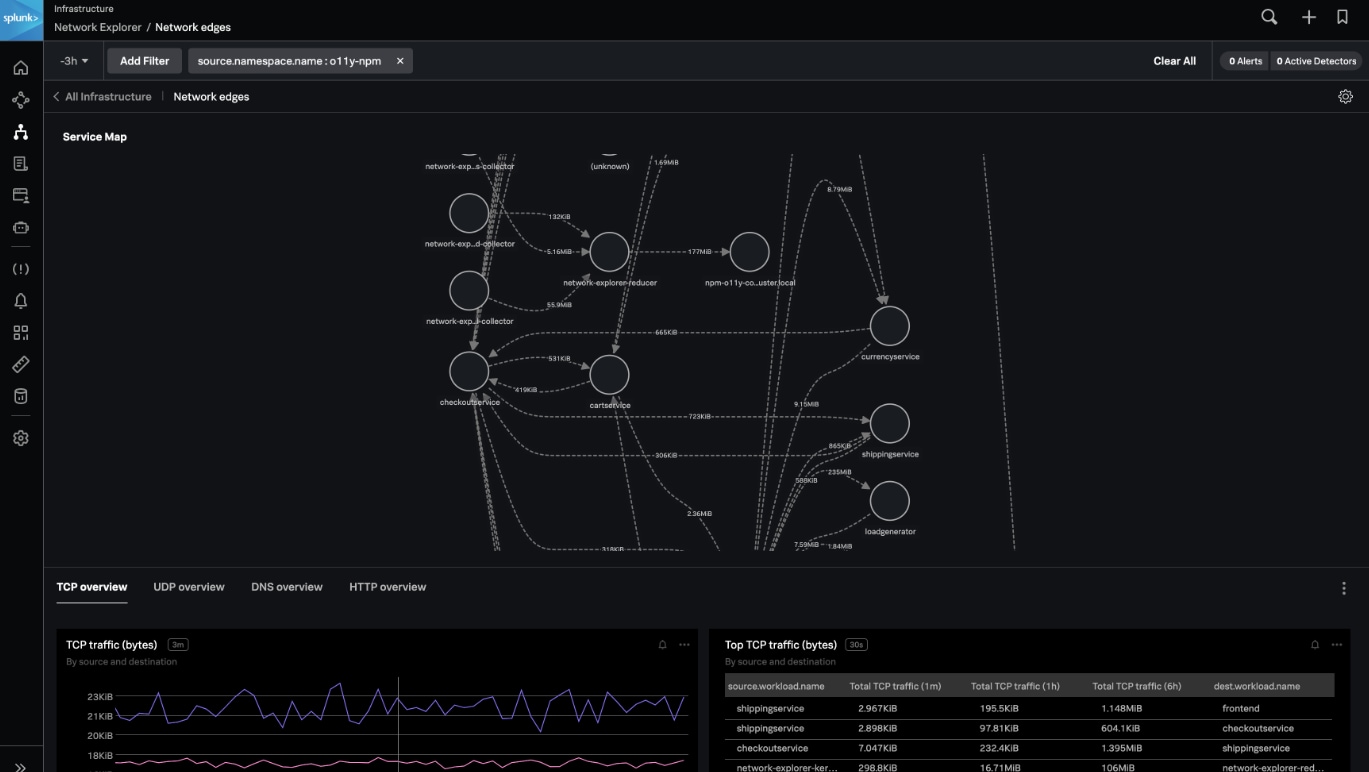 Learn more about Network Explorer.
Reuse Your Log Data to Accelerate Troubleshooting and Optimize Your Splunk Investment
Expansions in the cloud aren't slowing down, and when an issue arises in these hybrid environments, log data is critical to help engineering teams understand the 'why' behind the incident. Paired with real-time metrics in a single, unified experience, log data can help teams speed troubleshooting and resolution and optimize performance to prevent future incidents. But often teams may end up paying twice for the same log data they're already using to support IT and security use cases.
If your organization already uses Splunk Platform for logs, Log Observer Connect within Splunk Observability Cloud can seamlessly integrate your log data from Splunk Cloud or Splunk Enterprise. And with the new log timeline feature, along with log view, users can import their logs into their Splunk Observability Cloud dashboards and troubleshooting workflows to find and solve problems faster–without having to pay for the same data twice.
Explore Your Logs and Metrics in a Single View
Log timeline converts imported logs in Observability Cloud into a timeline chart providing faster, in-context root cause and trend analysis. With both log timeline and log view, users are able to filter log data and real-time metrics simultaneously in a unified UI so they can complete their troubleshooting journey in one place.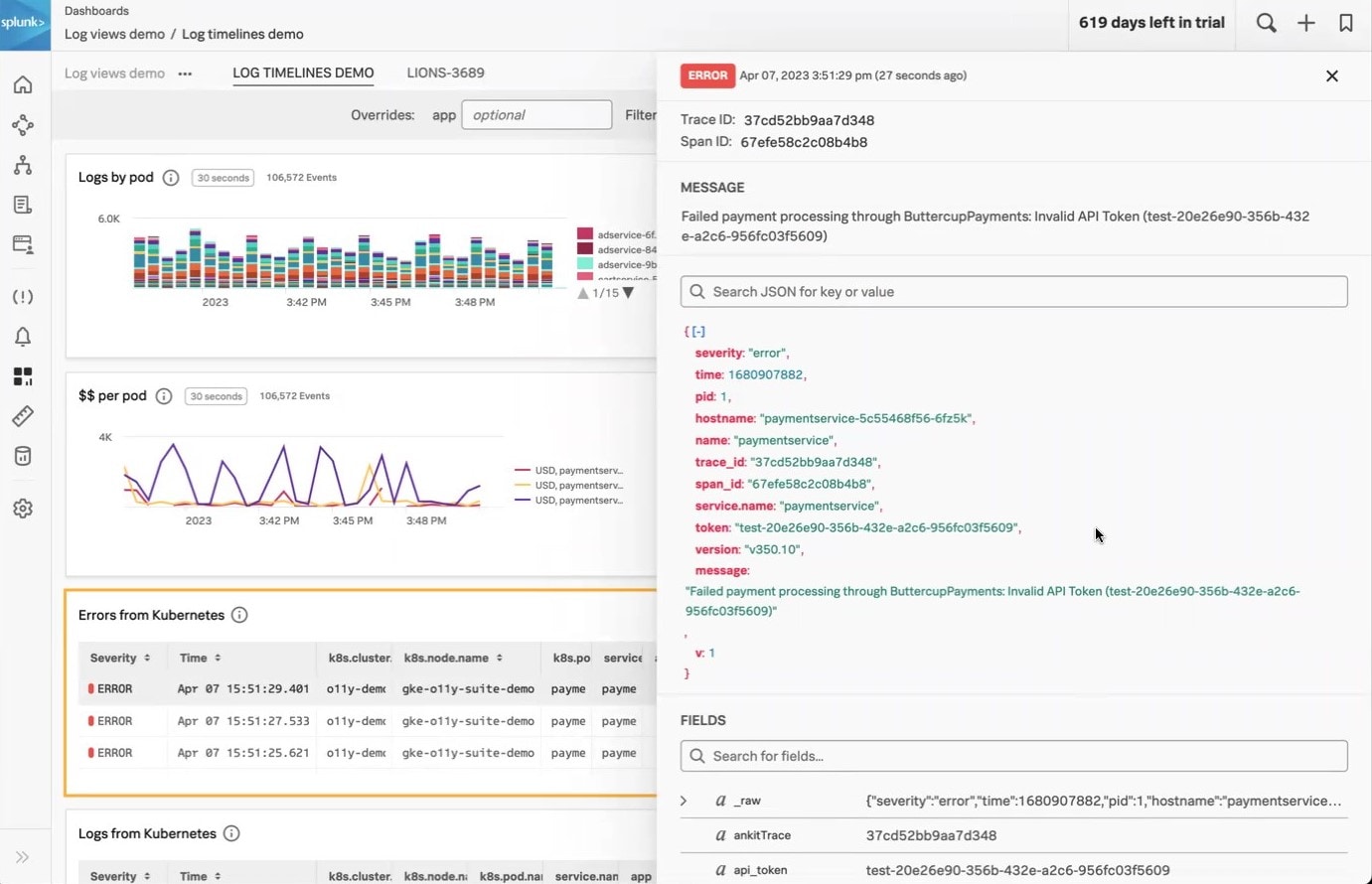 Learn more about log timeline and log view.
Make Splunk a Part of Your Village - Get Started with Splunk Observability Cloud
Splunk Observability Cloud unlocks faster innovation, troubleshooting efficiency, and improved customer experiences by empowering engineering teams with real-time, end-to-end visibility across their complex hybrid and multi-cloud infrastructure. Each of these new features is now available to Splunk Observability Cloud users. Metrics Pipeline Management is available to all Splunk Infrastructure Monitoring Enterprise customers or Standard customers who have Service Bureau Add-Ons. Network Explorer is also available to all Splunk Infrastructure Monitoring customers; customers might even be able to leverage existing, unused custom metrics entitlements to collect the network data.
Start your Splunk Observability journey today by signing up for a free 14-day trial!