use cases
Security Monitoring
Never miss a gap in your security posture with Splunk's flexible out-of-the-box or customizable correlations, searches and visualizations of all your data. See your full environment with real-time monitoring and harness the power of a single truth.

Analyst Report  |   Gartner Names Splunk a SIEM Magic Quadrant Leader
Don't miss a thing with continuous and automated security monitoring
Monitor at the Speed of Business

Use continuous monitoring, ad hoc search, static and dynamic searches, and visual correlations to determine malicious activity
Why Splunk for Security Monitoring?
Splunk identifies potential incidents, compromised systems or both by monitoring for vulnerabilities that lead to breaches. Better protect critical data to quickly understand and remediate malicious activity, such as multiple infections on a host.

Maintain a consistent and accurate monitoring process using Splunk's continuous monitoring capabilities that enable predefined correlation rules and the ability for security practitioners to easily customize rules.

Splunk helps organizations establish a historical baseline for audits and understanding the scope and data in your infrastructure while helping with compliance requirements.

Our business development team has a very strong reliance on Splunk Enterprise. They leverage a number of dashboards showing anonymized daily and monthly usage trends, geo distribution of logins per product, device types being used and more. This data helps drive our product and engineering decisions and allows us to continue to improve our products for consumers.
Previous
Next

Product Capabilities
Protect critical data through continuous monitoring and detection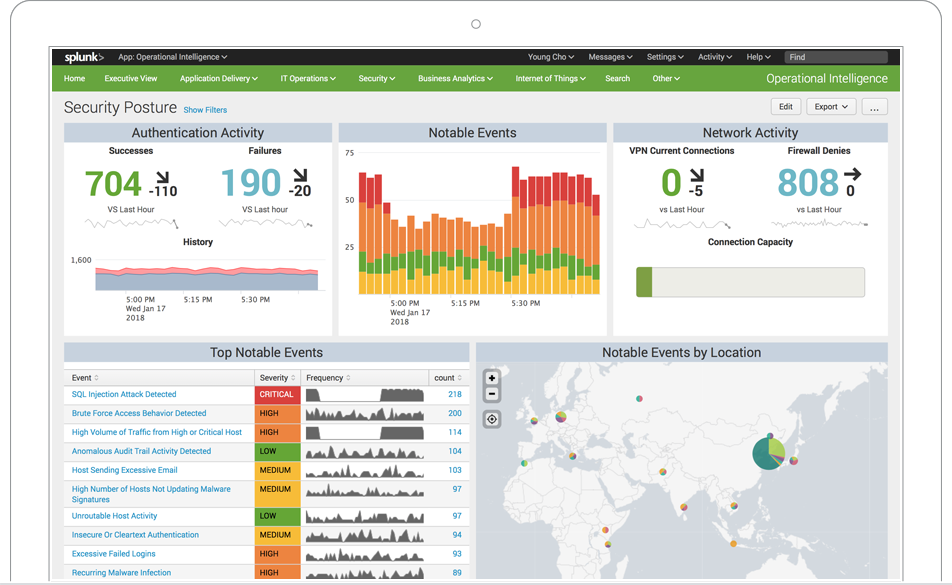 Flexible, Customizable Security
Simply use out-of-the-box or customized correlations, searches and visualizations of all monitored data in real time to get a clear perspective of your organization's security posture.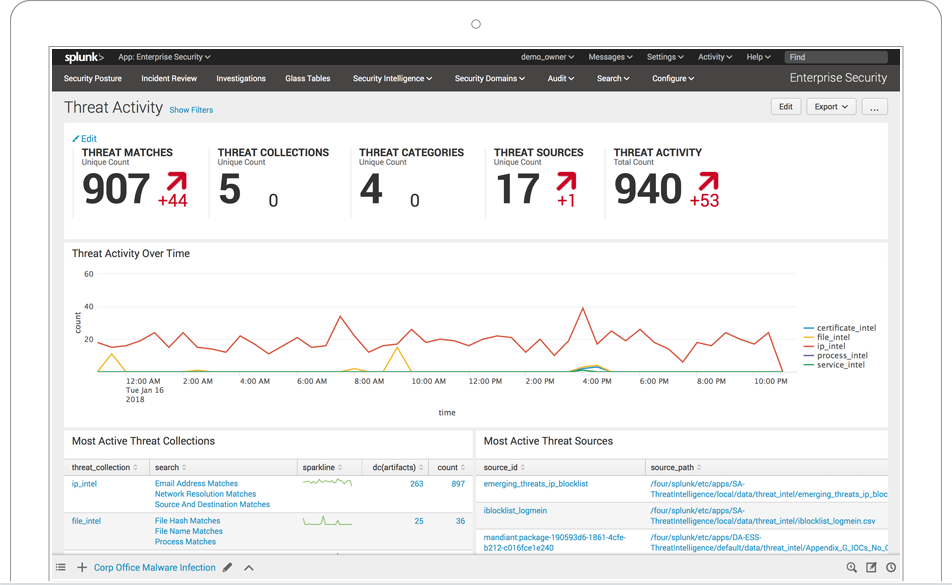 Scalable Analytics-Driven Monitoring
With machine data, analytics-driven insights, Splunk enables security analysts to accurately identify root cause and make informed decisions on issue remediation.

splunkbase
Enhance and See the Value of Splunk
Splunkbase enhances and extends the Splunk platform with a library of hundreds of apps and add-ons from Splunk, our partners and our community.
A good way to start to learn how Splunk can be used for many security use cases in your environment is by downloading the free trial of Splunk Enterprise and free Splunk Security Essentials app to see the power of Splunk's Search Processing Language (SPL) showcased with security use case examples in Splunk. Each use case includes sample data and actionable searches that can immediately be put to use in your environment.