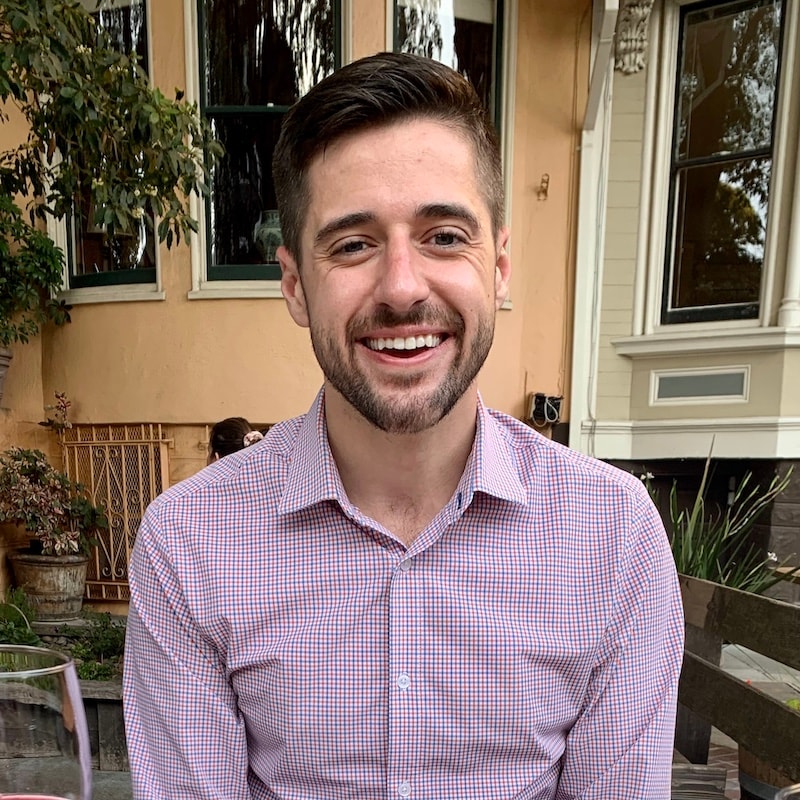 By Spencer Baker October 27, 2022
Automatic UI Updates (AUIU) is a new cloud service that allows admins to get the most up-to-date UI experience between Splunk Cloud upgrades. Cloud admins gain early access to newly enhanced self-service tools through the AUIU opt-in service. Specified AUIU enhanced pages and tooling can now be delivered to customers up to three months faster.
AUIU is a delivery service that allows for new UI pages and UI improvements to be integrated into Splunk Cloud deployments for specific enhanced admin pages. Newly created admin UI pages will be AUIU enhanced, and some existing pages will become AUIU enhanced over time. Once an admin opts into AUIU they will receive the most up-to-date content on all of the enhanced pages going forward.
These enhanced UI pages of self-service tools control more of an admin's cloud environment so that admins don't have to create a Splunk Support ticket for certain tasks. For example, managing IP Allow Lists required opening a support ticket, which can now be done in the UI by sc_admins. Additionally, UI adjustments to pages within AUIU are deployed immediately.
New enhanced UI pages in the AUIU service are released with the same development and testing standards. Future UI adjustments to AUIU enhanced pages will use this immediate deployment method. A cloud UI issue reported today can be fixed in your environment tomorrow.
Enable Automatic UI Updates
To enable AUIU, cloud admins navigate to the Automatic UI Update option in the main setting menu in Splunk version 8.2.2109 or higher. Change the toggle to "on" and press "save." Now, new developments on specified AUIU pages will automatically load between Splunk upgrades. See below for screenshots for this step: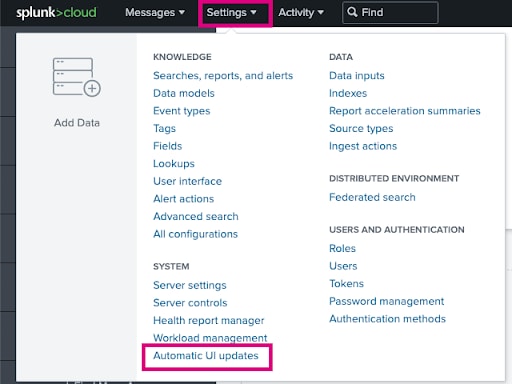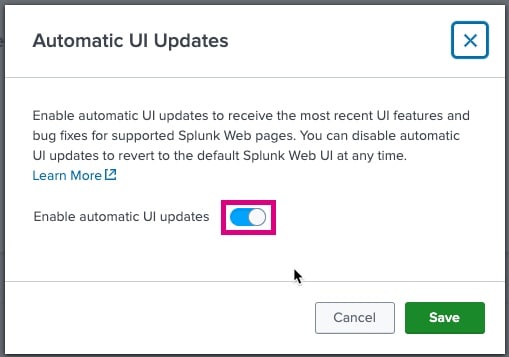 Currently, a select subset of admin pages are AUIU enhanced. With Automatic Updates enabled, these pages will always load the most up-to-date UI version. (Further page details are at the end of this post.):
IP Allow Lists
Webhook Allow List
Dashboards Trusted Domains List
Uploaded Apps Page
Limits UI Settings (coming soon)
Using Automatic UI Updates
To get AUIU enhanced self-service tools, any users with the sc_admin role can opt into AUIU on their cloud stack. Once an admin has opted into AUIU, there are no additional required steps to benefit from the service.
Although we can deliver page updates quicker with AUIU, we recognize there is still a potential for issues. If you happen to experience any issues on an AUIU enhanced page, you can always toggle the service off. After disabling AUIU and reloading the page in question, Splunk Cloud will load the original version of the page that shipped with your current Splunk version. Please create a support ticket so the engineering team can investigate.
The required fix for an issue could take less than a day with this new deployment process. You must have AUIU enabled for any page adjustments to load in your environment before that fix will be reflected in a future Splunk release.
The AUIU service is only active on the UI layer of Splunk Cloud. Any change an admin makes on an AUIU enhanced page while AUIU is enabled will continue to persist even after AUIU has been disabled.
Growing Automatic UI Updates
Newly created pages or UI adjustments delivered with AUIU are also included in future Splunk releases. This new delivery method is designed to give admins as many self-service tools and updates as possible without waiting for an official Splunk release.
If you have a suggestion to improve AUIU or ideas on which pages would benefit the most with AUIU, please use ideas.splunk.com to submit and up-vote the best ideas. Additional resources can be found in the Splunk Community or within Splunk's User Slack Group.
Best,
Spencer
Senior Product Manager
---
Additional Details on AUIU Pages
Configure Limits
Edit global configurations from Limits.conf within the UI
AUIU opt-in available in 9.0.2209
Generally available is still TBD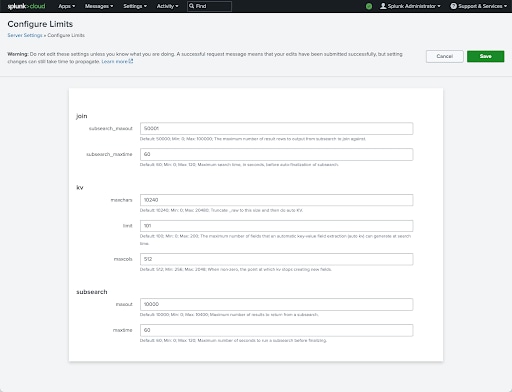 IP Allow Lists
Create, update, read, and delete IP addresses that can interact with Splunk.
AUIU opt-in available in 8.2.2201
Generally available in 8.2.2203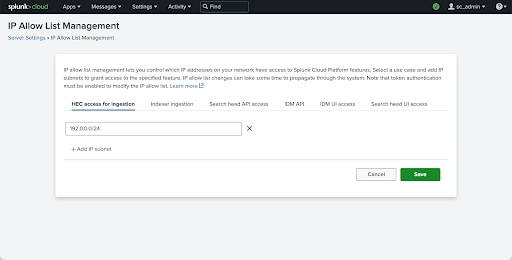 Webhook Allow List
Provide domains that webhooks are permitted to send data to.
AUIU opt-in available in 8.2.2203
Generally available in 9.0.2205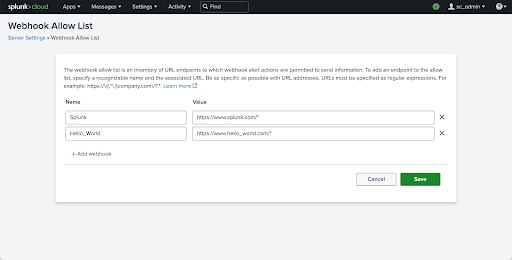 Dashboards Trusted Domains List
Provide domains that users can import images from into their dashboards.
AUIU opt-in available in 9.0.2208
Generally available in 9.0.2212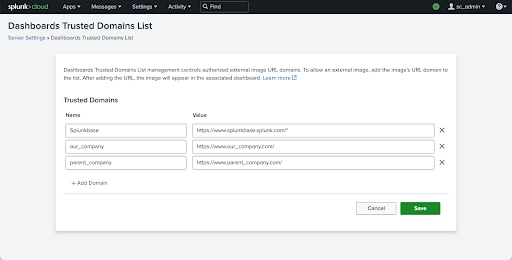 Uploaded Apps Page
Upload, install and upgrade new private apps
Generally available in 8.2.2109