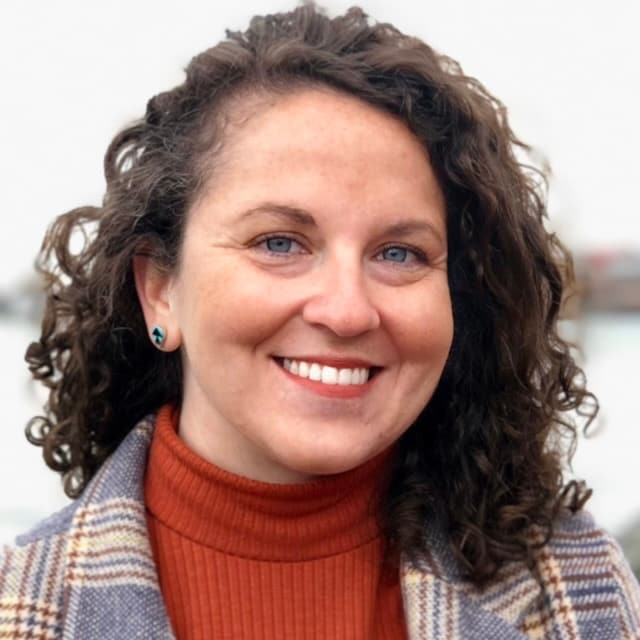 By Chrissy Kidd May 04, 2023
Before the internet, how did trends happen? If no one documented trends, were there trends? Today's trends go from on-screen to IRL in a split second, as influencers, international brands and regular people like you and me all meet on social media to see the next cutting edge.
For over twenty years, one person was closely tied to the concept of internet trends: Mary Meeker.
Who is Mary Meeker?
The "Queen of the Internet", venture capitalist Mary Meeker published heavily researched reports that expanded significantly over time. These reports covered everything related to the internet.
From how many Americans were online in the mid-1990s to the most common at-home internet plans, cell phones and in-demand web browsers. (Remember surfin' the net on dial-up?) Over time her reports and investments triggered all sorts of press attention: she's been covered by TechCrunch, Vox, Barron's and plenty of other major publications.
But how did she get this far?
---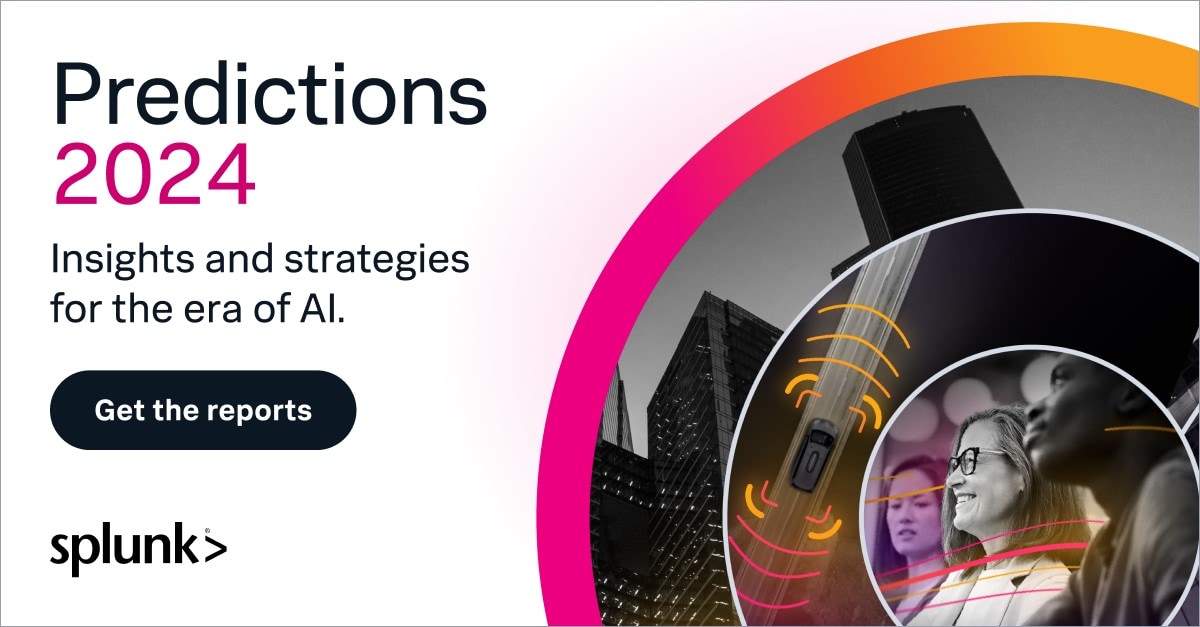 ---
Meeker's career started in the early 1980s at Merrill Lynch, where she worked as a stockbroker. After earning an MBA in Finance from Cornell, she focused her analyst work on the booming technology sector. Within a few years, her niche was the rise of the personal computer and surveying the emerging consumer software industry.
Meeker stayed busy with Morgan Stanley, where she managed the Netscape IPO in 1995 and released the inaugural "The Internet Report" with colleague Chris DePuy the next year. This report became the foundation for similar research Meeker did into topics like e-commerce, search engines, mobile internet and the internet in China.
Even in the early days of these reports, the sheer scale was impressive — but she didn't merely assemble all this information, it was what she highlighted and even predicted with all that information. As Andrew Serwer wrote in Fortune in 2006:
Meeker is "absolutely first rate when it comes to spotting big-picture trends before they come into focus. She gathers massive amounts of data and assembles it into voluminous reports that, while sometimes rambling and overambitious, are stuffed with a million jumping-off points."
Eventually, Meeker left Morgan Stanley to join Kleiner Perkins, where she remained for several years, until starting her own VC firm BOND Capital in 2018. And that brings us to the last Internet Trends Report, which Meeker discusses here:

What happened to Meeker's internet trends reports
The last official one was published in 2019. Surprisingly (at least to us), no one else has moved in to fill this void. So, let's take a historical lookback at these reports and then do a little bit of our own research reflecting The Internet Today, in 2023.
First up, let's take a look at how the world has not yet forgotten about these reports. Google Trends indicates search interest in a given topic. Here, we look at two search terms, globally, going back almost 20 years.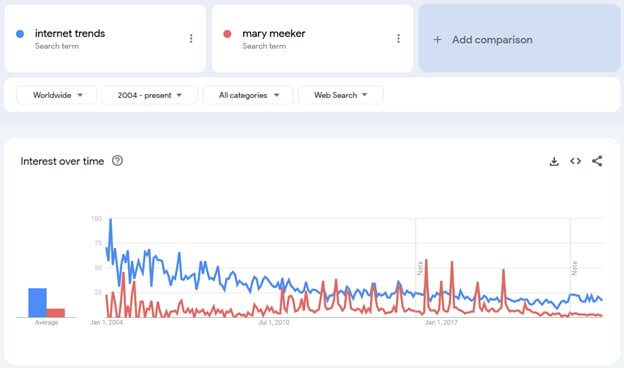 Those red spikes? Every June, search interest for Mary Meeker would surge as people waited for the release of that annual report — which happened every June for quite a few years. In 2023, still to this day, people are looking for these reports. In smaller numbers, sure, but there are still those who remember the glory days.
"The Internet Report" (1995)
The first Internet Trends report was a behemoth out of the gate, getting started with 322 pages. Fans would get used to this incredible mix of first-person predictions in concise, sometimes cutting prose and pages and pages of data, well-organized to enable you to drill in on just what you want.
The Table of Contents alone is a stroll down memory lane, with sections dedicated to:
Features and uses of the Internet
Infrastructure and data networking, from worldwide and ISP infrastructure to the customer
Consumer trends, like worldwide connectivity, internet host growth, regional growth, browser and operating systems and at-home hardware like PCs and modems
Stock across internet-specific, internet-related, media and technology firms
We particularly like that this report starts off with a "Trail Map": directions on how to read the report, depending on your knowledge and experience and what (or who) you're seeking to impress: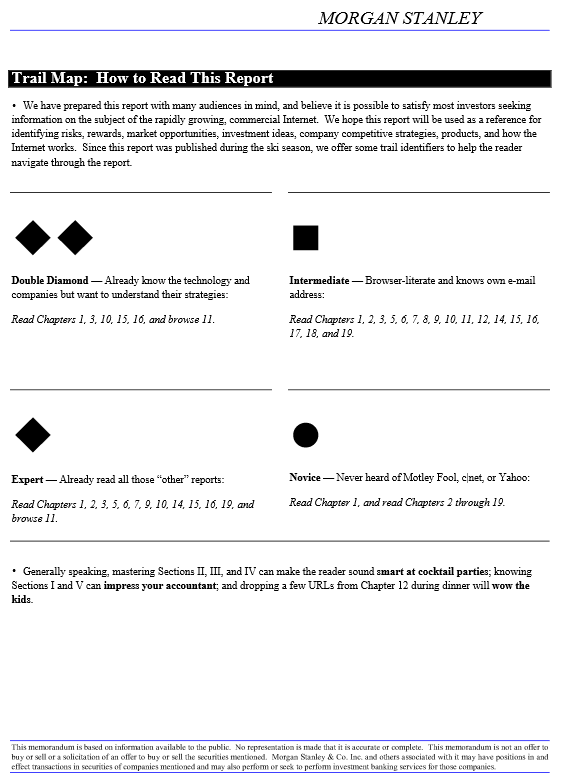 Just for fun, let's look at some examples. In 1995, Meeker and McPuy indicate how technology analysts are used to change. They point to the debut of the minicomputer and the original Macintosh, the emergence of the PC, the "pervasiveness of the spreadsheet, the invasion" of ATMs and the "rapid acceptance" of Windows.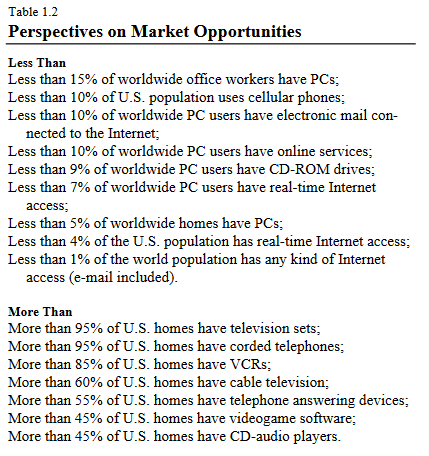 (Meeker and McPuy applied a less than/more than perspective to indicate market opportunity. This example is from mid-1995. Imagine what work-from-home would mean with so few people having real-time Internet access.)
In regards to the rise of the internet, the authors write:
"Other social issues involving community standards, social policy, privacy, and other legal issues will also arise? How will the emergence of a new anarchistic medium affect society? How will government deal with equal access to Internet facilities? How will the law deal with the "big brother" aspects of the Internet?"
Indeed, nearly 30 years later, we do not have clear answers to most of these questions.
Internet Trends Report (2019)
Now let's fast forward nearly 25 years, almost to today — but not quite. The 2019 report totaled 333 slides, freely available for download. Much remains the same: lots and lots of stats, punctured with context and helpful predictions.
Just a quick look at this table of contents illustrates exactly how The Internet has worked its way into our personal and professional lives, into education, immigration and healthcare, and, for some, could even have a geopolitical story to tell: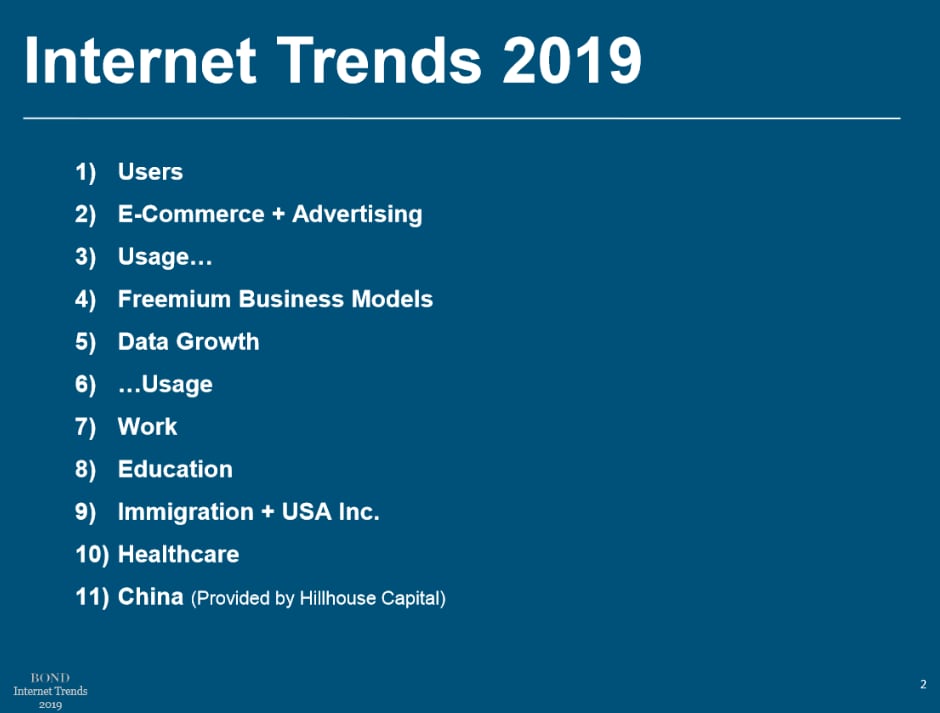 It's common for different media outlets to comb through big reports like this and pull out facts that are most relevant to their audience. This roundup from Rani Molla at Vox sums up some super interesting costs that reflect the internet as most closely resembles today.
A majority of the world was online by 2019. Information indicates that less than half (49%) of the global population was online in 2017. Though growth started slowing, by 2019, some 51% — that's 3.8 billion people — were internet users. (Scroll down to see today's percentages.)
At that time, seven of the 10 most valuable companies by market cap were tech companies (take a guess who). The "non-tech" companies included Berkshire Hathaway, Johnson & Johnson and Visa.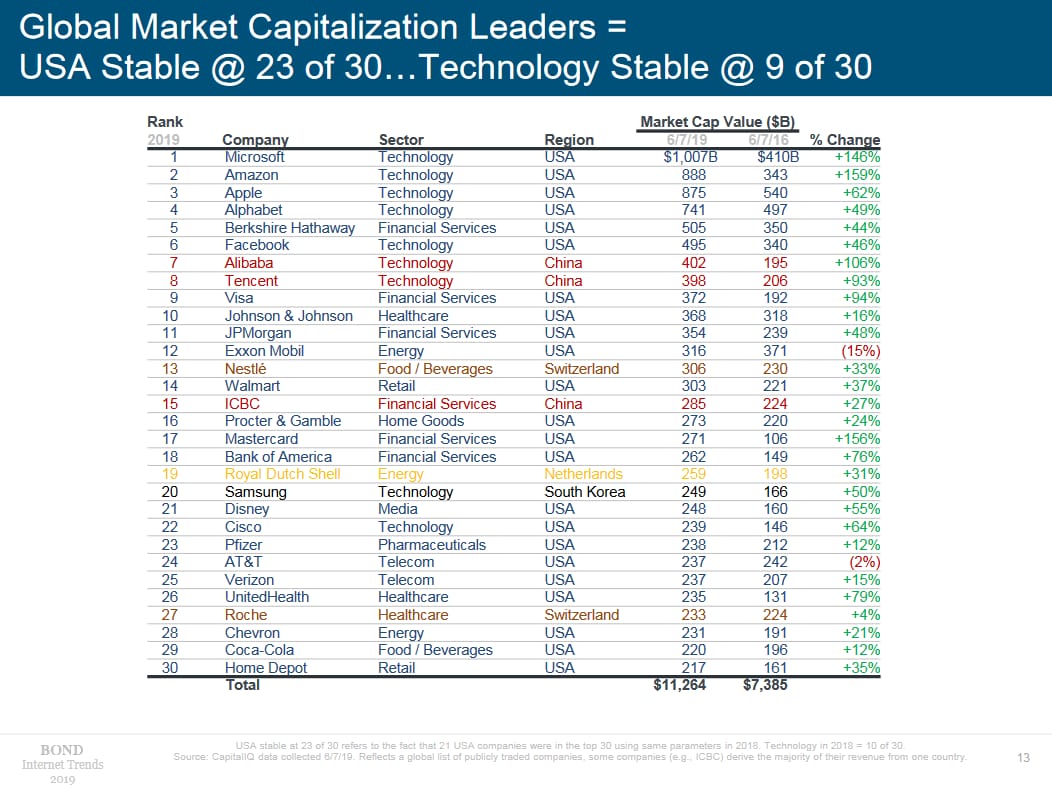 Spending on internet ads accelerated, totaling ~$90 billion by 2019, with a little over a third of that going to desktop-based ads and the majority going to mobile ads.
Cost to acquire new customers increased. Meeker points out that, in some cases, this is unsustainable: the cost to acquire a single new customer was actually sometimes surpassing the long-term revenue that customer would bring.
Americans spent 6.3 hours a day online in 2018, on average. This is a steady increase over time, with that growth often coming from mobile devices and non-traditional paths (versus desktop/laptop usage). People seemed to paying more attention to the time spent online, realizing perhaps it isn't all positive.
87% of all global web traffic was encrypted. From 2016 to 2016, global web traffic encryption increased 53%, likely as governments and standards began requiring more encryption.
Here's our favorite 2019 prediction: "Health care is steadily becoming more digitized. Expect more telemedicine and on-demand consultations."
We know from hindsight that the COVID-19 pandemic affected the entire world and finally put a spotlight on telemedicine and on-demand consultations. That's something many people continue to opt for today.
---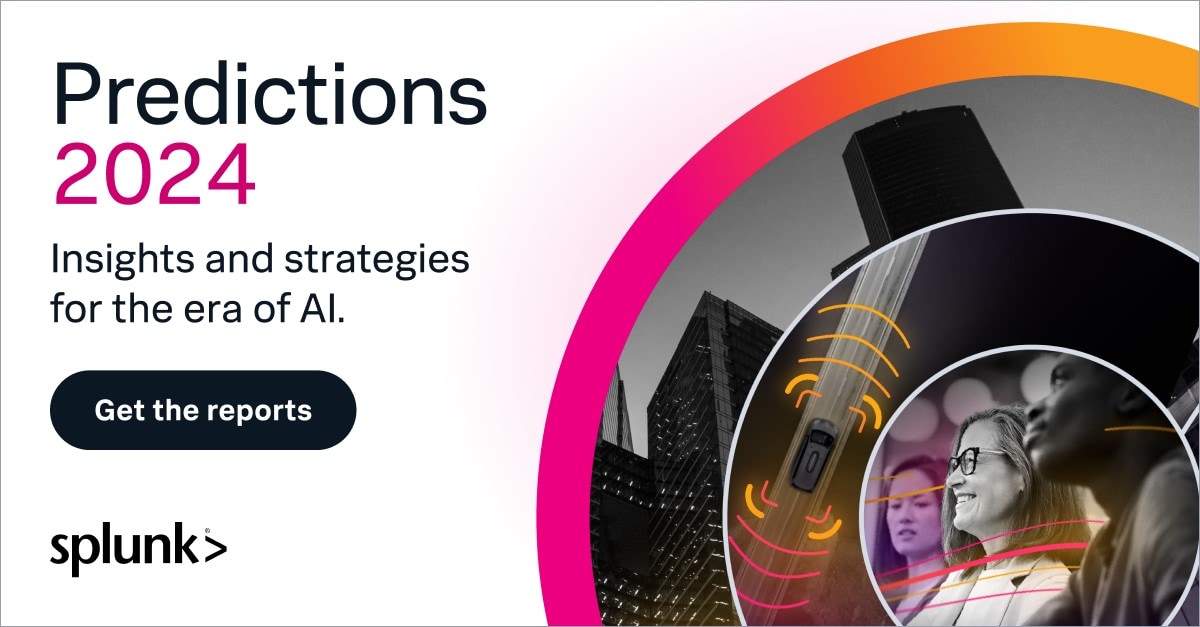 ---
Internet trends in 2023
Now let's look at a few of these numbers today, that we've verified on our own. Here's what we can tell you about the internet in 2023. Next, you can drill into our roundups of cybersecurity trends and IT/tech spending trends.
2018-2019

2022-2023

Global internet users

3.18 billion global users

(51% of world population)


(Nearly 65% of world population)

Most valuable companies by market cap

7 tech companies

3 non-tech companies

9 tech companies, including Tesla & Taiwan Semiconductor Manufacturnig

1 "non-tech" company: Berkshire Hathaway

Time Americans spend online, per person

6.3 hours a day online

Encrypted web traffic

87%

90-95%

Spending on internet ads

~$90 billion

~$209.7 billion
*Our hunch? Most Americans were already spending a lot of time online. Countries that were online in smaller numbers 10 years ago, however, are more likely to see more growth in this number.
All Internet Trends Reports
You can access all of the 22* Internet Trend reports here, available for browsing and downloading:
*Note: no reports released from 1998-2000. There are a couple additional Special Reports:
Dig in for yourself and see what you uncover.
What is Splunk?
This posting does not necessarily represent Splunk's position, strategies or opinion.