Upcoming Webinar: 4 Data Sources to Improve your Security Posture
Stop the Threats From Within
Insider threats come from current or former employees, contractors, or partners who have access to the corporate network and intentionally or accidentally exfiltrate, misuse or destroy sensitive data. Because these insiders are already inside your organization, they often use legitimate credentials and permissions to access and download sensitive material and thus evade detection from traditional security products.
Splunk can help you detect and defeat insider threats in the following manner:
Alert when user actions or patterns are seen that are indicative of insiders inappropriately obtaining sensitive data or exfiltrating it via the network or endpoint
Alert when outliers are seen off of a baseline of what is normal behavior for a peer group, as these outliers may be insider threats
Initiate automated mitigation once an insider threat has definitively been identified
Complement other security technologies which may not be able to provide full visibility into a user's internal actions, or may be circumvented by the insider
Rapid investigation of insider activity by searching through weeks or months of historical event data to quickly determine the scope, intent and severity of the user's actions
Detect cyber-attacks with an out-of-the-box User Behavior Analytics solution that leverages data science and machine learning
Insider Threat Patterns
Insider threat patterns vary, so Splunk software lets you create unique searches tailored to your specific business in order to detect these threats. Here are a few examples of what an insider threat pattern might look like. You can easily turn each of these patterns into real-time searches using Splunk software to generate alerts if your predetermined search parameters are met. These types of patterns can also be combined for even greater accuracy.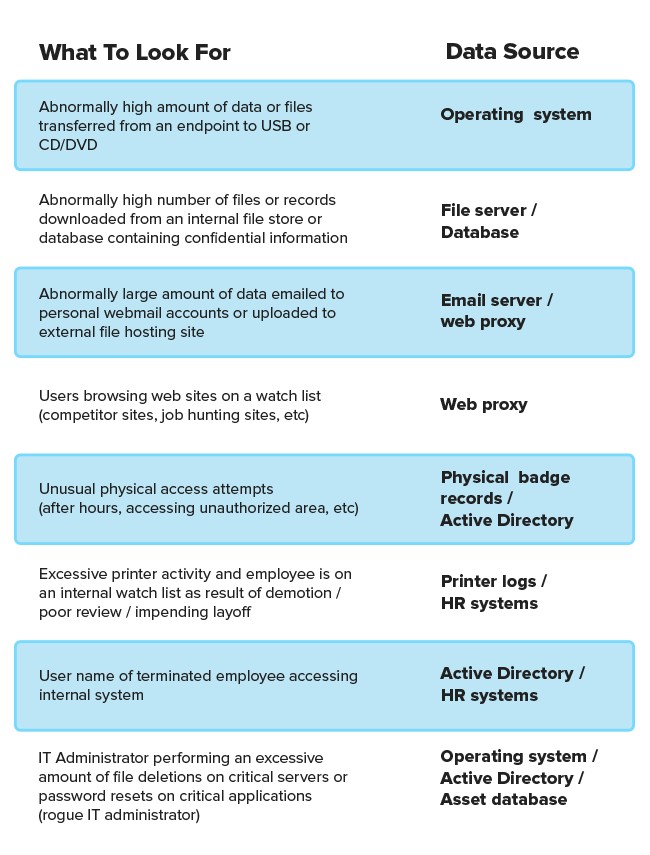 Detecting Insider Threats at a Financial Institution
Learn how a financial institution used Splunk to effectively monitor contractors to detect potential security breaches before they could impact the confidentiality of customer data.

Read the Customer Profile
Splunk Enterprise Security
A fast path to detecting insider threats is Splunk Enterprise Security which has pre-packaged content and capabilities for a wide range of SIEM use cases, including user activity/access tracking. This app includes pre-built searches and dashboards to identify suspicious user activity, visualizations to investigate users, and the ability to integrate with Active Directory or a human resources database to obtain additional detail about an employee which can be then be incorporated into correlation searches, risk scoring, or investigations.  
Learn More
Splunk Enterprise Security Tour
User Activity

Identity Investigator

Identity Center
User Activity
Use risk scoring and anomaly detection to view suspicious user activity that could be an insider threat or an external threat that has breached the organization and stolen legitimate user credentials. A single click on any page goes right to the raw event to see more detail.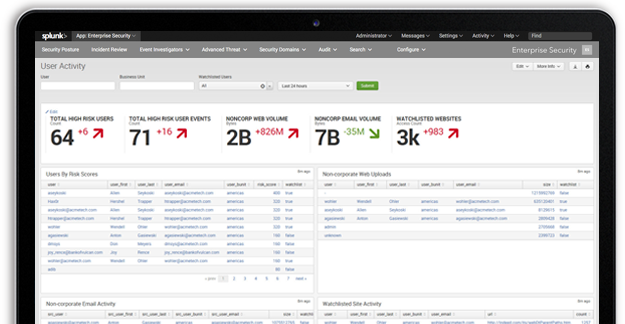 Identity Investigator
Quickly see related activities performed by a user over a given time period to better understand the context and intent of their actions. If a malicious action occurs, you can quickly determine the scope and severity and whether data loss has occurred.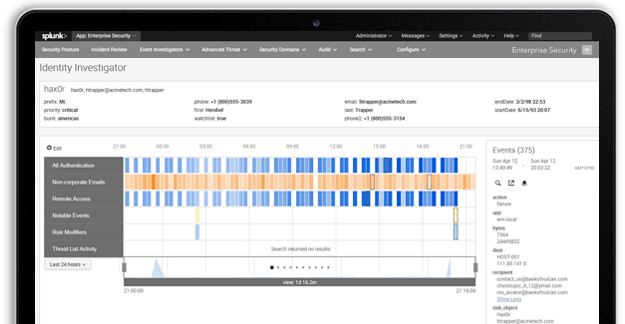 Identity Center
Splunk can integrate with and leverage employee information from Active Directory or an HR database. This can be used to improve detection accuracy by creating detection rules applying only to individuals in a certain role or department, with privileged access, or on a watch list. This can also be used to correlate multiple user credentials back to a single employee.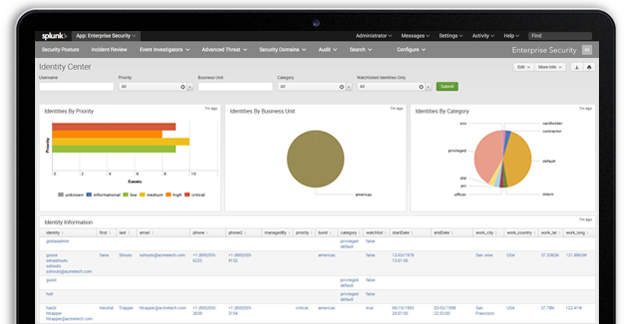 Ask a Security Expert
Need help with your environment and requirements? Send us your questions and we will get back to you as soon as possible.
If you need immediate assistance, check out our community forum, Splunk Answers.
Contact Us