Overview
Splunk Hadoop Connect lets you quickly deploy Splunk® Enterprise and then reliably forward events to Hadoop for long-term archiving and additional batch analytics. Now you can stand up reliable, secure, enterprise-grade big data projects in days instead of months.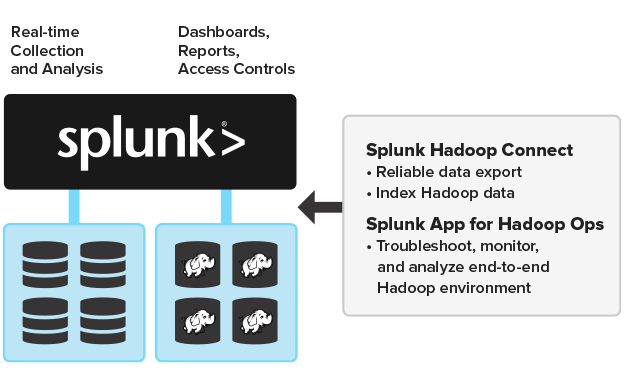 Export events collected and aggregated in Splunk Enterprise reliably to HDFS
Explore and browse HDFS directories and files
Import and index data from HDFS for secure searching, reporting, analysis and visualizations in Splunk
Export. Explore. Import.
Splunk Hadoop Connect delivers three core capabilities: export, explore and import.
Export Events to Hadoop
Collect and index massive streams of machine data in real time and send events in a reliable and predictable way to HDFS for archiving, further processing or batch analytics.
Explore Directories & Files
Browse, navigate and inspect HDFS directories and files from the Splunk Hadoop Connect user interface.
Import and Index Data
Import and index Hadoop data into Splunk to make it available for searching, reporting, analysis and visualizations. Gain rapid insight and analysis without MapReduce code.
Ask a Big Data Expert
Need help with your environment and requirements? Send us your questions and we will get back to you as soon as possible.
If you need immediate assistance, check out our community forum, Splunk Answers.
Contact Us