5 Automation Use Cases for Splunk SOAR
The security operations center (SOC) is constantly overwhelmed. Analysts are drowning in security alerts, with far too many threats to investigate and resolve. Security operations work is rife with these types of monotonous, routine and repetitive tasks — especially at the tier-1 analyst level. To make matters worse, there's a significant shortage of cybersecurity professionals, making it that much harder to respond to the thousands of alerts that come in daily.
Fortunately, your security team can go from overwhelmed to in control with Splunk SOAR. You can eliminate analyst grunt work, streamline your security operations, and detect, triage and respond to alerts faster than ever.
Download your complimentary copy of "5 Automation Use Cases for Splunk SOAR" to learn: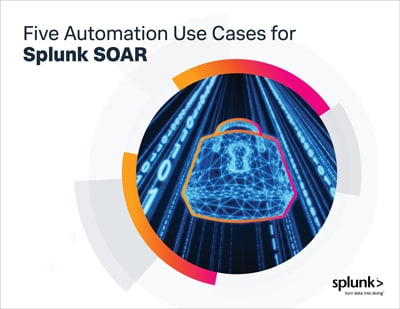 About the five most common use cases for SOAR.
How a SOAR solution can help your analysts tackle the most repetitive tasks.
How to automate these steps using a pre-built playbook from Splunk SOAR.