Splunk Executive Briefing Center
Experience the power of Splunk
Our mission is to make machine data accessible, usable and valuable to everyone. Experience the power of Splunk first-hand by joining us for a personalized briefing that takes you inside the technology, people and culture that makes Splunk so special. Our Customer Briefing Center team will work closely with your Splunk account manager to build a customized experience based on your specific needs, expectations and goals.
Together we can…
Build Stronger Relationships
Splunk executives and product management teams are on site to get to know you and your business objectives. We can schedule a program tailored to your specific industry and business needs.
Share Business Insights
Chances are that the business challenges you are experiencing today are not unique. We can share solutions and best practices to help you maneuver in a rapidly changing business environment.
Imagine the Possibilities
Our customers tell us that with the Splunk platform for Operational Intelligence they are only limited by their imagination. Experience the power of Splunk with product demonstrations that can inspire new solutions to your most pressing business needs, today and in the future.
"I can't think of a better way to experience the power of Splunk than within our own Customer Briefing Center. We see the wave of digital transformation impacting every industry and every enterprise, with the amount of data being generated exploding and no slow down in sight. Getting a chance to more tangibly feel and see this impact and translating it directly to business advantage and benefit is part of our CBC experience. Splunk is deeply committed to enabling our customers to easily and cost effectively collect, analyze and get maximum value from that data."
Doug Merritt, CEO Splunk
Schedule a Visit
Please contact your Splunk account manager today to plan your visit to our new state-of-the-art Customer Briefing Center. We look forward to partnering with you!
FAQs
Car Rental
Car Rental at San Francisco Airport (SFO)
All major car rental companies are located at the Rental Car Center and accessible by taking the AirTrain Blue Line.


780 N. McDonnell Road
San Francisco, CA 94128
Reserved Parking for Customers
For customers driving in, we have reserved parking spots in the parking lot behind the building. Please let your Account Manager know how many cars will need parking for the day of your meeting.
Directions
41 Federal Street, San Francisco, CA, 94107
Head northeast on Brannan Street toward Delancey Street
Take the 1st left onto Delancey Street
Turn left onto Federal Street
Parking garage on the left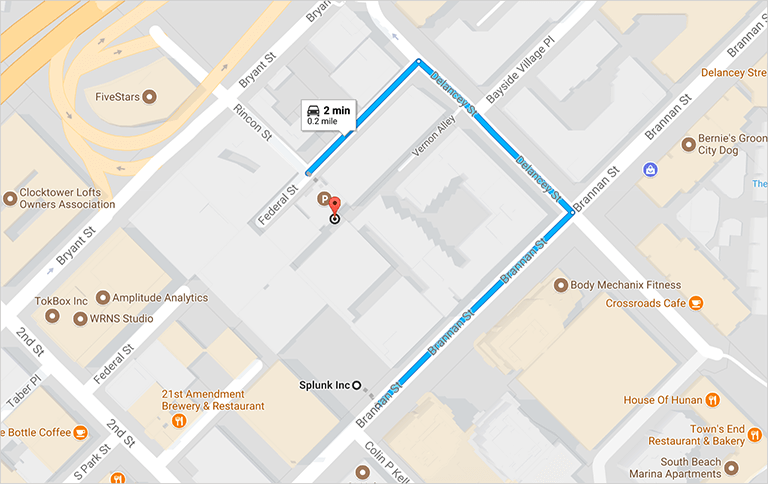 Please follow the yellow path to the lobby and go down the hallway through three sets of doors.
After the last set of glass doors, exit to Brannan St and proceed right towards Splunk HQ, 270 Brannan Street.
Hotel Recommendations
Hotel Vitale
1 mile
8 Mission St.,
San Francisco, CA 94105
415.278.3700
www.hotelvitale.com

Marriot Marquis
1 mile
780 Mission St.,
San Francisco, CA 94103
415.947.0700
www.marriott.com

San Francisco Harbor Court Hotel
1.1 mile
165 Steuart St.,
San Francisco, CA 94105
415.882.1300
www.harborcourthotel.com

Hotel Griffon
1.2 mile
155 Steuart St.,
San Francisco, CA 94105
415.495.2100
www.hotelgriffon.com

Restaurants
Alexander's Steakhouse
0.3 mile
448 Brannan St.,
San Francisco, CA 94107
415.673.1888
www.alexanderssteakhouse.com

Marlowe
0.4 mile
500 Brannan St.,
San Francisco, CA 94107
415.777.1413
www.marlowesf.com

Twenty Five Lusk
0.5 mile
25 Lusk St.,
San Francisco, CA 94107
888.995.6648
www.25lusk.com

Prospect
0.6 mile
300 Spear St.,
San Francisco, CA 94105
415.247.7770
www.prospectsf.com

Mourad
0.7 mile
140 New Montgomery St., Suite #1,
San Francisco, CA 94105
415.660.2500
www.mouradsf.com

Hakkasan
1 mile
1 Kearny St.,
San Francisco, CA 94108
415.829.8148
www.hakkasan.com

Kokkari Estiatorio
1.8 mile
200 Jackson St.,
San Francisco, CA 94111
415.981.0983
www.kokkari.com