use case
Application Release Analytics
Don't sacrifice quality for speed. In today's fast-paced world you need to release applications quickly, more often and with no issues. With application release analytics, you can use a platform approach that bridges team silos, provides insight into each step of the release process and promotes efficient releases of applications into production.

DevOps Summit : Best practices for continuous integration and delivery
Get insights in your application releases
Correlate Release Tool Data

Integrate your industry-leading release tools with Splunk to provide a single view of release analytics
Why Splunk for App Release Analytics?
You are being asked to innovate faster. Longer release cycles are the enemy of speedy innovation as they translate into fewer new releases over time. Splunk ingests data from leading app release tools to show if release velocity is increasing or decreasing. In addition, Splunk's release analytics measure the time for each step of the release process and show which steps are taking more time.

Issues and problems in the release process will slow down app releases. Different tools surface different issues and Splunk brings all of the data together into a single source of truth with visualizations and analytics to show release quality metrics now and over time.

Faster app releases with consistent high quality enable an increased app release cadence. Splunk software shows if the frequency of releases is steady, decreasing or trending up—resulting in more frequent releases of new features to your customers.

Previous
Next

Product Capabilities
Reduce the noise and identify the problem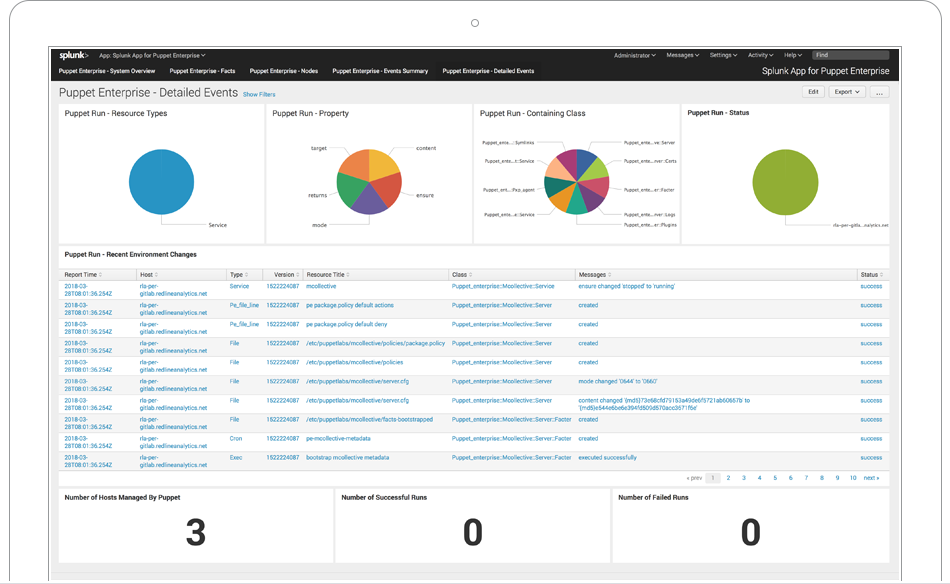 RELEASE ANALYTICS
Analyze Your Puppet Environment
Ingest and analyze data from your Puppet environments, monitor the health of resources under management, correlate that data across your entire tech stack, as well as visualize your Puppet data using out-of-the-box dashboards for easy troubleshooting and monitoring.
AUTOMATION TRACKING
Track Your Chef Recipes
With the Chef app and Splunk® Enterprise or Splunk Cloud™, you can connect to your Chef infrastructure to gather data and analyze your Chef server and node activity—in real-time and over time. Track user and organization activity, as well as cookbook and data bag updates.
splunkbase
App Release Analytics
Splunk integrates with industry-leading application release tools to get data and to drive automation in these tools.
Financial Services
Increase the cadence and quality of app releases while also addressing governance and risk.
Bank on Machine Data

Healthcare
Increase the cadence and quality of app releases while also addressing compliance strategies.
Boost IT Health

Public Sector
Increase the cadence and quality of app releases while also delivering on-time and budget.
Find Out How to Deliver