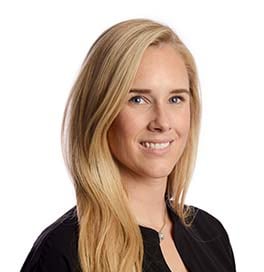 By Katia Ratkovich August 07, 2020
Our 2020 Summer Virtual Internship Program has been anything but ordinary. With over 100 interns working remotely from all over the world, nothing could stop the full force and creativity of our Splunkterns. Read on for more in this guest blog post from our Corporate Communications Intern, Elly Lee.
I'm Elly, Splunk's Corporate Communications Intern (top right in the below picture of our intern Zoom call!), who is also experiencing this unique virtual opportunity firsthand. While the rest of the world has been undergoing rapid transformation, we've been kept busy too! Aside from the E-staff Speaker Series, Tech Talks, and a number of internal competitions, we pride ourselves on the meaningful work we contribute to Splunk.

I've asked five interns in various departments to describe their projects and virtual experiences at Splunk. So, without further ado, meet Joe, Annie, Sid, Yang, and Anna, some of our summer 2020 Splunkterns!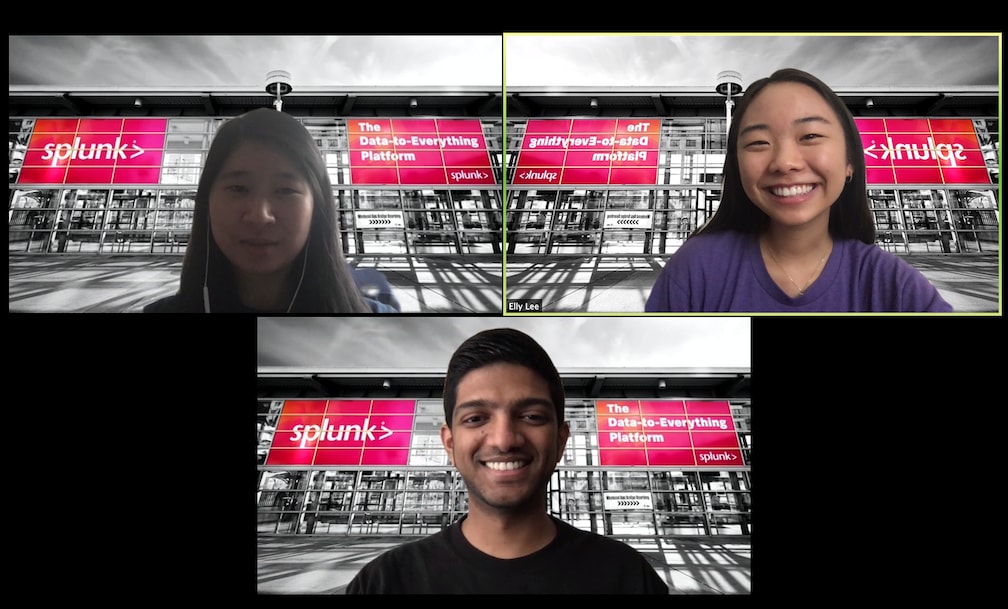 What project(s) are you working on this summer and why is it important to Splunk?
Joe: I am proud to be working on Splunk's venture into the Internet-of-Things (IoT) space. We are making it easier than ever for enterprise customers to get data into Splunk. When combined with Splunk's existing suite of products, we are helping companies transition into Industry 4.0, allowing them to drive critical insights and make informed predictions about their operations.
Yang: Currently, Splunk Phantom only allows users to search apps by name. I'm working on a Splunk app which will allow users to ingest metadata about their Phantom Apps into Splunk, and search for apps by functionality, type, and keyword. I hope that the app will down the road be integrated into Phantom's native app search, and in turn help our customers more easily find the tools they need.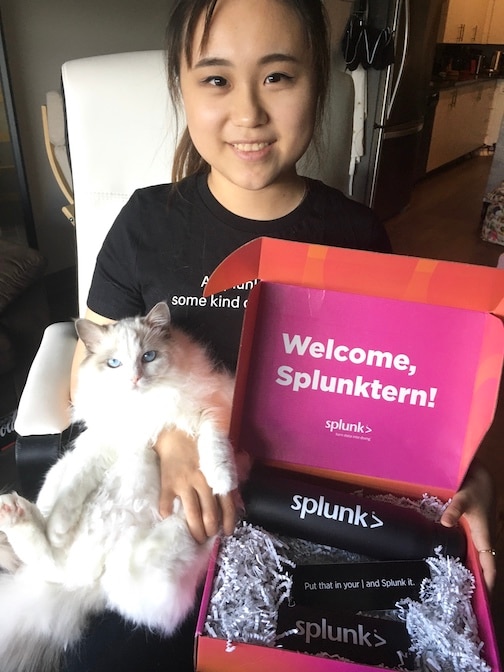 Anna: This summer, I worked on the UX architecture design for a new platform on Splunk. By doing some user research, I gained a better understanding of the daily routines of our target users and how different roles collaborate with each other. My project helps give the team a big picture on what the new system could look like and what functionalities it would support.

What was your favorite project to work on and why?
Annie: This summer, I worked on extending the capabilities of Splunk Cloud Services Javascript Software Development Kit. This was my favorite project because I got to own the feature from start to finish. In addition, I had the opportunity to collaborate with various stakeholders and create a design for my proposed changes.
Sid: My favorite project thus far has been the cloud training visibility project. With the support of my project manager, I've been able to learn a lot about building professional dashboards in Splunk and using Python to enhance the platform's features with custom search commands. It's also a very rewarding project (with some added pressure), as the cloud training tracker will be used by people in upper levels of the organization like Peter Polizzi.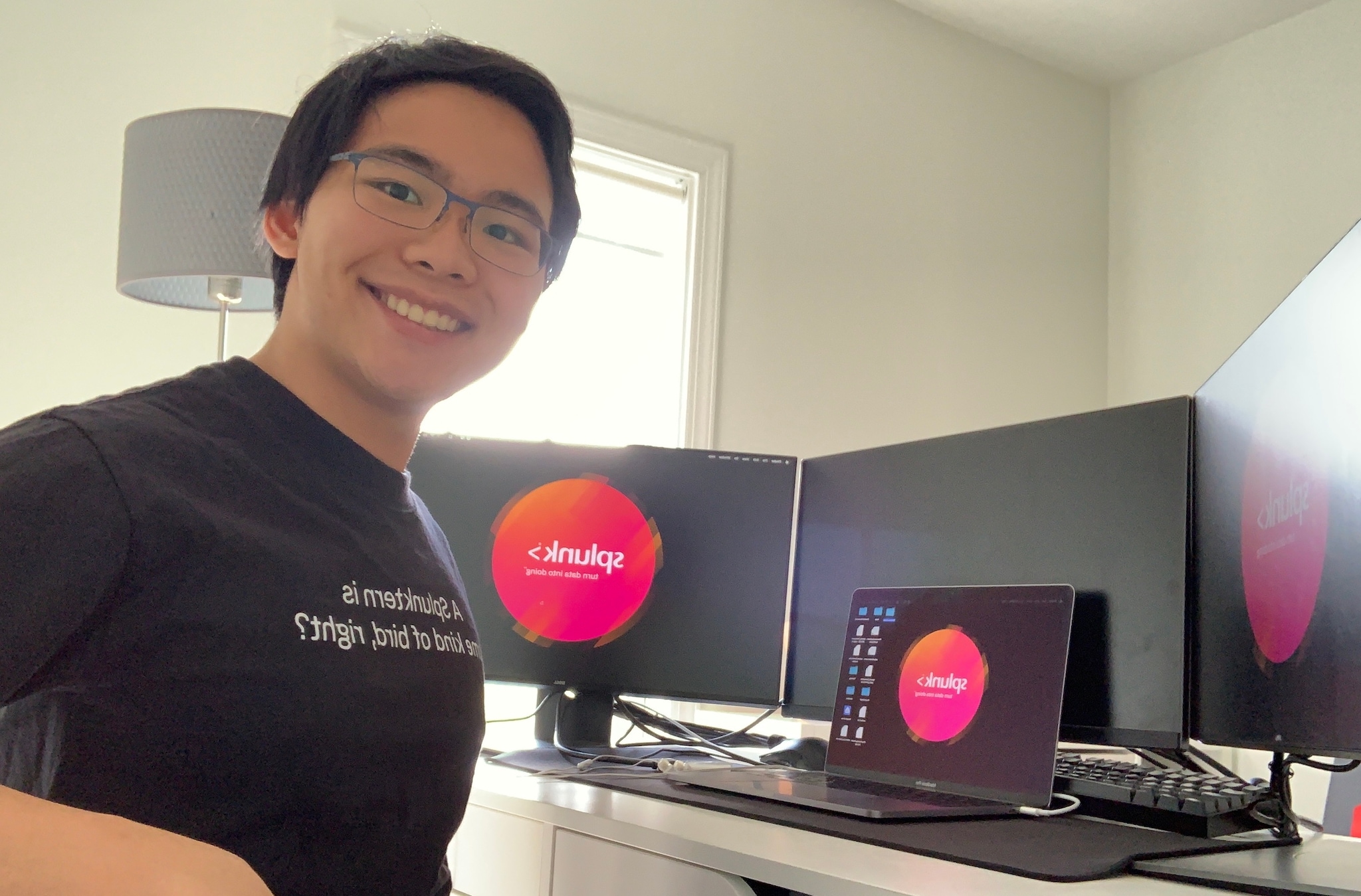 Yang: The Phantom App Searcher has been such a gratifying challenge. It's given me the opportunity to really get familiar with app development in Splunk, practice good SPL, but above all it's a challenging project which will one day (hopefully) make someone's job a bit easier. Challenge and impact are attributes I look for in my projects, and this project has pretty fully embodied both of them.

How have you stayed virtually engaged with your projects, team, and managers?
Joe: In a virtual setting, organization and articulate communication become even more important. Team meetings involved more pre-planning to ensure we properly utilized the precious face-to-face time. Additional weekly check-ins were scheduled with all my managers. Lastly, there were lots of social events like virtual happy-hour and virtual team outings to help us engage with the Splunk family.
Annie: My team has well-defined team processes like stand-ups, sprint planning and sprint reviews, which enable me to stay connected with my team on the progress of my project. Along with our usual team meetings, I have weekly 1:1s with my team and manager. Occasionally, our team will also have social hours with ice breakers.
Yang: Oh, Zoom calls. So many Zoom calls. The transition to virtual was a little tough at first, but I feel like Splunk is such an open and collaborative company that even while working from home, I can feel a sense of connection with my team, mentor, manager, and the many people I reached out to who graciously gave me their time to connect.


What are some highlights this summer and virtual internship experience?
Joe: Learning lots of new skills and having fun while doing it were the highlights of this internship. It's the Connected Experiences Team's "work hard, play hard" mentality that made all of this possible. The talent, grit, compassion and spirit of each person on the team made for a spectacular summer experience!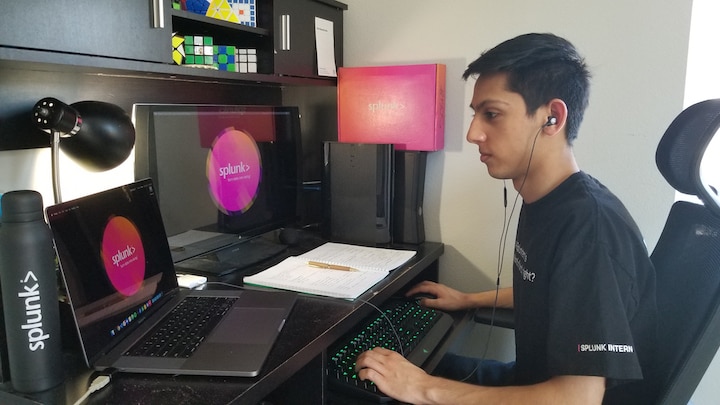 Sid: A highlight for me this summer was connecting with people in various management levels, and also getting some really fun and unique tasks that challenge my skills as an SE. Through the virtual internship format, all the interns also had the chance to meet and interact with Splunk's C-suite, which was a unique opportunity that I wouldn't have ever imagined would happen. Even as a remote intern, I feel that I've gotten a good understanding of the culture at Splunk and can really appreciate it.
Anna: I loved the E-Staff Speaker Series and Special Guest Talks organized by the University Recruiting team. It gave us a great opportunity to meet the leaders of the company and to hear their stories and advice. The Special Guest Talks also covered a list of very interesting topics such as time management and leadership development. It helped us grow both professionally and personally.

Interested in interning at Splunk next summer? Join us, here!
---
About the Contributing Splunkterns:
Elly Lee is a Corporate Communications Intern in the Marketing Department.
Joe Mattekatt is a Product Manager Co-op in the Products Department.
Annie Wong is a Software Engineer Intern in the Products Department.
Siddharth Mathur is a Solutions Engineering Intern in the Sales Department.
Yang Lowe is a Solutions Engineering Intern in the Sales Department.
Anna Yuan is a UX Design Intern in the Products Department.