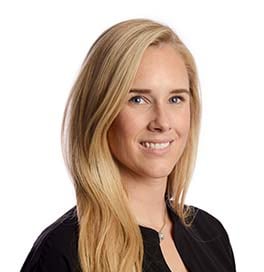 By Katia Ratkovich June 16, 2020
Hi there! I'm Katia Ratkovich, Splunk's Global University Recruiting Manager, and I'm thrilled to share that we are kicking-off this summer with a two-part blog series focused on how we've transitioned our traditional intern program to a remote virtual experience in the midst of COVID-19.
In this post, you will meet Iris, Leo, Qi, Robert, Matteo, Neel and Jeffrey. These winter 2020 Waterloo co-ops will share how they've handled the transition from an in-person to remote internship and shed light on what their experience has been like over the course of the last six weeks.
---
Midway through our winter 2020 co-op session, our California-based Canadian co-ops were advised to return back to Canada due to COVID-19 and measures put into effect by the Canadian government. Rather than end the internship program, Splunk chose to give co-ops the option to continue their internships remotely in Canada. How was the transition from an in-person internship to remote?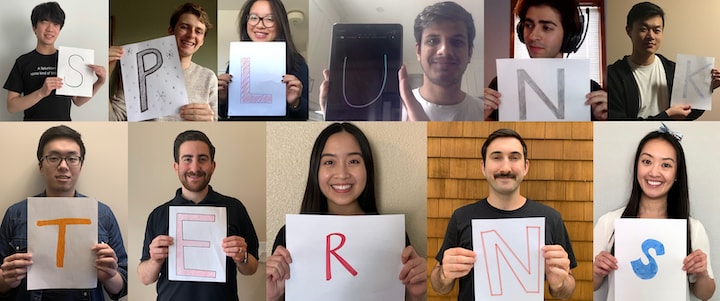 Iris: The transition was very smooth and everything resumed to normal very quickly! Initially, I was nervous because I had never worked remotely before, but since everyone was remote it made the transition much easier. My manager and the University Recruiting team ensured that I had all the tools I needed to succeed.
Leo: Initially, I was disappointed that I wasn't going to be able to finish my internship at the Santana Row office, but I soon felt relieved when I realized I would still have my internship and the opportunity to continue working on my projects. This wasn't a privilege that every intern (at other companies) was given.


What are some challenges that you faced during this time?
Robert: One of the biggest challenges was matching working hours with my teammates. A 3-hour time zone difference doesn't seem like much, but you can quickly end up working all day and burn out if you are not careful. I overcame this by communicating working hours with my teammates explicitly and working together to find meeting times that fit everyone's personal schedule.
Matteo: I agree with Robert on the time zone difference; it was a bit of an adjustment. I kept in close contact with the rest of the team by being a lot more intentional when checking in. It's not possible to just drop by their desks or chat in passing around the office when you are remote. Sending a slack message or catching up during Zoom calls can go a long way!

Working remotely can be an adjustment. What are some advantages you've discovered?
Iris: For me, now that I do not need to commute, I have the advantage of working in the comfort of my home. Also, no commute means I have more time on my hands! Nowadays, I binge lots of Netflix, finally started working out, and have been hanging out with my friends over video calls. Overall, I have felt very productive.

What surprised you most during the transition from an in-person to remote internship?
Jeffrey: One thing that surprised me was that communicating through Zoom and Slack for work specific tasks was very effective. Everyone was very responsive and I had no issues in getting the information I needed to complete my work. It also forced me to think about which questions I could figure out the answers to myself, and which one's would make sense to ask other's. This was a skill that I was happy to develop and something I didn't foresee right away.

Prior to returning to Canada, our co-ops participated in tons of team bonding events from social outings and professional development courses to lunch & learns with some of our executives. Which event was your favorite?
Robert: My favorite event from the internship has to be the intern cooking class. It happened at the beginning of the internship and was a great icebreaker to meet the rest of the interns. We got split up into teams of three and each team handled one course of a three course meal. I learned a lot about cooking from a professional chef and had the pleasure of serving and tasting my own food at the end of the day!
Matteo: I loved the ski trip to Tahoe! I used to work as a ski instructor in high school on weekends, but hadn't been out really since going to university. It was a ton of fun, and a great chance to connect with other interns outside of the office.

Finally, what was your favorite part of the Splunktern Program?
Qi: My team, my manager and my mentor are all super open, supportive and helpful. The projects I've worked on are meaningful and I believe would generate a huge impact for my team and the company.
Leo: The team culture is amazing; there is a good work-life balance with regular team events, there are experts available for help on any topic, everyone is very supportive, and the work that interns do is very meaningful. The intern events and workshops hosted by the University Recruiting team are unique, interesting, and educational. It really feels like the team genuinely cares for the interns' growth.

Stay tuned for our next post where we will do a deeper dive into tips and tricks from our Splunkterns for a successful virtual internship!
---
About the Contributing Splunkterns:
Iris Chen was a Back-end Software Engineer Co-op on the Phantom team. Iris assisted with the redesign of the notes editor for Phantom. It simplifies the process of generating a note and attachment from a playbook and makes it easier for customers to keep track of their issues.
Leo Yoon was an iOS Software Engineer Co-op on the Connected Experience team. Leo helped improve Splunk's Drone Mode to help users deploy Splunk Dashboards onto any registered Splunk TV app.
Qi Shu was a Front-end Software Engineer Co-op on the Phantom team. Qi supported the transition of Phantom to a Splunk-themed interface.
Robert Riachi was a Back-end Software Engineer Co-op on the Connected Experience team. Robert provided backend support for map visualizations for Splunk clients. His contributions will help support the construction of future mobile dashboards.
Matteo Palarchio was a Product Manager Co-op on the Development Platform & Visualization team. Matteo helped create a new, user-focused, and streamlined approach to create and edit dashboards in UDF called Grid Layout.
Neel Mehta was a Back-end Software Engineer Co-op on the Infrastructure team. Neel helped with adding features to EKS (Elastic Kubernetes Service) to make it easier to deploy multiple clusters.
Jeffrey Zhang was an iOS Software Engineer Co-op on the Connected Experience team. Jeffrey redesigned and implemented a new version of the tables visualization for Splunk mobile app, Splunk AR app and Splunk TV app.