Splunk® IT Service Intelligence (ITSI)
Predict and prevent with one unified monitoring experience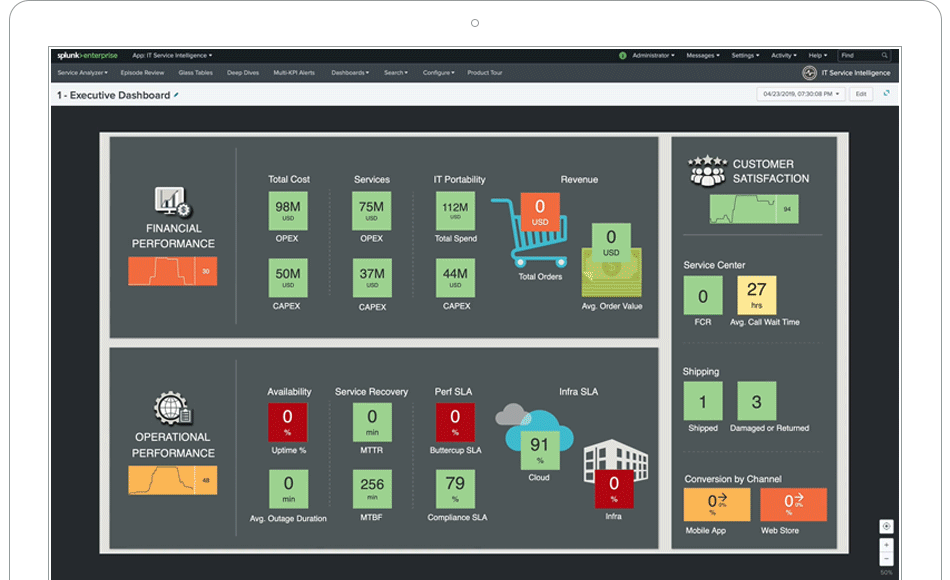 Learn How Leading Organizations Predict and Prevent with Splunk ITSI
Gain insights across business and IT services, applications and infrastructure
Predict and Prevent
Predict service degradation and get ahead of investigation by empowering teams to move quickly before impact happens
360-degree Insights
Pull AIOps-driven insights to detect problems, simplify investigations, triage issues, and accelerate resolutions
Understand Artificial Intelligence for IT Operations (AIOps)
Product Capabilities
A True AIOps Platform Provider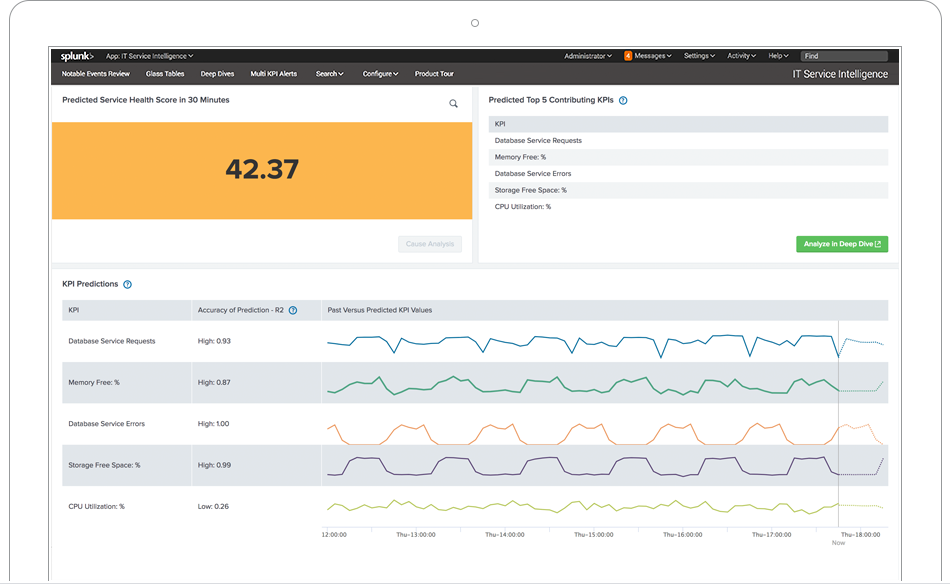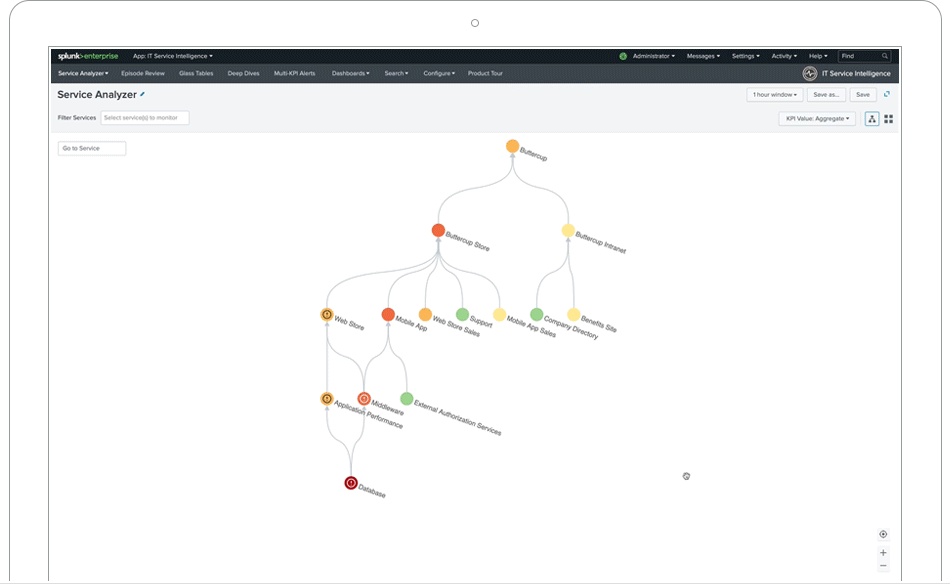 Deep Dive to Find Your Problems Fast
Use the machine learning-powered service analyzer tree to leverage the right data and quickly determine the service, application, or infrastructure origin of an incident and its root cause.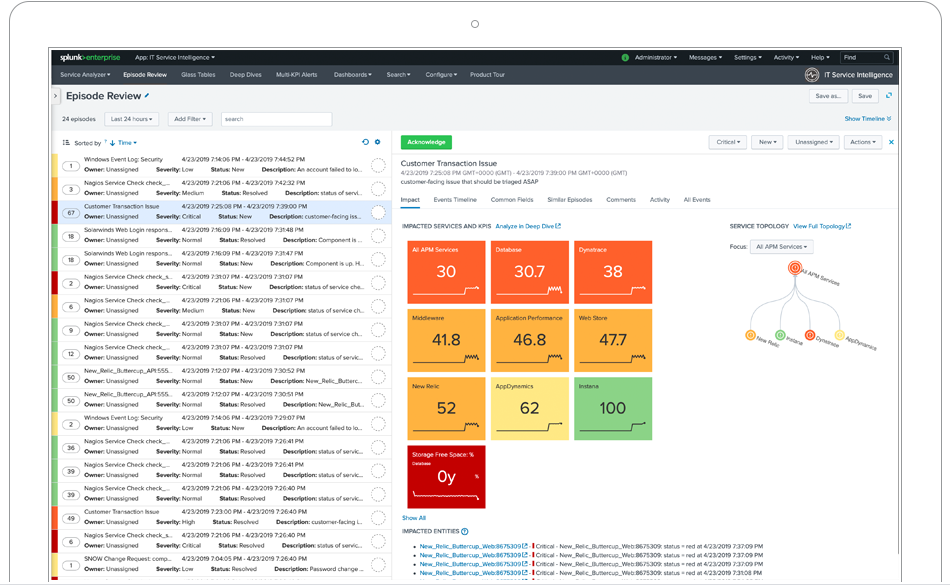 Weather the Event Storm
Easily sift through vast amounts of events by filtering and sorting them based on priority. Additionally, trigger alerts, initiate remediation and automate incident workflows. Real-time anomaly detection also reduces alert fatigue.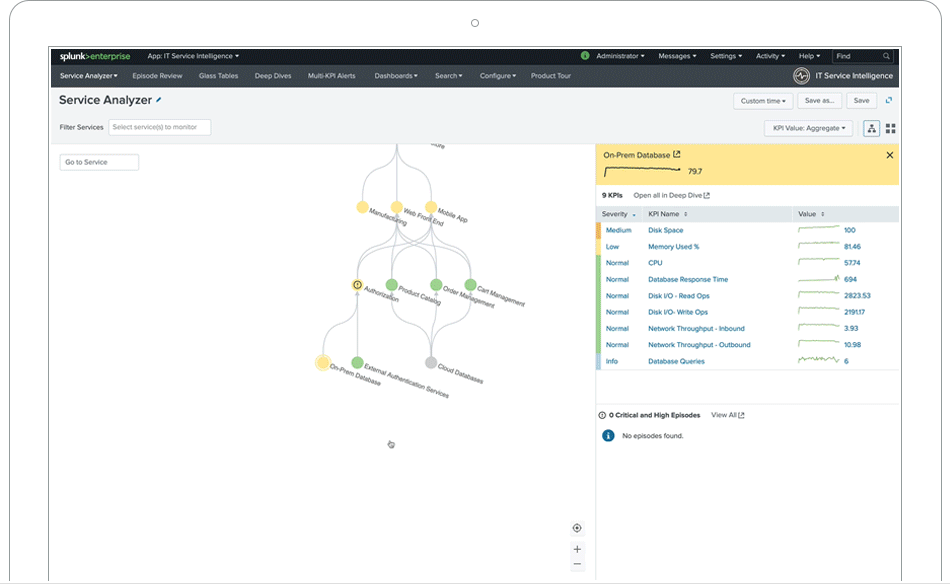 Enjoy a Full-Stack Monitoring Suite
Streamline troubleshooting and monitoring workflows by sending infrastructure data from Splunk App for Infrastructure (SAI) into Splunk ITSI. Get a holistic view of IT and business performance. Search and analyze across all layers of the IT stack and drill into the raw infrastructure logs or metrics for advanced troubleshooting.
Financial Services
Your IT environment is complex and your customers are demanding. Give them what they want.
Bank on Machine Data

Public Sector
Your citizens and government employees expect better services.
Find Out How to Deliver

Healthcare
Your IT systems enable the HIE platform. Analyze them to see what's going on.
Boost IT Health

Pricing
Get Started With Splunk IT Service Intelligence
Splunk IT Service Intelligence (ITSI) is priced by how much data you send into your Splunk installation each day. Enjoy the built-in volume discounts based on the amount of data indexed by your Splunk instance on a daily basis. Read the IT Service Intelligence pricing FAQ »