Let's talk insurance (hey, wake up, seriously, this is interesting). No not insurance for your car, or your home or even your favorite body part (no kidding – Julia Roberts insured her smile for $30 million and Bruce Springsteen insured his voice for a measly $6million – now who's boss!?) No, I'm talking business operations insurance. Oh, sure, you could take out an actual policy for that as well—but recently, a Splunk customer, SMS Masterminds, talked about how it actually insured its business operations using the Splunk Light cloud service.
As background: SMS Masterminds focuses on digital loyalty and text message marketing. Being consumer facing, the company has over five million subscribers and thousands of retailers on its e-commerce platform. That is a lot of people who both access your systems as well as provide information that needs to be safeguarded. Additionally, Masterminds' monthly transaction volume is well into seven figures. In short, this business is completely dependent on:
E-commerce platform performance: Viability and ease-of-use of the e-commerce system in terms of page and transaction load speeds.
Client information security: Protecting all of that transaction, customer and retailer data.
Unfortunately, SMS Masterminds needed an insurance policy that prevented problems from occurring, not one that provided compensation after a disaster. After all, by the time they make a claim, business has been lost and customers are ticked off—thereby also threatening future revenue.
Splunk Light provides SMS Masterminds with such a proactive insurance policy.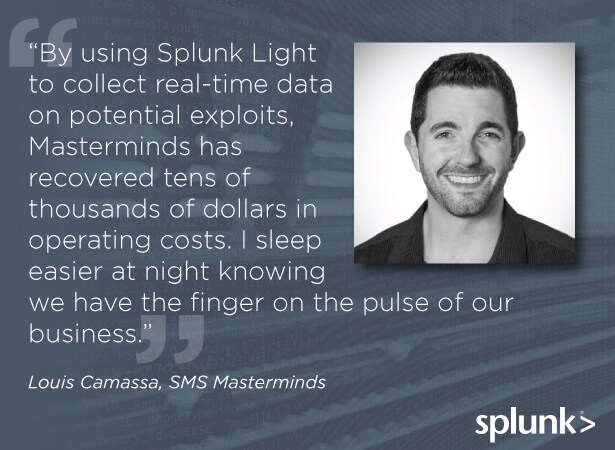 According to Louis Camassa, VP of Product for SMS Masterminds, the features that were key to this "insurance policy" were:
Ability to quickly analyze security events to block attacks and develop preventative measures against exploits without having to search through extremely large log files.
Global visibility into e-commerce site performance to help pinpoint the root cause of performance delays and transaction failures.
He summed it up by saying,
"By using Splunk Light to collect real-time data on potential exploits, Masterminds has recovered tens of thousands of dollars in operating costs. I sleep easier at night knowing we have the finger on the pulse of our business."
So while Splunk Light can't do much for your smile or your voice, it can definitely save your… assets.
Read more in the SMS Masterminds case study here.