Machine Learning Reveals Insider Threats
It's commonly known that over two-thirds of attacks or data loss originate from insiders—either caused by inadvertent actions/takeovers or malicious intentions. Enterprises need to constantly watch their environments for suspicious activities by employees, contractors and partners. And these suspicious activities should be automatically stitched together in a timely fashion for an analyst to respond.
Splunk UBA insider threat detection provides you with:
Outlier analysis by leveraging behavior base-lining, behavior modeling and peer group analytics 

A broad range of custom written machine learning models whose output can be tailored to a customers' requirements 

Fully automated and continuous threat monitoring—no rules, no signatures, no human analysis required 

The Challenge
Insiders have an advantage—they are within an organization and have access to the environment. No perimeter defense or rules-based system can be effective in detecting, let alone preventing, their malicious activity. As a result, insider threats are amongst the hardest to catch and most successful in exfiltrating valuable corporate and customer data.
The Solution
Splunk User Behavior Analytics (Splunk UBA) leverages its custom written machine learning models to detect anomalous patterns observed across users, devices and applications and stitch them into numerous insider threat use cases such as lateral movement, suspicious behavior, data exfiltration, etc.
"Splunk UBA is unique in its data-science driven approach to automatically finding hidden threats rather than the traditional rules-based approaches that doesn't scale. We are pleased with the efficacy and efficiency of this solution as it makes the life of our SOC analysts way better."
-Mark Grimse, VP IT Security, Rambus
The Benefit of a User and Entity Behavior Solution aka Splunk UBA
Understanding user and entity behavior—and its context—is the key to determining insider threats. Splunk User Behavior Analytics detects anomalous behavior by continuously creating a baseline of every entity-user, device, application, privileged account and shared service account, etc. Then applying custom written machine learning algorithms focused on insider threat use cases to generate anomalies and then feeding those anomalies into another layer of custom written machine learning algorithms to stitch these into insider threat patterns.
Splunk User Behavior Analytics assigns a score to denote the intensity of the threat to each user and account so that the enterprise cannot only review insider threats on a daily basis, but also watch their top malicious users and take preventive action.
Sample Threats Detected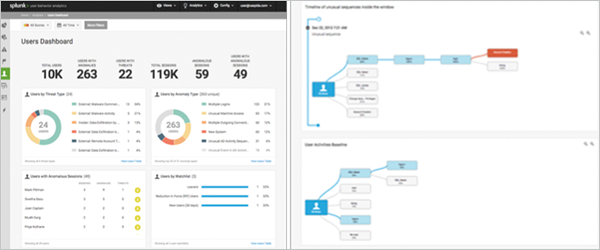 Customers use Splunk UBA to detect the following types of attacks:

Privileged Account Abuse–misusing permissions to perform malicious activity
Privilege Escalation–elevating account permissions with the intent to cause harm
Data Exfiltration–the act of stealing private, confidential and sensitive data within an organization by malware or an attacker
Unusual Activity–accessing devices not conforming to user's or peer group's profile, maintaining excessively long sessions, logging from / to an usual location
Why Splunk for User Behavior Analytics?
Splunk UBA augments your existing security team and makes them more productive by finding threats that would otherwise be missed due to lack of people resources and time. Its powerful machine-learning framework, customization ability, and breadth of use cases helps organizations with the automated detection of known, unknown, and hidden threats. Splunk UBA addresses the entire lifecycle of an attack including insider threats and external attacks and provides customers with the ability to detect, respond and contain threats using Splunk Enterprise Security.