Splunk® App for Infrastructure
Unify and correlate logs and metrics on one solution. Get free comprehensive infrastructure monitoring, alerting, and investigation with your Splunk Enterprise license.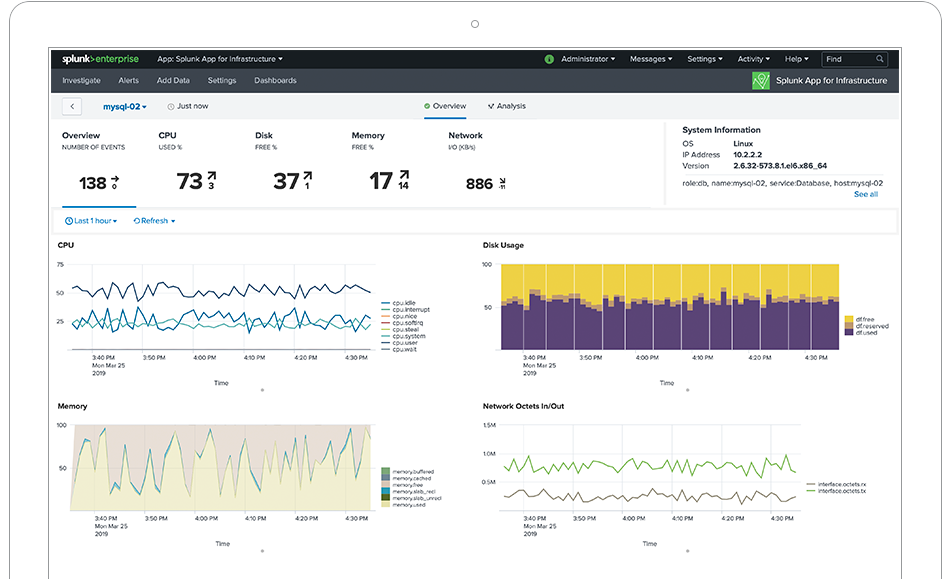 Simplify and modernize infrastructure monitoring and troubleshooting
Speed Up Investigations
Find root causes faster with cross-tier correlations, streamlined workflows and advanced alerting
One Tool, Full Visibility
Pre-built and custom visualizations monitor performance in real time
Improve Productivity
Enrich infrastructure data with service context in Splunk IT Service Intelligence (ITSI) in just a few clicks
Product Capabilities
Enjoy the power of a full-scale monitoring platform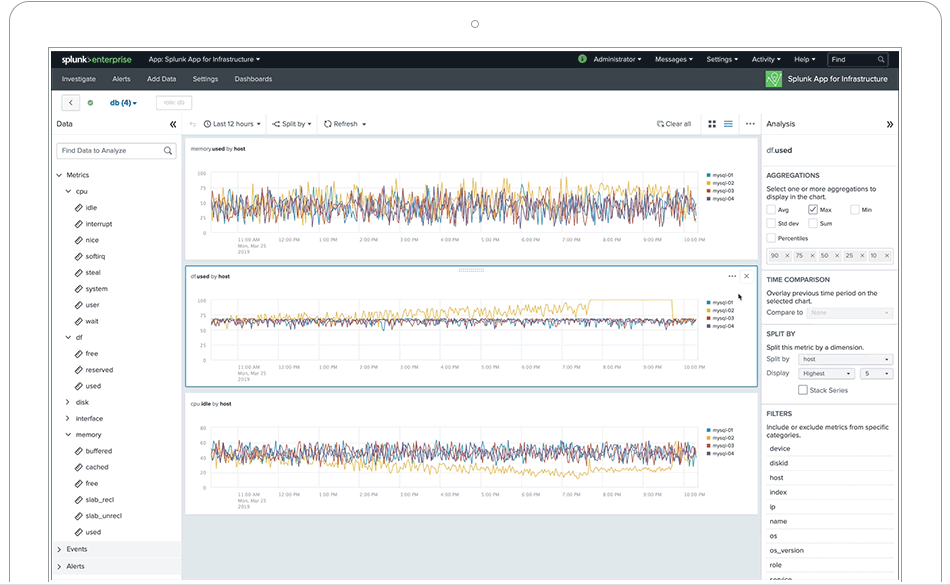 Monitoring Metrics That Matter
The Splunk App for Infrastructure (SAI) provides a curated, unified metrics and logs experience focused on infrastructure performance monitoring. Easily distribute metrics by defining and grouping entities. Collect, index, search and build visualizations based on metrics.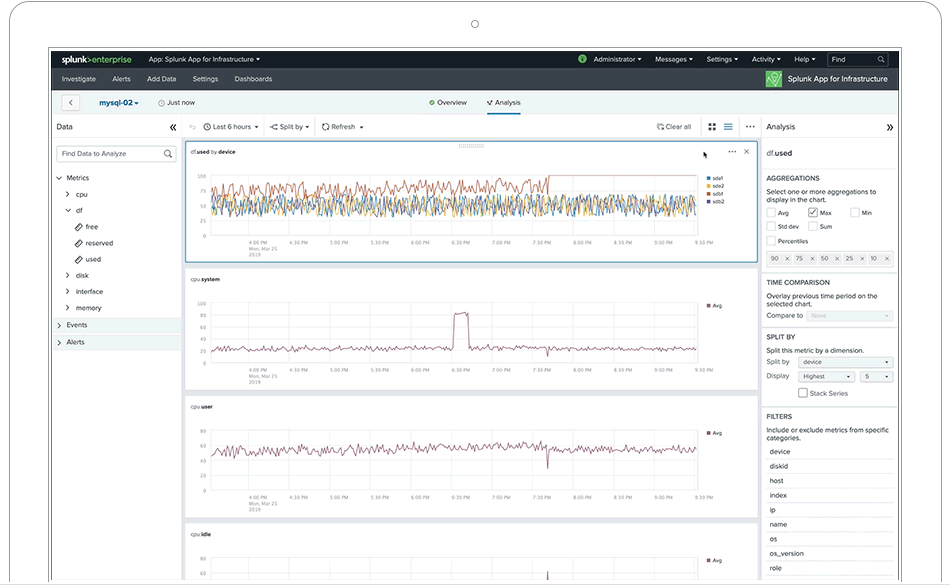 Advanced Alerting for Faster Triage
Perform root cause analysis faster with SAI's custom triggered alerting at the group or entity level. Triage alerts more effectively by understanding which conditions triggered the alert, assessing the severity of the alert, and viewing all triggered alerts during the time to take action.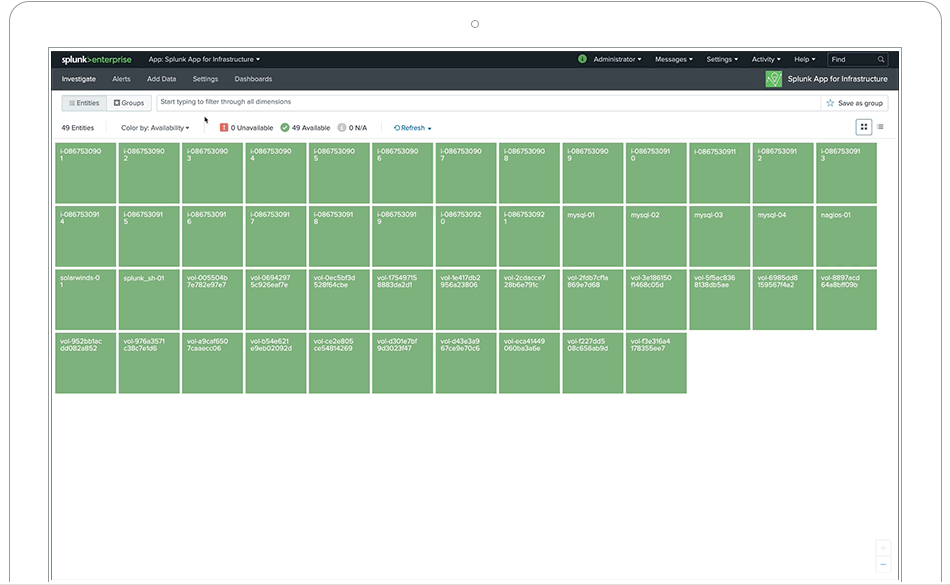 Visualizations for Real-Time Monitoring
Monitor performance of your infrastructure by entity, including CPU, network, memory, disk, system load, custom-defined dimensions and more. Monitor single entities or groups of entities. Drill down into an entity or group to review details or troubleshoot issues.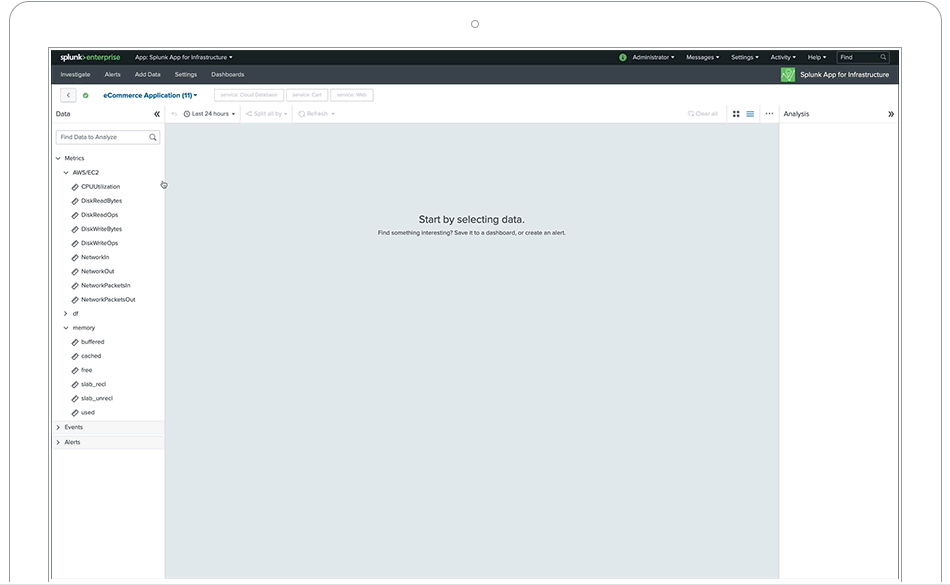 Correlations Pinpoint Performance Trends
Investigate performance with cross-tier correlations. Analyze performance metrics for a single entity or a group of entities. Determine poor performing entities by metrics, or determine a point in time when multiple entities began performing in a similar way. View and search for entities in a group, or view all groups an entity belongs to for easy navigation in a chart or list.
Financial Services
Monitor accounts and deliver the best customer experience
Bank on Data

Public Sector
Create operational excellence that would impress any constituency
Vote for More

Healthcare
Automate compliance auditing and strengthen health IT operations
Boost IT Health