use case
VMWare Virtualization Monitoring
Virtualized environments make datacenters nimble but can also make it difficult to investigate and resolve problems. Splunk® software offers comprehensive monitoring of your virtual datacenter for leading hypervisors and desktop virtualization technologies. Correlate virtualization data with machine data generated across the IT infrastructure.

Control Virtual Chaos: A New Approach for Managing Virtual Environments
Managing your virtualized environments is complex. Relax with Splunk
Keep Your VMs Healthy

See what's really going on by linking issues to events in the underlying infrastructure tiers (e.g. physical, virtual or hybrid)
Why Splunk for Virtualization Monitoring?
You want to deliver the best virtualization experience possible. With Splunk solutions, you can monitor performance to ensure virtualized environments are available and that issues are fixed quickly with as little effort as possible.

Trend, analyze and report accurately for optimum user experience, resource allocation and change management with Splunk.

With Splunk, you can link user- or application-related issues to events occurring in the underlying physical, virtual or hybrid infrastructure tiers for end-to-end visibility.

PRODUCT CAPABILITIES
Leverage proactive monitoring and troubleshooting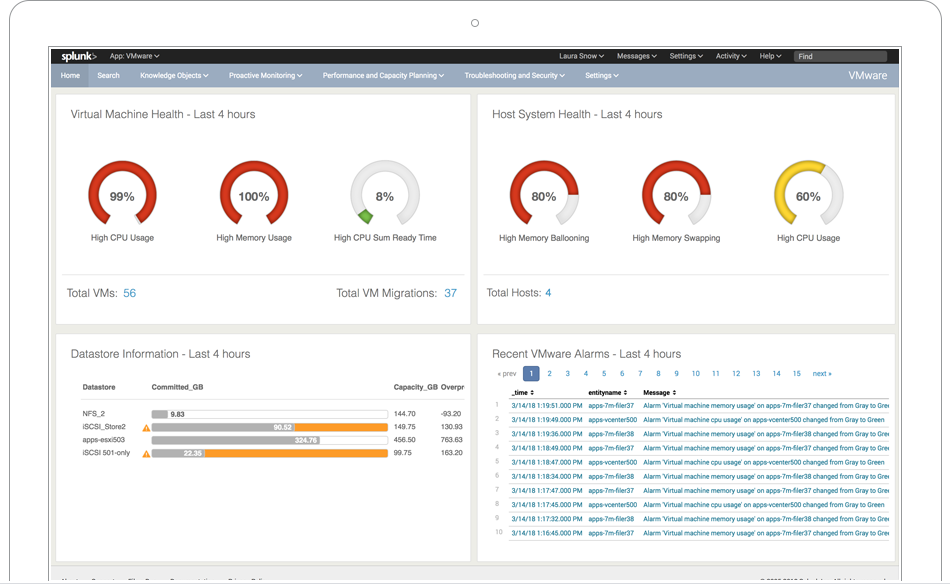 Operational Health Summary
Cross-Tier Visibility
Get immediate visibility into the workload and health of your VMware environment. Identify VMs that are waiting on CPU or memory resources, hosts that are over- or under-used, and data stores that are running out of capacity. Combine your virtualization data with data from other technology tiers to gain a complete, central view of KPIs of your datacenter.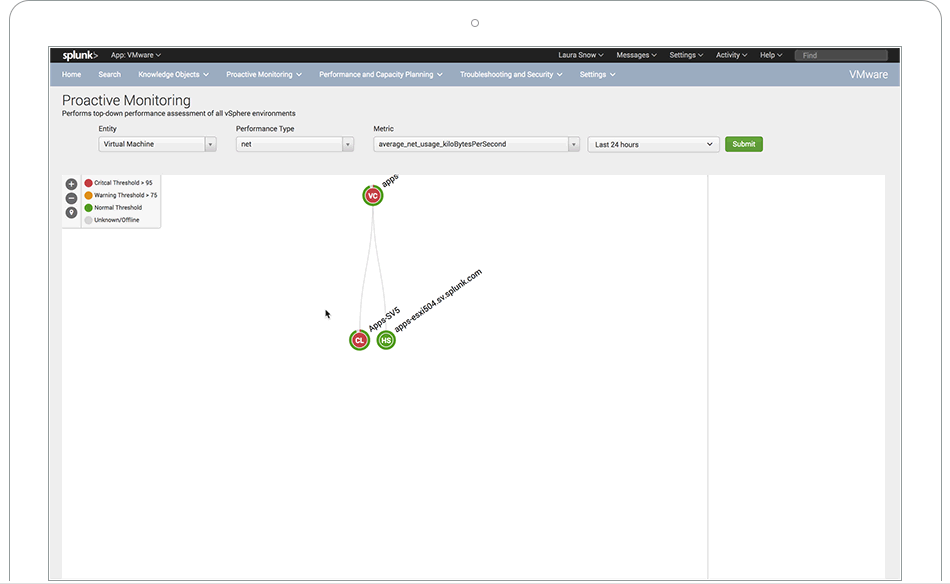 Interactive VMWare Topology Map
Visual, Interactive Map of VMWare Topology
Use a visual interactive map of your VMware topology to gain immediate insights into the health of individual nodes (clusters, VCs, hosts or VMs) based on predefined thresholds. Instantly detect outliers, visualize trends and compare virtual entities and performance metrics to understand patterns over time.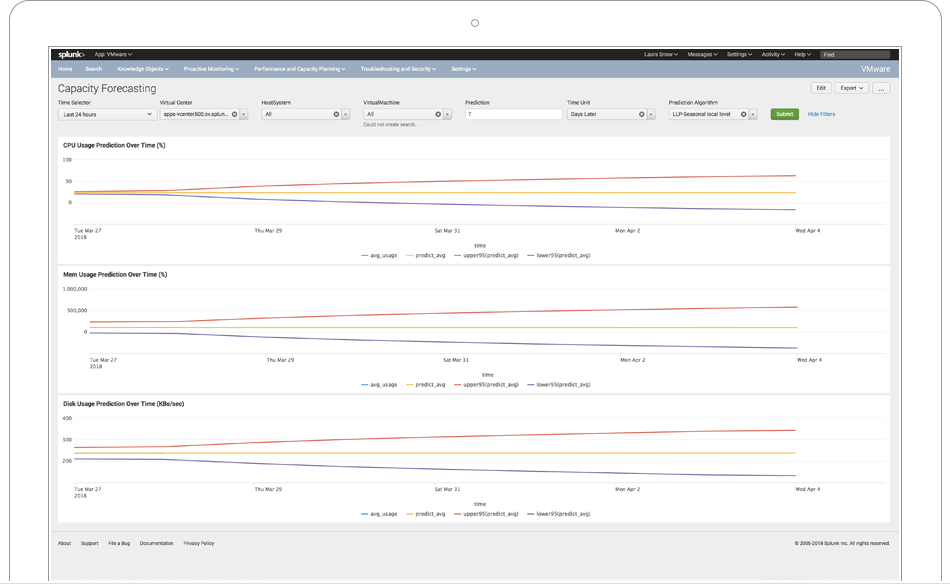 Capacity Reporting
Real-Time Capacity Monitoring and Alerting
Assess capacity risk by proactively setting alerts for real-time capacity monitoring. Optimize your resource utilization by establishing baselines, understanding capacity usage, trending analysis and identifying capacity shortfalls. Forecast CPU, memory and disk capacity needs and performance levels of hosts, VMs and data stores.
splunkbase
Manage Your Virtualized Environments
The Splunk App for VMware provides deep operational visibility into granular performance metrics, logs, tasks, events and topology from hosts, virtual machines and virtual centers. It empowers administrators with an accurate real-time picture of the health of the environment, proactively identifying performance and capacity bottlenecks.

Financial Services
Your IT environment is complex and your customers are demanding. Give them what they want.
Bank on Machine Data

Healthcare
Your IT systems enable the HIE platform. Analyze them to see what's going on.
Boost IT Health

Public Sector
Your citizens and government employees expect better services.
Find Out How to Deliver