Control Virtual Chaos: A New Approach for Managing Virtual Environments
Virtualized environments are complex — your toolset shouldn't be
Get Holistic Visibility

See across the entire stack from vCenter to the underlying operating system with real-time visibility for issue mitigation
Why Splunk for Virtualization Monitoring?
Siloed teams and data leads to frustration and unanswered questions. Splunk App for Infrastructure encourages better collaboration and insight sharing across teams and departments. No more war rooms, no more blame games.

Drill down into relevant entities. Do split-bys to find root causes. Use time-series data to analyze with deep granularity. Conduct smarter root cause analysis to prevent future outages.

Use existing integrations to better equip IT Ops. VictorOps streamlines incident routing and resolution. Feed alerts into ITSI Event Analytics for better context and correlate alerts with the rest of your environment.

Product Capabilities
Leverage proactive monitoring and troubleshooting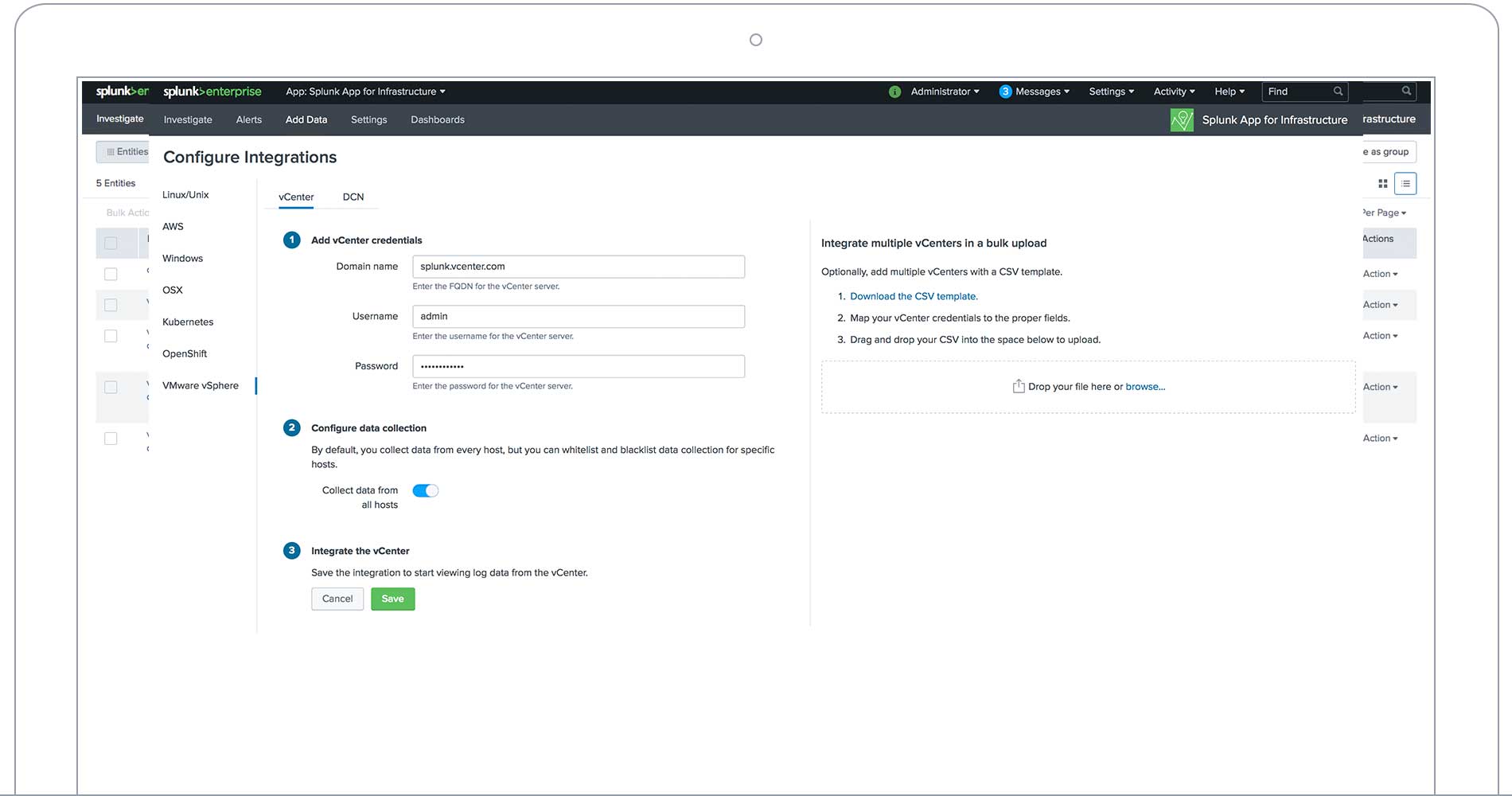 Easy Onboarding
Fast Time-to-Value
Enjoy out-of-the-box onboarding for even the largest VM environments. Bulk setup and guided data collection make going from initial setup to full visibility across entire VMware stacks as easy as dropping a file into a browser.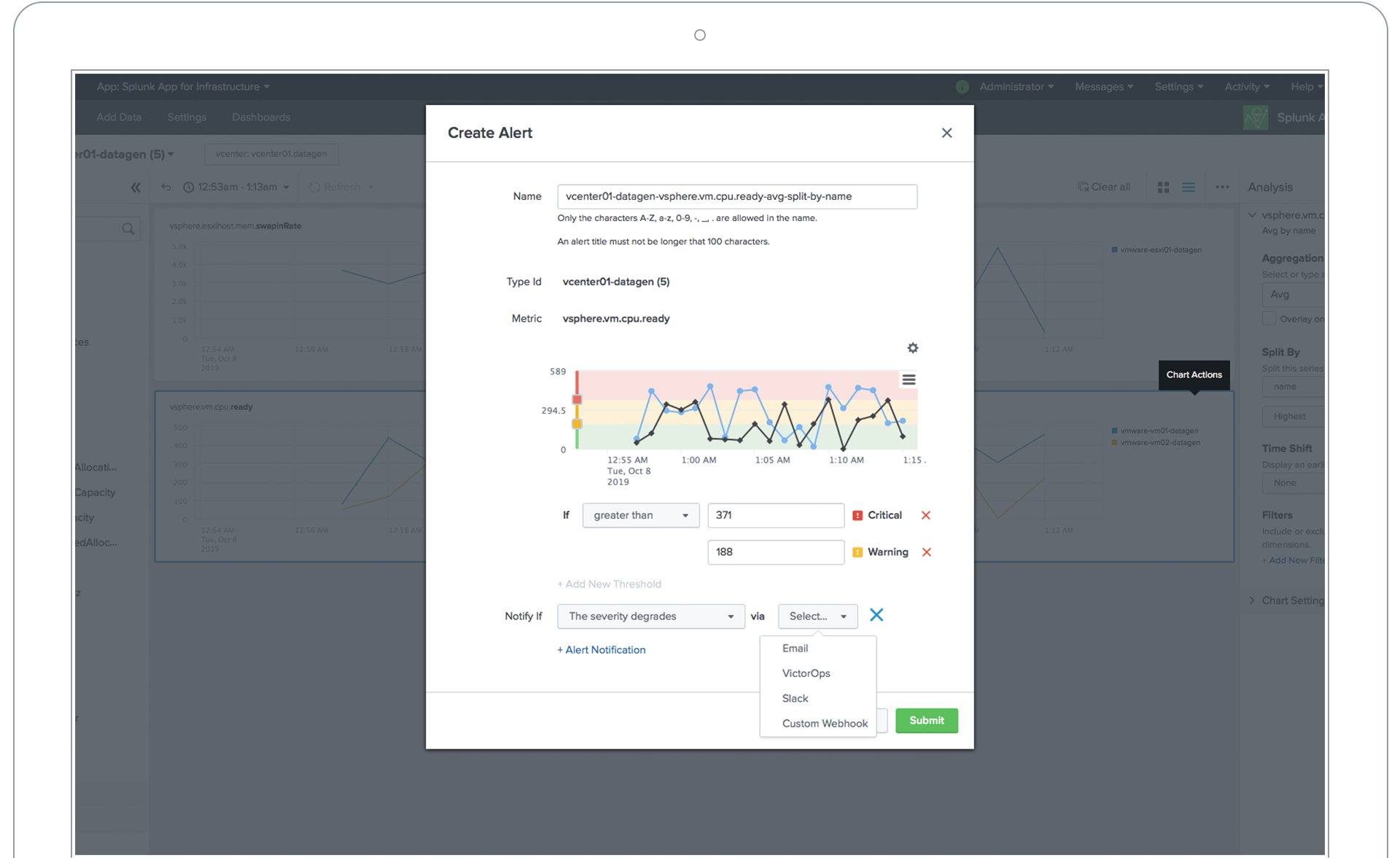 Real-time Monitoring and Alerting
Drastic Improvements to MTTR
Streamline monitoring using metrics, events and logs to monitor VM, host, cluster and vCenter performance, data storage usage and VM impact on ESXi hosts. Easily drill down to discover underlying issues in virtual environments.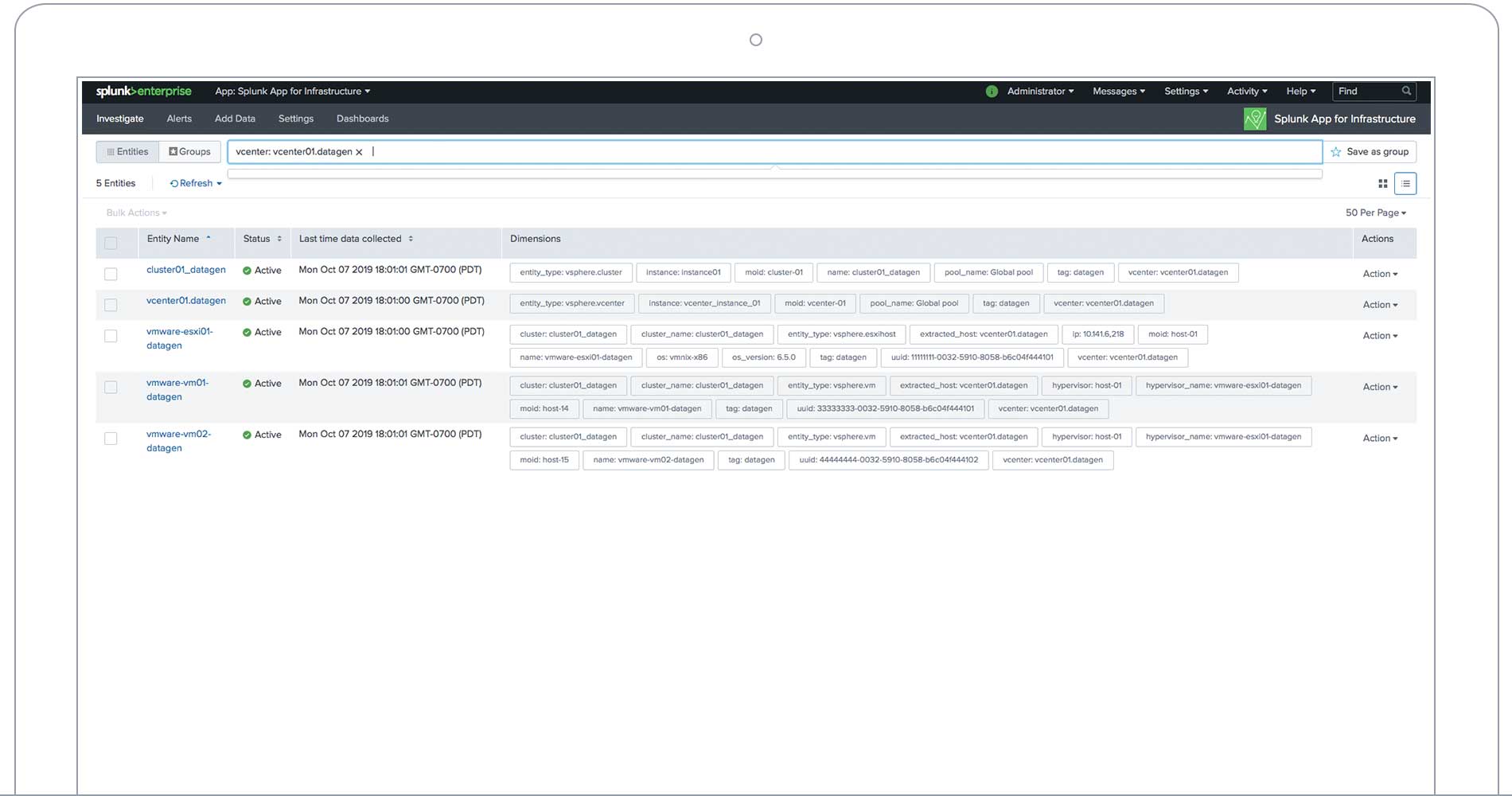 Entity Grouping
Find Answers in Just Two Clicks
Filter, group, manage and delete entities. Analyze per VM, host, cluster or group everything together to visualize, monitor and alert across thousands of VMs with a single alert. Flexibility works for your needs.
splunkbase
Manage Your Virtualized Environments
Spot trends and pinpoint root causes of VM issues fast. VMware vSphere monitoring with the Splunk App for Infrastructure is available with your existing ITSI license. Download both apps for unified monitoring across your infrastructure, apps and services.
Financial Services
Your IT environment is complex and your customers are demanding. Give them what they want.
Bank on Machine Data

Healthcare
Your IT systems enable the HIE platform. Analyze them to see what's going on.
Boost IT Health

Public Sector
Your citizens and government employees expect better services.
Find Out How to Deliver

What can you do with Splunk?