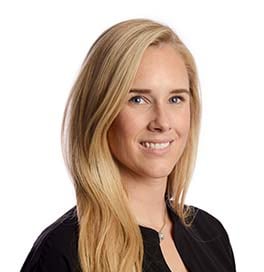 By Katia Ratkovich September 28, 2020
Welcome back to our "Meet the Splunktern" blog series! This summer, we hosted our first-ever virtual internship. Read on to learn more about a day in the life as a virtual Solutions Engineer intern, featuring Madeleine Tauber!
---
Rise and Shine!
The alarm clock rings — it's 6:30am. I roll out of bed, get coffee, and step into my office. Conveniently enough, it's located just next to the coffee maker.
You gotta love the home office life!
When thinking about my Solutions Engineer (SE) Summer internship, I was definitely not picturing myself sitting at my dining table wearing athleisure; yet, I've never felt as productive while doing just that!
While it is a change from my class schedule at Baylor University, I enjoy the fast-paced work, back-to-back Zoom calls, and getting the chance to meet Splunk leaders.
Let me show you what a typical day as a virtual Splunktern looks like!
Setting the Scene
It's Friday, and while we are still working on individual projects, the interns have been preparing for Mock Discovery all week. Mock Discovery is one of our weekly "intern challenges" where the interns compete in teams against each other. This lets us practice our SE skills, while we reap glory and honor if our team secures the most points.
9:00am — Interns Team Meeting
This morning, the day starts with an SE Interns Team Meeting.
Our manager, Nikki Nair, makes it a point to check in with us as much as she can. Meetings like this also give us some time to get to know each other and relax. Look at all those bright faces!
10:00am — Speaker of the Day
Up next is a University Recruiting event, which includes a session about public speaking. Our special guest, Caroline Jing, who is a Leadership Development Sr. Manager, teaches us how to crush our next demo.
11:00am — Study Time!
Splunk invests in training us interns, which brings me to the next calendar point: studying.
Yeah, that doesn't sound very exciting, but guess what? As an intern, we get to take the training courses and get Splunk certified for free! Today, I am studying Forwarder Management for the "Splunk Enterprise Certified Admin" exam. It's difficult material, but learning how to manage and maintain the components of Splunk will be quite useful for my summer project (which I'll talk more about later).
1:00pm — Shadowing and Project Work
After lunch, I have two back-to-back calls with my mentor, Sara Diorio, and my project manager, Paul Jeffery.
Through the program, each of us was assigned a mentor, who lets us shadow their calls, practices our SE skills with us, and is just our go-to person.
Today, Sara pulled me into an internal call. I can't tell you the exact details, but it's nice to see the "real" work of a Solutions Engineer within the team, even though we aren't in the office this summer.
Right after, Paul and I are installing the newest version of the Microsoft Active Directory Objects app on the Splunk server that we set up together.
My project this summer is a tutorial video for this app.
At Splunk, we're always looking to find the "why" behind our problems. Paul did an amazing job showing me how to set up an entire virtual Windows domain, including two syncing Domain Controllers, and teaching me Active Directory. This way, I understand why my project will be important to our customers, which adds a feeling of ownership and impact.
2:30pm — Splunktern Team Hangout
Following my project meeting, I hop on our daily office hour Zoom calls with my "house" leader and three fellow Team Klumpp interns. In office hours, we get general information, can ask questions, and get advice on any difficulties we're having.
Fun Fact: Our team names are inspired by Game of Thrones houses, and are named after leaders in the SE org: Team Klumpp, Team Polizzi, Team Blake, and Team Regini.
3:00pm – Let's Get Those Points
Now, the most nerve-wracking part of my day — my Mock Discovery!
For this assignment, I have a mock conversation with my house leader, Kirby Smith, as if she was a potential customer who wants to find out more about Splunk.
Luckily, I practiced with my mentor and can look back at notes from a previous presentation workshop (courtesy of Jason Earnest, Solutions Engineer Director). Tomorrow, I will get an email with feedback, and the number of points I earned for the team.
4:00pm — Happy Hour
Once a week, we have SE Splunktern Happy Hours where we can decompress and hang out with our fellow Splunkterns. Today, Komal Dhillon, a former intern herself, suggested we play skribbl.io. We had a blast, so check it out if you're looking for socially-distant team activities!
5:30pm — End of Day
And that's a wrap...at least for today!
In addition to today's events, there have been "Fireside Chats" almost every day of this week, which meant getting to meet Splunk leaders like the Chief of Staff to President of Worldwide Field Operations, SVP of Global Sales, President of Professional Services, Director of Product Management, and Global SE & Strategy Ops Leader. Mind you, this was only in the past three days!
Reflecting back on the beginning of the year, I realize how lucky this intern class has been. Unlike many other programs around the country, Splunk's internship program did not get canceled. We have structured day-to-day, meaningful projects, and the chance to meet many Splunk leaders.
Through our E-staff Speaker Series, interns got the chance to meet Doug Merritt (CEO), Tim Tully (CTO), Carrie Palin (CMO), and Kristen Robinson (CPO). Getting face time with leadership is an opportunity that interns at other companies wouldn't even get close to.
Hopefully, this gave you some insight into how virtual SE internships work here at Splunk, including intern projects, mentorship, training & certifications, and networking events.
I am thankful to Splunk for an amazing summer internship, and of course for the free shirts and swag.
Signing off — thanks for reading!
Cheers,
Madeleine Tauber, Solutions Engineer Intern (Summer 2020)
Interested in becoming a Splunktern? Check out our University Careers page!