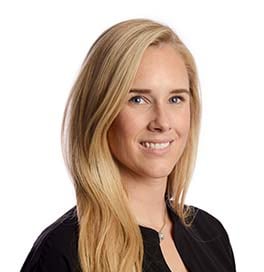 By Katia Ratkovich March 19, 2020
Welcome to the next installment in our 'Meet the Splunktern' blog series. This week, we're highlighting Elizabeth Robbins.

Hey, Elizabeth! Why don't we start off with an introduction?
My name is Elizabeth Robbins and I was a Splunktern (Splunk + Intern!) on the Legal Team based in the San Francisco Headquarters this past summer. I am a huge fan of the performing arts and have played the cello for about 17 years. Outside of work, I like to attend local plays, musicals, and orchestra concerts. I also love trying new cuisines and exploring different places throughout the city.
Awesome. We are happy to have had you on the Legal Team. What's a day in the life of a Legal Intern at Splunk?
As a Legal intern, I worked directly with Splunk lawyers across each of the Legal subgroups to understand the different aspects of supporting a growing technology company. I attended meetings with the Legal team and business functions, researched the current state of the law, reviewed licenses, agreements, and other types of contracts, and prepared memoranda and business documentation.
I'm proud that I was able to support legal work streams that directly benefited business initiatives and I was able to interact cross-functionally with different teams.
Thank you for sharing! How did you like the Splunktern Program?
It's great! I liked the sense of community that the Splunktern Program created. I was trained with a group of Splunkterns my first day and got to know each of these individuals very well. I also admire how the program set up a series of social events and learning opportunities, including lunch and learns with the executive staff. This gave us time to connect throughout the summer and provided us with exposure to resources that will make us successful in our careers going forward.
We are really glad to hear that you felt a sense of community here at Splunk. Could you share a bit about your mentors and how they helped you through your internship?
Of course! Various lawyers and members of the Legal team were my mentors throughout the summer. They were candid, supportive, and seemed genuinely invested in my career growth. They were clear about the purpose of each of the projects I supported, were available for questions, and provided detailed feedback.
This gave me enough direction to execute my tasks, allowed me to take ownership of my work products, and enabled me to drive them to completion. I felt comfortable setting up one-on-one time with these team members to ask them questions about their career progression and learn what recommendations they have for someone beginning a legal career.
Having a great mentor really helps guide you through your internship, doesn't it? Do you have any tips & tricks for prospective legal intern candidates?
Aspects of legal work are challenging, so don't be afraid to ask questions and set yourself up to be successful in the role. As a Legal intern, you will learn how an in-house legal team functions and you will have the opportunity to work on unique projects across the Legal team, including Corporate, Commercial, Innovation, Legal Operations and Compliance, Employment and Risk. The lawyers on the team are more than happy to offer support and guidance. They are also open to innovative ideas you may have to execute the work.
Thanks, Elizabeth! Anything else you want to share with future Legal Splunkterns?
Enjoy your internship with Splunk! The team is great to work with and the time goes by very quickly. Take advantage of the team's knowledge and experience. Most of all, be open to learning! Attend as many Splunktern programs and events as possible and get to know individuals from other teams throughout the organization. Splunk hires intelligent and motivated people and there are learning and networking opportunities available outside of the structured program.
Want to learn more about the Splunk Internship Program? Visit our Splunk University Recruiting Facebook Page and LinkedIn, or check out open Splunktern opportunities.